Reliant Stadium
Houston

,

TX
Houston
Monster Energy AMA Supercross Championship
Just when it seems like things are starting to settle down a little in the 2011 Monster Energy AMA Supercross Championship, something new, interesting, or just plain destructive happens out there. This week, we have all three! Welcome to Racerhead.
Let's start with the new: After five weeks of West Region Lites, the East Region starts up with a whole new cast of characters ready to show the world how far they've come in the off-season. The big favorites have to be GEICO Powersports Honda riders Justin Barcia and Blake Wharton and Monster Energy/Pro Circuit Kawasaki riders Dean Wilson and Blake Baggett. All of these guys have won races before (though Wilson's wins came in Lucas Oil AMA Pro Motocross) and all of them have excellent equipment, as we saw with their counterparts out West. Also, don't count out veteran riders like Ryan Sipes and Gareth Swanenpoel of DNA Shred Stix/Star Racing Yamaha. Check out the East Region Pre-Entry List HERE.
And then there are pure rookies like ARMA/Suzuki City/Nitro Circus-backed Malcolm Stewart (who is the biggest question mark out there), Star Racing's Gannon Audette, Rockstar Energy Suzuki's Jason Anderson and Ian Trettle, back-from-Australia P.J. Larsen....
For something different, how about Ken Roczen moving up to the 350 KTM? Roczen, who has been fast but inconsistent out West in his first year on the tour, will ride the AMA Supercross class now that the series has moved east because he's trying to learn the stadium game as quickly as possible (sorry, "crash course" was too easy). The kid has obvious game—he was a solid third last weekend at Anaheim 2, and had the cards fallen differently, he might have won—and also ambition. Simon Cudby caught up with Ken earlier this week for this very cool Racer X Film.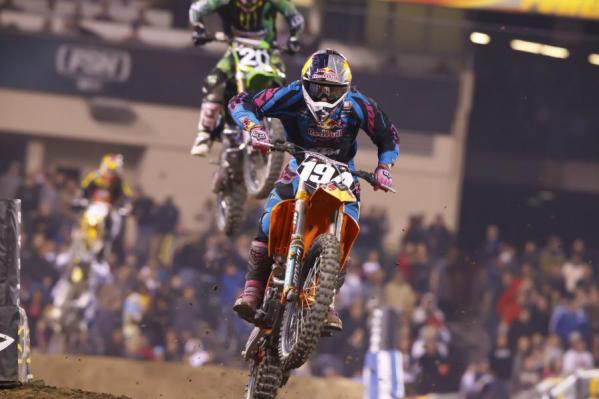 Roczen will make his SX class debut in Houston aboard a 350.
Photo: Simon Cudby
Roczen, who is still 16, brought up something for Skip Norfolk and the guys at TAG Metals to try to figure out with some bench-racing: When was the last time a 16-year-old finished on the box in the premier class of an AMA Supercross main event? Of course Ron Lechien's name came up, as he was the last 16-year-old to actually win an AMA SX in the big-bike class, but then we remembered Damon Bradshaw's cameo appearance in the 1989 San Diego SX on a YZ250, where he finished third behind Ricky Johnson and Jeff Stanton. Are we missing someone? Let us know here: letters@racerxonline.com.
As for the destructive part of the week, you have to go back to Anaheim 2. In the midst of all that well-intended pink (huge props for not only Feld and all the teams, but cancer survivor Shasta Johnson for leading this charge in AMA SX/MX) was the red face and steam coming out of the ears of defending champion Ryan Dungey. It happened after the Rockstar/Makita Suzuki rider's chain came off. With it went 24 more championship points James Stewart's way, as the San Manuel Yamaha rider won his third SX main in five races so far. Ryan Villopoto was back on pace for second, and Chad Reed once again on the box in third.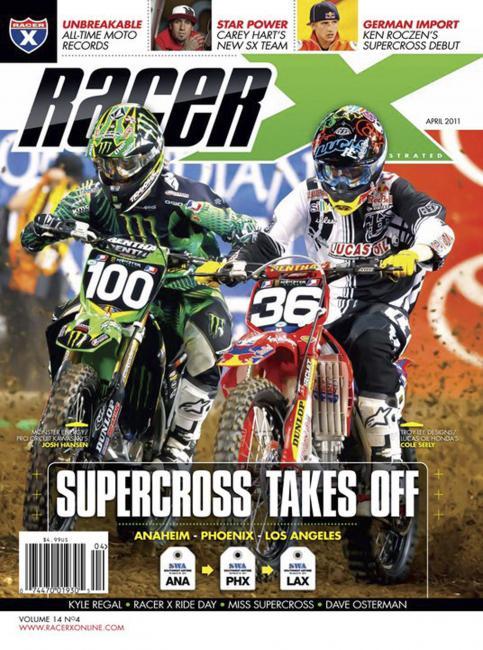 And then there was the near-destruction of Josh Hansen, the West Region Lites points leader, who suffered a horrific crash in practice and then gutted out another main-event win, this time with a broken finger and what looked like a minor concussion. Yes, he and his team and his father consulted with the Asterisk Mobile Medics and the AMA, and it was deemed that he could ride, though no one suggested that he do. He made the decision on his own, and it could turn out to have been a championship-saving ride. Whatever anyone thought of Li'l Hanny's dedication to the craft of racing (including a lot of us press-box critics), he's wiped out any doubts in my mind about how badly he wants to succeed now.
Here's a TV reminder: Tune in to the AMA Supercross class from Houston on Sunday at 12:00 p.m. ET, then switch over to SPEED at 4:00 p.m. ET for the SX Lites class. Be sure to check your local listings. Here are 10 Things to Watch for at Houston.
Anyway, I will let the other guys get into that and more as we continue with this week's Racerhead. Let's start with David Pingree, whom I always seem to leave off of mentions of our crack-staff here at Racer X Online, and yet who always brings the good stuff.
Does anyone else think Christina Aguilera should be deported to somewhere like Yemen after her embarrassing national anthem performance at the Super Bowl? How do you forget the words to our national anthem? I realize that Steve "Oh Canada!" Matthes couldn't actually tell me the words to the Canadian national anthem the last time I asked him, but he isn't being asked to sing it at an important hockey game somewhere in Saskatchewan. What Xtina did was unacceptable.
I gained a lot of respect for Josh Hansen this weekend. He doesn't have a history of being mentally strong or gritty in the face of adversity, but what he did on Saturday night was impressive. He crashed hard in the whoops in the last qualifying session. Really hard. And despite suffering a significant injury to his hand and a concussion, he went out and got the job done... Who would have thought I'd be sitting here talking about how Hanny put in the ride of the series with more determination and heart than anyone? Great ride, Josh. I've always been impressed with your riding, but I'm really starting to admire your tenacity.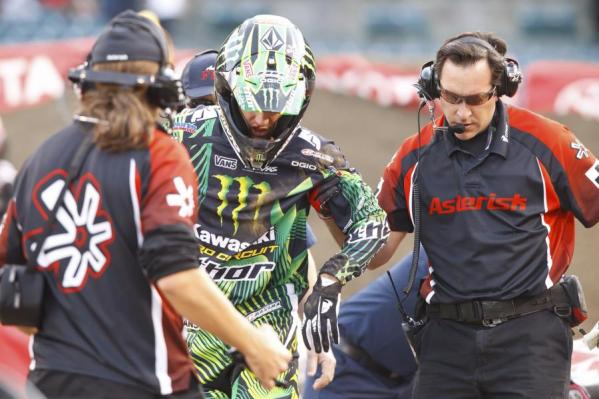 Hansen grinded out a tough win at A2 after breaking his hand in practice.
Photo: Simon Cudby
And the race behind Hansen is now on, by the way. Which rookie will get his first win first? Roczen or Tomac? That one is going to be fun to watch, because both kids are flying and they want it badly.
I simply refuse to call James the fastest rider on the planet…umphhggh…. Sorry, just puked in my mouth a little. But James was clearly the best guy last Saturday night. The way he was jumping four through that rhythm lane was sketchy, and he did it for the first nineteen laps and made it look effortless. Villopoto did the smart thing and stayed on two wheels for second. He took a crack at that quad on the second lap and shorted it, bouncing into the following jump and losing some time (thank goodness he did end up with another St. louis-sized crash). After that gap opened up, the race became really boring, frankly. The top three spread out and, aside from some scrapping going on further back in the top ten, the race was over.
I would like to take a second and acknowledge the guy I've been calling Captain Camouflage: Justin Brayton has been very quietly putting in a solid season thus far but nobody seems to notice, including myself. Until I looked at the results after the race, I couldn't have told you who got fourth place.  The Muscle Milk/JGR Yamaha rider is riding great and I hope he lands on the box soon, because he's earned it. Wait, I got it … Justin "Realtree" Brayton. That's the one.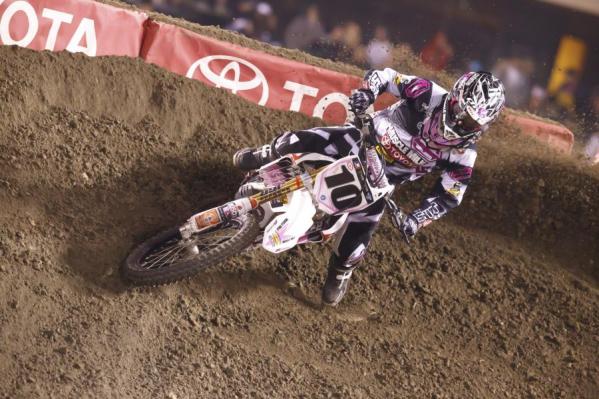 Can Brayton make it the Big Six?
Photo: Simon Cudby
I would like to close by sending out my condolences to Bevo Forte and the entire Racer X staff in Morgantown, who are no doubt in mourning over their Steelers' Super Bowl loss. Hang in there, guys. You'll get through it.
Now here's Matthes:
Well, this week we're on to Houston, Texas, for the first round of the 250 East Region as well what I would call the new beginning of the 450 SX series. Yes, I know we've had five rounds already down, but with James Stewart ripping off two wins in a row and looking dominant, his closest challenger, Ryan Villopoto, needs a win real bad. This supercross game is so dependent on having confidence, and right now Stewie has it in a big way. We've seen RV chase James down, and I'd say he really needs to do it right about now.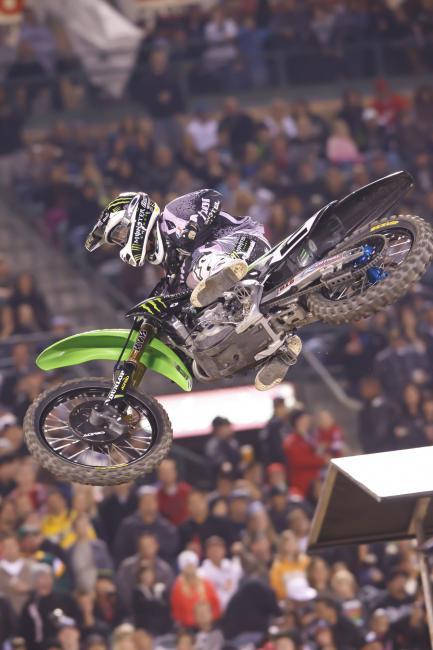 Villopoto didn't seem effected by Stewart's win last week.
Photo: Simon Cudby
One thing that Ping, Weege and I spoke about in our podcast was that if there is a rider that is probably least affected by the dreaded sin of overthinking, it's RV. He doesn't have much in the way of mind games going on with himself; he just knows that he has to pin it, and if he loses, he will just pin it the next week. For example, I spoke with him after A2 and he wasn't bummed out at all about the loss. Look, if you were there, you saw that James had himself a good cushion and was able to jump things the other dudes were not. It was a decisive victory, no doubt about it. Yet there was RV, just saying that he was happy with his ride, and if you looked at the segment times, he was faster in the section that had the two quads in it. It was a confident Ryan, and nothing's been shaken at all in my opinion. We media peeps like to make dramatic and sweeping statements about each race, but sometime, one win doesn't really matter in the scheme of things.
But other times, it does.
As I was saying, the 250 East Region kicks off, and one would think that the King of Bercy, Justin "Baby" Barcia, and Dean "I Was A Canadian" Wilson have to be the favorites to bring home a title. The thing is, you just never know what can happen in a first race, and I think either guy would be happy with a podium at the first round. They both have some question marks about them: Can Barcia keep it on two wheels? Can Wilson react favorably to coming back from an injury? Remember, Dean-O has never won a supercross-unlike Barica, Blake Wharton, and his teammate Blake Baggett. There's something to be said for having that one notch on your belt.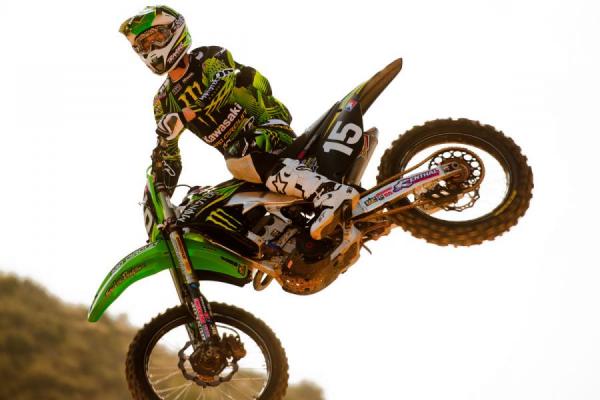 Wilson is a pre-season title favorite heading into Houston.
Photo: Monster Energy

My buddies at directmotocross.com caught up to Dean for an interview right here.
A couple of sleepers for podiums, if not wins, would be Star Racing's Ryan Sipes and PJ Larsen. I look forward to good things from both of these guys.
Remember last week when I went on and on about that Canadian dude Kyle Beaton? Well, he made the main and was probably +87 in the fantasy thing. All you dorks are welcome for that.
Who's my Kyle Beaton this weekend in the East? Shawn Rife. Stamp it.
Hey, did you hear that Ken Roczen (who's been racing a 250) is racing the 350 in the 450 class? Yeah, I heard the news a day after a guy asked me that on the Pulpmx Show on Monday. I was a little wrong in my thinking for sure, and to me, this is a big surprise. Maybe we'll see a Damon Bradshaw. Or maybe we won't.
I hosted a live chat yesterday right here on Racer X and it went pretty well. I couldn't get to all the questions, as almost a thousand people took part and sent in their queries. I could also only handle so many variations on "How will Malcolm Stewart do this weekend?" (I say eighth) and "Where's J-Law?" (he's riding 450 MX). Weege and I were talking about how, almost two years after his last groundbreaking ride (Daytona '09), people are still fascinated by Jason Lawrence and what he's doing/when he's racing next, as opposed to a what the guy (Pourcel) who won two SX titles and almost two MX titles in the last two years is doing. There is practically no talk about Pourcel among the fans. Bizarre? Yes.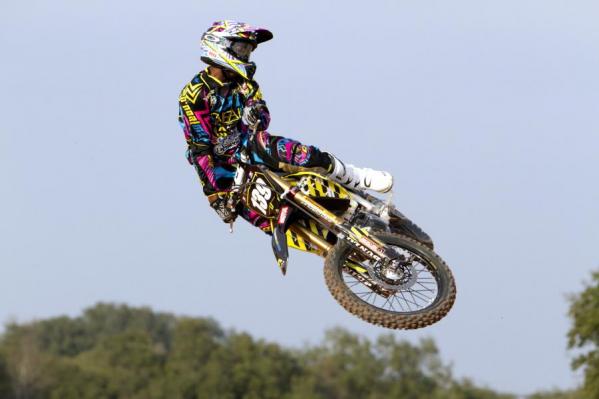 Everyone is waiting to see what Lil Stewy can do in Houston.
Photo: Tyler Coscia
This week we had Jimmy Button, Tim Ferry, Tony Alessi, and Jeremy Albrecht on the Pulpmx show, and we learned a few things. One is that my co-host Kenny Watson does not like being put in a time-out, and also J-Bone has to be one of the best interviews out there as far as team personal are concerned. He's honest, open, and looks at the media like a good thing, not somebody who is out to kidnap his firstborn.
Button's bicycle ride from San Diego to Daytona is coming up and he's hoping to raise a buttload of money for spinal-cord-injury research. Please donate what you can to this cool cause, and let's all cheer Button-Fly on! Go here.
I did a podcast with Bob Hannah this week and it was really cool. I was a little hesitant to do it, but I'd gotten a ton of emails from people asking for one, so with the help of David Izer, I tracked the Hurricane down for an hour and a bit. Why was I hesitant? Because it seems that every six months or a year, Hannah is trotted out from the mountains of Idaho by some MX media people so he can go on a rant about how worthless and overpaid today's riders are. Anyone who knows my work knows that I revere the old riders and love talking to them, but here's the facts, Jack: Take whatever sport you want to—motocross, football, hockey, baseball, whatever—and the athletes and equipment are better today. The guys are bigger, faster, stronger, and like I said, have better equipment. It's evolution, baby (sung like Eddie Vedder)!
So I didn't want Bob to go down that road at all. Any way you slice it, he's one of the greats of the sport, and I wanted to focus on his career and his accomplishments. He had some harsh words for some guys who don't use their God-given talents, for sure, but he also admitted that a winner today would be a winner back in his day and vice-versa. I loved the show and have a newfound respect for Bob. He's not some bitter old man like some people have made him out to be—he's a great person, rider, and a ton of laughs.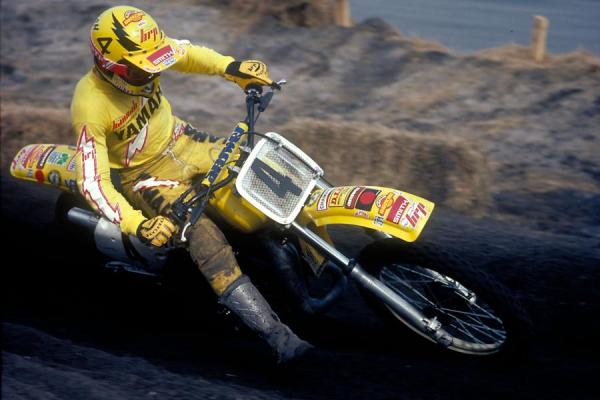 Hannah is never at a loss for words.
Oh, and one more thing before I go: Sammy Hagar was in Van Halen longer than David Lee Roth, he had more number-one albums than DLR (four to zero), he had more record sales than DLR, and he blows DLR out of the water as a singer, musician, or even just being a way cooler human being.
I would just like to add one more thing:
Don't stop the swagger!
Now onto Weege:
Supercross has been garnering all the attention lately, but some other big series and events are starting to roll now, too. I spent Thursday in Chicago doing voice-overs for the AMA Arenacross Series on SPEED. After two fun and informative years working in the booth with John Dowd, there's a new expert analyst on board for the 2011 season: all-time AX King Buddy Antunez! Buddy definitely brings the info and analysis to these shows, as he was pointing out lines and styles that I had never even noticed. And the racing is always crazy in arenacross, so you'll enjoy watching them. Shows start next Sunday (Feb 20th) at 3:30 pm EST on SPEED
So far supercross and arenacross are dominating the industry scene, but other events are right around the corner. The amateur racing community has three big events within the next few weeks, with big-time MX showdowns in Alabama and Texas, as well as the second-annual Ricky Carmichael Daytona Amateur Supercross sandwhiched in between.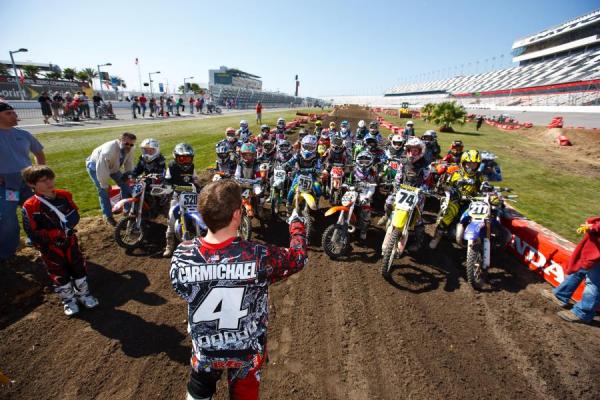 RCU is right around the corner. Make sure you sign up today.
Photo: Simon Cudby
The Carmichael event is really two events in one: Amateur racing on the SX track all day Sunday, and then the Carmichael University riding school on Monday. Jeff Emig and Jeff Stanton are on board to help teach with RC on Monday, and then I've heard one other big name being linked to the event. Nothing is official, but if he's in, they will probably have him teach how to block pass and install a Jeff Matiasevich tackling dummy in the corner. This could turn out to be the all-time coolest (and fastest) faculty in the history of motocross schools!
Here's RX contributor Aaron Hansel:
Set the fastest qualifying time of the day? Check. Holeshot and lead every lap of your heat race? Check. Holeshot the main and lead every lap en route to your third victory of the season? Check. Complete both the heat and main with a hurt back and a broken finger? Check. Wait, what?
I am, of course, referring to Josh Hansen's win at A2 last weekend. I know we've talked and talked about it, but there's still a couple things you might not know. After the race, I dropped by the Pro Circuit rig to ask Hanny's wrench, Derek Brush, a few questions about Hansen's hand.
It turns out Hansen was riding hurt before he even went down in the whoops. His day went south right out of the gate when he hurt his back attempting to quad out of a rhythm section during his first practice session. He cased the landing hard and jarred his back so severely that Brush had to lift Hansen off the bike. Then, in the final qualifying session, Hansen went out and set the fastest time!
We all know what happened next: Hansen crashed hard in the whoops, and as his body smashed into the ground, his bike tumbled and pieces of it flew in several directions. Hansen broke his hand in the crash and, judging by the shaky way he walked to the Asterisk Medical Mule, had knocked himself a bit silly.
As the night show approached, the pain in Hansen's hand was so great he wasn't even sure if he would be able to race, and with a gate jammed full of the world's fastest Lites racers, it certainly didn't seem likely he would be able to keep the magic going. Well, he did. He led every lap of his heat, and when the gate dropped on the main, it was none other than the #100 who shot into the lead.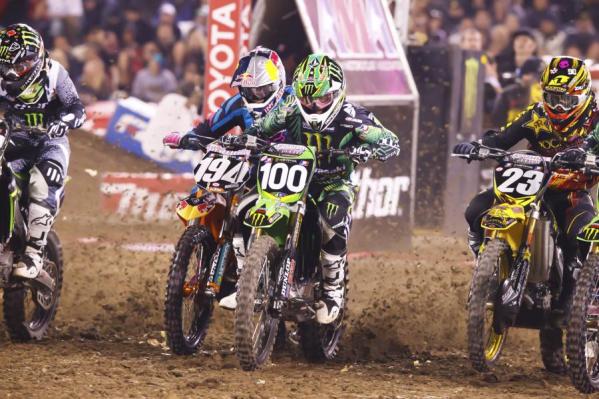 Hansen fought off young guns Ken Roczen and Eli Tomac to take the victory at A2.
Photo: Simon Cudby
What followed was, in my opinion, the best Lites race of the year. For fifteen laps, rookies Eli Tomac and Ken Roczen took turns making runs at the veteran. Roczen nearly took the lead when he pulled alongside Hansen in the whoops, and later, Tomac was able to squeeze past Hansen right before a rhythm section. Hansen retaliated by charging into the next corner and put an aggressive, but clean, block pass on Tomac.
It was a fantastic race and an extraordinary ride from Hansen, who was able to pull out a win, even when the cards were stacked against him. With performances like this, Hansen is letting the competition know the road to the title goes through him. His block pass on Tomac was as much symbolic as it was a simple pass for the lead. Hansen isn't out there to get top-fives or even podiums; he has his sights set on the championship, and no matter what, he's going for the win, every single night.
Okay, here is some other Misc news:
Turborilla submitted a pretty exciting update for Mad Skills Motocross to iTunes today. The first major revision is that there will now be two completely different difficulty levels: Amateur and Pro. For those who felt the game was just too hard to play, Amateur mode introduces a slower, more accident-prone computer opponent, as well as a more durable, easier-to-control motorcycle. Pro mode is the same challenging game most players have come to love since MSM released on January 10.
Additionally, you'll now be able to race against top leader board times, and also watch replays of top leader board times. Ever wonder just how the fastest guys are able to finish a race six seconds faster than you? Now you'll be able to watch and learn. There will be separate leader boards for Amateur and Pro modes on all 52 tracks.
Get Mad Skills Motocross for the iPhone, iPod Touch, and iPad here.
Justin Maley sent us this Navy SEAL Team video of the specialists training in the desert on motorcycles. They are using the views and comments on the video to gauge interest in motorcycles.
Keep an eye out if you're in the Ottawa region: Sheriff's office investigates burglary, theft.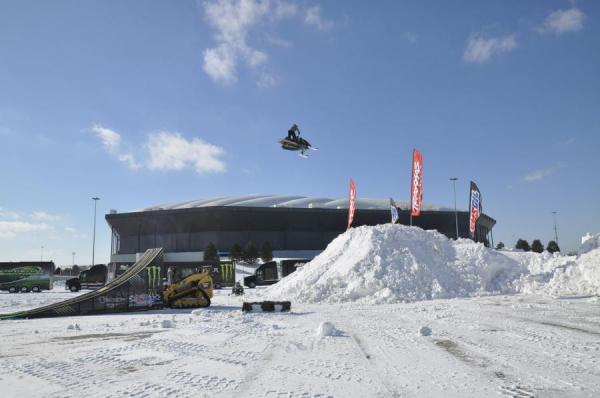 The AMSOIL Championship Snocross Series, featuring top MX/Snocross crossover star and five-consecutive Winter X Games SnoCross gold medal winner, Tucker Hibbert (Monster Energy/Arctic Cat), will breath some life into the old SX stomping ground Pontiac Silverdome (now just called the "Silverdome") this Saturday, Feb. 12th. With a foot of snow in the parking lot it was no trouble organizers to pile up a big landing hill in order for snowmobile freestyle rider Jeff Mullin to blast a few jumps with the stately 'Dome in the background for the local TV stations – warming up for this weekend's event, albeit as much as you can warm up in the 9-degree weather. The Silverdome was home to some great supercross battles over the years. From Marty Smith winning the first-ever race there  in 1976, through Bob "Hurricane" Hannah's heyday and Ricky Carmichael's amazing "visorless" comeback from last-to-2nd in 2002 – and Sunday-after-SX amateur days that it seemed half the State of Michigan raced at one time or another - it's good to see the Silverdome again hosting another major extreme powersports racing event.
Here is a funny thread
we spotted on VitalMX regarding the notoriously smooth, obviously modified Red Arrow, who is something like 47-0 in imaginary SX victories.
This from Nick McCabe:
The news spread quickly on Monday afternoon and it wasn't good: the long, flat roof that covered the indoor MX track at known as Mototown in Connecticut had collapsed. Roof collapses have been widely reported in New England this winter, as the weight of accumulated snow and ice, along with a pattern of melting and freezing, has caused some spectacular structural failures.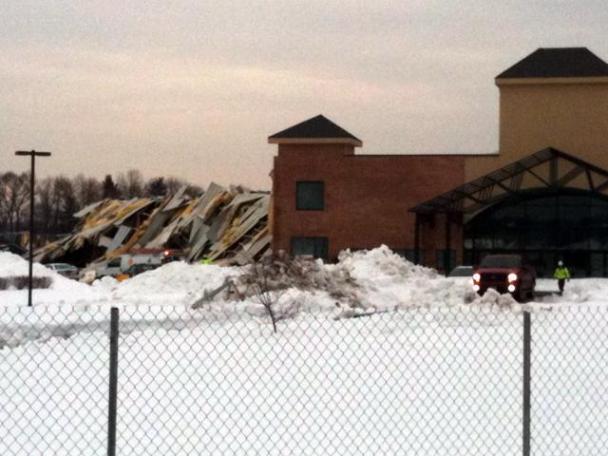 The massive indoor facility, which is about 25 minutes south of Southwick, had been open for a few years. Despite some controversy and growing pains, the building was the only show in town for anyone who wanted to ride on the snowbound East Coast. The facility had gone through several owners and track configurations. There is no doubt that the cost of building and running a massive indoor racing facility was significant, but for the past two winters the owners had found a way to make it work.
The loss will be felt throughout New England, New York, and Pennsylvania. Thankfully, the roof fell on Monday, when the facility was closed, and no one was injured.
It's still early, and the facility's fate is unclear, but in true promoter-speak fashion, Mototown founder "Tommy D" made the following Facebook posting:
"Mototown, an indoor mo…tocross track. A track barely alive. Gentlemen, we can rebuild it. We have the technology. We have the capability to build the world's largest indoor motocross facility. Mototown will be that place. Better than it was before. Better, stronger, faster."
We'll keep you posted on any updates as we hear them.
The outdoor nationals are coming,­ and our friends over at Alli and MX Sports announced today that tickets are now on sale for twelve rounds of the Lucas Oil AMA Pro Motocross Championship. This include both general admission and VIP tickets, and most tracks have special promotions for advance ticket purchases. For more information, including links to purchase tickets, please visit the Alli Sports website.
The GEICO team riders will kick off the East Lites SX series in Houston by wearing the LE Houston Victory racewear. It's a new colorway to an existing design. We are announcing the gear on RX with a new banner ad that goes live today and it will be available to consumers for sale on Monday!!!
As always, remember to follow Racer X Online for all the breaking news from Houston. And make sure to follow Racer X on Twitter (@racerxonline) to get all the action from Round 6 of Monster Energy Supercross from Houston.
That's it! See you next weekend from the Indianapolis Trade Show, where we should have a lot of cool new industry stuff to show off. Thanks for reading Racerhead, see you at the races.