Reliant Stadium
Houston

,

TX
Houston
Monster Energy AMA Supercross Championship
Monster Energy/Pro Circuit Kawasaki's Dean Wilson was absolutely flying in the off-season. And everyone knew it. Including Dean. Just after hearing from Mitch Payton that he was slated to take on the Lites West championship, though, Dean went down and separated his shoulder. The immediate concern was how bad it was, so he could figure out if he could get healthy in time for the Lites East, and we talked to Wilson to find out how he's coming along, since the Lites East starts up this Saturday night in Houston, Texas.
How is the world's fastest Scots/Canadian?
Dean Wilson: Well, I'm good. Just still getting ready for Houston and riding and training and all that good stuff. So that's pretty much all I've been up to. I was just watching my teammates race on the weekend, so that's pretty much it.
What was it like to have to sit there and watch the first few races knowing that you should've been out there?
I mean, right when I got hurt, it was the day before Christmas so I had that week and a half or so to go. Right when I got hurt I was really bummed out. The team did so good the first round. I mean, it kind of sucked watching it, but at least the team went 1, 2, 3, and that was really awesome. So that's pretty much it. I was just kind of over it before it started but then once it came time to go to the races, it was better.
What did you hurt, exactly?
I separated my shoulder; like my AC joint or whatever. It was a third-degree separation. If it was a fourth-degree separation, it would have needed surgery, but it was third, so I skipped surgery by like inches. I didn't get surgery, but it is really goofy looking for sure, my shoulder. It's working fine and everything now, so I'm happy about that.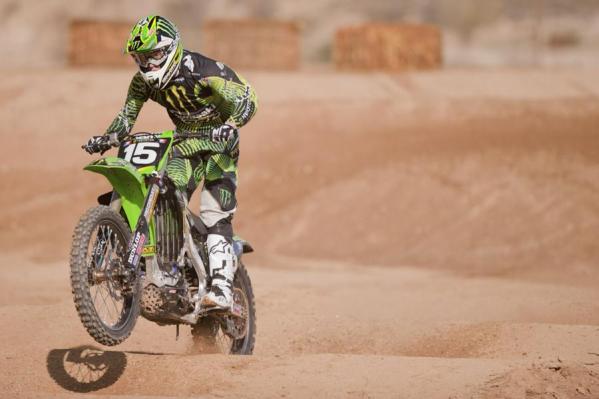 After a off-season injury Wilson is ready to contend for the east title.
Photo: Eric Johnson
What happened? Where did you go down?
I was just training at Glen Helen when it was raining really, really bad in California. We just went up to Arizona and stayed there for a good three days of riding. I felt really good and everything was just really going good. Then I came back and Mitch actually told me, "All right, you're going to be racing west coast." I was like, "Yes, finally I get to race in the stadium I've always watched in." He was like, "You're going to be testing tomorrow," so I was like, "all right." Then we went to the Glen Helen Supercross track and tested and I was riding and I just hit a soft spot on one of the jumps and it threw me over the bars, and that was that. My collarbone was almost sticking through my skin and I was pretty gutted, to say the least. But that's what happened.
When you got back riding again, were you a little bit worried about how it was going to perform?
Yeah, I mean, I was worried, but I guess I thought I dislocated my shoulder at first. I just drove straight to the doctors and it was only separated. But separation looks pretty gnarly when you look at it, so I was kind of freaking out a little bit. Then my doctor said it's not as bad as it looks and I was like, "Well, that's good." He says it's better than a shoulder dislocation. So I was just really happy about that.
For the last few years, the Lites West would race for a while, then the East would race, then it would go back West again at the end of the season, but you're starting this weekend in Houston, then you have a week off right away before round two...
Yeah, I know, it's weird. It's kind of going to make it good for the series because guys are going to go into this weekend to see where they're at and if they're not where they need to be, they've got two weeks to work hard again for the next round. Then, from there, that's when it's going to pick up and everything is going to start settling into place and see where everybody belongs.
So, obviously your plan is to belong at the very front, right? So what do you feel like you need to do in order to do that this year?
Well, as of right now, I don't exactly even feel 100 percent. I mean, my speed's just not there where it should be. But obviously the most important thing is getting a start. You know, you watch any Supercross race and you rarely see a guy come from 10th place to first. So, definitely the start is really important and you need to be in good shape because if you're leading and you get tired on the tenth lap, you've still got five laps to go and you're going to fade. So, you definitely have to be in good shape and get good starts and I think those are the two big, key things.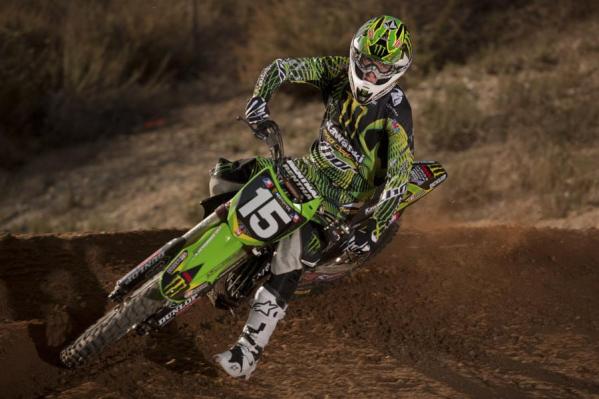 Wilson is a major threat on the east coast.
Photo: Eric Johnson
So, you're saying your speed isn't back to where it was before you went down?
Exactly. It's nowhere near where it was before I got hurt. Before I got hurt, I was just completely on it and just right where I wanted to be and riding really, really well. And right now I'm just not there, so I'm going into this weekend just to try my best. You know, obviously I want to win, but we'll just see how it goes.
Are they going to let you come back to the USA from the Toronto round this year?
Yeah, I'm all good. No worries there. We'll be fine.
How do you think this year will be different for you?
I just think from the experience, you know last year was just a learning curve and I just had lots of fun and enjoyed it. This year now it's really time to just achieve my goals and it's time to crack down. Last year was my first year, and I didn't know what to expect; I was just having fun and enjoying it and learning. And now I just have to take everything I learned from last year and apply it to this year. Like I said, I want to just achieve the goals that I want to achieve in life and that obviously includes a championship, so that's really what I want to do this year. That's pretty much it.
So, if you win a title, what's going to be your first big purchase?
Nothing. I don't know yet...
You should get a mansion. You can get mansions in California for cheap now.
I don't know what I'm going to do with my money. I'm just going to save it and be a happy, old man.