Houston, TX
Houston
Monster Energy AMA Supercross Championship
Jimmy Albertson – Knee
Comment: Albertson crashed on the third lap of his second qualifying session and caught his leg under the bike. It was initially thought that he broke his leg, but X Rays showed no broken bones.
Jeff Alessi – Foot
Comment: From the Alessi Weekly newsletter: Jeff will be on the mend for about 2 weeks with a small bone (metacarpal) broken in his foot.
Travis Baker – Finger
Comment: Travis broke his middle finger in half and lacerated his index finger open. The Asterisk crew stitched his finger and set his middle finger at the track. According to his team, he will be off the bike for four weeks, but he will be back 100 percent for Seattle.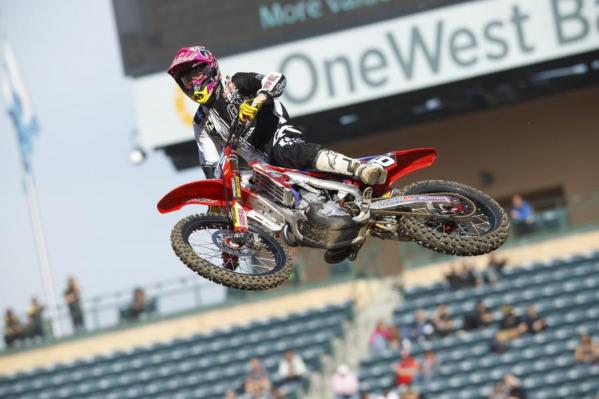 Another blow for the TLD team, as Baker is on the mend until Seattle.
Photo: Simon Cudby
Daniel Blair – Leg and Back
Comment: Fractured his femur, L4 & L5 vertebrae in a practice crash at Anaheim II. Daniel had a successful surgery on his leg, but they are still weighing out their options for surgery on his back. He will be bed ridden for several weeks.
Michael Byrne – Wrist
Comment: The new BTOSports.com/BBMX Suzuki pilot suffered a Lunate dislocation of his right wrist at the Bercy SX back in November, which required surgery. He was released by the doctor and started riding and he's planning to return in San Diego.
Christian Craig – Knee
Comment: Tore the patella tendon from the bone and is having surgery to reattach. He is expected to be back on the bike in six to eight weeks.
Matt Goerke – Ankle
Comment: The TiLube rider injured his ankle while preparing for Anaheim 1. He told us he's planning on returning to action in San Diego.
Josh Grant - Knee
Comment: Josh underwent arthroscopic surgery to repair the damage he sustained at Phoenix and preliminary reports are that he'll return to racing in a few weeks.
Wil Hahn – Back
Comment: Hahn during the first practice session at Anaheim 1 and landed on his back. Hahn suffered a compression fracture of his T-5 vertebra. It'll be a few months before Hahn can resume his training routine.
Josh Hansen – Finger
Comment: Broke his pinky at Anaheim 2 but still raced (and won) the main. He should be a little better when the series returns to San Diego next weekend.

Austin Howell – Ribs and lung
Comment: Austin has three broken ribs and bruised lung resulting form the practice crash at Anaheim 2. Shea Racing expects him to return at the Seattle SX.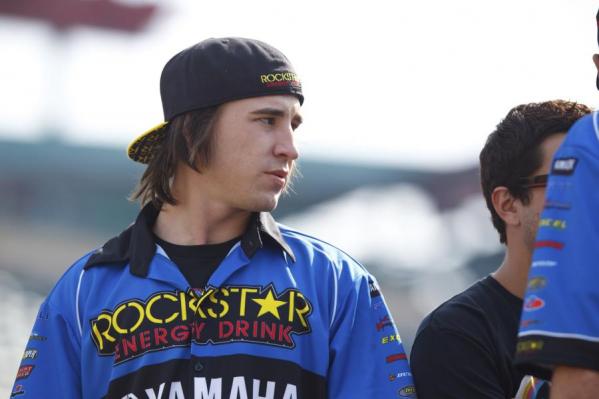 Stroupe reinjured his shoulder at A2.
Photo: Simon Cudby
Austin Stroupe – Shoulder
Comment: Austin reinjured his shoulder casing a jump at Anaheim 2. Not sure if he had surgery or if he just has to let it heal. Probably not racing for a while.
Tevin Tapia – Wrist
Comment: Tevin was expected to debut for Shea Racing at Houston tomorrow, but broke and dislocated his wrist yesterday. No date on his possible return until after his surgery.
Jake Weimer – Arm
Comment: Suffered a broken arm prior to Anaheim 1. He is expected to return later this season.
Ryan Zimmer – Ankle
Comment: Broke his ankle in early January.
Bryce Vallee:  Wrist
Comment: Bryce fractured the scaphoid bone in his left wrist pre-season, but it was originally diagnosed as a sprain. After stuggling with the pain in the first few rounds, a 2nd medical opinion showed that his wrist had been broken the whole time. Surgery was performed and Bryce's return to racing will depend on the healing process.
We miss someone? Please drop us an email at letters@racerxonline.com