Houston, TX
Houston
Monster Energy AMA Supercross Championship
Less than two years ago, Matt Boni was the top privateer in supercross, and looked headed toward a solid 450 career. But his 2010 season was plagued by injuries, and Boni wasn't even sure he'd have a ride for 2011. He finally picked up a spot with Brown Motorsports Ti-Lube, but with a late start to the season, he finished eighteenth in the first race in Anaheim, then failed to make the mains in Phoenix and Los Angeles. In Oakland, he started turning it around by finishing in twelfth, and backed it up a week later at A2 with a thirteenth. For this week's Between the Motos, we asked Boni about his improved results, his thoughts on the tracks so far, and what he expects out of himself for the rest of the season.
You did pretty well at A2!
Yeah, I felt really good this last weekend. I felt like I finally rode to my potential! Now I just need to show that at the rest of the rounds and be consistent with it.
You missed the mains in Phoenix and Los Angeles, but now it seems like you've got the ball rolling on your season. Did you make any changes to your program?
I fine tuned my training a little bit, I feel like I was off in some areas. We've been constantly working on the bike, too. Brown Motorsports, Enzo Suspension and I, we got a little bit of a late start on the season, so we were testing at most of the races. The bike setup and everything feels great though, so hopefully all the kinks are worked out of the program and it'll be smooth sailing from here.
The tracks have been steadily progressing this year, but the track at A2 looked pretty gnarly. Was it as crazy as it looked?
It wasn't that hard to ride, but to race on, and push your speed on, it was really tricky. That was my best result, and the best ride that I've had. I've always done really well on rough tracks and technical tracks, so hopefully they keep getting gnarlier and gnarlier, and my results keep improving. That'd be nice.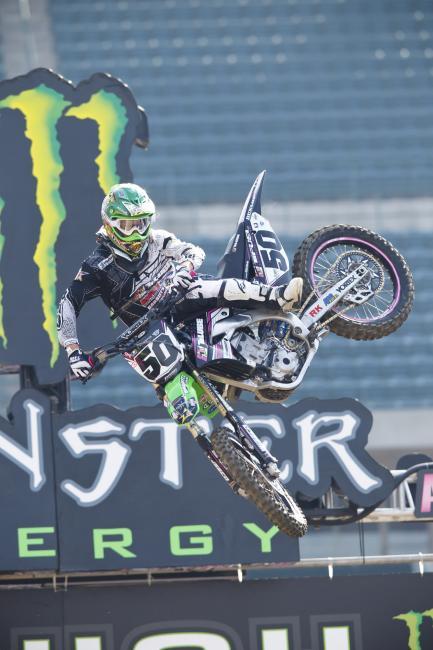 Boni has steadily improved each round this year, capturing his best finish with a 12th at A2.
Photo: Simon Cudby


The whoops have been extremely deep at the last couple rounds. Is this a separator of skill, or does it just separate the guys with factory suspension from the privateers?
Every year that factory term is getting used less and less, because a lot of the factories are starting to back out of their programs. I think that with the whoops being as big as they are, it's a separator not for talent, but for the people that deserve to be up there. It's a big separator for everybody. They've been getting ridiculous a little bit though. It's one thing to have big whoops and have something challenging, but I think that Dirt Wurx needs to do it safely. Every weekend we're losing riders.

Josh Hansen broke his hand in the whoops…
Yeah, in Oakland, you can't count the number of riders that cart wheeled themselves in the whoops. Luckily, I don't think anybody got hurt too bad, but it's just a game of mathematics. If 15 people crash, at least five of them are going to get hurt.

When you say, "Dirt Wurx needs to do it safely," what do you mean?
When you're going to build whoops as big as they have been the last few weekends, build them level. The last two weekends have been five big ones, then they drop off to small, and that causes a lot of problems, and I think it's why Hansen crashed. That's why a lot of people went down in Oakland.

What team are you riding for this year?
I'm riding for Ti-Lube Brown Motorsports Kawasaki. It's going really good, it was kind of a last minute gig. My back was really up against the wall, to be honest. I was looking at doing Arenacross, I was looking at going and getting a real job, or college, so I'm really fortunate that that came around. It's been a blessing in disguise, because the whole team is just amazing. Everybody is here because we love it. None of us on the team are making a lot of money, if any, and the people you see at the races are the people that love the sport and are doing it because it's their passion.

It sounds like you were pretty close to not racing this season.
It was back and forth for a couple months, I was nervous. I went out and bought my own bike and was racing some small local races to try to make some money. And I was doing some motocross schools, just waiting for something to fall in my court. I was doing everything I could to make it happen. It was a close call.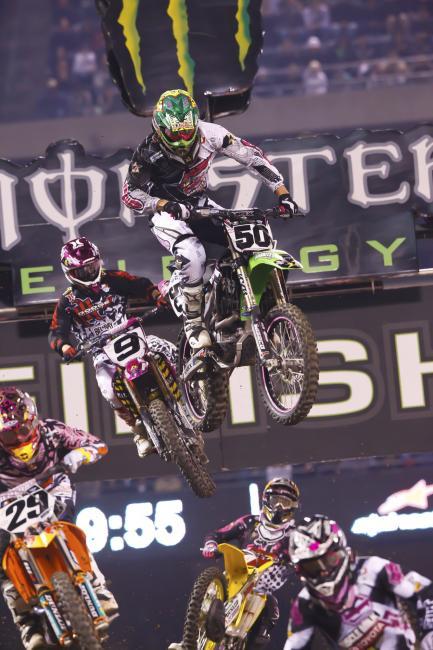 Boni has been battling with the "Factory Boys" all year.
Photo: Simon Cudby
What's the hardest part about being a privateer for you?
Paying the bills! (laughs) I hate to bring up the money factor, but there's a lot of stress that goes along with it. Our sponsors are not the biggest companies out there, and they're putting a lot of money into our team. The factory guys have a lot pressure, but if I don't produce, I don't race. That's just how it is. I'd love to race outdoors, and hopefully my results are good, everyone's happy, and I'll go racing.

What are your goals for the rest of the season?
I think it's realistic to try for all the mains, and I'd like to be in the top twelve. I've been right there the last two rounds, and I feel like as long as I keep dialing in my program and bike, there's no reason why that couldn't happen.

Yeah, you did take twelfth in Oakland.
Yeah, that was a good race. I didn't ride good there, I just kind of got lucky. I felt like I rode really good at A2, and as long as I keep doing that, if I get to where I do 20 laps as hard as the first five, there's no reason top tens and top twelves aren't reasonable.

Who's helping you out this season?
Brown Motorsports, Foremost Insurance, Babbitts Online, DNA Energy Drink, Ti Fuel, Wiseco, GPS Suspension, Dr. D Racing Development, AXO, Carrier Air Conditioning, Dunlop, RK, Excel, Fusion Graphix, K&N Filters, SDG, QTM, UFO, Vortex, G2 Ergonomics, Pit Posse, Crank Works, Tamer, Pit Pass Radio, DH1, Tuf Racing Products, ODI Grips, Concepts in Aluminum, Mandingo Pickles, and Podium Ink.