Angel Stadium
Anaheim

,

CA
Anaheim 2 (A2)
Monster Energy AMA Supercross Championship
Josh Hansen has now won three races this season and holds the Lites West points lead, but his Anaheim 2 victory on Saturday night was something special. Hansen crashed in the whoops in practice and broke his hand, but he just gutted it out, fought through the pain, and won the main event anyway. He rode so well that it almost looked like he wasn't hurt at all—but the fresh new soft cast on his hand said it all. Here's what else he said.
Racer X Online: Will you please explain this? Are you injured or not? You're wearing a cast, but you won the main event!Josh Hansen:
Yeah, I'm injured for sure. In practice I had a big crash and broke the top of my hand and some fingers. The bones were out of place, so they put them back in, and I guess they got knocked back out of place in the race, so now they put it in a soft cast. It is what it is.
What did it feel like when you were riding?
It sucked, dude! It sucked!

So how did you do it?
It's one of those things where it came down to a championship. And then uh, I don't really know. I just told myself, it's only 15 minutes out of my life of pain. So I just busted it out. Everyone has always told me that I was soft in the past, so I figured if I was ever going to harden up, the time to do it would be when we were going for a championship.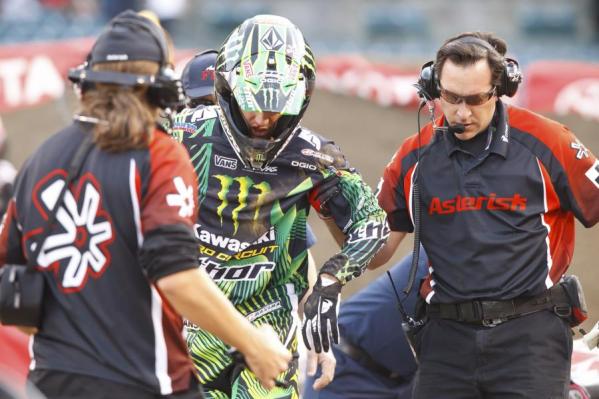 Hansen shook off a broken hand and the field to come away with the victory at A2.
Photo: Simon Cudby
Well yeah, two or three years ago, would you have done this?
I don't know. I don't think so. I really don't. But you know, I barely even had a ride three years ago so, I don't know.

Yeah, I guess when you don't even have a ride you don't even really get a chance to go for a title and do this.
(Laughs) Yeah it all worked out. I'm just stoked to be a part of this team, everyone at Pro Circuit, Monster and Kawasaki.

So do you have any idea what to do now?
Well, just stay off it, let it reattach, and do my training off the bike. It couldn't be a better time for this, we have next weekend off for the East kickoff, so I have extra time. I'm just going to work hard and get this thing back to normal. The next race should be better. I hope!

Yeah but this could be one of those things that hurts really bad the next morning.
Yeah, it could. I don't know. I've only got one more race, then I have a month off, so I'll make it happen.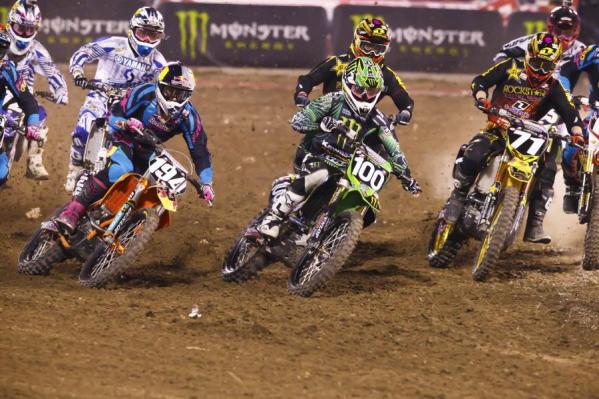 Hansen got the start but had to battle young guns Roczen and Tomac for the win.
Photo: Simon Cudby
Let's talk about the race a little bit. The kids, Tomac and Roczen, were all over you there.
Yeah, I got out into the lead and those guys were right on me. I think it was Roczen who closed in on me a little bit. Then I don't know what happened, Tomac got into second and put a good pass on me. I got him right back and got a little aggressive. I put a gap on them and took it to the checkers. But those guys are riding good, they're kids that you can't count out, they have a lot of speed and work hard. Congrats to those guys, they rode good.

I saw you walking out of the Asterisk truck and you were really mad. Were you thinking at that point that winning tonight's race was even possible?
No. Man, when I was going out for the main, I was not feeling like riding a dirt bike at all. I never thought I was going to win—I knew I wanted to, but it wasn't like, "I'm going to have this tonight." I kind of pissed myself off, because on the parade lap, I was so mad, because it hurt so bad, so I decided I needed to try to channel that energy into something different, something that could help me on the track. It worked out alright!