Angel Stadium
Anaheim

,

CA
Anaheim 2 (A2)
Monster Energy AMA Supercross Championship
James Stewart took his second-straight Monster Energy Supercross win on Saturday night in Anaheim, but it was the way he did it that really made an impact. Stewart dominated every lap of the main, busting out a super-technical quad-quad jump through a rhythm section that no one else attempted. After the race, he was enjoying the moment.

Really, what am I supposed to ask you about that race? You dominated. Good job.
Yeah, you know it was good. I got an awesome start and put the laps in. We've been waiting all year to ride a decent race. As time is going, we're getting better. The Yamaha worked awesome tonight, and I can't say enough about my team. I'm happy to get a win like this, especially on a big night like this.

So have you been making big changes and big gains in your program, or is this improvement tonight just a matter of you getting your racing legs back underneath you?
No we're not more than three or four clicks different from where we were in Anaheim. So the bike's not a problem. It's just a matter of a few little things. Like moving the handlebars up.

Whoa, whoa. Did you really decide to move your handlebars up?
Yeah I did!

Really?
Yeah. I was really nervous to try it, I didn't want to jinx myself, so I told my mechanic to move them up, so this way if it didn't work I could just blame him. So I went out in the first timed practice and I was just hoping it would work, and I was like "yeah, this feels good." So that was about it. It was just an awesome night tonight. I just want to give a shoutout to all of the breast cancer survivors, and cancer survivors in general. And Feld did a great job putting this event together, and Dirt Wurx did an awesome job on the track. The stadium was filled, people were fired up, this is what supercross is supposed to be all about. Even when you get out front and you're going by yourself, I think the people were still stoked on my jumping those quads, I was trying to give it to them.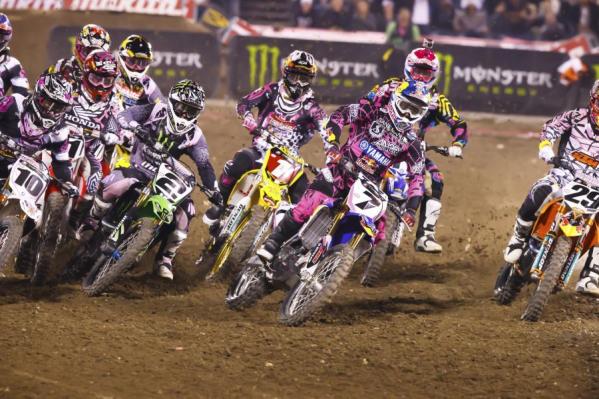 Stewart got the start and never looked back cruising to his second consecutive victory.
Photo: Simon Cudby

Talk about those quads. The transition between those jumps was very small, there was hardly any room for error if your timing was off.
Yeah, I just felt comfortable. And when you're on your game like that, you can get into those things perfect. I was especially comfortable with it on the first few laps. I had one quad I didn't want to have to pull out in the main event, so I was like, "Please just give me a good start so I don't have to jump this."  I was able to get out there and just try to keep the times where they were.

Yeah that other quad, at the end of the first rhythm lane, that was really big. You were hoping to not have to jump it?
Yeah, exactly, I was hoping to not have to jump it. I did it in the heat race one time, and I about bit my Tag handlebars landing that one. I did it a few times in practice, too, so I was like, "Dear Lord, just let me not have to jump this tonight." So I got the start and did the other ones, so I didn't have to.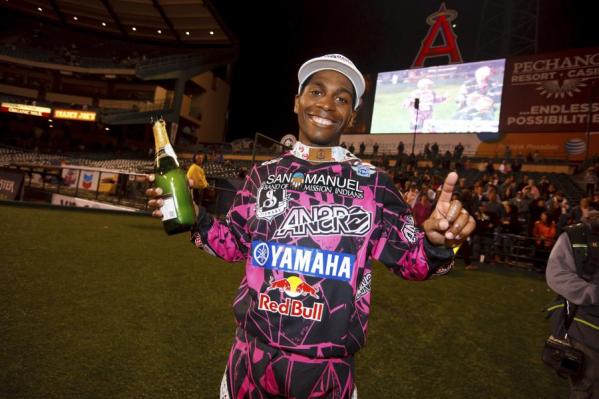 Stewart had plenty of reasons to celebrate Saturday night in Anaheim.
Photo: Simon Cudby
What's it feel like now, after a few weeks of battles, to have kind of an old-school James Stewart win where you just had everyone covered like this? How good does that feel to finally get back to that level?
Well, Ryan rode good. So did Dungey. I don't know what happened to him in the main event, but he was good in his heat race and in practice. So I think everyone is just getting their way into race shape, and getting better every week. I think we have a little ways to go, to get better, but this was definitely a great improvement. I think the track was good, too. It was technical, you had to time everything right, it wasn't just wide open and flat landing everything. Obviously, that played into my style.

What's up with not riding the second timed practice?
It's all good. I'm still a little sore from those crashes last week. When I was a kid I could just hop back up from that stuff, but now I'm the old man, so I had to bust out my cane all week just to get up to my motorcycle! No, no, it wasn't that bad, but I was still feeling it a little from last week, so I wanted to just take that off. And the motorcycle was so good, I didn't want to go out there and even think about changing anything. Normally the tracks get worse and worse, but this time they went out and fixed it, so I was worried it would be a lot different, but I felt good and strong so it wasn't a problem.