Angel Stadium
Anaheim

,

CA
Anaheim 2 (A2)
Monster Energy AMA Supercross Championship
Ryan Dungey didn't come into the 2011 season with both guns blazing. At the opener, he took second, then finished in fifth at Phoenix. He took two podiums by finishing third in Los Angeles and Oakland, but he still hadn't been able to stand on top of the podium. But while Dungey wasn't winning the races, his consistent finishes were at least keeping him in the hunt in case Ryan Villopoto or James Stewart threw out a huge crash or mistake, he'd be able to quickly make up any of the ground he'd lost through the first few races.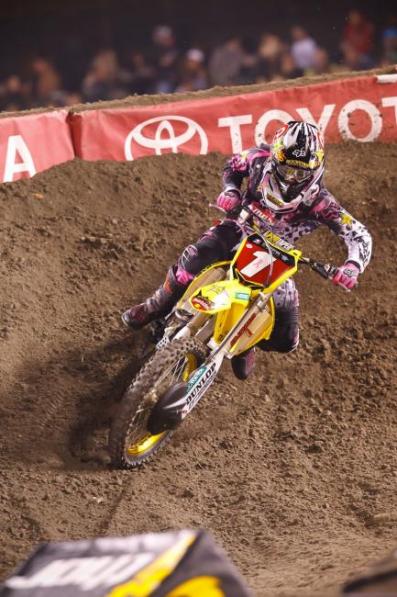 Ryan Dungey is going to have to dig deep.
Cudby photo
And at A2, the night was shaping up well for Dungey. He was the fastest man in qualifying, and won his heat race by taking the holeshot and leading every single lap. That's as far as it would go for Dungey though, and when the main got underway, he found himself mid-pack after a mediocre start. He put his head down and fought to make up ground on the leaders, but on lap eight, disaster struck. A bobble in the corner right before the finish line jump sent Dungey off the track and into a Tuff Block. He didn't lay it down, but his chain had somehow derailed in the incident, and in that moment, Dungey's night came to a swift and sudden end. Stunned at what had just happened, all Dungey could do was bury his helmet in his arms on the seat of his broken motorcycle, crestfallen.

A DNF stings enough, but this was also devastating for Dungey's bid for a second title. Coming into A2, he was 14 points out of first place. Now, he sits 38 points out of the lead, and has a much larger hole to climb out of. It's not going to be an easy task, especially when you consider the fact that he's going to have to go through guys like James Stewart, Ryan Villopoto, Chad Reed, and Trey Canard to do it.

Consistency is not going to cut it for Dungey anymore. This is a disasterous scenario, and if Dungey was holding anything back in the early rounds, it's too late for that. And if he wasn't--if he simply doesn't have the speed to mount a win streak against this field, his championship hopes are dashed.

So this is an opportunity for Ryan Dungey to show just how hard he can fight. Last year, he seemed to find good fortune at every turn. This year, he's the first to face adversity. If there was ever an occasion to harden one's resolve and dig deep, this is it. The time is now, Ryan. Show us what you got.