Angel Stadium
Anaheim

,

CA
Anaheim 2 (A2)
Monster Energy AMA Supercross Championship
At the first four rounds of Monster Energy AMA Supercross and FIM World Championship, James Stewart was merely back at the races in the results column. After tonight's performance at round five of the tour, at Angel Stadium in Anaheim, California, though, he's proven he's really, really back. Not just James Stewart. But Bubba. Bubba's back.



The "Bubba's Back" line has been used before—we ran it on a Racer X Illustrated magazine cover in the summer, his Bubba's World show used the tagline for the current season. But Bubba wasn't really, truly back until tonight, in Anaheim, when he pulled a ridiculous quad-quad rhythm through a very technical jump section on the first lap of the race and started pulling away. Ryan Villopoto finished second and Chad Reed took third. But they were never really in it, since Stewart grabbed the holeshot and took off. It was over after that.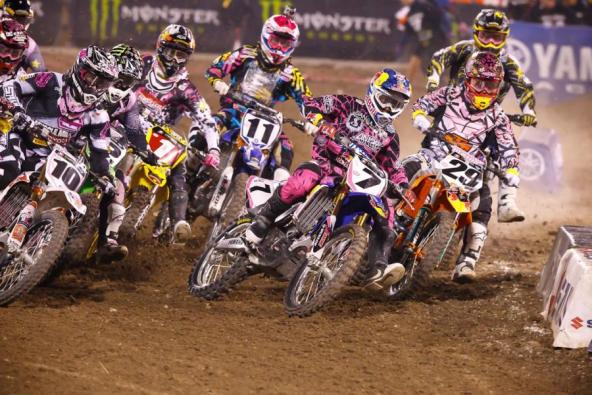 Once Stewart had the start, the finish was easy to predict.
Cudby photo
But is it just beginning? Another new beginning, perhaps? Is this a return to the old James Stewart ways of dominant win streaks?

If he rides like he did tonight it definitely is. Villopoto, Stewart's rival through the first four rounds, simply couldn't hang with the San Manuel Red Bull Yamaha rider on this night. But there's no doubt this track lended itself to Stewart's talents. The Anaheim 2 track was technical, with two rhythm lanes filled with short, closely-spaced jumps. The soil was slippery, too. Stewart simply shrugged it off, the only rider to go four-four through the center of a jump section everyone else had to triple. He exploded through that section, landing it clean every time and landing in the same spot, lap after lap, never faltering through a combination no one else would even attempt.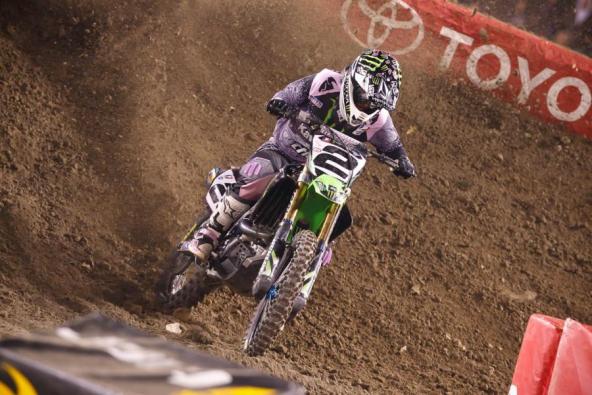 Villopoto rode hard, but no one could touch Stewart on this track.
Cudby photo
There wasn't much else going on. Villopoto tucked his Monster Energy Kawasaki into second and Reed his TwoTwo Motorsports Bel-Ray Racing Honda into third early. Stewart pulled away from Villopoto, and Villopoto pulled away from Reed. Red Bull KTM's Mike Alessi looked rejuvenated early when he started fourth and briefly took over third when Reed made a mistake on lap one. Reed got Alessi back, and then Alessi had to deal with a massive pack of riders behind him. Muscle Milk/Toyota's Justin Brayton was the first to break through, he got to fourth, and American Honda Racing's Trey Canrd was next. They finished fourth and fifth.

Alessi's teammate Andrew Short rode a solid race for sixth, ahead of Dodge Motorsports Hart and Huntington's Ivan Tedesco. Kevin Windham was eighth on his GEICO Powersports Honda, and Brett Metcalfe came from way back on his Rockstar Makita Suzuki to outduel Davi Millsaps for eighth. Millsaps took his Muscle Milk Toyota Yamaha to ninth ahead of Stewart's teammate Kyle Regal.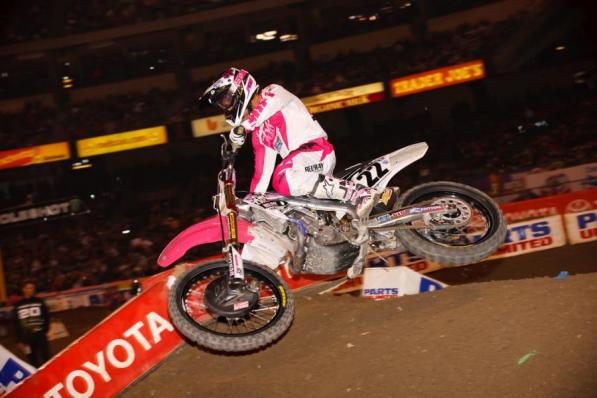 Reed took his second-straight podium. If he does this every week for the next few years he'll get his podium percentage back up into the 90 percent range. Maybe it's best to just take it week to week then.
Cudby photo
The biggest news, besides Stewart's domination, was defending supercross champion Ryan Dungey failing to finish after he derailed a chain. He was credited with 20th place, giving him one point on the night and dropping him well behind Stewart, the series' leader. Dungey had led the field in practice and won his heat race, but a bad start in the main ruined his bid for a win, and the derailed chain ended the whole race completely for him.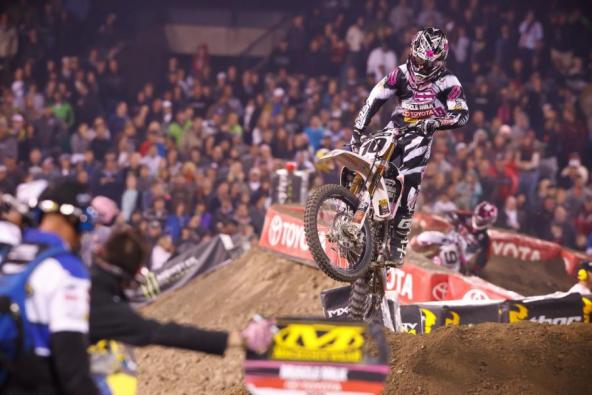 He's gotten sixth, then fifth, and now fourth. Brayton is becoming a player. Quietly.
Cudby photo
Stewart's win was dominant, but Josh Hansen's triumph after a great battle in the Lites class was just as impressive. Hansen crashed hard in the whoops in practice and broke bones and fingers in his left hand. He could have been expected to sit out the race, but instead he pulled the holeshot in his heat and won it, then did the same off the start in the main event.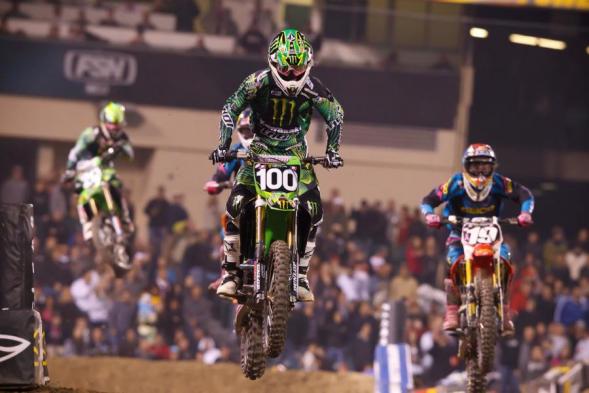 Hansen dealt with pain from a broken hand and pressure from Tomac (19). Neither could prevent him from winning his third race of the year.
Cudby photo
Hansen was under extreme pressure though from rookies Ken Roczen and Eli Tomac. Both took shots at the lead, with Tomac eventually making a pass on Roczen and then getting Hansen for the lead a few laps later in the same spot. But the cagey Hansen hung tough with Tomac all the way down the inside of the rhythm lane and drove his Monster Energy Pro Circuit Kawasaki into back to Tomac's inside. He took the lead back and took off while Tomac tried to regroup. Tomac then had to fight off Roczen's Red Bull KTM, and the second Monster Energy Pro Circuit Kawasaki of Broc Tickle. That trio finished nose to tail across the line, with Tomac edging Roczen and Tickle.

By the end of the race, Hansen's hand was busted out of place again, as the trackside medics had gotten everything back into position before the night's races began. But Hansen is in luck. The Lites riders get a break this weekend as the Houston round kicks off the East Region Lites campaign. This gives everyone out a west a weekend off to rest and recuperate. Hansen will certainly need more time than that to get to 100 percent, but he's already proven that determination can overcome a whole lot of pain.
Anaheim 2 served as the Pink Race to raise awareness and funds for the Susan G Komen Breast Cancer Foundation, so most of the bikes and most of the riding gear transformed to pink for one night. Stewart, who made his SX debut in pink gear in this stadium in 2002, sure looked comfortable for the evening in his pink and black attire.

This Anaheim race airs on SPEED TV tomorrow at 4 and  pm EST.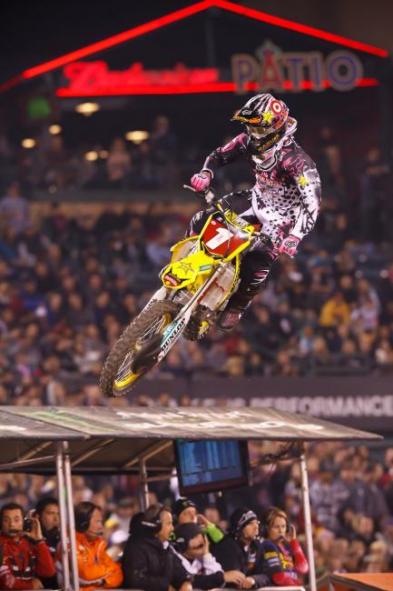 After he DNFed the race with a derailed chain Dungey might have felt like visiting he Budweiser Patio you see behind him here. The champ is way back in points now.
Cudby photo
Supercross Class Results:
1. J. Stewart
2. R. Villopoto
3. C. Reed
4. J. Brayton
5. T. Canard
6. A. Short
7. I. Tedesco
8. K. Windham
9. B. Metcalfe
10. D. Millsaps
11. K. Regal
12. M. Alessi
13. M. Boni
14. K. Chisholm
15. N. Wey
16. J. Thomas
17. C. Blose
18. T. Simmonds
19. F. Izoird
20. R. Dungey
Supercross Lites Class Results
1. J. Hansen
2. E. Tomac
3. K. Roczen
4. B. Tickle
5. K. Cunningham
6. M. Davalos
7. R. Morais
8. B. Rutherford
9. R. Marmont
10. J. Decotis
11. C. Seely
12. A. Balbi
13. J. Canada
14. B. Evans
15. S. Champion
16. C. Hinson
17. K. Beaton
18. P. Eckman
19. Y. Ikegaya
20. N. Paluzzi