Courtesy of Monster Energy
Monster Energy/Pro Circuit Kawasaki's Josh Hansen has always had speed and talent to spare, but for a while he wasn't living the lifestyle that was conducive to succeeding at racing. After winning the X Games a few years ago, though, he got another shot, and eventually he landed on the Pro Circuit team as a supercross-only racer. And this year, it's finally starting to pay off for the likable Colorado native. We caught up with him after his second win in a row last Saturday night in Phoenix.
Josh, you've usually gone pretty fast here, but you haven't really had a lot of luck. What changed for you this year in Phoenix?
Josh Hansen: I don't know, I think it was just patience. I had a lot of speed last year and didn't have the patience and that was something I learned this year. So, I just took it as it came tonight. It really worked out in my favor. But I'm super-stoked to be able to get the opportunity to basically rebuild my life and to be back on the map again with a good team, so I've got to thank Monster Enegy/Pro Circuit Kawasaki for basically gambling on me. So far so good, but I don't want to get my hopes up too high. I just want to keep concentrating and keep moving forward and improving every week.
You can't do better than winning both races you've raced this year...
No, I hear you, but I could have personal goals of riding better for myself and whatnot. So, in that sense, it could be better, but as far as winning, a win's a win. I'm blessed to have it so far and I just have to keep it going.
Well, how do you feel with your riding and everything? Are there bad habits you're still trying to break?
I think there's some stuff I really want to improve on. I mean, I think I'm riding good but I definitely can up it and that's something that's just personal for me. It's been good enough to make it happen, but I definitely want to start thinking how the 450 guys do and how James [Stewart] would think. So, I've got to be able to put up new goals. I can't just stop with the win; I need to keep building each weekend.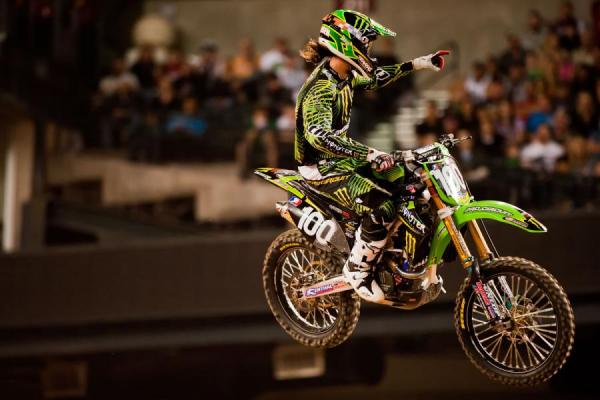 Hanny made it two in a row at Phoenix.
Photo Courtesy of Monster Energy

That seems like the formula that leads to more wins because you're aiming past that...
I would have to say so. I've never really been in the position of winning a bunch of Supercrosses, you know? This is what I believe in at this point. I've been working hard, I really have, on my personal life as well as on-the-track stuff. So I guess if that continues to improve and stay strong, I think that's just a big improvement all the way around in my life. Just to be able to train and be able to stay consistent, have my head on straight and not get into any BS, I think that's a big goal of mine.
Well, if you look at yourself three or four years ago, could you have even imagined being where you are now?
Probably not. I mean, really it sounds sad, but I'm embarrassed of what I used to be, you know? So, this is a big step. I think everybody is saying, "Oh, he's too old," or, "He's too this or that," and you can't make everybody happy, but we all have our personal issues and I'm trying to learn for myself, you know? I haven't had somebody over my shoulder 24/7 teaching me to be like a robot. I've kind of done my own thing and I think it's showed. More or less, it's taught me a lot, but it's also put me over the wrong side of the fence. So, I think it kind of works for its pros and cons, but I kind of know the road that I want to be on, so that's all I can work with.
But at least you're your own guy now, so your fans really like you...
Yeah, I hope so. I mean, I'm really, really thankful for what I have in front of me and all I can do to show that is to keep doing what I'm doing. I appreciate everybody for even coming out. We've been having sold-out stadiums and that's awesome to see. I'm really stoked. If there was a time to put it up there, I want to say this year is pretty cool because there have been a lot of people at the races. This is cool.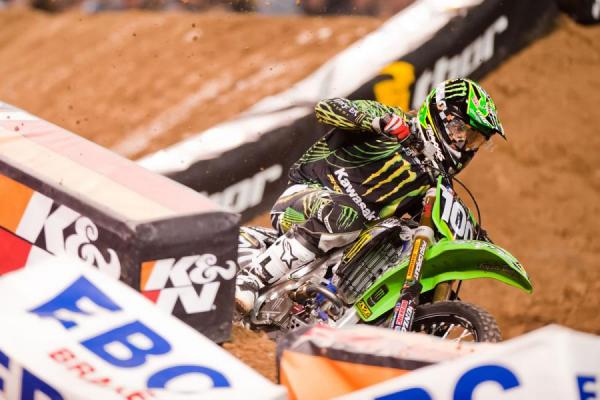 Can Hanny make it three in a row in LA.
Photo Courtesy of Monster Energy
Obviously, you had the whole "The Hills" thing and all that stuff last year. Do you get a lot of those folks in your autograph line who know you from the show instead of from racing?
Yeah, a little bit. I get a lot of emails and stuff; it's crazy. A lot of people see it. If I go out traveling around or just hang on the beach, people notice. It's crazy, just being on a couple of episodes and how much people really look into it. That's cool, but I also want them to look at me as a racer. That's what I do, so that's my first priority. The TV stuff is definitely a bonus; it's pretty rad. But I want to be a racer and I want to be a champion, so that's important for me.
I know you love riding 450s, so this has to be your last year in the Lites regardless, right?
Maybe. This is the thing: I think everybody thinks this is my last year but I do actually have two more years if I really wanted them. Depending on the points, I have another year, or maybe two. I definitely would like to be on a 450, but I'm just going to concentrate on what happens right now and whatever works out is going to work out.