Phoenix, AZ
Phoenix
Monster Energy AMA Supercross Championship
Pretty impressive to see Trey Canard on the podium in just his second race in the Supercross class…except that it's really not a surprise if you go back to his 450 performances last year. Canard filled in for an injured Andrew Short and nailed five-straight podiums in the big class. Apparently, the pressure of racing the class full-time isn't getting to the rookie at all, and what's even more impressive is that he feels he can get much better.

Racer X Online: Hey, at the beginning of the year, there was talk of a big four, and now at round two you're already standing on the podium, and you finished ahead of two of them. So you've already jacked this whole Big Four thing up.
Trey Canard: Yeah, and that's understandable. The media can only list so many people, and those guys are champions, and I'm only a rookie. Happy to be a part of that group, and hopefully I can continue to build, and maybe make my own mark.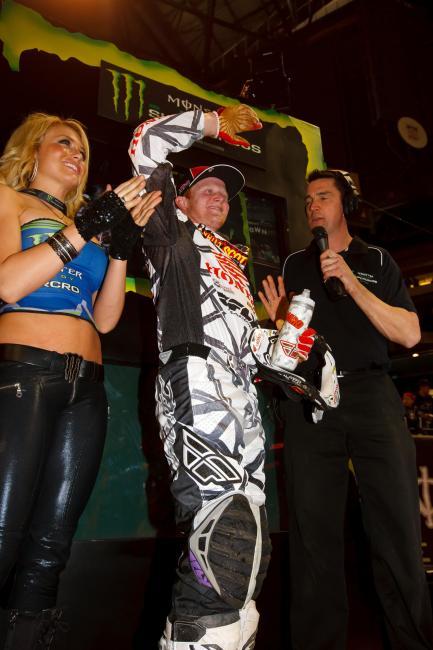 Canard grabbed his first podium of the year in Phoenix.
Photo: Simon Cudby
So yes, you're a rookie. So are you even riding up to your potential, or are you just working on things?
Well, I'm really disappointed in the twenty laps I just did. I don't feel like I rode to my potential at all. Just make a lot of mistakes. And that's disappointing because I felt so good in practice, felt so comfortable on the bike. So when you're riding good and you feel good, to end it with bad laps, that's pretty disappointing. But, third in my second race of my first season on 450s, I'm still pretty happy.

Take me through the race. You had to make some passes to get up to this spot.
Yeah. Dungey and I started together, and I was fortunate to catch him in a tight spot at the beginning, and get past him. Then I got around Brayton who was up there, and then Kevin. So I noticed I was up to third, and I was like, "Man, this is pretty good." I started to get pretty tight. I'm happy with the position, but I wished I would have ridden better.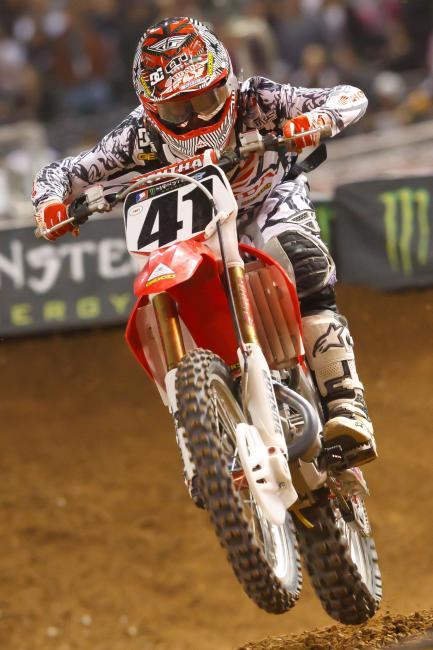 Has the Big Four become the Big Five?
Photo: Simon Cudby
You had so much momentum at the end of last season. Was it hard to keep that going all the way through now?
It was easy, actually, when you have that kind of momentum. There's nothing that disappoints you, it's not like you come back from a race feeling like you didn't ride that well. So I could keep it going. At the same time, I was excited about all the changes—team changes, bike changes, gear changes, you know the deal. I was excited the whole off season, and I think it went well.

So you got third tonight, you were in the hunt, and you feel you didn't ride as well as you could. So aren't you happy to know you're already in third, and you can get even better?
Yes, yes, I'm happy with the position. But if some other riders were closer to me, it might not have happened. So I just can't settle, I have to just keep putting the work on and see how far we can go.