Anaheim 1 Practice Report: Bubba's Back?
Anaheim, CA
Anaheim 1 (A1)
Monster Energy AMA Supercross Championship
The first qualifying sessions of 2011 are in the books here in Anaheim, and several riders have already made statements. But before we get into the practice times, let's talk about the track a little bit. The dirt is thick and dense, and has a decent amount of moisture in it, which could lead to some pretty slick clay in places. The track crew has put lye, a drying agent, in the dirt, so as the night progresses, the dirt will likely become very hard. The sand section also has a fair amount of moisture, and it's going to break down and get gnarly very fast; think Seattle 2010. The second corner after the finish line is a flat, 180 degree left hander, followed by a straightaway into a 180 degree right hander, and has great potential to produce some pretty serious stuffing and elbow rubbing. As usual, the track has several triples and rhythms right out of corners, but nothing that will be a problem for most of these guys. Lastly, the whoops seem a little smaller than past years.
In free practice, KTM's Ken Roczen spent a lot of time rolling the rhythm sections and trying different lines. It must have paid off, because in the first timed session, the 16-year-old German came out and immediately set the fastest time in the first timed practice. The rest of the session turned into a duel between Rockstar Suzuki's Martin Davalos and Roczen, and they ended up swapping the lead five times. In the end, Roczen's 59.609 best time edged out Davalos' 59.644. Josh Hansen, Kyle Cunningham, and Tyla Rattray rounded out the top five. Geico Powersports Honda's Wil Hahn crashed out of practice and had to be carted off in the Asterisk Mule. Unfortunately, the crash marked the end of Hahn's night, as he was forced to pull out with an injured back.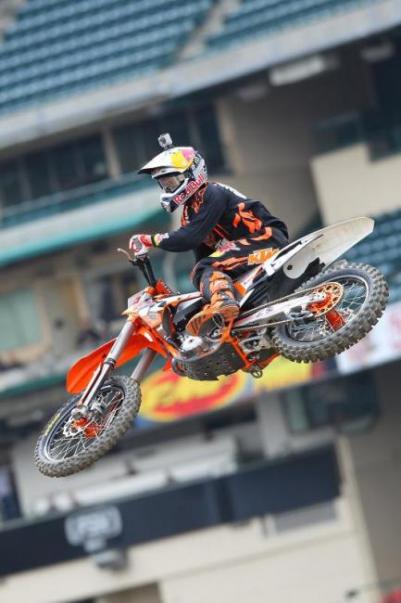 Kid Rocz.
Photo: Simon Cudby
The second Lites session was going in the same direction as the first when Davalos once again climbed to the top of the board. Roczen was clicking off laps, and his times were steadily improving, and it looked as though another duel would take place. Then Lucas Oil TLD's Travis Baker had a nasty crash, going over the bars into the whoops, and unfortunately Roczen got caught up in the mess and went down hard. Baker was able to pop back up right away, but Roczen was a little slower in getting up. Once he was back on his feet, he circulated the track slowly, rolling everything, until he eventually pulled off into the mechanic's area. Moments later, Tyla Rattray went down in a rhythm section and didn't get up for a few moments. He ended up riding out of the stadium with his mechanic on the back before practice was even over. So if you're keeping track at home, Wil Hahn, Rattray and Roczen were banged up after practice.
Throughout most of the second session, Eli Tomac was in second, until Hansen, Tickle and Cunningham snuck past with just a few minutes remaining. Davalos closed out the session in the lead with a 59.915, followed by Hansen, 59.933, Tickle, 1:00.393, Cunningham, 1:00.429, and Tomac, 1:00.547. So Davalos was second fastest in session one and fastest in session two. Look out!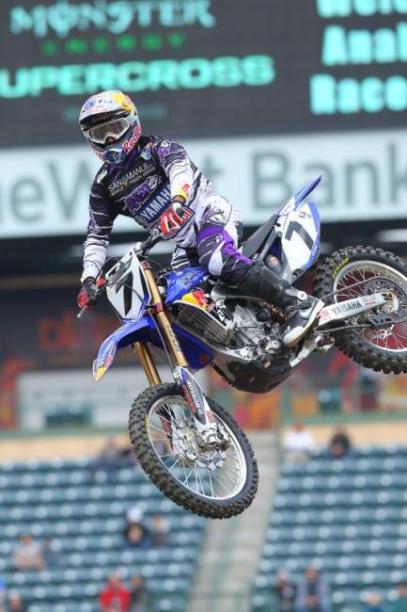 Stewart sure looked good...
Photo: Simon Cudby
Many questions needed to be answered when the 450s rolled out, and James Stewart immediately went to work on answering a big one. He set the fastest time right away. Stewart has admitted that in years past, the team hasn't done enough testing, but during Thursday's press conference talked about  his new suspension technician and increased testing time. So far, Stewart's bike bears no resemblance to the bucking bronco he was riding in 2009 and 2010.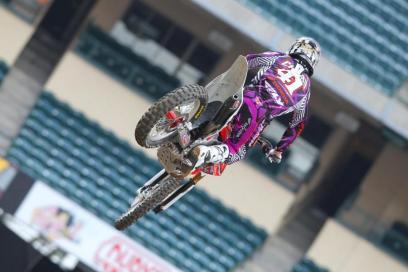 Is the 2011 Trey Canard the 2010 Ryan Dungey?
Photo: Simon Cudby
At first, Stewart had nearly two seconds on the entire field, but as everyone started ticking off laps, that gap started to slowly shrink. When the session ended, Stewart's 58.749 lap time was still the best, with Chad Reed not far behind with a 59.063. Ryan Villopoto (59.672) edged out Trey Canard (59.673) by a mere thousandth of a second, while Ryan Dungey slipped into fifth with a 59.771.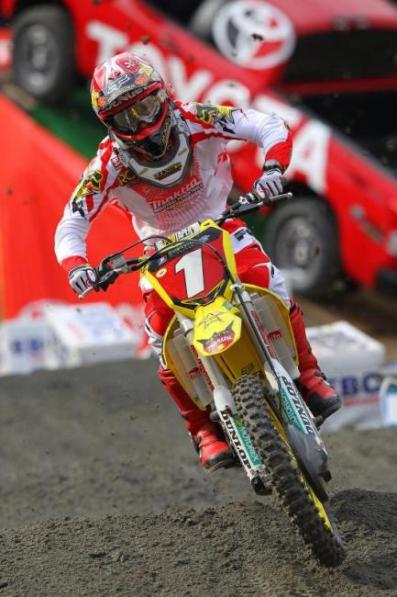 The Dunge was solid, but not blazing, in both sessions. A crash in session two led to a broken throttle, but no physical problems.
Photo: Simon Cudby
The second 450 session started off different than the first, but had a similar end result. Stewart cruised for a few laps, allowing Canard to hold the fastest time for several laps. JS7 then went into attack mode, claiming the top time yet again. Stewart then started an interesting pattern of cruising for a lap, then beating his best time on the next. He ended the session in first, with an amazing 57.634, almost an entire second ahead of Canard's 58.525. Reed looked smooth, and experimented with different lines during the session, and finished just behind Canard with a 58.574. Dungey had a scary moment when he went over the bars as he was entering the whoops, but fortunately the champ came out of the wreck unscathed. His best time, 58.809, was good for fourth, while Villopoto rounded out the top five with a 59.007.
Is James Stewart back? So far, it looks like it.
The usual suspects are at the top of the leader board, and it's shaping up to be a crazy night. Make sure you keep visiting www.racerxonline.com, or follow @raceronline on Twitter for live updates from the season opener in Anaheim