Matrix Concepts Facebook Raffle Contest
The MATRIX CONCEPTS you guess the top 3 A1 AMA Supercross
Facebook
raffle/contest ($450.00 Value!!!!).
Matrix Concepts Facebook Raffle Contest: Guess who will finish in the top 3 spots (1st, 2nd and 3rd riders) at A1 in 450 cc main event class and win a spot in a raffle for a Matrix "Pro Kit" Free! All entries whom guessed right will be put into the final raffle and (1) one lucky winner will be randomly picked by the computer and receive a (Free M2 Stand, M9 Worx Mat, M6 Ramp, M3 Can and M1 Worx Tie down set). A $450.00 value.
Better your chances to win: Click LIKE and then SHARE button and if any of your friends win then You will also win a FREE Matrix "Pro kit".
Check our Facebook Sunday after noontime PST after the Race and we will post the lucky winner!
We will do 10 of these this year so check back for the next contest soon.
Limit one entry per person.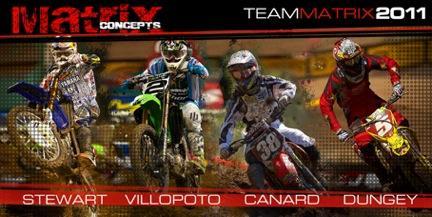 To learn more about Matrix Concepts visit: www.matrixracingproducts.com/MatrixConceptsFacebook