Welcome to Racerhead. It's been a slow week around here. Leaves are slowly falling off the trees, the temperatures are beginning to drop, and Anaheim seems like two months away.... Which makes sense, since it is two months away.
But the off-season probably seems like forever for Chad Reed and Christophe Pourcel. Still no official word on where either of these men will end up in 2011, as the music seems to have stopped and the chairs seem to be full. Ping will have more on Reedy later; no one seems to know anything about where CP377 will land—Cox will have more on that later.
Autumn is the golden season for motocross videos. That's because one of the best things about this time of the year is checking out all the cool clips of the riders and teams as they begin to take shape and get to know each other as they prepare for next season. It's like there's a competition among the filmmakers to outdo each other, and as a result, we as viewers all win. For instance, check out Simon Cudby's slick piece (HERE) he did on Monday at the Rockstar Suzuki track, featuring Ryan Morais, Martin Davalos, and newcomers Ian Trettel and Jason Anderson.

And then there's THIS GEM GuyB posted on the VitalMX.com homepage, featuring a beautiful motocross track in Hungaria and a kid named Bence Szvoboda, as shot by Norbert Nagy - it's good stuff!
And speaking of Europe, there was one signing this week: Michael Leib officially inked his deal with Husqvarna for the 2011 FIM Grand Prix tour. Leib, who finished nineteenth in a late-starting rookie season abroad, will have the full backing of the Italy-based team.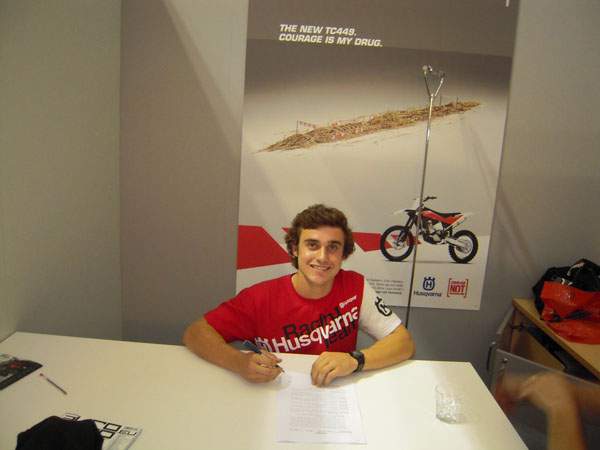 Here's Michael, signing his new contract!
Leib is in Italy for a big motorcycle trade show, where he was introduced by Husqvarna. He also had time for a quick stop in Venice, home of the watery streets and singing gondoliers. Follow his adventures on his own very interesting blog right HERE.
Here's a big thanks to Motosport.com for giving away Tommy Hahn's Rockstar Suzuki RM-Z450! It was part of the big Racer X subscription drive, and the winner is ... Jeff Petri of Jacksonville, IL. Jeff's new bike is being shipped to him now and we'll interview him once he's had a chance to check it out.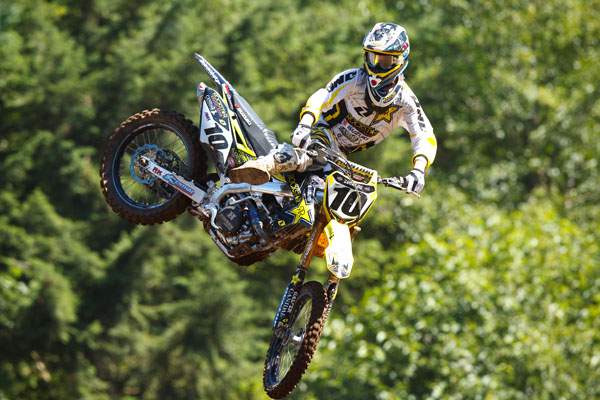 Racer X reader Jeff Petri just won this motorcyle from Motosport.com!
Photo: Simon Cudby
This just in: Tyler Evans has a new gig. We think. You have to watch this. Seriously.
Thanks to 40Plus_922mx on Vital for finding that Evans video and making our day.
Speaking of fighting, I had a chance to speak to Jason Ellis yesterday. Jason is a professional skateboarder, amateur boxer, lifelong motocross fan, hilarious talk-show host on Sirius 28/XM 52 radio, and now an event promoter. He's got a big event going this weekend in Los Angeles called Ellismania 6, and it involves a bunch of oddly interesting fights that will include Ronnie "Kung Fu" Faisst. (If you're an Ellis fan, the weigh-ins will be on his radio show today.) If you missed it, HERE'S the interview.
Toward the end he told me that one fight he really wanted to see someday was Chad Reed and James Stewart after they both retired. It got to me thinking: What else would make a good fight? Ryan Hughes vs. Larry Brooks? "Mad" Mike Jones vs. Brian Deegan? Tyler "One Punch" Evans vs. Doug DeHaan: The Sequel? Rockstar Girl Ashley vs. Monster Girl second-from-right? Tell us some motocross fights you would like to see and we will post them next week: letters@racerxonline.com
Nick McCabe caught up with Chad "Swap" Pederson for a Where Are They Now? piece on Racer X Online, and it's a cool read. If you missed it, check it out right HERE.

One team Pederson rode for at one point that we failed to mention (but added later) was Moto XXX, the long-running privateer team that was a thorn in the sides of the factories for thirteen years.
Also, apologies to the People's Champion, Jamey Grosser, for leaving him off of the all-time list of Minnesota's fastest riders for this week's Fox 50.

But we will be able to make it up to him by putting him on the Fox 51st state, which will be Puerto Rico, or maybe just Tallahassee or something.
And here's another in-case-you-missed-it reminder: Check out the exceptional Maxxis Tires short film Deegan Vs. Deegan, produced by Blue C Advertising. It's a cool bike-versus-truck riding/driving video from the Metal Mulisha Compound, starring Deegan in both roles.



Deegan vs. Deegan is a very-well-done piece of filmwork.
Okay, here's Ping:
It sounds like Chad Reed is going to start his own race team. After trying to find a home with TLD or Valli, he has decided his best bet is to put together his own program. In two months, the former champ has to put together a race-team staff, a transporter, a race shop, and get himself and his machine ready to race. That's a full plate right there. Who's the new team manager handling that boatload of work? I think someone should call up Skip Norfolk and see what he's doing. Skip took Jeremy McGrath to a few race wins, and he was an integral part of his Bud Light Yamaha team. And Chad has always tried to emulate Jeremy, right?. Skip, you out there? My guess is that Reedy will be on Hondas with the support of Pro Circuit, Fox, and a few other key companies that have his back, including a good friend in Australia with bottomless pockets. I'm just stoked that he's going to be lining up in January.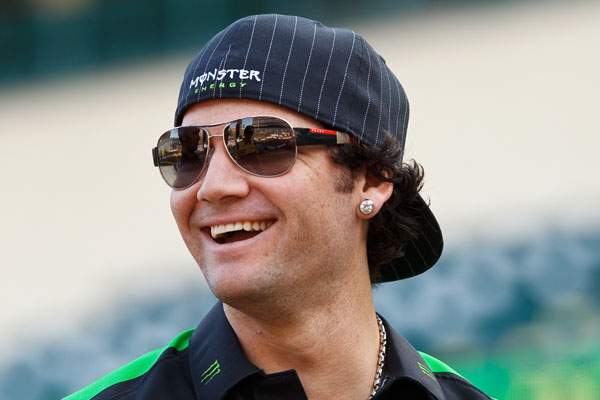 Will Reed end up riding a red bike in 2011? We'll see!
Photo: Simon Cudby
Christophe Pourcel to Valli Motorsports? Well that's the only place left for him, really, unless you count his couch in France. According to a friend who works for the team, they have been in talks with Pourcel, and they certainly have the money to get him. If they could get him to commit, Valli would be looking really good in 2011 with Austin Stroupe and Pourcel. I'll just be stoked if lines up in January.
I saw Josh Grant riding his new factory Honda this week at Perris Raceway. It was only Josh's second day on the bike but he looked perfectly comfortable. Grant is only nine weeks post-op on a twice-torn labrum, still very early in the process. In fact, most doctors would probably not recommend that he ride this early. But with the start of the new season only eight short weeks away, he doesn't have a whole lot of time to spare. Josh will probably start riding supercross in the next week or so. He will be teamed with Honda mechanic "Gothic Jay," who is a sleeper for the GNCC title this year. Okay, not really, but I guarantee this guy could hold his own in the woods with any pro rider. Grant also has Randy Lawrence helping him with his riding and training program for 2011. Randy has a very impressive track record, including multiple championships with Ryan Villopoto and a 250 supercross title with Jake Weimer. The two could be a formidable team next year. I'll just be stoked if he lines up in January. Oh, wait, he will be racing. Sorry, that worked for Reed and Pourcel.
To see Josh in action on the new red machine head over and check out this Shoei video on YouTube.
Troy Lee Designs has just signed amateur star Jesse Nelson. Jesse has been a longtime Red Bull athlete and Honda rider, so he fits right into the program. This partnership is something TLD has been working on since way back when I was still working there. Jesse will be riding a team replica bike this season at all the amateur national events. He also has the option to race a national or two after Loretta Lynn's with the team. I know everyone at the shop and within the company is really excited to have Jesse on board. Between having riders like Chad Reed try out for the team and signing future stars like Jesse, the TLD squad is certainly headed in the right direction.
Thanksgiving's annual dirt bike event on the West Coast, A Day in the Dirt Grand Prix, is scheduled to blast off at Pala Raceway right about the time your Thanksgiving turkey is reaching its exit in your GI tract. This year's event is going to be really cool, like always. The DITD staff had a bunch of media out to Pala Raceway this week to check out part of the course and see what the facilities will look like that weekend. Kenny Alexander, the event promoter, had this to say about the coming event:

"This facility is going to be amazing for this event. The track will be just over four minutes per lap and, as you can see today, it is going to be tamed down considerably from what you saw at the national. I think there was some concern that we would have 120 ft doubles like we saw Dungey and the boys flying over in September but it isn't going to be like that. This is a family-friendly event and we want everyone to come out and have a great time, not worry about getting hurt. The track will be a little bit of GP course mixed with some old-school motocross; it's going to be awesome."
The track was a lot of fun, and we only got to ride a portion of what will be opened up for the GP. They intend to combine all the motocross tracks (except the Vet track) as well as some dirt fire roads and easy off-road sections at the top of the property. It should be a really cool event. I suggested a ring of fire to jump through or maybe a gator pit, but I don't think it will happen. Of course with Troy and Kenny, you never know. Check out www.adayinthedirt.com for all the info and event entry forms.
Now we'll swing it over to Steve Cox:
I want to start off by apologizing to Nick Wey. Last week, I detailed all the racers I could think of who were going to be contenders in the 450cc class and came up with more than twenty guys, but I left out Wey, who is always somewhere up in there. The reason was because I was thinking through the teams and naming the riders on those teams, and Wey hasn't landed anywhere officially yet, so he slipped my mind. Let it be made clear that I did not think to myself, Well, then there's Nick Wey … nah, I'll leave him off the list.
Sorry, Nick.
And speaking of saying stupid stuff, I stopped by the PulpMX.com radio show on Monday night at Steve Matthes' house in Las Vegas as I drove into town on assignment. It was really fun. I've called in a few times, and this time I stopped by and joined Matthes, co-host Kenny "MeMe" Watson, and Watson's new rider at Hart & Huntington Kawasaki, Ivan Tedesco. It was actually a really good show if you take my parts out. They might have a filter for that on iTunes.
So far, though, I still haven't officially been asked to be on the PulpMX show. It's kind of like pestering a girl to go out with you over and over, except this girl is Steve Matthes.
And speaking of haunting mental images that can never be erased, did you see that YouTube video of Tyler Evans? He can and would almost definitely beat me up if we were to get into it, so I'll leave it at that.
Rumors keep picking up that perhaps Pourcel will sit out the 2011 season altogether because he hasn't gotten an offer that he wanted, and I'm sure that since most of the budgets are nearly completely spent already, the offers are much lower than they were a few months ago, which is the wrong direction for Pourcel.
However, I can't bring myself to believe that Pourcel will actually sit out 2011. I don't think that's even remotely possible. At least it shouldn't be. I just don't think that sitting out 2011 will up the offers for 2012. That seems completely ridiculous. That being said, Pourcel is an extraordinary racer, and a really funny dude to boot, so hopefully he's out there racing because that makes the racing better for everyone. Thanks Cox, and here's a look at some of Steve's annual Halloween photos.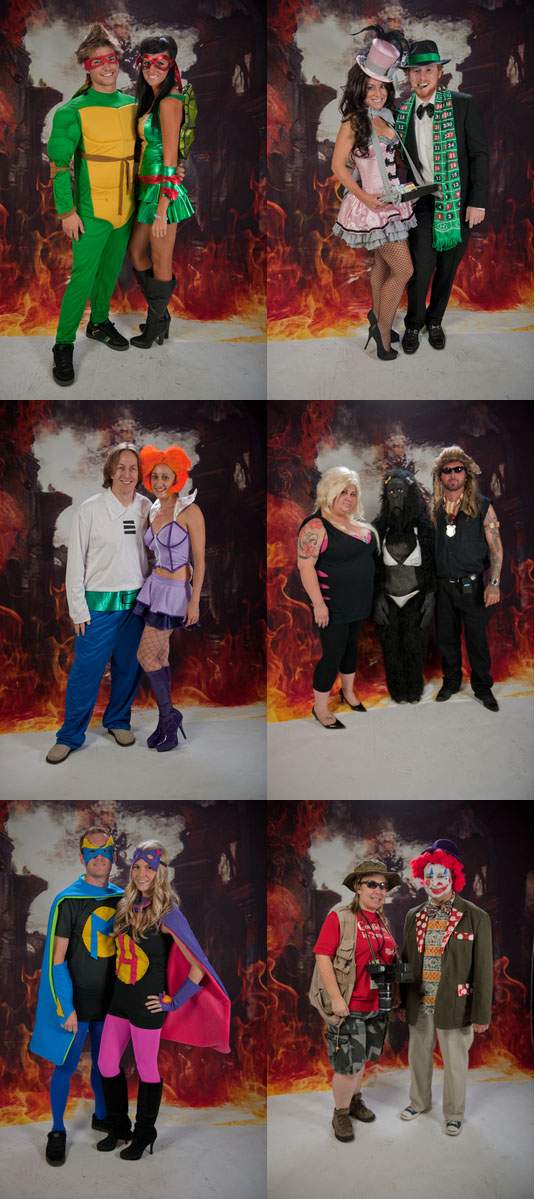 And now here's The Weege:
Last week I mentioned the very real possibility of a top rider sitting out for the 2011 season, and Cox mentioned how that still seems in play for Christophe Pourcel. As for Chad Reed, maybe he's putting together his own team. But that highlights another problem that may rear its head in this new economy. When a rider doesn't get a ride and sits out for the year, that's an obvious problem. But sometimes riders do get rides on what appear to be solid teams, but you really don't know what's going on behind the scenes.
People constantly say Major League Baseball is broken because teams are not held to a salary cap and the New York Yankees are free to buy the best players (they do have to pay a luxury tax, which is then distributed to lesser teams in smaller markets, but to the Yankees, paying good players gets them into the playoffs, which makes them more money than that tax costs them). You're constantly hearing about the Yanks' $200 million payroll compared to $40 million for other teams. But that's just the obvious part. The Yankees also spend money in areas you don't even hear about—more scouts at more games garnering more information about opponents. More scouts sent to Latin America to find talent, and more money to sign them when they're found. The Yankees can take chances on more prospects from other countries, or in high schools, because blowing money on a bust means nothing to them. Yes, their pro payroll is higher, but that's just the beginning.
The same inequities may start hitting our sport. A lot of old-timers in this industry tell me we've been through recessions before, like in the early 1980s. Then, the U.S. was not only in recession, but the massive 1970s explosion of dirt bike sales in the U.S., where it seemed like every kid in California had a dirt bike, had crested the peak. Look at how that affected factory teams in those years: Honda went on an all-out blitz, built state-of-art works bikes, and began a run of domination that we will probably never see again. Meanwhile, Yamaha squeezed their development budget. They still had star riders like Bob Hannah, Broc Glover, and Rick Johnson, but they were putting them to work on production bikes versus the might Hondas. And even when the production rule came about, in 1986, Honda still had the staff and budget to turn those into the best production-based bikes, too. They didn't necessarily have the best talent, but they had the money to make the best bikes. Eventually they became so dominant that they could seemingly grab anyone and win titles, and also, riders would want to ride for them just to get on those bikes.
Only a few people who will ever know the full extent of what Honda had going on in the '80s and what the other teams didn't. Yamaha and Suzuki, dominators at the beginning of the decade, where struggling mightily a few years later. On the surface, they were all factory teams with box vans, factory bikes, and big name riders. Somewhere beneath that, there must have been some major differences.
Earlier in this decade, when bikes and ATVs were selling and all the teams were flush with cash, any brand could win, and they all did. Today, all the manufacturers are still well represented in the pits and on the starting gate, but will they still remain evenly matched once that gate drops? Will one team have to let a few key technicians go? Cut back on the works parts they really need from Japan? Test less? These things all add up, and we'll see if each brand can still race on the same equal footing that they did a few years ago.
Okay, here's some things we found on the web this week, and some notes:

If you're not familiar with Scott Taylor, here's a refresher: he's the Florida-based industry man who was one of the first sponsors of Tim Ferry (while at Seminole Honda), Ricky Carmichael, and James Stewart (AXO, then Oakley and Fox Racing). Taylor was instrumental in all of their careers, and he stayed with Ricky through the first year or his car-racing transition. Now Scott is working part-time as Ivan Tedesco's agent, and he just slotted the former champion in at Hart & Huntington Kawasaki for 2011. But silly season isn't over for Taylor; he's also looking for a new challenge. In industry-speak, that's like Carmichael being between rides in, say, 2004! Check out my "Between The Motos" interview right HERE.

Andrea Leib, owner of On Track Custom Learning Solutions and the mother of new Husqvarna factory rider Michael Leib, is blogging now. Right here:
http://ontracklearning.blogspot.com/
Andy Irons, the professional surfer who died suddenly this week in a Dallas hotel room, will missed by many. His wife, Lyndie, is pregnant and scheduled to give birth to their first child, a son, in December. Andy's cousin Rick Irons is Racer X family—he is our marketing contact at Dragon Optical. HERE'S an article about Andy's passing.

"The Ranch" in Anza, CA is open for Supercross testing. Marc Peters has built a full size supercross track for pro and pro Am riders only! Open Monaday thru Friday 8am till 4pm. Waterd every day. Sat Sun closed for maintnace $60 to ride a day call for info 949-678-4757.
Good luck to Racer X contributor Brian Wilcox, who is headed to Iraq soon for a six-month adventure. Brian recently had a cool story published on the army's website about motocross. Check it out HERE.
Congratulations to former factory rider Larry Wosick and his wife, Lise, on the arrival of their fourth child, Graham Lester Wosick. The Wosicks now run the highly acclaimed Honey Lake MX Park. Also, congrats to One Industries' Dennis Bloch and his wife, Jennifer, on the birth of their baby boy, Kanan Keith Bloch, who was born November 2, at 7 lbs., 5 oz.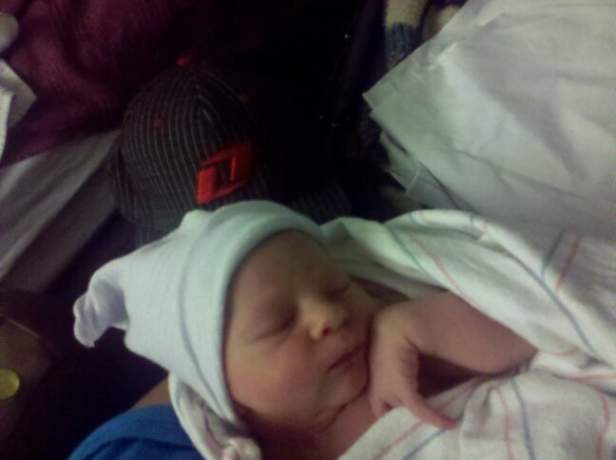 Welcome, Kanan Keith Bloch.

And a get-well-soon to Gary Bailey and his wife, Diana, who were in a little street bike accident. Both were banged up pretty good (tons of road rash, and Diana had part of her lip ripped off and lost some teeth) but will make full recoveries. Gary wrote a little article for our Virtual Trainer about not taking things for granted, like helmets and other safety gear. Check it out right HERE.
That's it for this week. Thanks for reading Racerhead—see you at the races.