Where Are They Now: Chad Pederson
Welcome to yet another installment of Where Are They Now, presented by Bob's Cycle Supply. This time we're reaching out to dedicated longtime privateer and Midwest legend Chad Pederson. Originally from Fort Dodge, Iowa, Pederson turned pro in 1989, and by 1993 he was a consistent front-runner in the 125 class, winning the Tampa Supercross on a DGY Yamaha YZ125. Pederson enjoyed a long career until his retirement in 2000.
Racer X
: Hey Chad, what have you been up to?
Well, I own a
Godfather's Pizza
franchise here in Waseca, Minnesota. I'm in the fourth year of ownership and we're really starting to do well. I'm also married and have three wonderful girls.
You had a pretty long professional career. When you think back, what are some of the things that stand out?
Wow, there are so many. I think winning the Tampa Supercross in 1993 was for sure a big highlight. I had struggled for a few years and was just beginning to feel on top of things. I turned pro way back in 1989 and drove out to California for my first big race. It was at Adelanto, and it was a CMC race. But back then, all the top guys were racing it. I lined up against guys like Ty Davis and Micky Dymond and Rodney Smith. I was riding really, really fast and crashed out while leading the first moto. Then in the second moto it was same thing: I was riding really fast, but had a nasty crash. Only this time I broke my [femur] real bad. That was the first big injury I had ever had, and the first time I really felt significant pain. It scared me pretty bad, took a toll on my mind that took a few years to come back from. I was just riding a little too fast for my britches.

How was your experience as an amateur rider?
It was good. I actually think I was one of the first racers to be homeschooled. Me and my family did the whole amateur circuit back then, and I think I had twenty-four national titles between Lake Whitney, Ponca City, Loretta Lynn's, and all the others.

What is your opinion on the whole homeschooling thing? It's a pretty touchy subject these days.
I'm totally against it and wish that I had attended school. I missed out on learning the skills that you learn in a classroom. Don't get me wrong, I did my work and sent it through the mail, but I definitely lost out on some of the basics that get taught in a classroom, and all that stuff you lean on the playground and in the hallways as well.

So you won the 125 class at the Tampa Supercross in 1993, which was a big deal.
Yeah, that day, I was just on it. It seemed like nothing could stop me. I remember that even when I made a mistake, it turned out to be a good thing. There was a section of triples that were real hard—it was actually a triple-triple thing, and not too many guys were doing it. All the guys that were hitting it were doing it in third gear. Somehow, I missed a gear and hit it in second gear and cleared the whole thing just perfectly. I remember clearly that it was one of those days where I was just riding really, really good.

Some of the older European road racing journalists have a phrase they use for really gifted riding performances—something like "riding under the hand of God." It's a little cheesy, but I'm sure that the same thing exists in motocross as well. They say the top guys usually have two or three races in their careers in which this applies.
Yes, for sure. I would definitely say that was me for that one day. Looking back on it, I flat-out beat some really good guys that night, including Doug Henry, Ezra Lusk, Brian Swink, and Jimmy Button.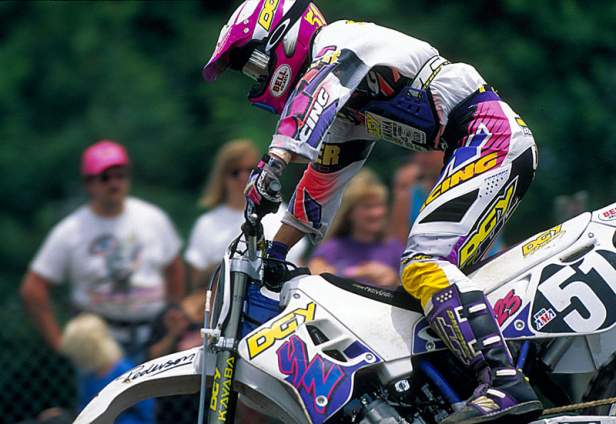 photo: Fran Kuhn

And what about the rest of your career?
It was a good one! I went on to race for a number of different teams and was always a front-runner. I raced for Noleen Yamaha, DGY, Pro Circuit Kawasaki, Atomic 22, Primal Impulse Suzuki, Neilson Kawasaki, Moto XXX, and of course as a privateer as well. In 1992 I dabbled in the AMA Arenacross series, but then I started to hit it pretty often in 1995 and onwards. I won a bunch of main events and made good money when I wasn't racing supercross. I raced through 2000 or so, then in 2002 I rode the Canadian Nationals, but that was pretty much it. The Canada ride was the last hurrah.

How was the transition from racer to a family man and entrepreneurial pizza-shop owner?
It was tough. I had made some good money while I was racing, but I had a bookkeeper who created some tax mistakes. He unexpectedly then died from a bleeding ulcer, as he made some mistakes on a number of people's books. I guess he couldn't hack the stress, but it caused me some issues. I ended up doing odd jobs, started working for Re-Max realty cleaning out foreclosed homes. It paid well, and it allowed me to stay home with the kids until they each were old enough to start school. That is actually one of the biggest accomplishments of what I did – I got to stay home with all three of my girls. That was better than any race. But for a few years there when I was done racing, I really struggled.

So once the girls were old enough and all off to school, you opened a pizza shop?
Yes. The thing with Godfather's Pizza came about six months before my youngest started school, and it fell into place. The company is a big national chain like Domino's or Papa John's. But making that transition from twisting the throttle to running a business was a real eye-opener. I had one week of training. It was a struggle, and the first year, I questioned myself many times. My learning skills are good, but I think homeschool didn't prepare me for what it took to run a business.
In my first six months of business, I lost $40,000. That sucked, and it took me nearly three years to get it paid back. But I did. Looking back on the homeschool thing, motocross is a really short time period of your life, and there is so much more to it.
One other thing – I have also been sober for about 100 days. I started drinking a lot but recently decided it was time to stop drinking altogether. I put myself through a little program to flush that out and am very glad that I did. I guarantee there are some others that have battled the same thing. Some wouldn't say a word, but I kicked it out of my life just recently. No time for that stuff anymore.

What about the sport? How close are you to things still? I know you do some of the Racer X shootouts with your former Pro Circuit teammate Ping, but do you still ride?
Oh, definitely. I actually have a nice little training facility out here in Minnesota. Once it's in your blood, you can't get it out. I have a MX and AX track at my house and still have a nice shop. I have my bikes all logoed up with Godfather's Pizza and try still ride pretty often. I'm actually working on putting together a traveling motocross school that will go all over the Midwest.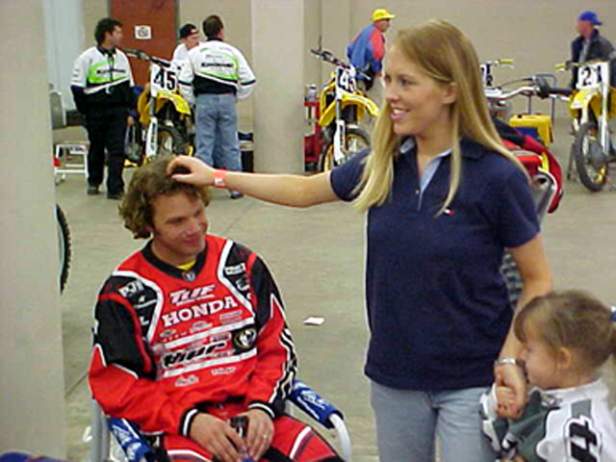 Do you have a website if people want to contact you for about the schools?
No website yet, but we are working on it. For now, people can just email me at
swap0252@gmail.com
.
That's right, you're the original Swap as well! Wasn't that your nickname from back in the day?
Yup, that's me!

One final question: You and Pingree both rode for Pro Circuit in 1996. Who was faster?
I was! [Ed. note: Pingree confirms this.]