Between The Motos: Scott Taylor
If you're not familiar with Scott Taylor, here's a refresher: he's the Florida-based industry man who was one of the first sponsors of Tim Ferry (while at Seminole Honda), Ricky Carmichael, and James Stewart (AXO, then Oakley and Fox Racing). Taylor was instrumental in all of their careers, and he stayed with Ricky through the first year or his car-racing transition. Now Scott is working part-time as Ivan Tedesco's agent, and he just slotted the former champion in at Hart & Huntington Kawasaki for 2011. But silly season isn't over for Taylor; he's also looking for a new challenge. In industry-speak, that's like Carmichael being between rides in, say, 2004!
Racer X: So what have you been up to, Scott? Long time, no see.
Scott Taylor: Actually, probably since the last time I checked in, I'm just trying to keep Ivan employed. So it's been a learning lesson over the past couple of years, and I'm really happy he's set again for 2011. We're done early. Last year we finished his deal on December 4, with Anaheim was a month away. This year he's in a much better position.
It's been easily the most tumultuous silly season that I can remember. I mean, there are still three or four high-end guys that aren't placed, including Pourcel, Reed, Josh Hill.…

It's been a learning process, I can tell you that much. Going from handling all of Ricky's Carmichael business, where you pretty much pick and choose who you wanted to do business with, to the economy crashing and trying to keep a guy going.… But you know what? I've come to respect Reed more in this last little bit. I was just always that guy who didn't like him for no other reason than he was competing against my guy. But the guy is sticking to his guns and trying to make something work, and if it doesn't work on his terms, he's in a position where he just won't do it. And I understand that. Guys are racing, until now, on old money. Ivan's old money ran out a year ago, so we had a learning process last year where guys still were racing on contracts that were written when the money was really good. Now they're going through that. So I can definitely sympathize. We went through that where it was on-again-off-again. I'd call Ivan and say, "Dude, we're set." Then the carpet would get ripped out from under us. Hopefully all those guys land on their feet. I think they will. But at this point I can say I've enjoyed the process, because my guy has a job. I'm good on that part [laughs].
Well, I've heard some cutthroat stories out there where someone is all set for a deal and all of a sudden someone else comes in and grabs it for pennies on the dollar because, like you said, they have other deals lined up.
It happened to us. We were on almost every team last year, then all of a sudden guys would come and say they'd pretty much ride for free so that they can keep their clothing money, or that they'd ride for free because this other deal was pending on them having a bike at the track. And then there were even guys paying or offering to pay to have a ride because they couldn't afford to lose other lucrative contracts—whether it was a clothing company or energy drink deal—that would go away if they didn't have a bike.
Ivan has been really understanding and patient, and he's been involved a lot more, which I think the riders have to do now. Before they could sit back while their agents handle all of the business. Well, I had Ivan involved with a lot of it, and that's something I learned with Ricky. Ivan sat in on some meetings with me, and I think he learned a lot from it. Right now he's right where he wants to be.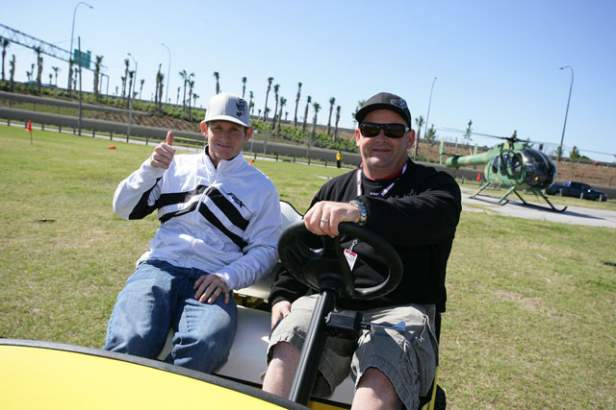 Scott transporting RC to the Orlando SX in 2007 right after Ricky's twins were born.
Photo: Simon Cudby
The H&H Kawasaki team.
Exactly. Ivan has a ton of respect for Carey [Hart], and Kenny Watson was his team manager at Plano Honda back in the day. And he's able to ride a Pro Circuit Kawasaki, which he's really comfortable on. At this point anymore, it's not where the most money is, it's where they can ride the bike where they feel the most comfortable on to give themselves an opportunity to make good money. We're kind of going back a half-dozen years. For anybody in Ivan's position to be able to ride a Kawasaki that Mitch Payton and Bones and crew are maintaining and building, he's just thrilled. He's been on the bike for two days, and he felt super stable and really comfortable. When Ivan feels comfortable he does really good. I think this is going to be a really good year for him.
Will he be able to ride out at the Kawasaki track with Villopoto and all of the Pro Circuit guys and everything?
Yes. Hart & Huntington had conversations with Mike Fisher and them during the negotiation, because that was something really important. Hart & Huntington have a great facility in Vegas, but Ivan needs to be able to go meet his practice-bike mechanic with a bike and go and gauge his speed against the best, and that's Villo and Mitch's team. He's been in Vegas the past few days, and he's actually doing a Hurley commercial that shot all night long on his motorcycle, so that was kind of cool.
Now what about you? I know the last few years you've been doing some transitioning too, because you went from being Ricky's right-hand guy when Ricky quit racing, and most recently you've been working with One Industries, but right now you're a free agent.
Yeah, pretty much, you nailed it. Life after Ricky! I actually went car racing with Ricky for almost two seasons, and I even arranged the very first race car he ever drove locally. I went to all the races with him for two seasons, and then it got to the point where he's 30 years old, he's a super-smart guy, and my passion was on this side—motocross. I felt an obligation to Ivan, so yeah, after ten years at
Fox Racing
, I spent this last full year at One, and now I'm transitioning hopefully into something else. I really have a passion for sales and marketing, and I think in this economy it takes guys who have got a lot of experience and are willing to go out and beat the bushes, whether it's managing a sales team or working with a manufacturer or something. But I'm looking for another challenge as well. I've got Ivan set, and I'll always be there to help him, but I want to find something to challenge myself in 2011 and beyond.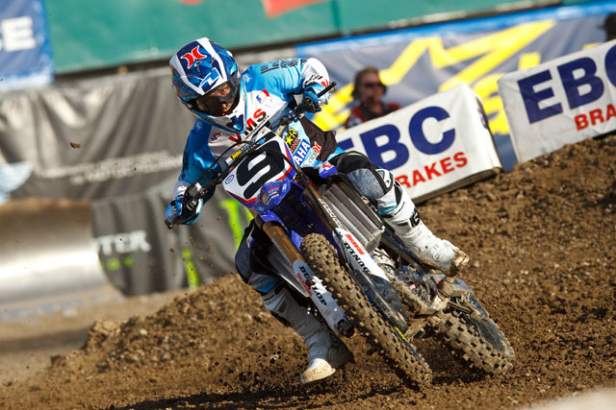 Photo: Simon Cudby
How many races do you plan on going to in 2011?
Well, last year I probably went to half the season. It depends on what opportunity is out there. If it involves being at the races, I'm fine. My kids are at the ages now where they're doing sports, but they're not as dependent on Dad as they were; they're all on elite-level travel teams where the parents are encourage to sit in the stands and all that. And a lot of them you can watch online. I still have that fire and desire to go and really do something special in this industry. It's a different time, and a lot of people are preaching doom and gloom, but I'm looking forward to seeing things turn around and help companies get through these tough times. Things are going to get better.
How did you feel when one of the very first guys that you sponsored—Timmy Ferry—finally retired. Did that kind of make you take stock of how long you've been around the motocross circuit?
All of that stuff kind of does, for sure. I remember sitting at a Winter-Am race when
Timmy Ferry
's Honda 80s were stolen and his father was running around trying to get him bikes! It definitely dates you to a certain point, but there's not a whole lot you can pull over us, because I've been around a long time on all levels. Being able to go around for over ten years as Ricky's right-hand man, I was exposed and doors were opened for me that wouldn't be open to a lot of other people. I've seen inside Cinderella's castle, so I know what can be done!
But to circle back, yeah, Timmy had a full career and he has a family and I'm still here doing it, and hopefully I can do it again. Hopefully I can find that next kid that's coming up and follow him through or be a part of that in some part of the industry.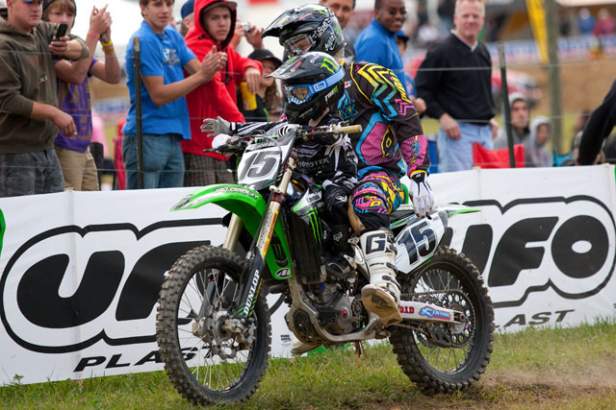 Tim Ferry
took a lap around the track at
Steel City
this year with his son.
Photo: Andrew Fredrickson
Well, I'll let people know how to get a hold of you. They can just send an email to us and we'll forward it on. In the meantime, how anxious are you for Anaheim to get here?
We can't wait. Ivan has plenty of time to get ready, and I think the series is going to be great. Last year, stadiums were looking full and the nationals were great, so I expect that to be even better. Once the racing gets going, it stimulates business. Let's just move on to more positive things and the racing can't get here quick enough for me.