5 Minutes with... Jason Ellis
Jason Ellis is the popular motocross-loving host of the Jason Ellis Show, part of the Faction (Sirius 28/XM52) on satellite radio. He's a jack of all trades, from professional skateboarding to boxing, and he's added fight promoter to his long list of credentials. This weekend at the Palladium in Hollywood, Ellis will host Ellismania 6, a fun free-for-all that will include a match starring the zen master of FMX, Ronnie "Kung Fu" Faisst, several of his fellow radio hosts, and a whole menu of bizarre match-ups. We called Jason this morning as he was getting ready to embark on what's sounding like the busiest weekend of his life.


Racer X: Jason, its good to talk to you this morning, because I know that, as usual, you are running wide open right now. Ellismania 6 is on the horizon!
Jason Ellis: Yes, it's all about to happen, but it's a little bit stressful, this one. We are in L.A. for the first time so there's extra pressure—like anything in L.A.

How did the whole concept come about? Ellismania looks like an absolute blast—you get your friends to step into the ring and beat the hell out of each other.
[Laughs] Yeah, well, I guess I could have dragged that out a little longer, but yes, that's pretty much it, really! I had my own little amateur deal, trying to fight as a boxer, and it was just a cool feeling stepping into the ring like that with a few people there to watch and cheer you on. I talked about that a little bit on the radio, and the gym where I learned to box at, I would bring some fans down there to watch. One time I was like, "We should have a barbecue and make some funny fights up." A couple of people that listened started to train a little bit so that they could get the feeling of almost being a real fighter—the training, the sensation of being in the ring with a little bit of a crowd. So then we tried to soften it up a little bit from when I did it so the fans didn't have the potential of being knocked out or anything, because I wasn't a huge fan of "Come on down and we'll rearrange your brain cells!" We were tying to make a funny version of it.

And that was the first Ellismania?
Yes, for the first one, we had maybe fifty people show up at the gym, and everybody seemed to love it, so we did it three more times and it kept growing. Someone suggested we go big and do it in Vegas, and I actually got some of my sponsors to pay the Hard Rock to let me do it in the ballroom. They didn't think that anyone would show up, but it sold out! So the next one was moved to The Joint in the Hard Rock, and that one had 3,000 people show up—it was also sold out. So here we are, headed to Los Angeles.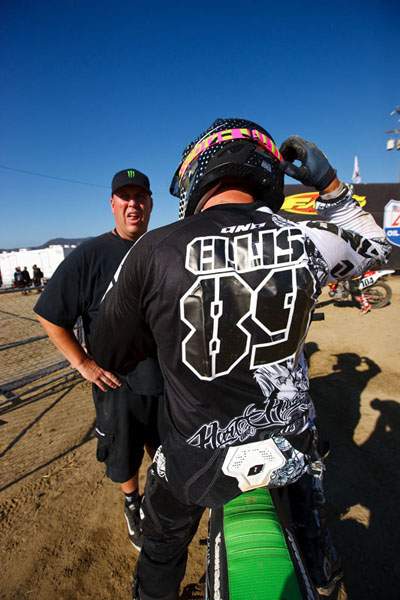 Jason was out at
Pala
this year.
Photo: Simon Cudby
Looking at the lineup of past Ellismanias, it looks like you get a good collection of people from all across your own very wide scope. I saw Travis Pastrana getting shocked with a shock collar in the ring once.
Yes, poor guy, he got sucked into that one. Travis and Carey Hart were in charge of operating the shock collars, which means they just sit there and hit the button while blindfolded, which means electrocuting the people who were actually fighting, but Carey did it way too much—he kept pressing the button over and over again, shocking the dude. I mean, Carey doesn't even listen to my show that much, and here he is, just shocking some mega fan for, like, nine minutes, destroying the guy. So afterwards I was like, "Maybe you guys should get a taste of this to realize what you just did to some innocent little dude," but as soon as got the collar on Carey and it hit him, he snapped it off his neck and ran away. He only got it one time, but it was too late for Travis. He already had it locked on and somebody just shocked the shit out of him. He just kept rolling around on the canvas.

I've seen Travis in the ring behind his house on Nitro Circus. He's not bad, but his cousin Special Greg is the one that can spar. Have you ever thought about getting him on your fight team/band Taintstick?
I would actually like that, because he's a pretty tough guy. I fought Andy Bell, and he's a pretty tough guy, and he's fought Greg too. This time I'm fighting a professional named Mayhem Miller, the host of MTV's Bully Beatdown. I am going to fight him in a Bully Beatdown fashion, and I am in another two fights—four guys in a band are fighting me and then I'm also in the blindfolded fight, which is four people blindfolded, with electronic dog collars on, while there's a professional heavyweight fighter in there with no blindfold on, just randomly punching all of us.

Is that UFC fighter Shane Carwin?
No, he had to drop out with a back injury. A lot of people have had to drop out this time.

Welcome to the world of promoting!
[Laughs] I know, people dropped out all over the place. There was a Working Girl Fight with two girls from the Bunny Ranch, and of course they pulled out—which is probably for the best—but then we have a Hot Girl Fight, which is just hot chicks in bikinis fighting each other, and then there's the Robot Fight where three guys are wrapped to each other, back-to-back-to-back, with one arm behind their back, fighting another three guys, tied up the same way. Remember Dr. Who?

Yes, barely.
It's based on the Dalek from Dr. Who, but nobody seems to be old enough to know what a Dalek is, so we call it a Robot Fight.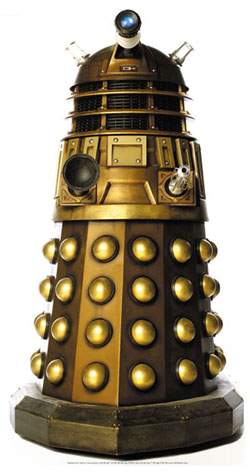 Dalek from
Dr. Who...
Wow, I remember. And you have at last one Rider Fight in Ronnie Faisst, right?
Yes, out of nowhere! He's always hounding me for a fight because he can actually throw a little bit, but every time I've tried to line something up, it hasn't worked out—the guy is always too big for him! Finally, I got a guy who's bigger than him, but with less fighting experience—Donald Schultz from Animal Planet. He's crazy—he brings snakes to my radio show all the time so they can bite me. He doesn't really care, so he's going to fight Ronnie, and Ronnie's like, "Can I do some some spinning back kicks?" And I have to say, "No, you can't do spinning back-kicks, it's a boxing match. Just calm down, Kung Fu."

What other fights are there?
There's Musical Chair Fight, where six dudes in the ring with four chairs, and when the music stops, the two guys without chairs have to fight for a minute and the winner stays in, and so on, until there's a winner left there. And then there's the band We Outspoken. They want to promote themselves, so all four of them are going to fight me. There's just tons and tons of fights lined up.

Oh, and there's the Don Frye Fight. He's a famous MMA fighter who fought a guy in Japan a long time ago where they just held the back of each other's heads and punched each other in the face for ten minutes. So this fight is two guys who will have one hand duct-taped to the back of the other person's head, and they will just punch each other out. The winner will get ... um, how do I say this ... a Working Girl will be on hand to go on a date with them.

Wow, that's an interesting fight. And an interesting prize!
It's all I could afford! I don't have any money to pay the winner, but this is the best I can do.

You know, I can sense a whole series of Ellismania-type fights where you could maybe get all hockey people involved in a night of fights, or all motocrossers—like Brian Deegan vs. "Mad" Mike Jones, or Ryan Hughes vs. whoever....
But you would be surprised how many people don't really want to do it when it comes down to it. They don't want to actually get into the ring.

I actually go to a boxing gym, and I know how hard it is physically—and I don't get hit back! It's just for fun and training, not really getting punched back. I can see people backing out when it comes down to actually trading punches.
And I don't blame them, but I don't mind it because I've always done it, and I might be a couple of sandwiches short of a picnic. One thing I have thought about is going to a military base and doing one for the troops because I know all of those crazy bastards don't have a problem punching each other!

One other fight we have coming up this weekend is the girl from Holly's World. Do you watch that? Your wife might. Holly Maddison.

Is that one of Hef's old girlfriends or whatever?
Exactly. Well her best friend is Angel, who is this little girl, really cute, and she's going to fight my cohost Rawdog. He always fights girls, and he's only 1-3 right now! His last fight was against his own sister and she beat the crap out of him.

Nice. If people want to come out and watch Ellismania 6, are tickets still on sale?
Yeah, yeah, thank you for bringing that up, Davey, that's important. It's November 6 at the L.A. Palladium, and tickets are available at
www.ticketmaster.com
. Its proper title is Ellismania: November Pain. There's room deals at the W, and if you're really poor, which is a huge possibility these days, there's a Super-8 down the street as well.
My old band Taintstick plays at The Roxy on Friday night, with the weigh-ins at The Roxy earlier in the afternoon on the radio show, and then Saturday morning my movie premiere for The Woodsman takes place on Sunset, with the red carpet and all that stuff, and then straight into Ellismania at The Palladium, and then finally my new band Death, Death, Die plays after all the fights.

Death, Death, Die?
[Laughs] It's a great band, Davey. The album comes out in a week. What can I say? It's going to change the game.

Sounds like the We Are The World of cage fighting.
The only thing missing is Stevie Wonder.

But you are having blind fighting....
Exactly, maybe I should just play the set blindfolded. But after the fight with Mayhem, I might not even have any eyes. I'm worried about that one because I will have already fought twice by then, and I have to fight someone who's just been sitting there.

Well, I wish you luck on what sounds like a very busy weekend, Jason. That's quite a full menu!
Thank you. I always do that one now. I was telling a couple of friends that I feel like I might be at the height of my physical fitness right now, but I just keep dragging myself into more and more projects. It's getting to the point where I might actually have to start pedaling myself up mountains every morning so I have the endurance to actually do it all.

Hey, one motocross question for you.
All right! A motocross question.

I so knew that was the only motocross question you were going to ask me! We don't talk that much anymore now that we're not teammates—he's no longer on the green bike—so I really don't hound him anymore. But I'm thinking red bike, maybe? He'll be at the fights Saturday night, so maybe I can ask him for you. And I also so want to get him and James to fight one day after they're both retired!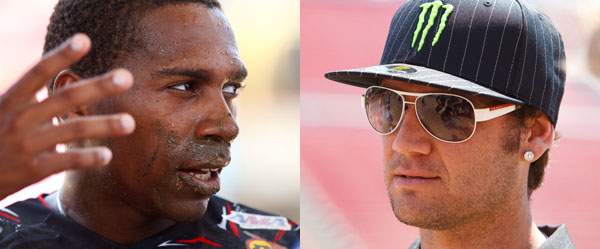 Once they're both retired, Ellis wants to try and get Stewart and Reed to duke it out.
Photo(s): Simon Cudby
For a look at past Ellismania fights, check out the video HERE – PG-13 language warning!