Monday Conversation: Brett Metcalfe
The first big shoe to drop this silly season, as late as it is, was Brett Metcalfe. The longtime (probably too long) Lites/250F/125cc racer made his move up to the 450cc class outdoors this summer for the GEICO Powersports Honda team in order to make room for incoming Eli Tomac, and his results were outstanding. He ended up nearly winning a few motos near the end of the season, and finished a very solid second place in the points standings. Well, he landed at Suzuki over the weekend, where he will race for 2011 and 2012 alongside (at least for 2011) the only guy who beat him in the 2010 450cc National Championship, Ryan Dungey. Over the weekend, Metcalfe was at the Suzuki dealer show. As the first big name to grab up a factory deal, officially, we caught up with Metcalfe today.
Racer X:
As of January of 2011, at Anaheim 1, I think you're going to become the first racer to race for all five factories in AMA pro competition.
Brett Metcalfe
: I mean, it's been a pretty amazing experience to have ridden for all five brands, but it's not something I set out to do! I just always really just tried to pick where my next best move would be, and I went with that. It has kind of just worked out in the way that I've ridden for every manufacturer, starting at the 125 two-stroke through the 250 four-strokes, and now on to the 450s. It's been a hell of a ride so far. When I look back on it, I don't regret it. I think it would've been awesome to be able to stick with one brand, but it's very difficult to do nowadays. You have to go with where you feel you can get the best program, and what's going to help you to propel to the next level. That's what I've always focused on the most; what's going to get me to the next level, and where is the best home for me. That's how I made this decision to go to Suzuki. I reflected on all of those things, and I made that strategic decision to do go there.
Suzuki has had a lot of success in recent years, so is that the driving point of signing with Suzuki? Just knowing how good their equipment has been? Or was it other things?
It was other things... Obviously, whoever has the number-one plate on their bike, their bike just looks good, period! It looks better when you push it around, when the bike's winning, or just sitting in the pits. [Laughs] But I've been through that feeling before, and that wasn't a part of this decision. Maybe five years ago, it would've been, but right now, having [Ryan] Dungey winning championships on that bike, and [Chad] Reed, and [Ricky] Carmichael... Obviously, the equipment is good, and you can win championships on the bike, but really, that was just one factor of it. There were many other factors that played into the decision, too.
Is there a way you can let the readers in on what some of those other factors were?
Well, Suzuki approached me a long time ago, and they had actually mentioned, about halfway through the season, that they had interest in me for the next year, so the relationship kind of started back then. And with GEICO Powersports Honda not sure what they were doing for the next season with their 450 program, it was basically between factory Honda and factory Suzuki. And being on the GEICO Honda, which is basically a privateer Honda, going up against a factory team, we were competing against each other. Although we were both on the same brand, we weren't really communicating a whole lot, and I know Honda was making their decisions for next season pretty late because they were waiting to organize all of their budgets and stuff. Suzuki had given me an offer and I met with the top bosses a couple times and they really made me feel wanted. They made me feel like I'd be an asset to their team. It just took Honda, unfortunately, too long to organize their budgets. Everyone knows that times are tough and sponsorships are hard to come by now; regardless, Suzuki was ready to go and they stuck by me that whole time, even when Roger [Decoster] announced he was leaving. At the end of the day, that was one of the biggest things, that there was a direct relationship created with Suzuki. If I'd have gone to factory Honda, it would've been a whole new team for me, just as it is with going to Suzuki, so in that sense, they were both even. I'd have to start from scratch either way. I just felt like this was the best decision for me.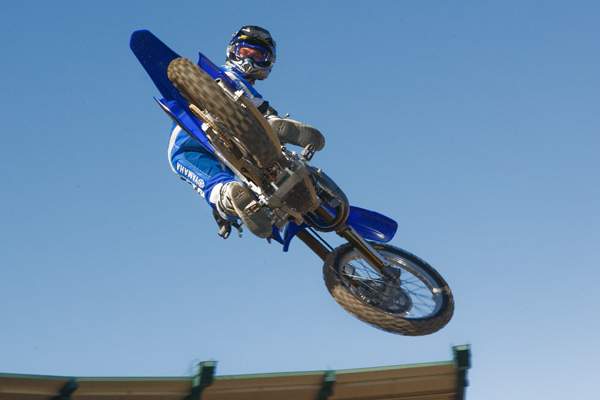 Brett Metcalfe is really the last guy to race a 125cc two-stroke for a top team in the AMA. He raced this YZ125 in 2005 for YOT.
Photo: Steve Cox
During the process, did you ever realize that this was going to complete your rounds with all of the factories?
No! No, I never even gave that a thought at all. Early on in the thought process, I wanted to stay with Honda, actually. I never had any intention of leaving. But Suzuki came around pretty early on, and then it got strung out just because I really didn't want to leave the home that I had already. But at GEICO, there was no position for me on a 450, so it was a dead-end road for me there. It was just a big waiting game, and in the end it made the most sense going to Suzuki.
To actually make it out of the Nationals, second in points, and not have a ride locked up, that has to be pretty stressful, especially since you've never had a full-on factory deal where you get to pick your own riding gear sponsors and those sorts of things. How much of a relief is it to know that you have a home for 2011 and 2012 in a job market like this?
It's a
huge
relief! Knowing there are a lot of riders who are still trying to get deals made, or who are trying to get in on that position, for me personally, it's definitely a relief to know where I'm going to be. And to know that I had an option there, with Honda and Suzuki both wanting me, it was
still
stressful! There are riders out there who don't have options at all right now, so it's tough. It's your livelihood, and it's a tough thing to realize how fragile this whole thing is, and that your career that you base your entire life around can so easily be taken away. So, to get some security, and get locked in, it's a good thing, and I just feel bad for everyone out there who is still trying to lock their stuff down. It's going to happen, though. Things are going to come around here, finally, as the teams now have some direction in knowing what they can do and what they can afford, so it should start to go now; it's just extremely late in the year that these things are happening.
And people don't realize that you're a normal guy with bills to pay just like me or anybody else out there in the work force. But the shelf life on your career is a lot different from mine, for example. I can potentially shoot photos or be media or whatever that will be in the future for 25 years as long as I want to and there are jobs for me, but that's not really realistic for racers like yourself...
Every professional athlete has that shelf life of however many years that we can do this, and sometimes it's not even up to you because you can get forced into a position where you have to hang up your boots because of injuries or a bunch of other things. So we all have a shelf life, and you've just got to kind of make the most of it while you're in it. I think that alone creates a lot of stress. Just like everyone else in the country, we have to pay bills, taxes... Just because you race dirt bikes doesn't mean it's all free and easy. And for me personally, coming from Australia, I came here with myself and a suitcase, so I don't have anyone else I can fall back on if I don't make it here. If I don't have a job and can't pay my mortgage, I'm out! I don't have a backup plan, so I have to make it...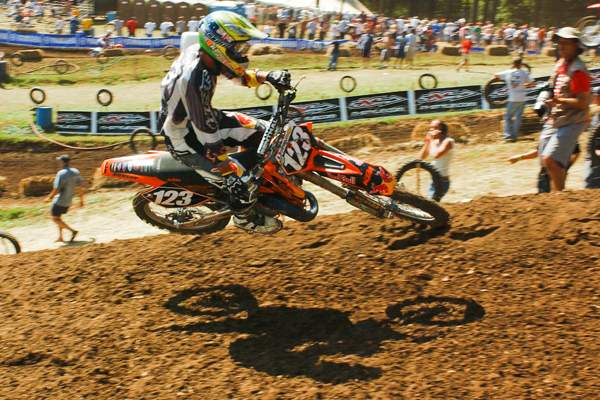 Prior to the YZ, Metcalfe made his AMA debut racing for KTM on a KTM 125 SX.
Photo: Steve Cox
In some ways, is that actually a positive thing to put a fire under your ass?
Maybe, but I've never thought of that as motivation for anything. Maybe it's deep down or something, but I don't think about that or wonder what I'll do if I don't make it. But maybe you're right. It's probably one of those things that is ingrained into you that you don't think about, but it's there...
What are you looking forward to the most with this future in front of you?
Well, one of the most exciting things is having a two-year agreement. With the way things are right now, to have that I think is a huge benefit to my racing program. But mostly, I'm just looking forward to getting on the bike. At the end of the day, people can say it was for money or this or that, but I just want to go race and race on some of the best equipment I can get on. The biggest thing I'm looking forward to is getting on the bike and going riding! That'll be this Saturday [at the Ross Maeda benefit ride day at Starwest in Perris, CA], so I can't wait for that day to see what's going to happen, get involved with the new team, and just work hard this off-season. People don't consider me to be a real strong supercross rider, so my biggest goal is to come out in supercross and turn that around so that I'm up front like I've been during the outdoors. That's my goal for supercross.
It's funny, because as complicated as everything is, and as complicated as contracts and this and that are, ultimately you're a dirt-bike racer!
[Laughs] Right! We've been given a gift to go and ride a dirt bike for a living, so at the end of the day, you can do all of the business stuff – and you have to do that – but once it's all taken care of, all you think about is getting on the bike and throwing some whips! [Laughs] I just want to get out there and ride it, man! That's where it's at, and the team and everybody are there to go racing. We do this to go racing, not just to be there, especially with a team like factory Suzuki. They're just dedicated to going out and winning races and championships, so it's going to be awesome for me to be a part of that atmosphere, and the people around there are definitely dedicated, and with the changes that have gone on at Suzuki, there's a lot of motivation there, and I can feel that already. I'm excited to get in there with it and see how it works out.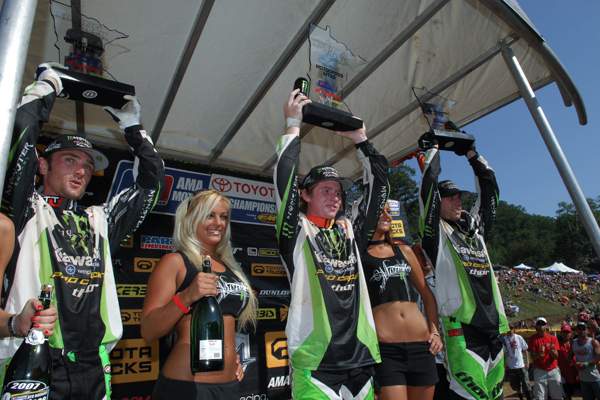 Metcalfe (left) was part of the dominant 2007 Pro Circuit team outdoors, following his time at YOT.
Photo: Steve Cox
And that's really the last thing I wanted to talk to you about, which is that they are a winning team, which means if you go out there and get smoked, no one's going to blame your bike or your team... You handled that pressure just fine when you raced for Mitch Payton at Pro Circuit, but how do you see it here?
I hadn't even thought about that, so thanks for throwing that in there! [Laughs] It's possibly viewed right now as the strongest team in the pits. Everyone knows the Suzuki motorcycle looks amazing on the track, and people comment about it all the time. I found myself commenting about it when I was racing against it! So, everything with the equipment and the team is top-of-the-line, so you really don't have anything to fall back on if you're looking for excuses there. But I've never tried to do that, so I'm looking forward to the challenge. It's really down to the rider. They're going to give me everything possible that I will need to succeed, and whatever I do out on the track is strictly a reflection of my own efforts and the team helping me.
Yeah, it seems like, if you're really a racer, you're not afraid of going to a good team because it will be your fault if you lose, you want to be on that team because you want to win...
Yeah, I understand that, and that wasn't even a part of my thought process at all. All I wanted to do is go up in my career, and even though I've been through five manufacturers, when I look back from where I started to where I am now, it's been a steady progression every single move I've made to go up and up and up. This move is nothing different in the thought process to better myself and better my performances, keep increasing my popularity, and at the end of the day, get better results. That's what racing boils down to, which is how well you can do and compete. You just have to go out there and compete 100-percent at your best, and you can be proud of that in the end.