It seems that every year, the GP fans and press go on and on about how great their champions are, and how much deeper and faster the GP fields are than the AMA, and the AMA fans and press do likewise in the other direction. But with the exception of the amazing performance by Stefan Everts in England in 2006 (along with Antonio Cairoli's performance in winning the MX2/MX3 moto), any hopes the other teams have of winning have been fleeting.
There have been strong individual performances from the GP regulars, though. Everts and Cairoli in 2006, for example. Also, Ben Townley chasing Ricky Carmichael from gate to checkered on his KTM in 2005 at Ernee; France's Sebastien Pourcel giving James Stewart fits in England in 2008; and Cairoli and Gautier Paulin winning the two opening motos at last year's event in Italy.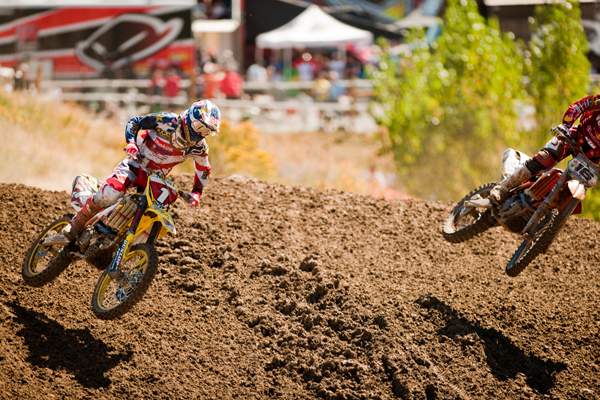 Antonio Cairoli (right) gave Ryan Dungey (left) fits in the first moto, but ultimately, Dungey prevailed.
Photo: Steve Cox
But for the most part, this is an event that has been dominated by the Americans, mostly because of the format, as the GP regulars are split up into teams by country, many of which are a small fraction of the size of the United States. New Zealand, for example, has barely more than four million people, compared to the USA's 310 million. A race that split the racers by region would be much closer.
But because of this format, much of the talk usually centers around whether the GPs or the AMA will win the most motos outright, and at the Colorado US GP, it was about whether Antonio Cairoli would be able to beat Ryan Dungey.
In the Saturday MX1 qualifier, Cairoli ran away with it while Dungey came from the back. But in the motos that counted on Sunday, Dungey had to fight off Cairoli for the first few laps of their first moto together before Cairoli fell back and Dungey raced away with the victory. And in the last moto of the day, Dungey again ran away with it, but this time Cairoli was coming through the pack. Starting at the tail end of the top 10, Cairoli fought his way forward, eventually landing in fourth place behind Belgian Clement Desalle, and the USA's Andrew Short and Dungey.
And this isn't new to Dungey. It's not as if Dungey was always the outright fastest guy on the track this summer in the AMA series. Many times, he wasn't. But he nearly always came away with the win anyway, either by having better starts, a better sprint in the opening laps, or a stronger charge in the last 10 minutes of the moto.
So, while some people will come down on Cairoli for not beating Dungey, the truth is that they really shouldn't have expected Cairoli to do so.
After all, for most of the summer, no one else could, either.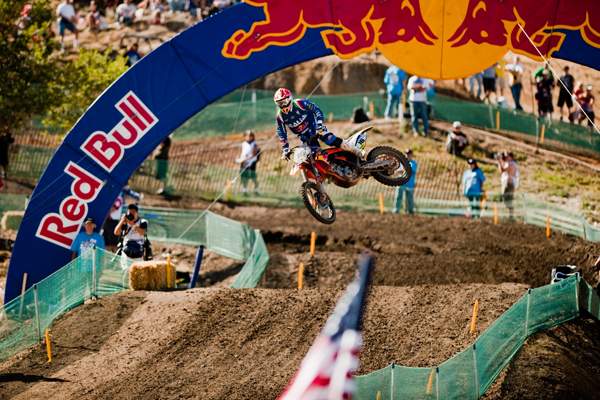 Cairoli was impressive, for sure, but didn't quite have what it took to top Dungey.
Photo: Steve Cox