Racer X Tested: Kawasaki 2011 KX450F
Kawasaki has had a lot of success with its KX450F—Villopoto, Reed, Stewart, and Ferry (that was for you, Steve Matthes) have all proven the efficacy of the big green machine. The changes to the 2011 bike are subtle, but they're the kinds of refinements you want to see on a bike that is already outstanding. At first glance, you only notice the blue accents on the radiator-shroud graphics, but there are more changes lurking behind the BNG. Let's take a look at what's new.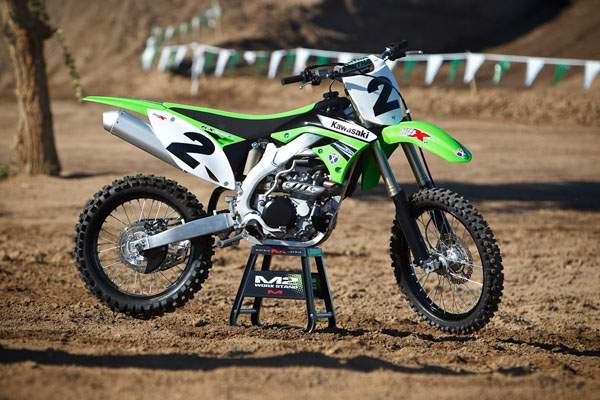 Photo: SImon Cudby
For 2010, the big improvement to the engine was a bridged-box-bottom piston similar to what the factory race team used. This year the design has been refined to work with the larger muffler and is designed to meet the AMA's 94dB requirement. Kawasaki has also added long-fiber packing to the muffler to help extend the time between servicing.
You'll also find that the the DFI's ECU now provides a hotter, longer-duration spark in an effort to provide a little extra low-end grunt. Those of you using the optional Digital Fuel Injection's Calibration Kit software will notice updates there, as well as to the controller harness and connector, which have been redesigned for easier use.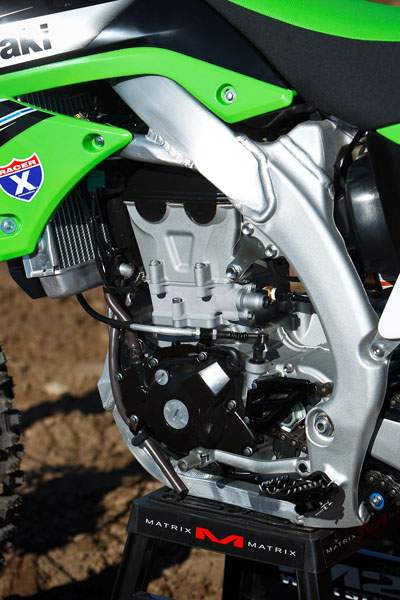 Photo: Simon Cudby
You'll also get updated suspension settings on the Kayaba Air-Oil-Separate (AOS) forks. They've still got the DLC-coated sliders and a Kashima coating on the interior surfaces, but now they have new blue damping-adjuster caps that match the color update on the 250F. The rear Kayaba shock features a 50mm piston, high- and low-speed compression adjusters, and, once again, it gets the Kashima coatings, though with massaged settings and new blue adjusters.

On the track, the Kawasaki seems more rideable than in years past. I don't know if it's the suspension refinements, the tweaks to the engine, or the sweet new blue highlights, but I felt comfortable on the KXF. I did add some sag to the bike to get it to sit lower, and I also softened the compression in the front and rear to add some plushness to the feel. With those changes, I was right at home on the new Kawasaki. Simon Cudby shot a video of the day and you can watch the bike in action right
HERE
.
Go to www.kawasaki.com or visit your local Kawasaki dealer for more details on the new 450.