Where Are They Now? George Holland
Welcome back to the first installment in our revitalized Where Are They Now? feature, brought to you by our friends at Bob's Cycle Supply in Minnesota (www.bobscycle.com).

George Holland came to prominence in the 1980s after a stellar amateur and minibike career. He landed factory Suzuki and Honda rides as a pro and won the 1988 125cc AMA National Motocross Championship aboard the potent factory Honda CR125, racking up thirteen 125cc national wins and a few supercross podiums. Ranked eighth in all-time 125cc motocross wins, he's up there with riders like Jeff Emig, Broc Glover, and Jeff Ward. His last season of racing was 1989, which saw him ride with a career-best national #3.


Racer X: George, tell us a little about your professional motocross career.
George Holland: I guess you could say that I was known as a 125 and outdoor specialist. I never was real comfortable with supercross, even though I got a few podiums and had some strong results in that series. I don't know, I always put a bigger focus on the nationals, and considering that I grew up riding those real high-revving minibikes, I was always just real comfortable with smaller-displacement bikes. I was always getting pretty close to winning championships but had some injuries that just seemed to keep me from getting a championship. I think I had twelve or thirteen total overall national wins, but I'm not sure.
You had a pretty long career at the top and held a factory ride for nine years, which was almost unheard of back then. During your time with Suzuki, you won some races and came close to winning a championship but it never quite happened. It seemed like getting your ride on Team Honda those last two years was the push you needed to earn the championship. Was it a case of better equipment and team, or was it just your time to win?
Well, coming up, I was always a Suzuki guy. As a kid, I rode those Team R&D Suzuki minibikes, and I turned pro in 1981. Those minibikes were some of the best ones out there at the time. When I turned pro, right away, I had a factory Suzuki ride. I rode with that team through 1987. In 1987, I finished second in the outdoors [125cc] and fourth in supercross [250cc].
Our bikes were good, but not always the best ones. Back then, seven years on one team was a long time, and at the end of 1987, I went and got married and was on my honeymoon in Hawaii. I wasn't really sure what I was going to do in 1988, and I hadn't signed a deal with Suzuki again. I had finished second and really wanted that championship, but my body was pretty banged up and I was questioning what I wanted to do. While on that honeymoon, Roger DeCoster called my dad on behalf of Team Honda and said they wanted to talk to me. When I got home, I drove down to Torrance and met with them and we signed a deal. It was a one-year deal, but it automatically renewed for two if I won. I saw that ride as the best motivation to help me finally get a championship, as my injuries were already coming. I really, really wanted to win a championship before I was done, and DeCoster was a big confidence booster for me. Also, Cliff White was my tech, and we had a good bike. Cliff was David Bailey's mechanic for a long time and had a great reputation, so all that helped me with confidence.
Who were some of your big rivals back then?
I came up with Erik Kehoe on minibikes, and he was pretty much always there and always fast. Other guys seemed to come and go, but Kehoe seemed to be a 125 guy as well. We were the biggest rivals when I was with R&D Suzuki minibikes, though.
Talk about how you decided to hang it up.
I won my championship in 1988. I felt like I was the fastest guy out there, and my contract with Honda renewed again for '89. I wanted to defend that championship and get another one but my shoulder went bad in Ohio. I had a a lot problems with that shoulder. In 1989, I came out and was leading the points but then got hurt in Ohio at Kenworthy's. I came back towards the end but was already behind in the points. My last-ever race was at
Steel City
back in Pennsylvania, and I was pulling away from everyone. I somehow high-sided and again hurt my shoulder, and that was it. I decided it was time to retire with that crash.
I was so burned out there at the end. Since I was 16, all I did was fly back East and stay in hotels. When I left, I didn't want to travel and didn't want to fly, so when it was over, it was over. I was done. Even now, I don't even like to fly if I don't have to.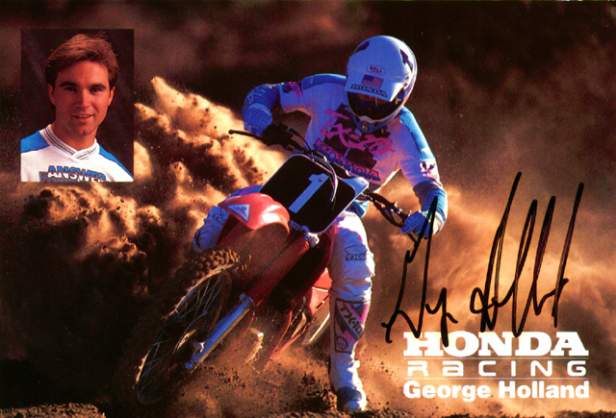 In 1989, there were a bunch of really hungry kids coming up, but you had them covered before getting hurt.
Yes, we had Mike Keidrowski and Bradshaw, and those kids were young and pretty aggressive, definitely more than me. I definitely wasn't as aggressive as I could have been, so it was tough. I had more speed, though, but my shoulder didn't want to hold together.

When you look back at your career, what are some of your thoughts?
Man, that's tough, it's a mixed bag. Too many injuries. I had three surgeries on my shoulder. Towards the end there, my knee and shoulder were both bad, and I feel like I had to exit a little early. I think I could have won more races, but the shoulder was an issue starting when I was 16 years old. I was always fighting injuries—that's why I kinda got cut short. But I had a ride for nine years, and it was a really good ride.

What are you up to now?
My dad always had a bike dealership [Holland Honda/Yamaha] in Kerman, California, and that's how I got into the sport. Once I started making some money, we bought an almond farm and he sold that dealership. Me and my father just started the farm, and we just kept growing it. That's pretty much what I've been doing since, along with raising my family. Today we farm nearly 2,000 acres of almonds. We do it all: we farm them, we package them, and we ship them.
Our business is located in Kerman, but I live in Fresno with my wife, Dana, and two daughters. Hayley is 18 and is on her way to Fresno State this fall to study Business Ag, and Taylor is 13 and going in the eighth grade. I've been married for twenty-three years now to Dana. Hayley might join us in the business—but we'll see!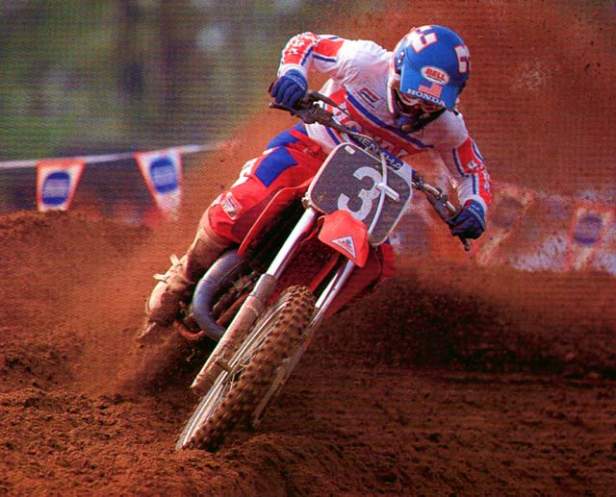 Can we buy your almonds in the grocery store?
Not really—we sell mostly overseas. We put the almonds in containers and ship them to Spain, China, and to the Middle East.

Do you still follow the sport?
Yes, I still do. I TiVo pretty much all the races and watch them on TV.

Do you still ride?
I did, but I broke my hip snowboarding real bad a few years back. With that injury, I had to gave up the whole thing. Sometimes I still ride Harleys locally, though—it's a little more low-key.


Despite winning your championship, you didn't go to the Motocross des Nations. Was that your decision, or was that a political thing, like with Micky Dymond?

I was invited to the MXdN but my shoulder was always bad, and I was afraid of having a problem over there. I didn't want to let the team down, so I had to pass on it. It was probably a good decision.
Do you still stay in touch with people from the sport?
I still stay in touch with [Pro Circuit's Jim "Bones" Bacon] mostly. I also stayed in touch with [Jeff] Stanton, but we mostly send Christmas cards back and forth because we're both busy. I see Bevo [Forti, of Scott USA] when I go to the races, and he is certainly an old friend.
You seem to be very successful with your post racing life. What helped you make the move?
I guess I just got a little bit lucky. I had good people around me, especially my dad. Instead of buying a Porsche or blowing my money like some of the other riders have done, we bought ground and invested in it. I think the difference for me was that I was guided pretty well.
In the past ten years or so, the money a rider can make has really grown, and some of our top stars have done very, very well. What are your feelings on that?
It's a damn tough way to make a living, so whatever they can make, more power to them. I say the only other thing that's harder to make money at is Ultimate Fighting. Like motocross, it's a tough sport with lots of pressure and injuries. The more they can make, the better!
Any closing thoughts?
Winning my championship was the biggest thing. That's mostly what everyone remembers. Those days on the minibikes were some good times—back in the days with R&D, it was less pressure and just fun. But I got my championship. I wish I had a few more, but hey, I'm in one piece and did well!
Have a suggestion for a future Where Are They Now? subject? E-mail us at letters@racerxonline.com.