Privateer Profile: Les Smith
Les Smith has a ride with Honda of Troy, so he wasn't necessarily considered a privateer when the nationals started. It turns out his ride is much different than you would expect, though, and he is a privateer paying most of his own expenses. He's putting in some strong rides outdoors, and we caught up with him to learn more about his program.


Racer X: Les, let's start with the basics: who are you, where are you from, and what's your story?
Les Smith
: I'm
Les Smith
, I'm 19 years old, and I'm from York, South Carolina. This is my first full season at the nationals and I'm trying to just take it one race at a time and better myself every week. Where do you live now? I heard you train at
Ricky Carmichael
's. I'm in South Carolina now. I lived down there for several years and it was the greatest thing that could have ever happened for me. I learned so much and could never ask for a better place to learn. Last year I moved back to South Carolina and had my own track built on our property up the road from the house here. I basically just brought RC's program home with me, and I still do the same stuff here every day that I always did there.
After Loretta's, you turned pro. How did the last couple nationals go for you?
They went pretty well. Basically, my goal was to just go and learn as much as I possibly could, and that's what I did. I had some pretty good rides but crashed a good bit. I qualified seventh in the 450 Class at
Southwick
, so that definitely helped my confidence and relaxed my nerves on the timed practices.
Tell me a little about your supercross season.
The supercross season wasn't much to talk about. I made some rookie mistakes going in and then changed bikes at the last minute. I just couldn't get going, but I did learn a lot. I'm really looking forward to supercross next year.
Heading into the outdoors, you got a ride with Honda of Troy. How did all that come about?
I had been talking to them a little before the supercross season but it was just too late and they didn't have any extra room. So I stayed in touch with them and basically just kept asking for a chance. Then, just about a week and a half before
Hangtown
, I got a call saying that there was a spot and how quickly could I be to their shop. I jumped straight in my truck and headed that way!
Tell me a little about what Honda of Troy does for you, since you're a replacement rider right now.
They definitely help me out a lot—I couldn't ask for more from those guys. The team handles the bike and getting it to the track. I still pay for my travel and accommodations as well as my mechanic and his accommodations. I bought the bikes that I'm riding and the team took them from there and made them fast. I can't thank the guys enough for all that they do.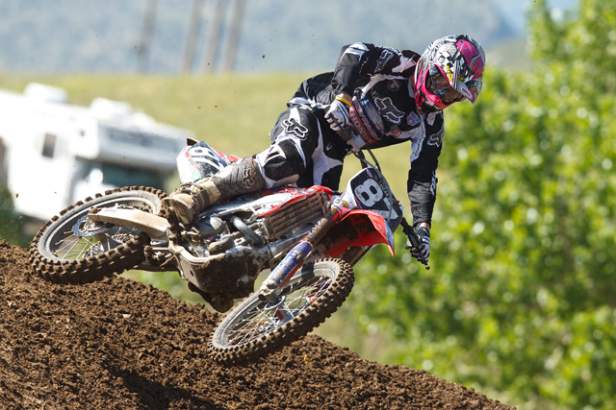 photo: Simon Cudby

Living at RC's place, do you train at the level he did in your training now?
Yeah, for sure. You know, Ricky was the greatest ever when it came to anything in motocross—especially training—and I definitely learned so many great things down there and still use all of that knowledge every day.

What's your plan for the rest of the nationals? Have you set any goals for yourself?
I felt really good at Washougal, having my best ride going in the first moto until I ran out of gas on the last lap. But I still gained a lot of confidence from that, and my goal is to get in the top ten as much as I can before the end of the season.

Ten years from now, what do you want people to say about you?
I just want to be an example, you know? As a kid growing up, I remember looking up to so many guys, many of which ended up going in the wrong direction, and I don't want to be that guy. I want to the they guy that people use as a good example to kids coming up in the sport.

Is there anyone you'd like to thank?
I would just like to thank all the guys on the Honda of Troy team, Todd Hicks from Fox, my family for believing in me, and my mechanic Justin for all the crazy hours he spends making sure my bike is ready to rock. Also, I want to thank the fans that love and support the best sport on earth. Stop by the Honda of Troy rig at one of the remaining nationals and say hi!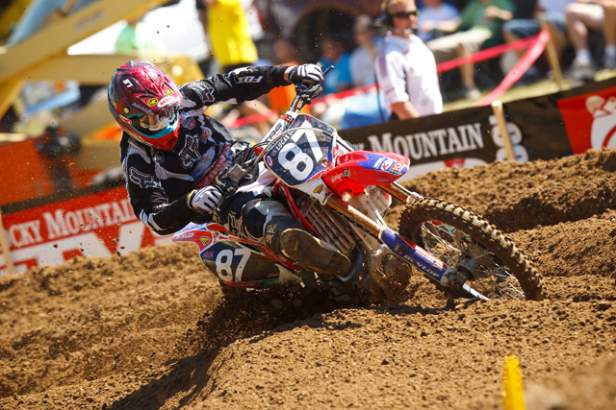 photo: Simon Cudby