Momentum is a funny, sometimes fleeting, thing. When you have it, the goal is to hang on to it, and when you don't have it, the goal is to take it from whoever does. But momentum, by definition, is a tough thing to overcome, although it's not impossible. Also, in racing, momentum is essentially a zero-sum game, so if you don't have it, you have to take it from the person who does. You can't just acquire it from space.
For example, GEICO Powersports Honda's Trey Canard started to pick up momentum at the Colorado National, grabbing a couple of podium moto finishes, and he gained momentum in winning the second moto (and overall) the following week at RedBud. Is this momentum enough alone to keep him headed down that path?
And we all know about the momentum Rockstar/Makita Suzuki's Ryan Dungey has been carrying this summer...
450
Vet-class racer (well, he could be, anyway) Kevin Windham, who is filling in for Davi Millsaps on the Honda Red Bull Racing team, grabbed a very popular holeshot to start the first moto at Millville, and for the first seven laps (out of 16), he made life very difficult on young Dungey. Dungey was second from almost the get-go, but he couldn't do much for Windham until Windham began to feel the effects of the considerable heat and humidity (along with the fact that he hasn't raced since Las Vegas).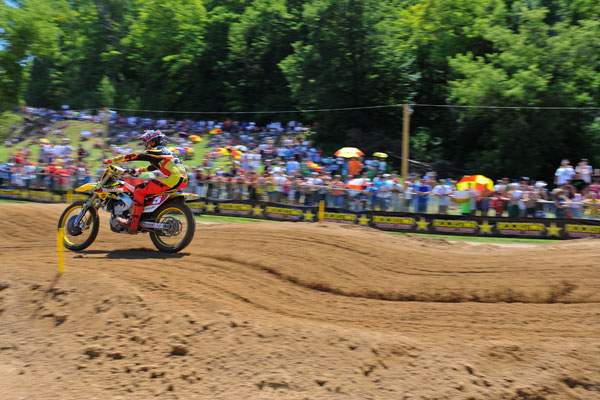 Ryan Dungey scored his sixth national win in a row at his home race in Millville, Minnesota.
Photo: Steve Cox
Dungey finally made the pass on lap eight, and JGR/Toyota/Muscle Milk Yamaha's Josh Grant immediately moved into second. It wasn't long (one more lap, to be precise) until Windham lost two more spots, to new teammate Andrew Short and TLD/Lucas Oil Honda's Ben Townley.
At that point, the race was decided, as Dungey stretched out to a comfortable lead over Grant, Short, Townley, Windham, the returning Rockstar Energy Suzuki rider Tommy Hahn, MCRMX's Kyle Chisholm, privateer Kyle Regal, MCRMX's Ryan Sipes, and VMS Yamaha's Kyle Cunningham. Yes, that's three Kyles in the top 10.
Mike Alessi
falling in the second turn and being forced to come from the back up to 15th, and the returning
Ivan Tedesco
's crash just past the third turn that landed him and GEICO Powersports Honda's Bret Metcalfe on the ground. Metcalfe caught back up to 16th while Tedesco eventually pulled out of the moto. Also, with four laps to go, defending series champ (and runner up, at the time, in this year's title chase),
Chad Reed
, pulled out, and the official story is some sort of a problem or injury to his neck. We'll know more soon, but he sat out moto two as well.
Short grabbed the second-moto holeshot over Townley, Sipes, Windham, Dungey, Hahn, Chisholm, Alessi, Metcalfe and the rest of the field, and by the time the leaders came back into view from the back sand-whoop section, Townley had overtaken Short for the top spot. As the two battled into the second lap, though, Townley fell and Short inherited a nice little lead. But it wasn't long before Dungey came knocking, and he got by Short on lap and proceeded to pull away to win by more than 30 seconds.
Windham held tough in third until losing the spot to Hahn, but then Hahn fell, so instead, Windham lost the position to Regal, who went on to chase down Short for second, pass him, and finish second in the moto (third overall).
At the finish, it's Dungey over Regal, Short, Windham, Townley, Metcalfe, Sipes, Alessi, Chisholm and Grant. Overall, the win goes to Dungey over Short and Regal, with Windham fourth in his first race back.
250
Attempting to pick up where he left off at RedBud (out front), Canard grabbed the moto-one holeshot over none other than points leader Chris Pourcel from the Monster Energy/Pro Circuit Kawasaki team. Canard led the Frenchman for three laps before Pourcel was able to put a move on him for the lead. Canard began to fall back into the clutches of Pourcel's teammate Jake Weimer periodically, but nearing the end of the moto, Canard actually reeled Pourcel back in, then passed him for the lead, which lasted for a lap before Pourcel got him back.

Trey Canard captured his second AMA National win in a row with a 2-1 score at Spring Creek.
Photo: Steve Cox
At the finish, it was Pourcel over Canard, Weimer (in his best outdoor moto probably since 2009), Tyla Rattray, Blake Wharton, Dean Wilson, DNA Shred Stix/Star Racing Yamaha's Broc Tickle (the first non-PC or FC bike to finish), Alex Martin, MCRMX's Travis Baker, and Tickle's teammate Nico Izzi.
Canard went on to take the moto victory, and the overall for the second week in a row (and in his entire outdoor career), over Wilson, who grabbed second overall as well as second in the moto. Mud specialist (it seems) Justin Barcia was third in the moto, with fourth going to Rattray, fifth to Weimer, sixth to Tickle, seventh to Wharton, eighth to Darryn Durham, ninth to Tommy Searle, and 10th to Pourcel, who struggled in the sloppy conditions.
Overall, it's Canard with the win over the four PC riders, Wilson, Rattray, Weimer and Pourcel.
Pourcel still holds a very comfortable points lead, but Canard has now moved into third behind Wilson.
WMX
Jessica Patterson got back to her winning ways at Millville, taking a 1-2 score to the overall victory over rival Ashley Fiolek, who went 3-1 to take second overall. While Patterson still controls the championship, it's clear now that Fiolek is going to give her fits as often as possible until the series ends.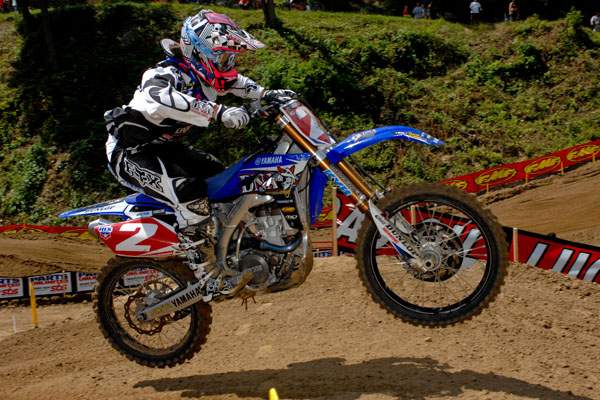 Jessica Patterson took another overall win at Millville.
Photo: Carl Stone
450 Class (Moto Finish)
1. Ryan Dungey, Belle Plaine, Minn., Suzuki (1-1)
2. Andrew Short, Smithville, Texas, Honda (3-3)
3. Kyle Regal, Kemp, Texas, Honda (8-2)
4. Kevin Windham, Centreville, Miss., Honda (5-4)
5. Ben Townley, New Zealand, Honda (4-5)
6. Josh Grant, Riverside, Calif., Yamaha (2-10)
7. Ryan Sipes, Flaherty, Texas, Yamaha (9-7)
8. Kyle Chisholm, Valrico, Fla., Yamaha (7-9)
9. Brett Metcalfe, Australia, Honda (16-6)
10. Nick Wey, Dewitt, Mich., Kawasaki (11-11)
450 Class Championship Standings
1. Ryan Dungey, Belle Plaine, Minn., Suzuki, 318
2. Andrew Short, Smithville, Texas, Honda, 229
3. Ben Townley, New Zealand, Honda, 223
4. Brett Metcalfe, Australia, Honda, 221
5. Josh Grant, Riverside, Calif., Yamaha, 215
6. Chad Reed, Australia, Kawasaki, 204
7. Mike Alessi, Victorville, Calif., KTM, 196
8. Kyle Regal, Kemp, Texas, Honda, 157
9. Ryan Sipes, Flaherty, Texas, Yamaha, 140
10. Kyle Chisholm, Valrico, Fla., Yamaha, 134
250 Class (Moto Finish)
1. Trey Canard, Shawnee, Okla., Honda (2-1)
2. Dean Wilson, Scotland, Kawasaki (6-2)
3. Tyla Rattray, South Africa, Kawasaki (4-4)
4. Jake Weimer, Rupert, Idaho, Kawasaki (3-5)
5. Christophe Pourcel, France, Kawasaki (1-10)
6. Blake Wharton, Pilot Point, Texas, Honda (5-7)
7. Broc Tickle, Holly, Mich., Yamaha (7-6)
8. Justin Barcia, Ochlocknee, Ga., Honda (16-3)
9. Tommy Searle, England, KTM (11-9)
10. Alex Martin, Millville, Minn., Honda (8-15)
250 Class Championship Standings
1. Christophe Pourcel, France, Kawasaki, 296
2. Dean Wilson, Scotland, Kawasaki, 264
3. Trey Canard, Shawnee, Okla., Honda, 252
4. Tyla Rattray, South Africa, Kawasaki, 248
5. Broc Tickle, Holly, Mich., Yamaha, 209
6. Justin Barcia, Ochlocknee, Ga., Honda, 201
7. Blake Wharton, Pilot Point, Texas, Honda, 175
8. Eli Tomac, Cortez, Colo., Honda, 174
9. Jake Weimer, Rupert, Idaho, Kawasaki, 165
10. Martin Davalos, Ecuador, Yamaha, 147
WMX Class (Moto Finish)
1. Jessica Patterson, Tallahassee, Fla., Yamaha (1-2)
2. Ashley Fiolek, St. Augustine, Fla., Honda (3-1)
3. Tarah Gieger, Winter Gardens, Fla., Honda (2-4)
4. Vicki Golden, El Cajon, Calif., Yamaha (4-3)
5. Sarah Whitmore, Cheboygan, Mich., KTM (9-5)
6. Mariana Balbi, Brazil, Yamaha (8-6)
7. Sara Price, Canyon Lake, Calif., Kawasaki (7-7)
8. Jacqueline Strong, Sedona, Ariz., Yamaha (6-8)
9. Penni Cyrus, Queen Creek, Ariz., Kawasaki (10-10)
10. Erica Cook, Natalia, Texas, Yamaha (11-12)