Most racers at the top level of our sport made it there because they were pretty dominant all the way up to the pro level. Typically, they won as amateurs a lot. Usually, they were the absolute best somewhere. For Jake Weimer, he was the fastest kid in his age group in Idaho, for example. Ryan Villopoto was the fastest kid in his age group in the Pacific Northwest, although Josh Hill may have a thing or two to say about that.
That being said, sometimes the hardest lesson to learn in the pros is how to bounce back form adversity. How do you learn to overcome a bad finish, or a bad couple of weekends, or a bad series, or a bad year, when you have never faced adversity like that before?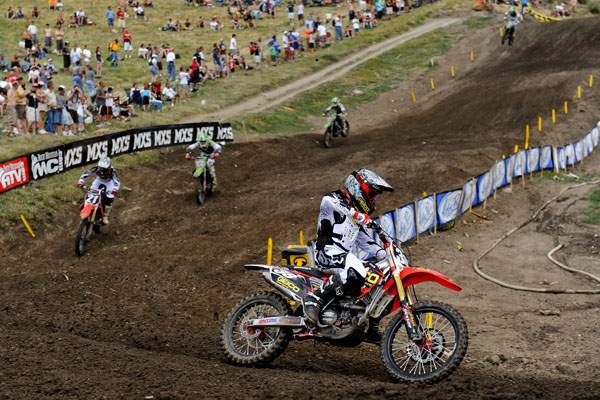 In the second moto, Trey Canard leads Blake Wharton, and 2010 national winners Dean Wilson, Christophe Pourcel and Tyla Rattray.
Photo: Steve Cox
It's a tough lesson to learn. A lot of racers just figure that if they worked hard, and that paid off before, that they should just work harder when things are tough, but frequently that's the 180 degrees from the answer.
GEICO Powersports Honda's Trey Canard has had a tough few weekends for a guy touted to be a title contender outdoors. Between High Point and Budds Creek, he went 14-4-7-8, and prior to that, he only had one podium finish in a moto, and one other top-five.
But at Thunder Valley, Canard finally bounced back, going 3-2 for second overall in front of last week's winner Dean Wilson. In short, he's a contender again. And this is also the farthest he has ever made it in an outdoor championship before scoring a zero or being knocked out of the chase completely.
Canard might just be back.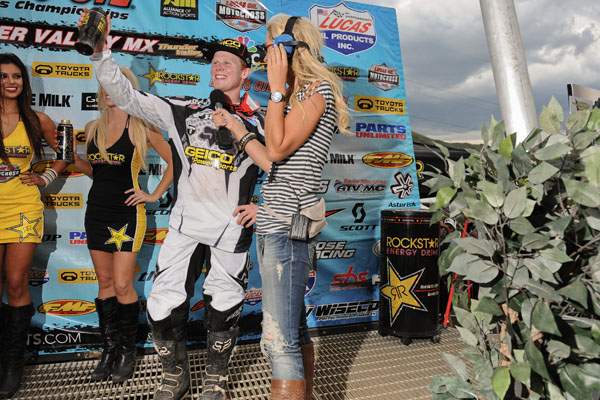 Trey Canard gets a reminder of what the podium is like.
Photo: Steve Cox