Between the Motos: James Marshall
In 2006, James Marshall was a normal kid chasing his dream of becoming a professional motocross racer. That dream was shattered on February 11 at the San Diego Supercross, when a crash and a paralyzing injury left him wheelchair-bound. It hasn't been easy, but Marshall has adjusted to his new life, and he now keeps himself busy with the James Marshall Project (www.jamesmarshallproject.com), a foundation dedicated to helping people with traumatic brain and spinal-cord injuries. We spoke with Marshall about the foundation, as well as some other projects he has going, for this week's edition of Between the Motos.

Racer X: For the people out there who might not be familiar with you, give us a quick background of your racing career and the injury that ended it.
James Marshall: I started riding when I was 8 years old on a YZ80, and I gradually started going from there. We went to all the regional events. I started getting faster and faster, and I got an American Honda ride when I was 17. I was turning 19, and I turned down my next contract so I could ride a four-stroke. I wanted to ride a 250F, not a CR125. I think I weighed, like, 180 or 185 pounds.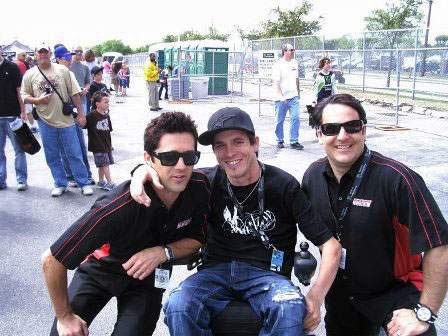 Jeff Emig, James Marshall, and Ralph Sheheen.
photo: Courtesy outlaw452.com
They wanted you to ride a two-stroke?
Yeah. I was like, "No, I can't do that." If I'd have known that everyone else was signing their contracts, then selling the bikes to buy four-strokes, I'd have done the same thing. I didn't think of it; I guess I should have. I rode supercross in 2004 with Team Solitaire, Ryan Clark's team. I didn't make any main events, but I missed a few mains by one spot. Later on [in 2005] I was out practicing and my bike seized on the takeoff of a triple, and that ended the season that year.
Coming back in 2006, I really questioned myself, like, "If this is what you want to do, you need to do it right or not do it at all." So I hired a trainer and started trying to look for rides. Everyone just told me to go back to school and not race, but I decided to go race and do exactly what I loved.
Getting to the actual injury itself, that was in San Diego in 2006. It was a really weird day. We had issues with the bike but my mechanic, Dave, was like, "Dude, just go after it." I was like, "Go after it? Dude, we always just warm up in the heat race." In the semi and in the LCQ, we were all over it, because back then they were only taking the top four. They take the top nine now. I went out there and got, like, a fifth-place start and me and [Michael] Byrne worked our way up and passed a few guys. Just coming up the face of that camelback, I clicked a false neutral, and lights out. That was it.

I remember seeing that on TV, actually.
Yep, sure did. I'm not sure if that was good or bad. I still have the tape on my laptop, and ... [shudders]. My friends will come over and say, "Man, let's watch your wreck." I always say, "No. You don't want to see that—it will freak you out. That is nasty." It was pretty bad. I want to make a documentary someday, and that's the reason I still have it.

What was it like trying to come to terms with the fact that you would be living in a chair?
You know what? It didn't really set in until I got home, until I rolled through the front door. I'd been staying up at rehab and everything was good because we always had people around, you know, other people in chairs. It was a brotherhood you didn't really want to join but, I don't know, I guess God signed me up for it and I'm doing it. But that's when it really set in, when I rolled through that front door. I just realized, the last time I was here, I was running around getting ready for Anaheim. It was super tough. Even to this day, I have my ups and downs. I have a lot better days than I do worse days, though, especially with the way the project is going right now. I'm really happy with that.

Talk about the James Marshall Project and the motivation that drove you to create it.
The James Marshall Project took a lot of things to get started. When I broke my neck, I remember going in the hospital and things like that, but one of the things I most remember is staring up at the ceiling thinking, Dude, you're so screwed. You're done. You had everything at your fingertips, and now you are so done. And then, all of a sudden, an avalanche of support came pouring in, and before I knew it, everybody wanted to help me. People that haven't had that [are] the reason we started [the project]. The support that I was given—not only from the motocross community, but through each community—was great. People in the neighborhood did fundraisers; other injured people did fundraisers; Road 2 Recovery did fundraisers. There was so much support and so much there that I just decided that when I get better to the point where I think I'm ready to start doing something, I'm definitely going to start a project.
One day I was out at a Road 2 Recovery ride day, and a guy pulls up in a pimpin' chair and was like, "What's up?" We introduced ourselves—we actually work together now. He takes care of my chair. His name is Todd Hargroder over at ADI [Accessible Designs Inc.]. Another guy, just out of niceness, just wanting to help, said, "I want to get one of those chairs for James." Todd explained that the chair was a custom prototype and couldn't just be bought in a store. The guy was like, "I don't care, it doesn't matter. What do you need?" It was $15,000, and he ended up writing a check right then and there. His name is Ace Burt, and I told him what I wanted to do, and he's the one that helped make all this happen with the support of the board. That's how the James Marshall Project started.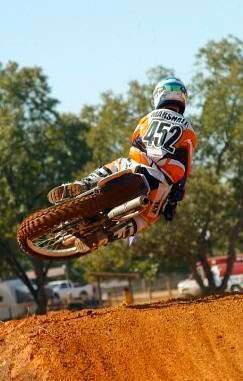 James was scrubbing before scrubbing was popular.
photo: Courtesy Outlaw452.com
Randy Childers is the first person you've had the opportunity to help. What kind of injury did he sustain, and what kind of progress have you helped him make?
What we're doing right now, we're waiting on the first round of the Outlaw 452 Main Event Series, and that'll be at Three Palms Action Sports Park on August 14. We're hoping that Randy will be able to attend that. He'll be going back and forth, in and out of therapy. We're going to do all the fundraising that day. Randy broke the C3 in his neck, but he has had a huge recovery. It's something that I'm just in awe of—I cannot believe it. He's able to walk, with support, approximately 300 feet, which is a football field. That's a pretty good ways, and to tell you the truth, I'm actually a little jealous. It definitely doesn't mean that every person that we help is going to start walking again, but it definitely has been good helping Randy and making sure the support is there. I usually try and call him everyday and make sure he's good. He's always laughing and cracking jokes, so I know he's doing good, but there's always that one bad day, so I try to call him and make sure he's doing well.

In what ways would you say that the James Marshall Project is different than some of the other foundations out there, such as the Rider Down Foundation?
I think the difference between the James Marshall Project and some of the other nonprofit organizations ... one thing is that whether you are out snowboarding or you are walking into your room, trip, fall, and break your neck, I think that everyone should definitely get the support that I got. I'm so grateful. The support that I got, honestly, was ridiculously beyond stupid. I got so much support, it takes my breath away, and we feel that everyone should get that. Our mission statement is to help traumatic brain injuries as well as spinal-cord injuries. The traumatic brain injury is a little bit different, coming from the background of motorcycle racing, but my younger brother, Christian Marshall, was shaken at 5 months old, and he ended up passing away, and I definitely wanted to bring that into our foundation and into the mission statement.

I understand that the James Marshall Project isn't the only thing you're working on. Talk about the series in Houston that you sponsor.
The local series is really, really unique. The one thing that got me so pumped about it—for one, they call it the Main Event Series, and they run it supercross-style, which is really neat. They run a short qualifying moto, which is just for gate pick, and they run a main event with a little bit longer motos, like seven or eight laps. So it's really neat. It's really unique. And I thought, You know what, man? I'd really like to sponsor that. That would be really cool. The first round is August 14, 2010, on Saturday night at Three Palms, Houston's biggest facility.

In motocross, it seems that serious injuries are happening all the time. As someone who has been through it, what advice would you offer to somebody who has just learned they will be living in a wheelchair for the rest of their lives?
Oh, man, that's a good question. It's also tough to answer. Just really try to do what you love, because you never know what day is going to be the last day. So make sure that whatever you're doing, you love. For myself, when I pull up my laptop and start doing artwork, put my earphones on, and put Lil Wayne on, I just get away from the system and everything in this world goes away. Anyway, that would be the best advice I could give to any quad or anybody that's going to be living in a wheelchair for the rest of their lives. Do what you love. If you're not doing what you love, you're just not loving life.
Even though you're in a wheelchair, and I know it sucks—God, I know it sucks—it's like, you want to go to the beach and hop in the water or hop on a surfboard, and it's like, "Man, shit, I can't even move my hands," and you get frustrated. Well, man, take that chill pill, try to relax, take that deep breath, and just understand. Just have fun and do the best you can. Find something that you love and just do it every day. Also, asking questions. There's so many of us, and if you aren't asking questions, you aren't making up any ground. The way this injury works, you just have to ask questions.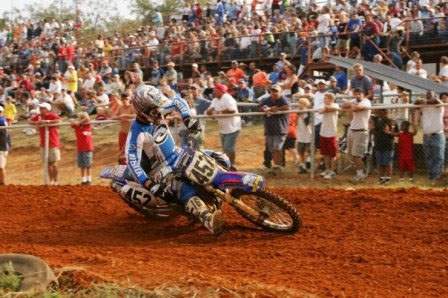 Is there anyone out there that you want to thank or give a shout-out to?
First off, I want to thank my parents—they've really stood behind me. They've been through the ups and the downs, and my mom, she's been through so much it's crazy. I want to thank everyone that was there that night on February 11, 2006, at Qualcomm Stadium. Each time I go back, they give a loud cheer, and I want to thank them for that. I've really been blessed. I don't even know what to say. Thank you to everyone that's helped, all my fans, and everyone that keeps following. Thank you very much.