Privateer Profile: Dennis Stapleton
Dennis Stapleton is a busy man. Between AMA Motocross, the GP at Glen Helen, and racing in Europe, the 29-year-old from northern California sometimes juggles as many as ten jobs at a time to make ends meet. We caught up with him just as he was booking a flight to Denmark for this Privateer Profile chat.


Racer X
: Give us a background of your career for those who may not be familiar with who you are.
Dennis Stapleton: I started racing when I was 12 years old in a small series called Los Banos up here in northern California. Once I rode that summer series, I was hooked. I never stopped ever since. I grew up with Donovan Mitchell, Brett Racine, Tyler Evans—there was a lot of us. Our summer series were packed up here. In '97 I turned pro and fell down and got hurt real bad and couldn't ride for two years. I came back and started riding Loretta's and all that kind of stuff in '99. I got fourth and seventh overall in the Pro Sport class that year, and the next year I was going to ride the nationals. I got a test-riding/help-out job at Husqvarna with
Paul Carpenter
and Robbie Skaggs and rode about six nationals in 2000 under the Husky team on their 125 two-stroke. The next year I rode privateer on a Honda 250 two-stroke all by myself. During the summer I went back East and pre-oiled filters at Twin-Air in Pennsylvania during the week in order to make money to race the nationals.
Those are all hand-oiled?
You put them in a machine, but you have to bag them all by hand. I made eleven out of the twelve mains that year. I was testing for Honda R&D at the time too. I had just started, and the next year I got pretty busy with testing for Honda, so I rode select nationals. In 2002, Garrett Ordelman, Kyle Mace, and a bunch of my friends from the high desert carpooled and made as many of the nationals as we could.
Every year through 2005, I kinda did the same thing, and in 2006 I started doing a lot of photos for
Motocross Action
, and in 2007 Tim Olson left the magazine and I took over the assistant editor job there. I worked there for one year, and I had some things to do at home, so I came back home and just kept up with full-time test riding and helping the magazine out but wasn't in the office on a day-to-day basis anymore. I rode a few nationals and was testing for MDK Speed. When they went out of business, I started doing more magazine stuff and helping a couple local kids from the Bay Area that wanted to ride Loretta's and a few other high-end races. I had a few kids from Europe come over and let them stay at my house during their winter, because in Europe it's really cold during winter.
Currently, I oversee Wiseco West Coast with day-to-day stuff. I make sure the tracks they sponsor have banners and make sure they know about events they need to sponsor, and I make sure their riders and teams have product. I also live around the corner from Fox Suspension, so I help them test on a regular basis.
Wow, how many moto jobs do you have?
I've had about ten moto jobs. I've tested for quite a few people. There's about four or five people that I've tested for that I can't mention that have flown in and I've done some secret testing for them. I've always tried to keep a good reputation at that, and I keep getting invited back. It's a little niche I have that I like. It keeps me riding and helps me make a little money on the side. My father and I also own a shop called Knobby Shop in Santa Cruz, California. We do Cobra minibikes and also mopeds for around the beach—the ones with the pedals so you don't have to have a license.
How have the nationals gone for you so far?
I decided to put a little effort in this year and ride the nationals. I lost 30 pounds, came out to
Hangtown
, and I was a little nervous and qualified thirty-fourth. The next weekend I went to the USGP and went 27-21.
I saw you did the GP. As a privateer, what motivated you to compete in a race without any purse money?
Why not? I mean, as a privateer, I figured I was able to ride an event like that. They aren't happening every weekend, and it wasn't far from home. It only cost about $700 to ride it. It's something that I can always keep as a memory. I've ridden MX3 GP in Denmark, and pretty much I've ridden everything you can think of and seen all sorts of motorcycles. The only thing I've never gotten to do is Trophee des Nations, which you really have to be a bad dude to do that. [The GP) was a good time. It was an event that me and my father got to go to, and I thought it was totally worth the money. I've had a lot of people ask me, "Why would you go spend money?" Well, I don't race motorcycles to make money. I test motorcycles and work on motorcycles to make money. I race because I enjoy racing. It would be nice if someone wanted to help me, but I pay for everything out of my pocket, so that's the only problem with the magazine stuff and everything else, is that everyone thinks I have tons of help, but really I pay for everything out of my pocket.
There's just not a ton of money floating around in the industry like a lot of people think, is there?
No, not really. There's a couple people that help me out with $400 to $500 here and there. They do their best, but half the time I'll go work construction, work on motorcycles, or do whatever it takes to be able to go race.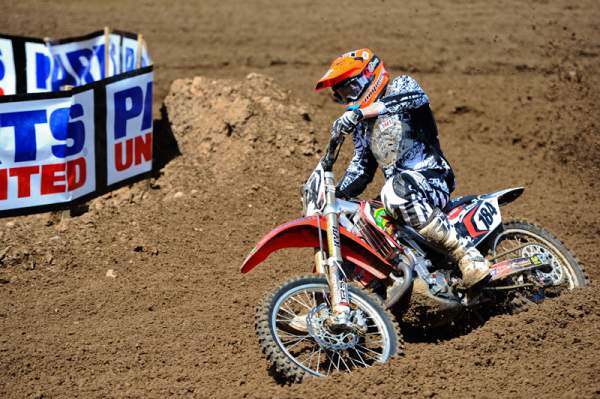 Dennis Stapleton doesn't race for the money; he races because he loves it.
photo: Steve Cox
Your moto finishes in Freestone [26-29] were a lot better than Hangtown [34-32], but you ended up with the same overall. Is it frustrating to do so much better but then end up with the same overall?
I qualified really good—like, twenty-sixth—at Freestone. I felt really good. I ride a lot better in the softer soil—I'm not so much of a hard-pack rider, but I went down both first turns. The second moto I went down with Townley and it ripped my brake pedal off. Actually, I felt like a complete idiot riding around out there, because I think I got lapped two times, but I knew if five riders gave up, it gave me an extra $80. I wasn't in the race any means in the second moto, but with the heat, enough people gave up and it gave me extra money. I was disappointed. I really felt that I could have gotten inside the top twenty-five in both motos. I signed up for Colorado, Washougal, and Millville, and on the eighth of next month, I'm riding the fifth round of the Danish Nationals.

You've been racing pro for quite some time. From a true privateer's standpoint, how has the sport changed during your time as a racer, and do you think it's headed in the right direction?
The hardest thing for a privateer is the price of the bikes nowadays. The gas costs a little bit more money, but it's the upkeep of the bikes that pretty much kills you now—the four-strokes are just astronomical in price. The first time I rode a national, the entry fee was $50; now they're $200. They're a little more strict about getting your entries in on time, but it's pretty much kind of the same. I still park in the same spots, and the same people help me. I'm not really a big fan of the timed qualifying. It was hard for me to adjust to that, because I grew up practicing starts and being a professional qualifier. My whole life was learning how to race four laps, get good starts, and make it happen. Then when I got older and wanted to race for fun, it was a whole new program. You had to change everything again and go out there and put in a fast lap. The first six races I went to, I was horrible at putting in laps. I didn't know how to do it. That was one thing that was nice about the USGP. They had timed qualifying for gate pick, and the gate race got you into the race, so you had more time on the track. I thought that was a little better for a privateer, whereas someone like Mike Alessi or one of those guys might not like it because if they got a flat or got in a pileup, they don't have the best gate pick. So if you are a factory guy, timed qualifying is fine. For a privateer, I want two Sunday morning qualifiers. I'm not fast enough to win a national, so it was awesome to have my friends and family see me win something at a national event.

And it also gives you more time to learn the track, right?
Yeah. Every track I've been to this year, except maybe Mt. Morris, got faster. If you're in B practice, there's lots of people out there, and sometimes the track isn't always the best. One practice could be muddy and the next practice could be dry, so that's what makes it hard about timed qualifying. But they put it into a one-day program, and I think they do a good job getting it all done in one day, but I liked the two-day program.

Do you want to give a shout-out to your sponsors?
Yes. Most of all I'd like to thank Knobby Shop, Dunlop, Renthal, Gaerne boots, Wiseco, Works Connection, Stomp, QTM, AP Brake Pads, Fly, Shoei, OneEighty, DC Shoes, Cycra, Ride Engineering, Unit, Injectioneering, Maxima, Iceworks.DK, CZ Chains, and Von Zipper. Thanks also to Brook Johnson at Monarchy Media Management, TRS Consulting, CL Hann, and MXA.

If you have a question for Dennis Stapleton, he can be reached at dennisstapletonmxa@yahoo.com. You can also look him up on Facebook, or follow him on Twitter (@Stapo184).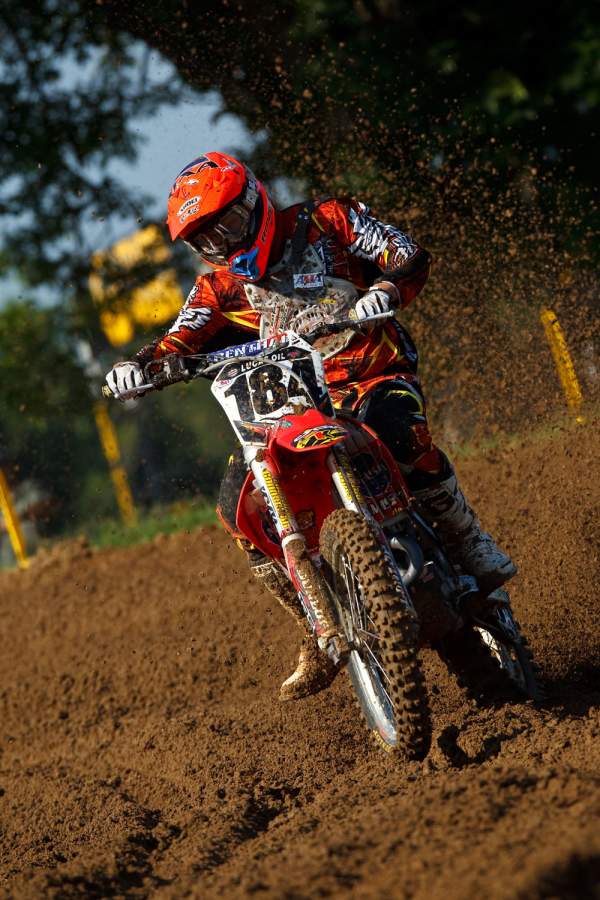 photo: Simon Cudby