After a nice weekend off for almost everyone, it's back to the grind. The Lucas Oil AMA Motocross Championship pick back up with the Flagstar Bank National at Freestone Raceway below Dallas. It's going to be a hot one, with the temperatures pushing up towards the triple-digit mark. And with track owner Tony Miller and crew having brought in endless truckloads of sand and loam, it's going to be a rough one too.


www.allisports.com
, beginning just before 12 noon EST (the race starts at 1 p.m. local, which is Central Time). The second 450 moto air tomorrow night on SPEED, same-day coverage begins at 9 p.m., and then the 250 moto airs at midnight on the east coast, 9 p.m. Saturday night out west.
You can also check out the Racer X Pre-Race Show on AlliSports.com later on this evening. We have a very interesting interview with
Chad Reed
, some GoPro Helmet Cam work from
Steve Clarke
, and lots of other cool stuff from red-hot Texas.
When we last left this series at
Hangtown
, the collective motocross world was still shaking their heads in disbelief of the amazing debut of GEICO Powersports Honda's
Eli Tomac
, who took the 250 Class overall win in front of a massive crowd at
Hangtown
. Tomac is from Colorado, and his father of course is mountain-biking legend
John Tomac
, who knows a thing or two about training.
Well, I got an email earlier this week from Mr. Tomac warning how hot it would be in Texas, that we needed to remind everyone to hydrate and also keep a close eye on the riders if it turns into an oven out here. His concern wasn't about his son, but for all of the riders in both classes. Pretty cool.
Monster Energy/Pro Circuit Kawasaki's
Christophe Pourcel
will be the man who most wants to beat Eli and everyone else, as he's the obvious favorite in the class. But with a very tight right-handed first turn, some new, deep loam laid out by
Clayton Miller
and crew, and plus the never-a-sure-thing aspect of professional motocross (at least not since
Ricky Carmichael
retired), anything can happen!
In the 450 class, there's the brewing
Chad Reed
-and-
Mike Alessi
rivalry, and now the Alessi-and-
Ben Townley
rivalry (more on that from
Ping
). But don't count out
Ryan Dungey
just yet. The Rockstar Makita Suzuki rider had a terrible day (for him) at
Hangtown
and there were several reasons for it—not least of which is that the last six weeks of Supercross were a real drain on him emotionally speaking. Given a couple of weeks off, I expect him to get right back up at the front. He is, after all, the AMA Motocross Champion in the 250 class, not to mention the Monster Energy AMA Supercross Champion.
And then there's the women. Some of the best motos I have ever seen took place here in Texas between
Jessica Patterson
and
Ashley Fiolek
, and we can expect to see more this time around, as Jessica has a
Hangtown
win under her belt while Ashley has had two weeks to get her game on. The WMX races should be fantastic from
Freestone
.
If you have an iPhone, an iPod Touch, or an iPad, and you haven't downloaded the free Racer X App yet, you can remedy that now
right here
.
The app makes it a lot easier to check out the content on Racer X Online, including our features, breaking news, video, and podcasts. It also features our Twitter feed, and beginning this week, you can pull up live timing and scoring through the app as well. We've received tons of feedback from Android users asking about an app for that platform; don't worry, you're next.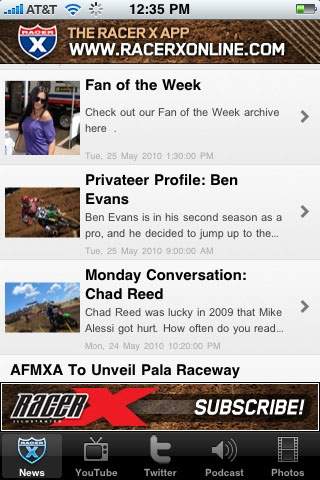 Download the Racer X app right now by clicking here.


Finally, before I turn it over to the other guys, I wasn't at the U.S. Grand Prix at Glen Helen last weekend, but from what I saw, the track presentation never looked better. It looked like everyone involved with the event, from Jody Weisel and the Glen Helen crew, to the Youthstream and FIM people, took great pride in tuning the place up. The event had a few snafus that were out of anyone's control—the Red Bull arch falling over in a gust of wind, for example—but no one got hurt, and the race will certainly grow in the future, given more time to plan and promote. But I still don't think it will ever be the Race of the Century, as they are calling it; we already have that in the annual Motocross of Nations, in my personal opinion. That's the one that is the most fun.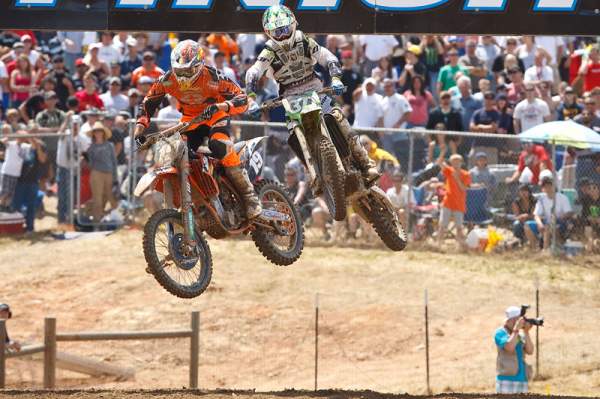 Can Tommy Searle finally grab that moto win this weekend?
photo: Simon Cudby
Ben Townley
just flat-out smoked everyone in the second moto at
Glen Helen
….
Thanks,
DC
. The USGP was back in California last weekend, though very few people here seemed to care. If you missed it, which most people did, here is a quick recap of the things I took away from the World Championship motocross round in San Bernardino.
They have super nice signal area structures for the mechanics and team personnel to stand on/under. The tents used in the U.S. series serve the same purpose, but they just don't cost as much (maybe that's where the purse money goes).
The track crew did a great job of grooming the track for the event. The wind ruined things for them but the track was sculpted like a work of art when we showed up on Thursday. The sides of the jumps were cleaned up and it looked like they really took their time to make sure everything was right with the course.
The podium was awesome. They really go the extra mile with the pageantry at the GPs. If there was one thing that I think we could learn from them it is their podium celebrations—they do that right.
Unfortunately, very few people showed up for the event. Not one top-ten finisher in the 250 class from
Hangtown
was there, and not one top-ten rider from the 2010 AMA Supercross tour was there. And a Red Bull sign was blown over by the wind and knocked a couple riders off their bikes, one of which was
Max Anstie
.
There were a couple guys that really impressed me:
Marvin Musquin
,
Tony Cairoli
and
Clement Desalle
. Those guys were straight-up getting after it. There were some very trick bikes there. KTM certainly puts an effort in and it will be interesting to see if they bring that commitment here next year. It sounds like that is the plan with Marvin and whomever else they sign up.
Mike Alessi
and Ben Townley in the opening moto of the MX1 class. I don't need to explain whose side I'm on regarding the incident, but the one thing that disappoints me is that
Mike Alessi
didn't have the class to come over and apologize to Ben for it and explain his version of what happened, even if it was completely insincere. That was basically an admission of guilt to me. Personally, I want to thank Mike. His move in the opening laps of that moto stirred something in Ben that he hasn't felt in a couple years, and that same drive is going to carry him through the rest of this summer.
If you missed out on the Powder Mountain Motocross last year you are going to want to make sure you don't let that happen again. The dates have been set for this year's event: Aug 19-21. Go to
www.powdermountain.com
for more information.
You may have seen the trailer for my new video,
Motocross 101
. Well, it's FINALLY ready to go and the website is up and running. If you haven't seen the teaser check it out right
here
.
After you watch that get over to www.motocross101.com and buy a copy. There's motocross instruction, training tips, bike setup advice, laughs and even the never-before-seen video footage of my bike breaking in half at the Phoenix supercross in 2002. That alone is worth the price of the video. Trust me on this one… you'll like this video.

One more question I have about the USGP: What the hell happened to Ricky Dietrich? After his display in last year's Lucas Oil AMA Motocross Championship filling in for Ryan Villopoto, and how well he knows the Glen Helen course, I was pegging Dietrich for a possible top five at the GP, maybe better. Unfortunately, "RD39" had an off day.

"It was a rough weekend for me," said the Monster Energy Kawasaki pilot, who currently sits second in points in the WORCS series. "I never found my groove on the track and had a few close calls before I called it quits. It was a lack of prep coming in, but no excuses, I sucked.

"I'm bummed," he continued. "I wanted it to go well because it may be my only MX race all year. What I'm most bummed about is that it didn't help my chances of getting a moto ride next year."


Antonio Cairoli
wants to race some nationals this year. Read that
here
.
Here's
Bad Billy
:
I'm sort of manning the ship here when it comes to our Fox Fifty feature, and when I posted yesterday's
results from Colorado
, I didn't post who we here at
Racer X
thought were the five fastest from the state of Colorado. Before I do that, though, I want to give a big thanks to
Paul Lindsey
for all of his help, but, sorry Paul, you're not in our top five.
Here's our list:
1.
Andrew Short
2. Arlo Englund
3.
Eli Tomac
4.
Josh Hansen
5. Stacey Cook

Earlier today we posted the next state, so please go and vote on who you think the fastest riders are from Oklahoma. I hope you all enjoy bench racing about this stuff as much as we do.
Here's Weege:

No Weege baby yet so I'm off to Texas, and if I get a phone call about it on Saturday morning, well, I don't really know what will happen. Maybe David Bailey will have to handle the booth all by himself! We do have Emig on standby, which is one of those surreal moments in life when you hear something like, "You're our main choice but if we have to, we'll bring in Jeff Emig as plan B."

Regardless of if you're coming to watch in Texas, or are just watching 'net coverage on allisports.com or the TV shows on SPEED, here are some things to look for in Texas.

1.) More questions than answers.
Best part about the Hangtown opener: we have even less of an idea of who will win the races this year after round one. Potential mysteries like Reed, Alessi, Townley and Tomac are now clearly ready, and all the other expected contenders are still there. Everyone emerged from round one healthy, too. This is going to be good!

2.) Heat is on.
I just haven't had time to check the weather report for the weekend. Anybody have a guess? You think it might possibly be hot? Texas-based riders like Andrew Short and the Hahn brothers have been training in this stuff daily, and Broc Tickle told me he's doing his motos in California with Underarmor cold-weather gear on under his jersey just to get acclimated. A lot of guys are pushing really hard right now. Anyone can win, '11 deals are up for grabs, and most of the riders have had two out of three weekends off. The field is fresh, and that should lead to some good racing.
But be careful. About ten years ago, the manager of the Texas Rangers baseball team realized they needed to cut back on practice, because the team always seemed to be worn out and fading by August. You can wear yourself out just as easily as you can build yourself up.

One rider who will definitely be feeling heat this weekend is Mike Alessi, who pissed Chad Reed off with his "I demolished everyone" comment during the post-race press conference at Hangtown, and then had that Glen Helen incident with Townley. Late in a moto, if Alessi is ahead, CR1 and BT101 will have some extra motivation to push.

3.) The Faves
Before Hangtown, the smartest money was on Christophe Pourcel in the 250 class and Ryan Dungey in he 450 class. Pourcel rode well in Hangtown and won a moto, but that second moto made a few guys feel like they may be able to beat him. Let's see if he beats those thoughts back down this weekend.

Ryan Dungey's situation was worse, he was below-par all weekend at Hangtown. It's still very early but I'm sure Ryan doesn't walk away smiling after 10-6 moto scores.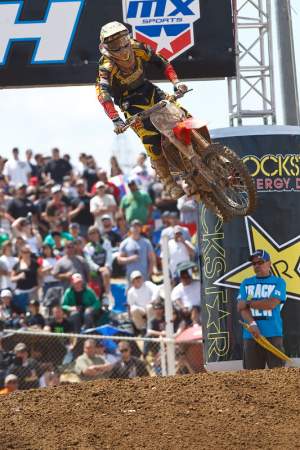 4.) Eli!
Eli Tomac is undefeated as a pro! He's on pace to win 1000 AMA Nationals if he keeps this up for the next 83 years! He's the first rider to ever win the first professional AMA race he ever entered!

So now he builds on that, or reality hits hard. He sure was fast at Hangtown, but Ping and I did a Racer X podcast with Ryan Villopoto last week, and RV pointed out the advantage of skipping supercross and focusing completely on MX round one. And while Eli was the first to win his first, there are lots of riders who killed it at their first national and struggled to find that magic again the next week.

Like we said, Hangtown created more questions than answers.

5.) It's so darned close.
Every year we hear it: it's stacked. It's deep. It hasn't been like this since the mid-1980s. And then after a few rounds, the field usually begins to figure out where they fall, confidence builds and wanes, and the points spread out. But that's mid-season stuff. Right now, everyone thinks they can win. We need to relish these moments.

By the way, the Can-Am Grand National Cross Country tour is heating up, too, with just three points seperating Josh Strang, who won the first four rounds, and Charlie Mulllins, who won the last three.

But even if you don't care about that, here is something that will get your attention: Suzuki is giving away Strang's factory RM-Z450! Yup! All you have to do is make a donation to the Rider Down Foundation and you're entered to win the trickest bike a factory could ever actually put into the public's hands.

Click here for the details on the bike, and then instructions on entering online.

Or just come to this weekend's Wiseco John Penton GNCC in Millfield, Ohio and enter in person!

In other news:

We received this email from Amber in England:

"I was wondering if you could help me. I'm 18 years old and I live in Charlwood, England. I've been working with Craig Hamilton at MXMecca for a few months now via the internet trying to promote Women's only MX camps out of his facility at MX Mecca CA. No one has really tried this before, so I approached Craig with the idea, and he's really up for it. If we can get the girls and pull it off, it will be a first of its kind. It has been really hard getting them interested though, as no one has heard of us. I'm still in England at the moment as I can't move and give up my job until I can guarantee the riders. I will be working for Craig running the girls camps as I'm a fully qualified fitness instructor and also a pretty good rider (coming 2nd for the last two years at the British Womens Championship). As soon as we can get the girls coming I can follow my dream of going to the States to work in the industry. If there is any way you could help, that would be great. You can find out more about us at www.mxmecca.com or womensmx vacations at facebook."

Remember Kim Ashkenazi? Shane Booth of Dirt Action caught up with Kim after his return to MX after an eight year absence. Check it out here.


Here's a note we received from our friends Jason & Stacey Baker over at Dream Traxx:

"Our son is in the running to get a cover on Parent's Magazine. The picture with the most votes this week will make it to the semi-finals. Be sure to click on this link to cast your vote for Jace, and send the link to as many people as you can, as well as post it on Facebook, Twitter, etc.! You can vote once a day until the 6th of June. Right now we are getting our butt kicked as Jace is in 37th place - and with the competitive racing side we have...losing just doesn't sit well. Thank you so much for your help!"

And here's a note from Jeremy Savage:

"Dirt bikes were granted the lead story today (Friday, June 3rd) in the Baltimore Sun. Unfortunately, it was negative press, focusing on the reckless gangs who terrorize the streets. You can read it for yourself here. I am an avid motocross rider riding the MDRA and D7 races, but I am living in downtown Baltimore, two blocks from Camden Yards. I hear the kids go by my home almost everyday. I don't mind the sound just makes me want to go ride, but I will admit it is dangerous and gives a bad name to dirt bikes. I was thinking of what I could do to help these riders and get them on the right path, possibly creating a MX park on some of the empty industrial waste lands in the city. It sounds like beginnings of the script to Supercross: The Movie 2. I would be interested on your take of what could be done to positively help the situation."

Okay, back out into the heat of Texas to help work on the track. Check out the races live tomorrow on www.allisports.com, as well as on SPEED TV for tomorrow night's same-day coverage.

Thanks for reading Racerhead and see you at the races.