5 Minutes with... Antonio Cairoli
KTM's Antonio Cairoli "shocked the world" (well, at least the Americans) by winning the US GP at Glen Helen over Glen Helen stalwart Mike Alessi. We talked to him after the race to figure out his plans for the future, and it looks like his plans include some nationals and some supercross races!
Racer X:
How are you doing, Tony?
Antonio Cairoli: Good! Good, thanks.
It seemed like, over the course of the weekend, you got more and more comfortable with this track. Is that right?
Yeah, I really didn't feel comfortable yesterday on the track, and today we made some changes on the bike, and everything was going better, but still not perfect. In practice this morning, I was struggling a little bit, but then in the first moto, I got the holeshot and took good lines and pulled away from the rest – [Ben] Townley and Mike [Alessi]. So, my speed was good, and I'm pretty satisfied about the race. But then, after 20 minutes, I lost my shift lever, and I was a little bit scared that I couldn't finish the heat, but I was lucky that I was in third gear all the time, and I could manage.
Yeah, if you're going to get stuck in a gear, third would be the one you'd want, wouldn't it?
Yeah! Only one place, on the downhill, was not so good because the engine RPM was so high, and the rear shock wasn't working so good [because of the high revs of the engine], but the rest of the track was good. I used the clutch a lot on the corners and going up the hills, so I could manage it.
How much different is this track from what you normally race back home?
It's way different. It's fast. The medium speed of the race was 62 [kilometers per hour, or 38 mph], and we normally are at 41 or 42 [kph, or 25-26 mph], so it's really fast for us. But it was nice to race here in America.
You haven't raced here since Budds Creek a few years ago, and that was horrible for you...
Yeah, last time I was in America was pretty horrible for me, and I'm glad today was way better. I'm pretty happy. I'm satisfied.
Alessi is known to go fast at Glen Helen, so does that make it extra-special to win here?
Yeah, for sure. Mike is one of the top guys here in the U.S., so it was nice to fight with him. It was really cool to race against him. I hope we can have more fights together, and hopefully I can come to some nationals this year, if I have some weeks free. It would be cool. It would be cool for KTM, also.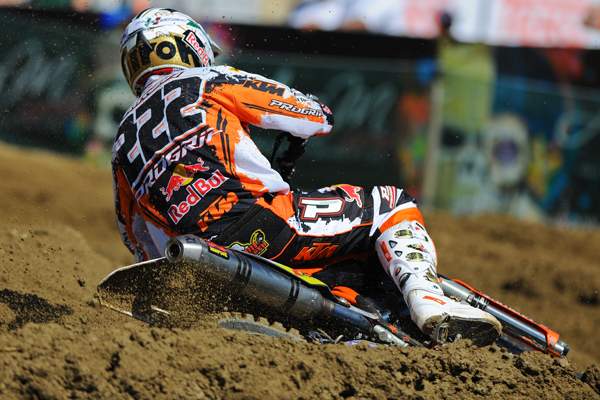 Antonio Cairoli surprised many by winning the US GP. He's dominant in the GPs for a reason.
Steve Cox Photo
Have you thought about racing supercross, since the GP schedule is going to accommodate supercross next year?
Yeah, we are talking with KTM about doing the first rounds of supercross, but we have to know the calendar for next season so that we can decide for sure.
You've raced European supercrosses before, and I know you were always pretty fast...
Yeah, I won the European Championship of supercross two times, but that's nothing to compare with U.S. Supercross. For sure, I know it's going to be really hard to come here, and my expectation will just be to have fun and see how I can go. Maybe I will go good, but maybe I'll go really bad! Nobody knows! I don't really take it seriously, like to win, I just want to have fun and ride supercross. It's a big event, and hopefully I can ride some of them. It would be cool.
You're obviously a great rider, and supercross is really just a matter of changing some things about how you ride and giving yourself time to get used to it. All of you top riders in the GPs can race supercross, you just need time and a good team that knows how to set up supercross bikes and stuff.
Yeah, for sure. It will be cool.