The countdown is really on now. A week from today, the pits will be filling up for the 42nd Annual Hangtown Motocross Classic, which also happens to be the opening round of the 2010 Lucas Oil AMA Pro Motocross Championship. A lot of people have been working hard to get ready for the series, not least the riders. It should be a fantastic summer of motocross!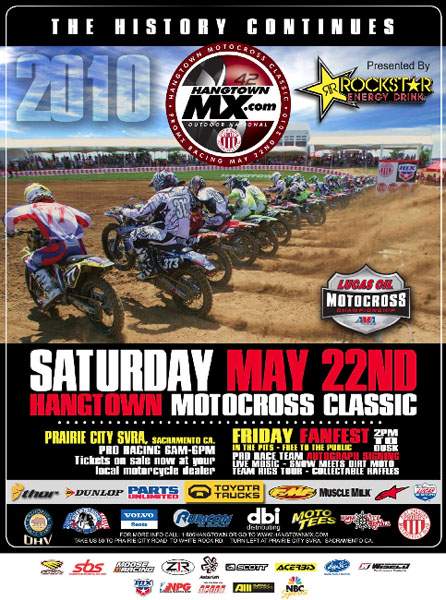 Simon Cudby made the trip up to Glen Helen for their Thursday practice session, and he ran into a ton of fast guys up there: Ryan Dungey, Tommy Searle, Grant Langston, Nick Wey, Cole Seeley (and his fast-girl TLD Honda teammate Tara Gieger!). Simon made this cool video: HERE

After last weekend's scary moment involving Ben Townley and a downed rider, the Glen Helen crew split up the practices and gave the professional riders two long sessions out there on their own, which was a good move and shows that they know there can be tough situations out there when so many different levels of talent are on the track at the same time.

Also, here's a glimpse at JGR Muscle Milk Yamaha's Josh Grant getting ready for Hangtown, shot by the Vurb Moto boys down in North Carolina, near the Gibbs Racing HQ, along with Justin Brayton and Travis Preston:

http://www.vurbmoto.com/theatre/665/jgr-outdoor-test-day/

Speaking of North Carolina, I had a chance to attend the opening of the amazing NASCAR Hall of Fame in downtown Charlotte on Tuesday, and while I'm admittedly not a big fan of stock car racing, I came away very impressed with the place. It's got all kinds of priceless racecars, plus a mind-boggling amount of race-related memorabilia, from ancient T-shirts and driving suits to race programs and trophies and chalk pit boards belonging to the sport's original legends. It's also got a lot of really cool interactive displays where visitors can see how fast they can jack up a car, change a wheel with power tools, fuel up, and take off. If you're ever in the area, you really should check it out:

http://proxy.espn.go.com/rpm/nascar/cup/columns/story?columnist=newton_david&page=InsideTheHauler

I also ran into none other than Ricky Carmichael at the opening, as he and JH Leale were moving through the displays, checking out all the artifacts from racers gone by. While I was in a meeting with some of the NASCAR marketing folks, they told me how much they appreciated RC and his loyal motocross following, and also mentioned how much they would love to see James Stewart someday explore a future in racing cars. But the really interesting thing was the third rider who came up: Ashley Fiolek. They were very much aware of the two-time WMX champion, and we explained how much of a professional she is, in the way she conducts herself and her career and how she's always up for meeting with local newspapers, television, youth groups for girls and boys, and especially members of the deaf community. She's definitely on their long-term radar.



If you're on Facebook (and who isn't?), be sure to connect with the official Lucas Oil AMA Pro Motocross Championship. They'll be doing a lot of cool things on their page this summer, so check it out.

http://www.facebook.com/AmericanMX

Follow them on twitter also: @AmericanMX.

I really thought we would see James Stewart at Hangtown, but it now appears that his wrist injury has not healed well enough for him to start racing again. Last night on his Twitter feed—www.twitter.com/js7—
he made a number of comments to the effect that his doctor has yet to give him clearance on his wrist injury to get out there and start riding hard. Here are a couple of examples:

js7: I hear alot of bad story's out there and I don't want to be in those what if he just would've waited stories. I will win when I come back. (http://twitter.com/js7/statuses/13952034015)

js7: Hears to all my fans, I love you guys and thanks for everything and when I come back, This outdoor season is 4 U (http://twitter.com/js7/statuses/13952917089)

Whenever James can return, I hope he comes back 100 percent and reminds everyone just how blindingly fast he can go on a motorcycle—especially outdoors.

Someone who will not be practicing this weekend is Chad Reed. The defending AMA Motocross #1 took off for Australia, along with his longtime friend Michael Byrne, to attend the memorial service for Andrew McFarlane. There was talk that the Moss brothers were headed home with them as well.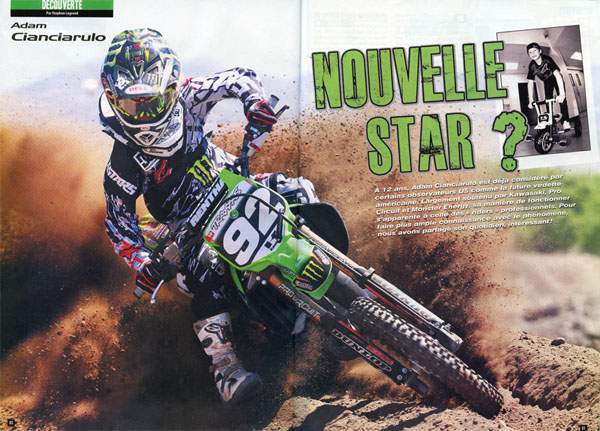 Adam Cianciarulo, still on an 80, was just featured in Moto Verte magazine, in a feature by our esteemed colleague Stephan LeGrand.

Do you know what "SB 2440" means? If you're an aspiring professional motocross rider under the age of 18, it could mean a great deal. It's Florida Senate Bill 2440, regarding the validity of minor release waivers and the protection they offer parents and promoters. The Florida House companion is 285, BTW. Here's the new law:
http://www.flsenate.gov/session/index.cfm?Mode=Bills&Submenu=1&BI_Mode=ViewBillInfo&Billnum=2440&Year=2010
If that's too cumbersome a read, check this article out:
http://www.insurancejournal.com/news/southeast/2010/04/29/109395.htm

Why post it here? It could have some serious (and beneficial) effects on AMA Supercross and AMA Motocross.

Speaking of 17-year-olds, Justin Barcia has a new fan. I hooked my friend JP O'Connell up with Vegas SX tickets for him and his wife, as they were visiting from England. Needless to say, they were blown away by what a great show it was, and JP also seemed blown away by his first "live" glimpses of Barcia. "Justin was like a man possessed during practice. He was getting into all kinds of shapes!" wrote JP. Here are some photos he snapped from the grandstands.


I had a chance to speak to Ben Townley on the phone last night, and BT101 is really looking forward to getting back out on a motocross track. Always the professional, he wanted to talk about track prep, safety issues, and more. Ben also plans to run the U.S. Grand Prix at Glen Helen in between Hangtown and the Freestone National in Texas.

Ryan Hughes is getting his race face back on. Ryno is going back to the starting gate to compete in the GP at Glen Helen, and we've been motivating him with the promise of the Racer X cover if he gets on the podium. It's a one-race comeback, then Ryno is going to get to work on helping the crew at Pala Raceway as they build a new national track above San Diego. But first he's got to get that cover! Good luck, buddy.

Ryno is also hosting a big vintage race at his Rynoland track next weekend, along with Scott Burnworth, another former factory star. Burner sent over a copy of the moto memorial shirts he made that feature the plates of some well-known racers that we've lost along the way. I would love to have one of these just to hang in my office somewhere….

Jason Weigandt has been busy all week working on an epic podcast that involves the team you see in the photo below. It should be up on Monday, and I have a feeling this one will be an instant classic.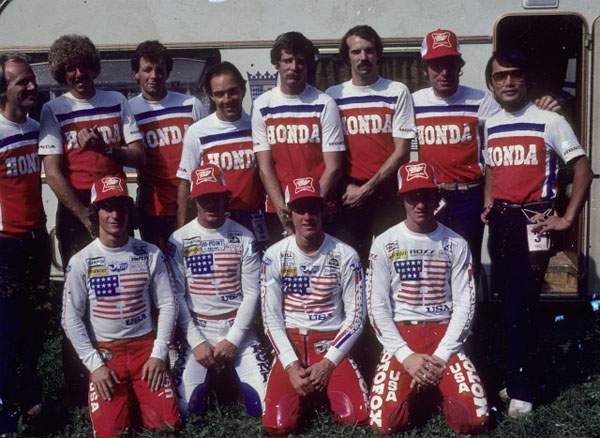 1982 Team USA at the 1982 Motocross des Nations, starring Danny "Magoo" Chandler

One of the guys in the Team USA photo happens to be David Bailey, who also happens to be from Virginia, which happens to be the state we're featuring in this week's Fox Fifty! If you haven't voted for the best all-time riders from the state of Virginia, please check it out: LINK

Finally, one more old-school deal: Todd Huffman has released the trailer for his documentary film on the 1980 Carlsbad U.S. Grand Prix, which was won by privateer legend Marty Moates. You must see this movie: http://carlsbadusgpmovie.com/

Got this note from Connecticut privateer Billy Ainsworth:

"Thought I would shoot over this sweet pic my buddy Kyle Donahue sent me. Kyle is the one in this pic with Doug Henry. He broke is back pretty bad about a week ago and sustained spinal cord damage and at this point will have a long road ahead before he has a chance of walking again. Doug threw in a surprise visit and I'm sure had a lot of encouraging things to say! Doug's one of my heroes and I thought this was just awesome of him!"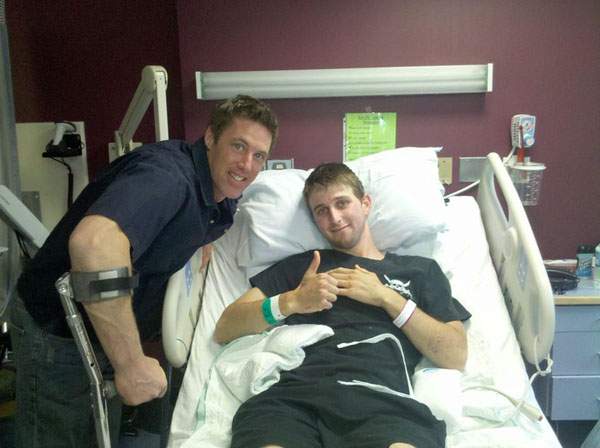 Doug Henry and Kyle Donahue

Here's Weege, the father-to-be!

Well, Vegas and the season have come and gone and I still can't get over what a cool race weekend we had, considering the lack of SX class title drama. The Vegas fans were still going nuts! Check out my ReduX column from Vegas, presented by Renthal, HERE.


Also, a few weeks ago I asked readers to write their own bench-racing dream stories for 2010, since we really didn't quite get the championship battle we wanted. The winning essays included hilarious "what if" appearances by Jeremy McGrath, Ricky Carmichael, and Nikita Kruschev starring as the ultimate Red Rider. It's really goofy stuff and if you've partied too hard on Friday or Saturday night, you might enjoy it. Click HERE

I was in a similar situation on Sunday night, after hosting the Monster Energy SX Awards Ceremony and actually having it go okay this time. When I hosted the last show in 2008, I was basically ducking from all the riders and teams that didn't appreciate the jokes, and then I tried matching Chad Reed in a Jack Daniel's chugging contest. Later I returned my rented tux with most of my dinner on it.

This year I backed off on the jokes and the drinking and had a much better time all around, although that time didn't end until it was time to go to the airport on Monday morning. Seems like everyone had a good time at the show, and the newly rebuilt Joint at the Hard Rock was a perfect setting. Congrats to champions Weimer, Pourcel, and Dungey, as well as second- and third-place finishers Windham and Millsaps.

And big thanks to this year's punchline target, Justin Barcia ("Tonight I'll be just like Justin Barcia, as I will be bashing riders all night."), who had a good sense of humor about it all. And also thanks to my comic relief pitcher, SX podium announcer Lurch, who was hilarious.

I would explain more, but some of the stuff that goes on after the Awards Ceremony is probably much funnier because it takes place next to an open bar. Well done to all the riders and teams, and thanks for not making me public enemy number one when it was over! And thanks to everyone at Feld Motor Sports for a fantastic season, for bringing back the big party that is the banquet, and for inviting me to have a part it all of it.

Here's Steve Cox:

The Lucas Oil AMA Pro Motocross Championship is almost here! In Southern California, you can head to almost any track on any day and find a group of potential champions putting in testing and practice time in preparation for Hangtown, eight days from now.

Yesterday, I was out at Glen Helen, and just speaking of champions, there was Ryan Dungey (SX Champ, 250cc MX champ, Lites SX champ), Grant Langston (MX2 World Champ, 250cc MX champ, Lites East and Lites West SX Champ, 450cc MX champ), Tyla Rattray (MX2 World Champ), Trey Canard (Lites SX Champ), Christophe Pourcel (MX2 World Champ, 2x Lites East SX Champ). And I'm probably forgetting some.


In addition, Michael Byrne was shaking down his new Valli Motorsports Yamaha, Brett Metcalfe was doing the same with his CRF450R, and Dean Wilson, Blake Wharton, Wil Hahn, Cole Seely, and a lot more guys were putting in laps as well.

Max Anstie was splitting time between his YZ250F race bike and a new GYTR-kitted YZ144. And that's why I was there, to check out the GYTR bike. It's a YZ125 with a kit from Yamaha's Parts and Accessories division, GYTR, that bored it out to 144cc. But that wasn't all; it also had a GYTR exhaust made by FMF and a ton of other goodies including a clutch parts, Ti footpegs, trick hubs, and a whole bunch more.

The heart of the beast, though, is the big-bore kit and pipe, and the kit itself is ready for purchase now for only $859.95, while the pipe is $239.95 retail. Combine the two, and that's literally barely more than some high-end four-stroke exhausts just by themselves!

And while I've lost a lot of weight, I'm still way too big for a 125 (or even a 144), but I took her out on the track anyway. While Glen Helen was not the right track for a bike like that (especially after a bunch of pros on four-strokes have chewed the track to pieces), I have to say it pulled me around just fine, and I'm still over 200 pounds. It was no issue for the bike. I even had to feather the clutch on some uphills after I upshifted in order to keep the front end on the ground! The thing is a screamer.

I really think it is a bike built for tighter tracks like Perris Raceway or something, though. I would actually love to own one of those for track days. It's incredibly fun once you remember how to ride a small two-stroke.
Check out the video on this site, including some great footage of Anstie wringing the thing out.
An apology is in order. Every week, we do the Racer X Injury Report, and we do our best to be accurate, and many times this means we get the official story from the team and that's that. However, we've been reporting for the last half of the SX season that Dan Reardon wasn't riding because of effects from a concussion he suffered at one of the Anaheims. Apparently, this wasn't true. Sources tell me that he actually was sat down by the MCRMX team against his will and the concussion story was simply a cover for that. He's healthy, he's been healthy, and he's riding for the Valli Motorsports Yamaha team outdoors.

That's it from Cox, and we won't hear from David Pingree this week, as he's busy actually working!

Etnies.com posted a Brian Deegan video feature giving an update on his race plans for this year. Check it out here: etnies.com.

Finally, everyone here at Racer X would like to send our condolences to AMA promoters Mark and Shelly Carlton, owners of Rocket Raceway, on the loss of their son, Jack Carlton. Please keep the Carlton family in your thoughts and prayers. They're holding a benefit event at their track this weekend. Check out the flyer below: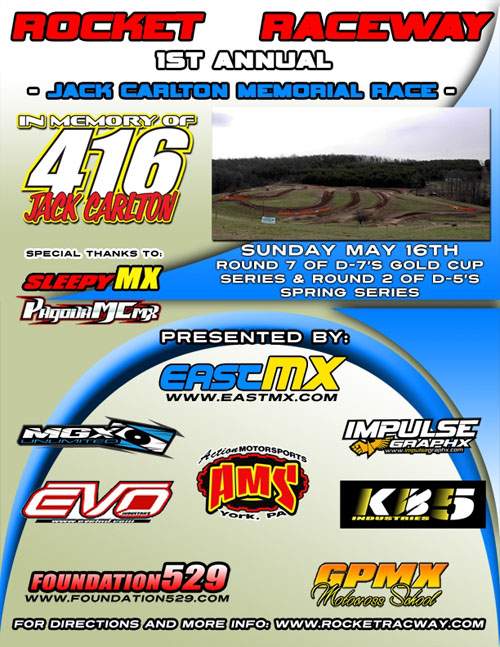 That's it for the last week off before we get really, really busy! Look for some big news early next week about the Lucas Oil AMA Pro Motocross Championship, as well as updates, films, photos, television schedules, and all the information you're going to need for the entire summer!

Thanks for reading Racerhead, see you at the races.