Racer X Redux: Your Dream Seasons
A few weeks back, when Ryan Villopoto went out of the 2010 Monster Energy Supercross Championship with a broken leg, the bench racing went to a new level. What if Villopoto, Stewart and Reed had actually made it to all the rounds?
In this age of precious natural resources, you don't want to waste energy, so I decided to put all of this heat between the fans to work. I asked the loyal readers of Racer X ReduX, presented by Renthal, to write up how they wish their dream-seasons had gone . The sillier, the better. The best essays are published below, and those authors get Renthal ReduX t-shirts and Renthal sticker kits.
But the real winner is me, who gets to add extra ReduX content to the site without much extra work. I wouldn't want to waste any energy.
So here goes--the best "what-if" 2010 SX season dream sequences. Enjoy.
- Weege
My dream season would've been a classic. Start off with Chad and James tangling at Anaheim 1 on the last lap, and Chad wins by picking up his bike in the last turn and winning by a wheel over his teammate Villopoto. Over the season, both the Ryans, Chad, James, and a surging Kevin Windham share wins. Coming into Vegas, there is a four-way tie for the points lead. At Vegas, Ricky Carmichael comes out of retirement for one race, and Pourcel and Canard move up for one race. And surprise, NASCAR racer Jimmie Johnson shows up to race as a privateer and all of the above qualify for the main. On the last lap, Reed, Stewart, Carmichael, and Dungey are separated by half a second. At the finish, Dungey cuts inside of Ricky and takes the checkered flag, signifying a changing of the guard towards new, young riders in the series.

- Cade Richardson


There is a lot of hype and buzz circulating the pits as round one of the 2010 AMA Supercross is about to start. All the factory guys are healthy and looking good in the last timed practice of the day and are crowded together in one small area for the riders meeting; the privateers are all hanging back just within ear shot. When suddenly, with a loud crash, Jeremy "Twitch" Steinberg, who was trying to "Poach" the big "A' by backfliping thru the triangle, knocks it over on to the riders meeting. Oh the humanity! Thankfully no one was killed but some how every one of them has suffered some sort of nagging injury making it near impossible for them to ride safely.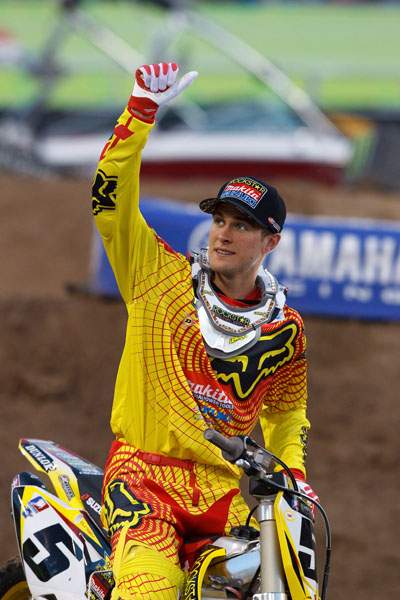 Several writers envisioned Dungey winning the title now matter who showed up.
Cudby photo
Enter the replacements. After round one's fiasco where Health Voss took home the win while wearing the cape for Wonder Warthog Racing; round two aims to be a wild one with every fast guy who could never quite hold it together is on the line in hopes of winning this year's supercross championship. Button, Lusk, Reynard, Bradshaw, Fonseca, Pingree, Dowd, everybody who was anybody that didn't win the 450 championship is on the line. All of them have been signed and sponsored by ATK to race because the lead ban has been extended to adults or anyone else who wants to have fun. Chinese and Japanese lead is strictly forbidden but good old-fashioned American lead is accepted with open arms. The gate drops but wait none of them are moving, all the ATKs have simultaneously seized; who would have guessed that?! And yet there is one lone rider, and on a pit bike no less, is that, wait, yes it is that is Guy Airtime Cooper on one of his factory built American made (with Chinese parts) Xtreme machines railing around the track! He puts in 20 solid laps airing it out with fat whips to the cheers of the crowd and takes home the win.

All the remaining rounds of supercross scheduled to race not inside a dome are cancelled due to the possibility of shifting winds bringing dangerous fallout from the recently nuked countries of Iran, Afghanistan, and North Korea (hey someone had to do it they already hate America anyway right?). The dome rounds have been dominated by Larry Brooks, Mike LaRocco, Carey Hart, Roger DeCoster, and even an Adaptive mounted Mitch Payton who somehow found a loophole where factory team managers can race their riders bikes lead or no lead so long as they have a written affidavit from their homestate's congressman saying, "It's not okay but no penalty will be enforced." J-law was at every race but couldn't hear the call to line up for the main due to someone having bit both his ears off.

Now it's time for Vegas, which has been moved inside the MGM Grand Garden Arena for the final round (due to nuclear fallout concerns of course). All of the factory riders are back and healthy and ready to ride and with every previous winner having been disqualified for too much lead content in their gas, it's anybody's championship. The gate drops and Mike Alessi gets a great jump but there is no way he can holeshot with 100 less cc's! Bubba and Reed go through the 1st turn and high five too hard congratulating each other over the 1st triple and break each others hands. Villopoto could have won but got impatient and crashed trying to block pass Dungey. And Windham had his head down and was making a hard charge to the front until he remembered he was over 30 and thought, "what was it I was doing again?" Josh Grant was battling Dungey for the lead until his JGR mechanic forgot what weekend it was and held out a pit board saying "go fast turn left" just before a right hand turn.

And then there he was all by himself cruising around an open field thanking God, his family, and his team just like a true champion should, the man on the yellow bike, the last man standing, and the only one who could have possibly won it this year... Ricky Carmichael who just said "screw it, moto is more fun than Nas-truck anyday, and who is gonna' turn down a free trip to Vegas?" And by the way did I mention he won it on a 2 stroke?

- Justin Tolman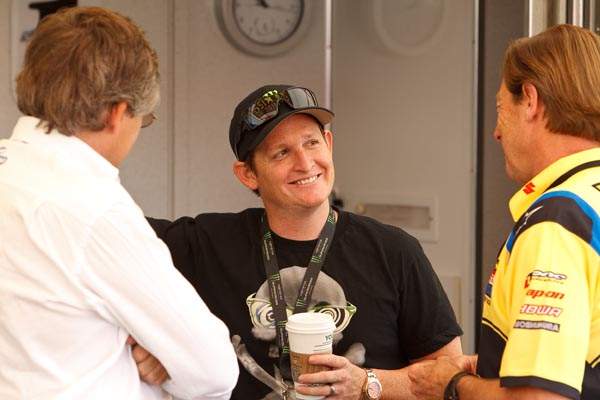 What if RC had showed up to race?
Cudby photo

When Travis Pastrana and Jeremy McGrath both announced a fulltime return to the 2010 AMA Monster Energy Supercross Championship back in January, we knew we were in for a special season, but nobody could have predicted just how crazy the road to Vegas would get.

It started getting weird halfway through the season in Atlanta when James Stewart pulled out of the season with a broken femur after crashing hard while attempting to set a fast time aboard his Segway. It got even weirder when Kawasaki's Chad Reed was arrested and deported after his involvement in a didgeridoo smuggling operation.

Things seemed to calm down for a few weeks, but just last week a press release arrived in the Racer X inbox announcing that Ryan Villopoto would miss the final round of the series after sustaining bullet wounds on a recent hunting trip with former Vice President Dick Cheney. The injury isn't life threatening, but it's devastating news for Villopoto and the entire Kawasaki team, as RV was tied with Rockstar Makita Suzuki's Ryan Dungey for second place, just one point behind series leader, Pastrana!

But despite losing one of the major contenders, Las Vegas was still shaping up to be the most exciting finales in the history of supercross, provided the lights stayed on. Only a single point separated Pastrana and Dungey, while GEICO Powersports Honda's Kevin Windham sat just two points out of the lead. Even McGrath, who was only 11 points behind TP199, had an outside chance of taking home a championship.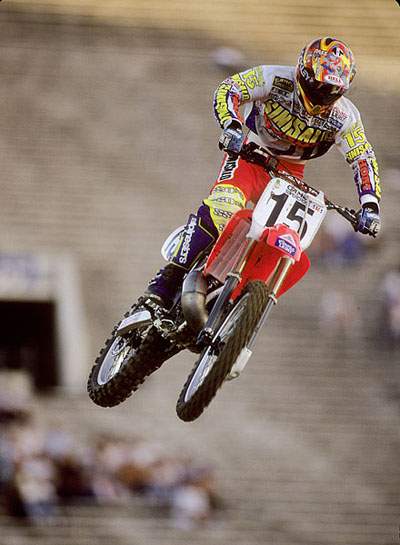 ReduX reader Aaron Hansel puts MC into the championship picture.
Fran Kuhn photo

When race day finally arrived, all hell broke loose in the first practice. It started with the disqualification of Windham and Dungey. RD5 had been shadowing Windham for several laps trying to learn his lines, and apparently Windham didn't like it. KW let Dungey pass in a rhythm section and proceeded to torpedo Dungey in the ensuing corner. Dungey responded by grabbing KW's jersey, pulling it over his helmet, and unloading several Mike Tyson-like body blows before the two could be pulled apart. I talked to Doc Bodnar and he said that despite some pretty serious internal bleeding and bruised ribs, Kdub should be ready to go for the nationals. That's some good news, as the outdoors just wouldn't be the same without Windham.

When Pastrana got wind of the disqualifications, he was overjoyed and proceeded to celebrate by pulling a back flip over the finish line jump in his second practice. The AMA didn't approve, and the move earned Pastrana, you guessed it, a disqualification.

With a depleted field and major discontent spreading throughout the crowd, race officials held an emergency meeting and came up with what has to be the most bizarre ruling in the history of the sport. The disqualifications would stand, but each rider, (including the injured Villopoto and Stewart) would be allowed have an alternate rider race in their place. This meant that Pastrana, Dungey, Villopoto and Windham all had a shot at winning the title, even though none of them would actually be participating in the main event.

At this point everyone was convinced that a stranger turn of events could not possibly occur, until the replacements started lining up. Greg Albertyn was riding for Pastrana, Mike LaRocco for Windham, David Vuillemin for Stewart, Bob Hannah for Villopoto, and The Man himself, Roger DeCoster, was riding in place of Dungey.

When the gate dropped, Vuillemin streaked to a holeshot, only to leave the door open in the first turn and get punted off the track by LaRocco. The move ended up taking them both out, with an ankle injury to DV12, and broken spokes for LaRocco.

This left the battle for the lead to Hannah and DeCoster, who were absolutely flying. Albertyn followed several seconds behind them, while McGrath was battling through the pack after a lousy start. Several laps in, the battle between Hanna and DeCoster began getting physical. DeCoster would run Hannah high in a turn and make the pass, only to have Hannah come barreling hard into the next corner and execute what can only be described as a smash pass. It wasn't long before both riders were trailing smoke and steam, matched only by the vapors escaping from their bikes. Beaten down by the furious pace and abuse, both riders fell off the pace halfway through the race and slipped way back.

This handed the lead to Albertyn, who immediately began laying down fast laps. Back in the pack, MC was charging and had managed to work his way into second place, but with just a few laps left, it didn't look as though Albertyn could be caught. Then, as Albertyn was coming through the fastest part of Monster Alley, a deer jumped out right in front of him! He had nowhere to go and plowed right into the unsuspecting animal, killing it instantly. I tried to talk to Albertyn later in the pits about it, but all he could do was shake his head slowly and mutter something about lighting striking twice.

With Albertyn out, McGrath was free to run his own pace for the remaining laps. In one of the most unlikely scenarios in one of the wackiest seasons ever, McGrath crossed the finish line in first to take his eighth supercross title.

It was a great season, folks, one that will be hard to top. Now the nationals are just around the corner, and rumors are rampant that McGrath's victory has prompted several other retired riders to come out of retirement for the outdoors. Email me your predictions at aaronhansel@sbcglobal.net, or send me angry emails wondering why your favorite old school rider wasn't included in this edition of ReduX. It's your call, but either way, thanks for reading. See you next year.

--Aaron Hansel
In my dream observation, Tim Ferry DOMINATES the Anaheim 1 opener and goes on to CRUSH the competition for 17-straight races, thus SMASHING previous records for win streaks, most wins in a season, oldest rider to win a race, oldest rider to win a championship, and most late-night celebration meals at Denny's for a championship mechanic.

Go Canucks!
- S.M.


The 2010 AMA Supercross Championship began as the culminating Clash of the Titans. At Angel Stadium of Anaheim, the air was filled with a sense of wonder and excitement; as fans clamored to see the growing rivalry of James Stewart and Chad Reed, as well as 450 rookie Ryan Dungey. But even Jason Weigandt and Chad Reed could not have predicted what would become of the season. Tensions were rising in Honda's factory team. The Red Squad was feeling disillusioned with Davi Millsaps and Andrew Short; even after years of consistent podium finishes. Honda manager Erik Kehoe felt that Shorty and Millsaps didn't represent the Red in Honda enough, so he found a new rider who would. Completely shocking not only the motocross community--but the White House as well--Honda brought aboard Nikita Krushchev, former Premier of the collapsed Soviet Union. As shocking as the hiring of the ultimate "Red" rider was, it was only the beginning of the many roster changes that would take place before the gate dropped on the new season.

Josh Hill and Jason Lawrence were returning to their old ways, and were both fired from their respective teams. San Manuel desperately needed a rider to back up Stewart, and found a last-minute replacement in Crazy Horse. The Sioux Indian leader had defeated General Custer at the battle of Little-Bighorn, so Larry Brooks figured that he could top Reed and Villopoto's Kawasaki duo. James Stewart was pleased with his new teammate, and helped get his bike set up. Elsewhere, the pits had that usual Anaheim presence. Kevin Windham, Ivan Tedesco, and the others were ready to give the title a run for their money. But something was different. A feeling of paranoia swept over the teams, who couldn't help but keep a lookout on Krushchev; and be ready for any sudden move.

When practice got going, fans were surprised and confused. It was no surprise to see James Stewart at the top of the board, and fans were overjoyed to see the #14 of Windham come second; but other odd circumstances surrounded the first practice session. Chad Reed was fast, but didn't look too comfortable on his new KXF450. Ivan Tedesco was third fastest, and Villopoto finished out third. Krushchev seemed to be cruising, waiting for an oppotunity to attack the track; but the moment never came. The highlight of the session was the curious case of Crazy Horse, who never actually finished a single lap. After spending much of the practice session yelling at his Yamaha and digging his stirrups into the engine, his mechanic informed him that it was not a horse and that he had to twist the throttle to make it go. He would have to wait for the next practice session.

In the second practice session, Krushchev finally made his move. While James Stewart was dominating the practice times, Krushchev pulled a lap of hammer-and-sickle precision. The premier of the Premier looked to be increasingly exciting. Crazy Horse also surprised, overcoming the great odds against him and nailing fifth fastest. With the tension rising between Krushchev and Stewart, it looked to be a battle of Red vs. Blue.

The opening ceremonies began with a bang. While most riders followed the opening-ceremony norm, Stewart and Krushchev lit up Angel Stadium. Both had fireworks displays that were revolutionary and scary. Many people to this day still argue whose were bigger. With the two in different heat races, fans would have to wait to see the final showdown.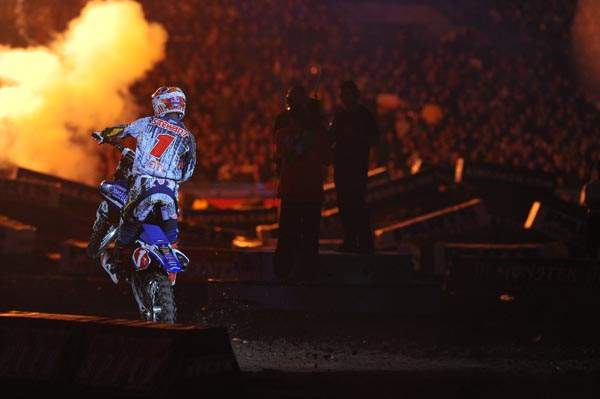 Stewart versus Krushchev really brough the heat to opening ceremonies!
Cox photo
The first heat looked promising, with James Stewart set to compete with Chad Reed, Kevin Windham, and Ryan Dungey. Stewart pulled away while Dungey, Windham, and Reed all fought for second. On the podium during his interview, Stewart seemed nervous, but he was ready for the Red's challenge.

The second heat pitted the Krushchev Kremlin against Ryan Villopoto, Ivan Tedesco, and Crazy Horse. When the gate dropped it was Krushchev with the holeshot while Crazy Horse went down in the first turn. Krushchev easily stretched out his lead, dropping the other competitors well off. Crazy Horse put in a historic ride of bravery and determination, coming all the way back to second place. He didn't touch the brakes. Not once.

The stadium was held together with the friction of awe as the main event was set to begin. Roger DeCoster, knowing all about Krushchev, warned that he was an intimidating and influential force; not to be taken lightly. JS7 and NK eyed each other suspiciously, each unaware of what the other would do. With the thirty-second board sideways, the main was set to ignite. When the roar of the engines let off and the back brakes were tapped, it was Crazy Horse with an enormous holeshot. But Stewart and Krushchev were following close behind. After trying to jump an entire rhythm section in one leap, Crazy Horse went down. This set up the ultimate battle of ideals between James and Nikita. For the entire 20 laps, the two tussled back and forth; unclear who was the better of the superpowers. On the last lap, Stewart held the lead, but was under heavy fire from Krushchev. With one final corner before the finish line, Stewart left the door wide open for a Soviet-takeout. With Krushchev eyeing his oppurtunity, he charged into the turn...

And hit the brakes. Stewart aired over the finish line jump with another win, and celebrated his triumph. Krushchev was disgraced at his flinch and swore to never let it happen again. Though he had lost this kitchen battle, Krushchev promised Honda the Championship to be decided for another day...

-- Alex Visser

This Redux concentrates on the last round of the 2010 SX season, at Las Vegas, the one race that will be talked about for generations. It was exciting enough to know that there was a five-way tie for the lead in points going into the race. Tied for the lead were Jason Lawrence, Ryan Villopoto, Ryan Dungey, James Stewart, and Chad Reed.

It was a very strange week leading up to the race. The first bombshell to hit was the revelation that Jason Lawrence was the illegitmate son of Bigfoot. He was left in the woods, where his current family found him while hiking, domesticated him, and taught him to ride a dirt bike.

At the press conference before the race, it was revealed that Ryan Dungey and Ryan Villopoto had developed a curious man crush on each other, and had a commitment ceremony where they vowed to never, ever, pass each other during a race.

As the gate was about to drop on the Main Event, the pits became electrified as news spread that Chad's wife was about to give birth, and paternity was in question! The finalists were none other that Chad AND James Stewart!

The gate dropped, and all kinds of moto chaos ensued, with James and Chad leading the pack. Every corner was a major take out attempt; every jump was a chance to cut off each other at the knees! Mouths foamed, neck veins bulged and eyes bugged as they went at each other. The action put chariot racing to shame. The Ryans were a veritable freight train as they banged their way to the front, passing people at the same time! Lawrence, still troubled by the revelations of the week, slogged along mid-pack. His heart was just not in racing.

This pattern continued until the last lap, when the mechanics area erupted in a frenzy. Chad's wife was delivering! Pits boards for Chad and James began waving like crazy with the info. Suddenly, Chad and James exited the track, flew through the pits and out into the street, racing toward the hospital on their bikes! Busses became berms; drunks in the street became whoops as they raced downtown.

Meanwhile, back at the race, the Ryans found themselves at the front of the pack at the last turn, with neither wanting to break their solemn commitment vow. At that moment, Jason spotted Bigfoot on the infield, hiding behind the boat. He had come out of the woods, disguised as the Whoop Monster from Minnesota, to see his son race. Jason exploded with enthusiasm as he passed the dawdling Ryans for the Championship! The crowd went wild as Jason threw down his bike, and he and Bigfoot ran in slow motion to each other, where they embraced and rolled on the ground! The Speed TV commentators were so overcome with emotion that they could not continue broadcasting, with all the blubbering and such.

As of this writing, Chad and James were near the hospital, with only 3 stoplights and a traffic circle to go.

- Steve Wardlow


I don't know what Villopoto was thinking in St. Louis a few weeks ago when he tried to block-pass Dungey, but what I do know was that his little move he tried putting on Dungey sure lit a fire under Dungey's can – a fire that seemed to be lacking in the middle of the season.

Before St. Louis, some friends and I were saying that Dungey seemed to be riding to preserve the lead and that if he was riding behind in the points lead. None of us wanted to see this season end that way. We wanted a fight to the finish – and that's what we got!

Villopoto's move lit the fire in Dungey, and that sparked more bar to bar action. After they remounted, Villopoto took the lead, but came up really short on that triple that Chad Reed had expressed concern over and nearly went off the track, allowing Dungey to pull right up on him. Dungey wasted no time making the move on Villopoto in a perfectly executed block pass (sans take-down) in the turn following the finish line jump. Villopoto didn't let him get away from him though, and we saw some of the best action since the Johnson-Bailey battle at Anaheim in '86. Dungey came out the winner in St. Louis, but the story was not over.

Over the final three races, we saw Villopoto carry that same momentum that he'd been building, but we (and he) encountered a renewed Dungey for these last three races. Villopoto continued to get the great starts and, except for Vegas, started three or four spots ahead of Dungey each time. Dungey was unable to overcome this disadvantage in Seattle (Villopoto's home race), where he settled for third behind an on-fire Ivan Tedesco. However, in Salt Lake City, Dungey came from fourth off the gate to catch Villopoto by the midpoint of the race and passed him two laps later. From there, he was able to maintain the lead until the end.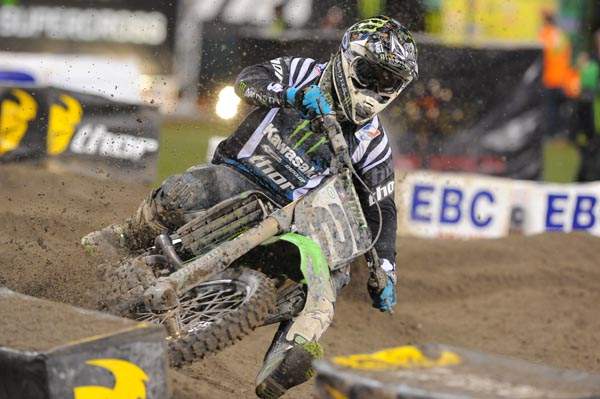 Aaron Lockhart imagines the Ryans battling down to the final round.
Cox photo
Going into Vegas, Villopoto had a 9 point deficit and in order to win the championship he would have had to place first with Dungey getting no higher than fifth. The whole weekend had an ominous feel as the sky was grey all Saturday and that evening saw storm clouds begin to roll in. It had the potential to be an incredible night.

In the main event, Dungey and Villopoto both rocketed out of the gate with the holeshot going to Dungey. Villopoto kept within two seconds of him for the first half of the race – and then the sky opened up and let out its fury! We hadn't had a good mud race all year, and this was our chance in the final round of the season. This allowed for Villopoto to gain on Dungey and the battle that ensued was one for the ages. Back and forth, mud slinging, bar banging action carried these two on ahead of the rest of the field and into the final laps. Considering Dungey's points lead, many were surprised that he didn't just sit back and accept second place – and the championship – but it seemed that he felt he had something to prove this night.

As the final lap approached, they were still fighting hard. With Villopoto commanding the last two laps on the swampy track, Dungey jumped a rutted out triple before the final turn in order to make an incredible move on Villopoto for the lead… and the win. His gamble was just enough to pull along Villopoto and take the inside line at the final turn. With a touch of the brake and a quick snap of the throttle, he whipped his RMZ450 around to point directly at the final stretch. Villopoto tried his all to get around the outside of the turn to regain that precious microsecond that he'd just surrendered, but it wasn't enough. Dungey was past and with a final leap into the night sky, had won the coveted crown of 'champion.'

-- Aaron Lockhart


The Supercross season starts out with a bang, a rookie, Ryan Dungey, challenging the famed "fastest man on the planet" James Stewart, with Kawasaki teammates Chad Reed and Ryan Villopoto battling it out for the last spot on the podium. The first few races are more of the same, constant dogfighting between Stewie, Villo, Reedy, and the Dunge! Also, throw in Josh Grant to make things really crazy. In round 5 of the series Dungey takes J-Law out while he is lapping him, and Lawrence retaliates by not showing up to the rest of the series. Halfway through the series now and Stewie sits atop the standings followed by Dungey, Villopoto, Reed, each having the same number of wins. All of the top riders are within tenths of a second off each other in practice. They each take turns beating one another in heat races and main events. By round 13, Dungey is beating Stewie straight up, consistently, taking over the points lead. For the remainder of the championship, Dungey rides solid. When its all said and done Ryan Dungey is champion, and there isn't any talk of luck, or being handed anything.....because really it could have gone just like that.

- Scott Perry