For this week's installment of the Fox Fifty, we head just south of our
Racer X
headquarters to the Old Dominion state of Virginia. While Virginia is home to a few very fast motocross racers, it has definitely produced more U.S. presidents (eight) than racing superstars. In fact, no current AMA top-100 riders are from Virginia, and the most recent pro from there is Abingdon native Zach Osborne, who's currently contesting the Grand Prix circuit in Europe. And only one AMA Supercross Champion comes from Virginia: the Icon himself, David Bailey.

In terms of motocross history, Virginia's Lake Sugar Tree MX Park hosted several AMA Nationals and Trans-AMA races through the years, its last national coming in 1990. The track is still up and running today, and it hosted a Loretta Lynn's Area Qualifier a few weeks back. Virginia is also home to Pro Sport MX, located just off I-81 in Wytheville, as well as Birch Creek Motorsports (in Danville), Actiontown (Dillwyn), South Fork (Suffolk), and VA Motorsports Park (Dinwiddie).

And how about this: Kevin Walker, the most successful AMA Amateur National MX Champion of all time, is actually from Virginia, not Tennessee, as many folks seem to think. So here's a Flash Trivia question: Kevin only had one national number in his career. Name the number and the year. The first five correct responses will get a special gift from Fox Racing. Email your answer (along with your name and address) to contest@racerxonline.com.

In no particular order, here are our nominees for Virginia's five all-time fastest. Special thanks to one of Virginia's finest himself, James Jarman, for his help (and yes, JJarmin's on the list too):

Chad Lough (Longtime pro on the Southeast scene and very fast in arenacross; national #81 in 1993)
Rusty Reynolds (Former top Team Green amateur in early eighties)
Jeff Callihan (Won the AMA Amateur National Championship in the late '70s at Lake Sugar Tree)
David Bailey (Four-time champion, all-time legend, The Icon himself)
Ray Pulley (1974 and '80 Virginia State Champion)
Glen Wright (One of Pulley's main competitors. R.I.P.)
Zach Osborne (Multi-time amateur champion, has an MX2 Grand Prix win to his credit. Currently sixth in the MX2 standings.)
Kevin Walker (The most successful rider in Loretta Lynn's history, with thirteen titles.)
Timmy Walker (Older brother of Kevin. Got fourth overall in the 125cc class at the Charlotte National in 1978 at Metrolina Raceway. Led the first moto for over thirty minutes.)
Gary Anger (Fast local pro)
John Untiedt (Fast East Coast pro in the mid-seventies on his Maicos)
Mark Williams (Fast amateur prospect from the Richmond area)
Lance Eubank (National #98 in 1988, has his own Hi Flyer card. Good open-class rider.)
James Jarman (Fast Open-class rider, his career was cut short due to injury)
Shawn Renfrow (Another fast local pro)
Jimmy Pigg (Highly respected big-bike rider from back in the day; won a few district championships)

You can vote for your five fastest from Virginia below, and we will tally them up and post the results here next week. (And if we missed anyone you would like us to mention, please email us at letters@racerxonline.com.)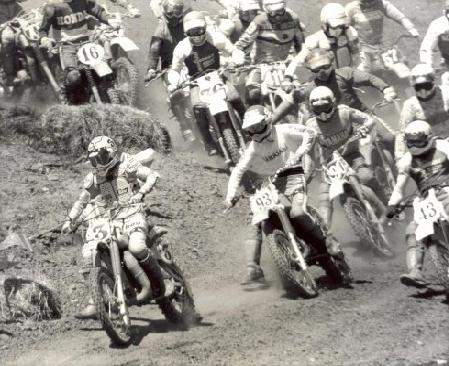 Ray Pulley (3) grabs the holeshot over David Bailey (93) at Lake Sugar Tree.
photo: Courtesy Ray Pulley