Welcome to ReduX presented by Renthal. As DC likes to say, Vegas is where assignments go to die.

It was an exceptionally hard weekend there this time, as I hosted Friday's press conference, the webcast on Saturday, and the SX Awards Ceremony (banquet) on Sunday. That's a lot of rehearsal, prep, and work time, and while that extra work gave me a late start on this column, the real casualty was my Saturday night. I didn't even get to hang out! Very, very sad.

As for the column, I have a contingency plan. You have all fallen into my little trap. After I post my Las Vegas ReduX here, I'll post our reader essays on how the 2010 season would have gone tomorrow. So if you don't get what you want today, just wait!

So, on to Vegas. There really wasn't much hype in this one since Ryan Dungey had wrapped the title a month ago, but you couldn't tell by listening to the fans in Sam Boyd Stadium. They were rabid! I think this was the loudest crowd of the year, and that includes bigger crowds with crazier racing inside domed stadiums—Indy, Atlanta, and St. Louis held more people that Sam Boyd Stadium's sold-out numbers, for example. But the fans were going nuts, especially for Kevin Windham and anyone on a Monster/Pro Circuit Kawasaki. Seems like Vegas' drinking, partying, and gambling encourages a good time. Who knew?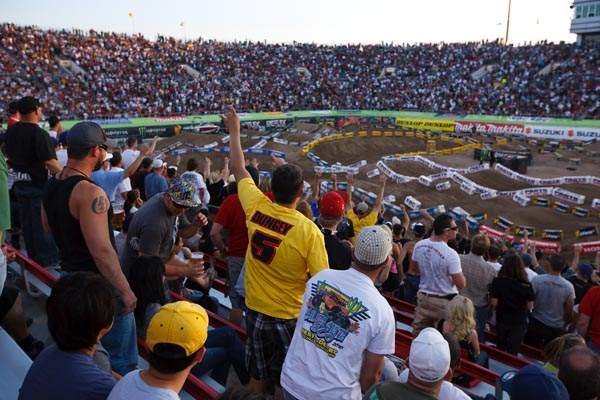 The fans were drunk with excitement in Vegas. Or just drunk.
Cudby photo

Good thing the fans were still into it, because they witnessed Dungey's "this is why I'm champ" ride in full attention. It was reminiscent of Jeff Stanton back in 1989—preseason faves Rick Johnson and Jeff Ward got hurt and Stanton cruised to the title. By the finale, some people were whispering that Stanton lucked into the title, so he wanted to win the finale in L.A. just to show everyone why he was champ, especially since Ward was back. And Stanton won.

The Dunge did the same in Vegas, with the added emphasis of doing it over Chad Reed, who basically showed up at the races for the first time this year. Surely he's still a bit of a mess upstairs after watching the birth of his son last week and then finding out, an hour later, that his friend Andrew McFarlane had died. As always, Chad was wearing the emotions on his sleeve all day, and he broke down in tears on the podium when he said he wanted to win this one for Andrew. He finally got a good start and was right behind Dungey after the first lap. It was a good test, but he lost this one. Dungey's been riding and testing and training all year and Reed hasn't, so the kid has an edge, and it showed. He slowly pulled away, bit by bit, and just looked sharper to me. Not to use Reed's absence as an excuse, Dungey rode awesome and deserved the race win and the championship, no question. Maybe we'll get some more Reed/Dungey showdowns this summer, or next year in supercross.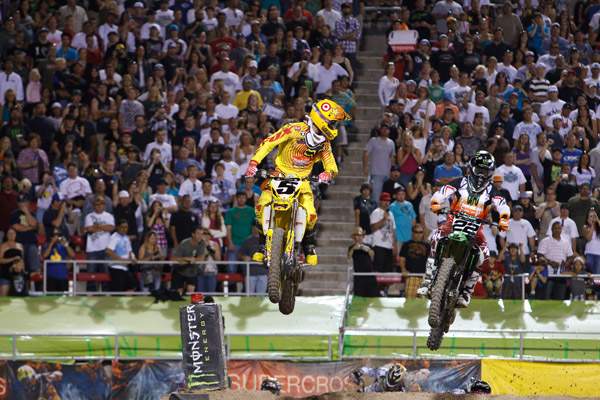 Beating Reed only made the statement bigger for Dungey.
Cudby photo
Windham didn't get the start and finished third, but you wouldn't know it by the way the crowd reacted. They were going nuts for the guy every time he jumped the triples. By himself. Kevin said he was tempted to start pumping his fists over the jumps, but he didn't know if that would look lame while running third. With a bad start, he had no chance of catching Dungey and Reed, so he backed it down and cruised home. While announcing for the webcast, I kept thinking someone had crashed because the fans would explode—but then I realized they were just cheering for Windham again.

Behind him came the real shocker of the whole darned night: Kyle freaking Cunningham! What the hell got into this kid? He actually passed Reed in the heat race and held him off for a bit, and then struck lightning again in the main, as he came from ninth on the first lap to finish fourth. He passed both factory Honda boys in the process and looked good doing it. This year in ReduX, I attempted to debunk the idea of "let's count the points if Rider X wins the remaining rounds and Rider Y finishes second each time." Remember some folks were actually doing that math for Villopoto after Toronto? Well, consider that debunked.

Now let's debunk another one, right here, right now. No longer can we use the "that dude is too small to ride a 450" excuse when scouting riders. No way in hell did anyone think Trey Canard or Cunningham was the right size for a 450, but lo and behold they actually seemed to ride the big bike better. Just sayin'. By the way, Valli Motorsports could have put Cunningham back on a 250 for the East-West Shootout. I think they made the right move. Check out 5 Minutes with Kyle Cunningham right here.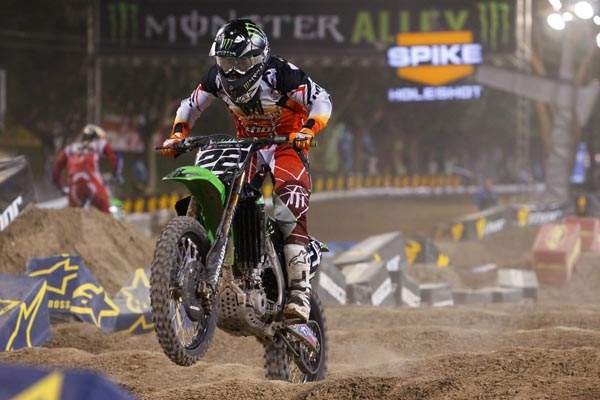 Hey Chad, nice ride, but the supercross season actually started 18 weeks ago.
Simon Cudby photo
Millsaps had a good start but was "Pants on the ground, pants on the ground, lookin' like a fool with your pants on the ground" in the main. At the Awards Ceremony on Sunday night, he apologized for showing Shorty his ass all night. Short just couldn't find a way around until the last lap … when Millsaps left the door open a crack. Buh-dum-bum! Try the veal, etc. and so on.

By the way, from our vantage point in the announcer's booth, we couldn't see that Saps' pants were falling off. But then again, is that a bad thing?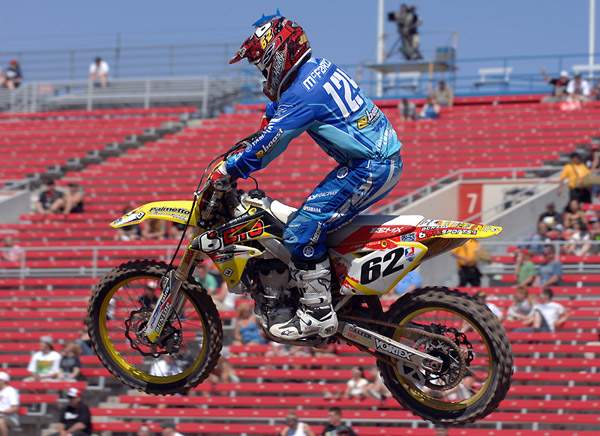 Jason Thomas ran McFarlane gear in practice, complete with a shark on his helmet. Very cool.
Carl Stone photo

The Dave Coombs Sr. East-West Shootout was expected to be the highlight of the night, and boy, did it come through. Usually, it seems like Mitch Payton doesn't really focus on this race, as if the moment his team wins in supercross, they're 100 percent focused on motocross. But Mitch was in an exceptionally proud mood Saturday morning, even offering Jim Holley and me the chance to sit on the 1W and 1E bikes for our video intro for www.supercrossonline.com (click here).

Also, like I said last week, Josh Hansen was keyed up to win this race. Dean Wilson is definitely not happy that Barcia and Baggett got wins as rookies, so he had something to prove. It all led to a collision course in the main. I'm just going to say this now, and you can use it as you will: The Vegas track was easy enough to where the riders couldn't get away from each other. It kept the racing close, and that was awesome to watch.

But don't get all carried away here, because while the Vegas track was perfect for close Lites racing, it wasn't the same for the big bikes. The top guys on 450s were uncorking a massive triple-triple-triple combination in the rhythm lane that led them to Monster Alley—and the final triple was basically a double with a little mound sitting way off in the distance. It was a big jump and a hard landing at high speed on slick dirt heading into the fastest section in supercross. It was definitely a separator in the 450 group, and I really doubt the track designers expected the guys to jump it.

Anyway, it wasn't a factor in Lites. Wilson looked like the aggressor for most of the race, stalking Weimer lap after lap and looking to pull what would have been a great upset (passing both champs to win). He was working on something in the whoops/wall-jump section but never quite figured it out. Then I think he got a little too excited, made a few mistakes, and lost his rhythm. Hansen and Pourcel came barreling through, and for a moment it looked like Le Crafty One was about to engineer another win in a race where it looked like everyone had him covered. But this time Weimer and Hansen actually did have him covered!

I'm impressed with Weimer's win. He doesn't do anything flashy, so sometimes he doesn't get the respect he deserves (read Cox's Monday Conversation for more on that).
With this race, he's proven that he has as much straight-up speed and ability as anyone in the Lites class. And yet, sadly, despite his finishing second right behind Dungey last year and winning Lites West this year, I'm not sure if everyone was convinced. They should be now!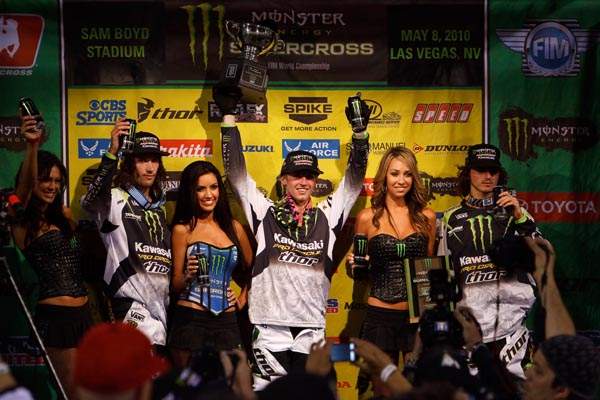 No doubt whose star shined brightest after this race.
Simon Cudby photo

Trey Canard was the only one with a chance to break up the PC sweep, but he crashed while running fourth. It wasn't in the script on this night—this was a Pro Circuit show.

Tommy Hahn finished ninth to move past Ivan Tedesco in points and snag Top Privateer honors for the year, and $25,000. Tedesco even came to the race to watch, and he was actually hanging out with Hahn all weekend! T-Hahn must have been looking over his shoulder the whole time, but Ivan never sabotaged the effort, and he dropped to second in the ranks. That cost him $10,000, because second in the privateer ranks gets you $15,000. In other news, Kevin Windham was up $18,000 at the tables as of Saturday morning.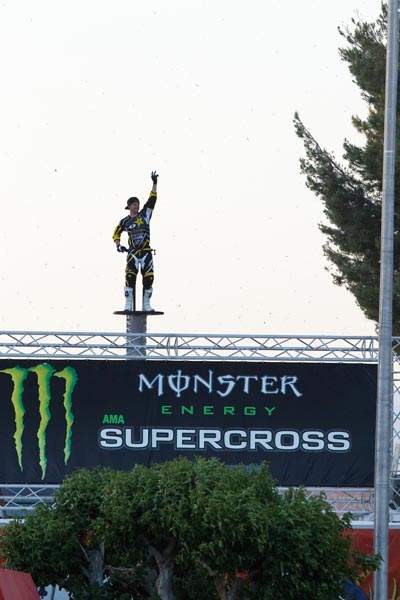 Feld Motorsports gave Tommy Hahn 25 grand and these sweet stilts from the circus!
Simon Cudby photo

After a one-year hiatus, one of the most anticipated and nerve-wracking events of the year returned to the Vegas finale—no, not the Awards Ceremony on Sunday night, but silly season rumors! Back in the good old days, people bought houses and SUVs in much larger sizes than they needed, and the biggest free agent on the market had his deal signed by Vegas. But last year that all stopped. We're not back to the old days yet, but at least some rumors are out there making noise—crazy ones that involve nearly all the big names, except Dungey, changing colors next year. For real, I've heard Stewart, Grant, Villopoto, and Reed could be shopping, but I'm not really sure it's going to pan out that way. And Reed is supposed to have a two-year deal at Kawi. So this could all be false, at least someone is talking about something!

As for the Awards Ceremony, I learned from the riders talking about the Vegas track. You have to back it down. When I hosted the 2008 event, I swung for the fences, which—like a true slugger—earned me a few home runs, a lot of strikeouts, and a few people wanting to throw at my head. This year I just set the table, put the ball in play, and made sure everyone went home happy. And when I had to make jokes, I played on easy themes—J-Law, the Alessis, and Justin Barcia ramming into people. It worked, for the most part. When it was over, I finally got to hang out really, really late like I wanted to do on Saturday. What happens in Vegas stays in Vegas, especially, in this case, any energy I had.

Stay tuned tomorrow for championship essays. And next week, a Lucas Oil AMA Pro Motocross preview. Before that, I have a weekend off. Sadly, the wife tells me the house isn't just going to fix itself, so please send me emails to jasonw@racerxonline.com so I can find some distractions.