Monday Conversation: Jake Weimer
Monster Energy/Pro Circuit Kawasaki's Jake Weimer topped off a dream season, where he won his first professional title, to lead a historic Pro Circuit freight train in Las Vegas, winning the Dave Coombs Sr. East/West Shootout in front of his three teammates, who filled out the top-four spots. We caught up with him poolside at the Mandalay Bay on Sunday to get his take on his night, the nationals, the MXdN, and not winning a truck this year...
Racer X:
You've said before that you sort of expected to win the title this year – or at least felt you had to win it – in some ways was winning the Dave Coombs Sr. East/West Shootout even more rewarding?
Jake Weimer
: Winning the shootout, that was almost just icing on the cake. Racing for a championship is tough. There are highs, there are lows, it's mentally tough at the races on the weekend, and the last couple of west-coast rounds weren't spectacular for me, but it's hard to understand sometimes that you've kind of got to be careful with the title on the line, and I didn't want to throw that thing away. The race wins were important, but the title was the most important thing. Like you said, I felt like I had to win this year. It was my last chance to win a Supercross Lites title, and I just felt like I had to do it. To win the shootout, that was perfect. It was nice to come to the race and not have to worry about the title. I could just go out there and push, and if I fell, then, you know, "Oops, dang it, and moving on." It was cool to not have that pressure and be able to just go out and ride. The whole day went pretty well, and I got good starts, won my heat race, and won the main event, so it was really cool, especially with all of the competition.
You've always gone pretty fast in Vegas. Early on in your career, you had some of your best finishes in Las Vegas. What is it about Las Vegas that seems to suit you?
It's always pretty slick, and I think this year was better than normal, but I think being calm and riding smooth helps, and I think that's how I try to go about things – just be smooth and try not to make mistakes, and not hold the thing wide-open. I try to be real precise with it. I'm assuming that's probably why it seems to work out for me.
But the thing is, Christophe Pourcel is labeled as the smooth guy, and early on in the race, he was right behind you. He was the guy chasing you around. I was watching on the big screen that your line around the sweeper was way different from his – he was hugging the far inside against the Tuff Blocks, and Dean was doing the same thing, but you were going wider and harder. I think a lot of us figured that Pourcel could watch your lines and that he would get you.
Obviously, I can't speak for him, but you can be smooth and be fast. I think Kevin Windham's a perfect example of that. At the beginning of the race, I was actually pretty calm, especially for how much pressure I was under – he was all over me there for a little bit... I don't know, I never panicked or freaked out, I just did my deal, and that's probably why it worked out.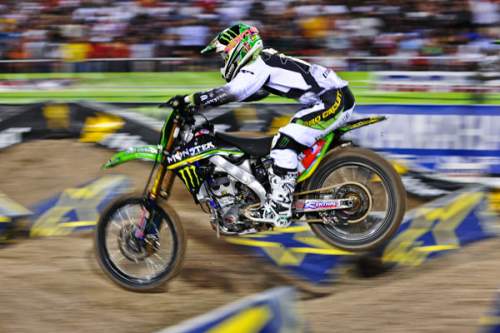 Steve Cox Photo
Did you used to freak out when you were in a position like that?
I don't know if "freak out" is the right way to say it, but for sure I would get nervous and start thinking too much about what's going on behind me rather than being able to just focus on what I was doing. In the past, there were definitely times when I was leading and I'd try to protect my lines too much or something like that. So I was pretty happy with how I handled it, because the pressure was there pretty much the whole time.
What about your first time running with a number one on your bike? Was there any added pressure with that?
Well, that was kind of why I wanted to do so well – because I didn't want there to be any question whatsoever why that thing was on my bike. I wanted them to know. It was important to me to make the 1W look good. That was the one time and the only time ever that I'll be able to run the 1W. I mean, it's possible that I could run a 1, but to run the 1W, that was the one and only time I'll ever get to run it, and I wanted to make it look good. And my jersey was sick, so I wanted that thing to look sweet, too...
Did you even know all the stuff that was going on behind you at all? Or were you just doing your thing?
More toward the end of the race, I could kind of see what was going on. At the beginning, I was obviously really focused on what I was doing and trying to hit my marks and everything, but I got a little bit of breathing room so I didn't have to protect my lines so much, and I could kind of open up my turns and flow a little bit better. At that point, I saw them mixing it up a little bit, and I could hear the crowd, too, so I knew it was a good race going on...
Was it different this weekend with the fans' response to you, since you had the 1W on your bike? Did you have more people asking for goggles and jerseys and stuff?
Well, you've always got the goggles and jerseys and stuff. Those are always going to be around. But I don't know, it seemed pretty normal. Last weekend was about as gnarly as it gets for me – I had so many friends and family there, that's about as gnarly as it gets – but no, it wasn't too crazy this weekend.
You said there was really no pressure here, but knowing that this was your last chance to win the East/West Shootout, there had to be some pressure...
Well, there are a couple of different ways. In one sense, the pressure's off, because the title's over, but in the other sense, the pressure's on, because you've got the title, the 1W on the bike, and now let's see what you can do against the east-coast guys – that whole deal. But ultimately, at the end of the day, our job is to win titles, and it would've been a lot bigger loss for me to lose the title than it would've been to lose one race. But I do have to say, last night was amazing. I was very, very happy. It was cool to win the title, and that was maybe my best win. I was super-happy with it.
I think I've seen every race you've raced as a professional, and I think that might have been your best performance to date considering the pressure and the circumstances...
Well, that one probably felt the best out of any of them...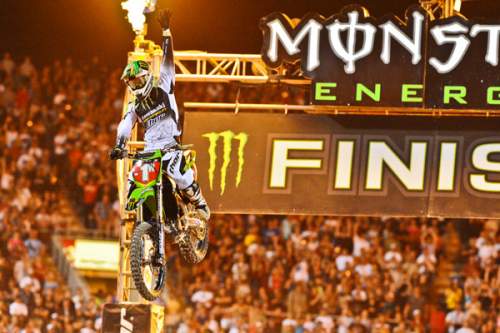 Steve Cox Photo
Did you have any scary moments out there while leading?
Well, I made one pretty big mistake pretty early in the race, and I almost blew it. In the whoops, that little wall in the middle, I just came over, and I don't know exactly what I did, but I came into it really hot, and I was trying to slow down, and I ended up stalling it when I was almost at a stop, but thankfully it started right back up again, so I just rolled a couple whoops and then kind of hammered out of them. That one scared me a little bit, but even then, I would've been bummed, but what do you do? If you're trying your best, that's all you can do...
How do you think Mitch Payton of Pro Circuit is going to top going 1-2-3-4 in the Shootout? How do you do that?
I don't think you can! They've done that before, I think, a couple of times. I know they've gone 1-2-3-4 outdoors, so he's done it before, but I'm sure that happens once in a while. Hopefully, he can do it again. That's just one of those times where you just soak it in and just enjoy it, because that doesn't happen very often. It's something I'll always remember, for sure.
I know you have that sponsorship from Toyota of Escondido, where they provide you with trucks to drive, but you could've won a Toyota Tundra at this race, like Pourcel did last year and Ryan Dungey did the two years before, but they didn't give it out this year...
That would be the year I win it! I win it the year they don't give you a free truck! I do already have a Tundra that's sick from Toyota of Escondido, but yeah, the first year they don't give a free truck away, that would be the year I win... Standard.
What do you think this race says about you as a racer compared to the other guys who will be moving up with you to the 450cc class next year – Pourcel and Trey Canard?
Well, I mean, I don't know why, but for some reason, there's probably not quite as much hype on me as there is on a couple other people that I race against. And I'm okay with it. I'm cool with it. Just let me do my deal during the week and be quiet and stuff. But I think that's why this race was so important to me, because I saw some stuff on the internet, and... I didn't really like it! I wanted people to know why I won the championship, and then there's always the East/West thing where people argue over which coast is gnarlier, and you can't really base it off of one race, because that's not going to tell you everything...
But it's certainly an indicator of some sort, isn't it?
Yeah, for sure. Just for myself, it was important. I wanted to leave Vegas just saying, "What's up?!" to everyone who didn't think I was going to win.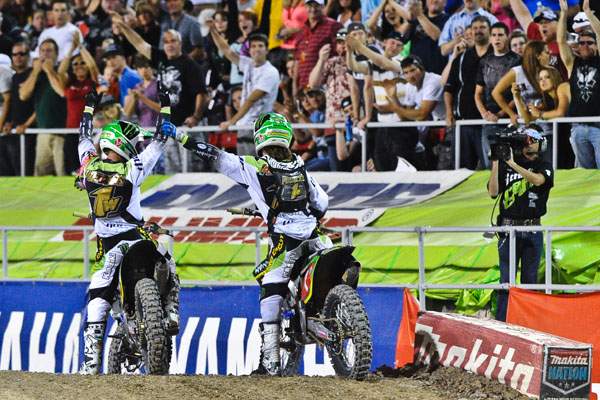 Jake Weimer (left) is congratulated by his teammate Christophe Pourcel (right) after the race as Pourcel declares Weimer the winner in a classy move.
Steve Cox Photo
Earlier this year, in a private conversation we had, you mentioned something about the announcers on TV pumping up Trey Canard when he was leading in San Francisco, saying things like, "He's taken his rightful place at the front of the pack," after you had just won the three previous rounds, and heat races at all three. You were bummed at that, and even Trey told me he was a little bummed about it, too. Why do people fail to give you credit?
I don't know why. I think it might always be that way for me, just because I'm pretty quiet, and there are few times when I'll even pipe up and say anything; but I don't really do anything crazy, I'm not upside-down on my bike over the triples... I don't do crazy stuff. I just go there and do my job and shake hands and say hi to people and do my deal. The people who are remembered a lot of times, something about them stands out, so it will probably always be that way, and I'm cool with that, but there are certain times where you're just like, "All right, I want to win this race and be the best guy." That's what I wanted to do this weekend. So, [since I won anyway] I'm cool with being the guy people don't talk about.
Nothing stands out about you, except your tiny head. So you have that going for you. You can be the racer with the smallest head.
Yes, I do...
So you can make a big deal about that all the time...
[Laughs] It's cool, though. I have a lot of fans at the races who are really cool with me, and it's perfect. I'm super-happy with where I'm at and what I've accomplished this year, and all of the people who are behind me, they've been awesome to me. Everything's perfect.
But it's not over yet...
It's not over, but it is for a couple weeks at least...
So let's talk about the Nationals. You won three of those things last year, and you weren't previously considered much of an outdoor guy. So, how does having that experience last year change your outlook for this year?
It changes it, for sure. Last year, I ended up with three outdoor wins, and I'm going in there to battle for a championship. This is my last year in the Lites class, and there are going to be some good guys. I believe that I can be up there. I think if I can be a little more consistent with my good races – not even the wins, but just the good races – and do that from week to week, I don't think there's any reason why I shouldn't be able to battle for a championship. So that's the plan, and I think the most important thing for me is to try and come out with a bang, because last year I came out a little bit flat, and it took me a little bit to get going.
You won Colorado last year, and this year that's where the Motocross des Nations is being held, so provided that things go well for you outdoors, do you feel like you have something to prove to the GP regulars?
I would like to prove that I can win against anybody in the class, no matter who it is, but the people who really matter in my life – the people on my team, and all the people who are around me – they do believe in me, and that's the most important thing. I just want to do good for myself and everybody who supports me.
So it's a pride thing for yourself, not about proving it to anybody else...
Yeah! I don't really care what people think otherwise. If I'm happy with what I'm doing, then I'm cool. It's just important to do the things that are important to me. Just like last night, I wanted to win that race, and I did it. It was important to me, and that's what I like – when I can do it for myself.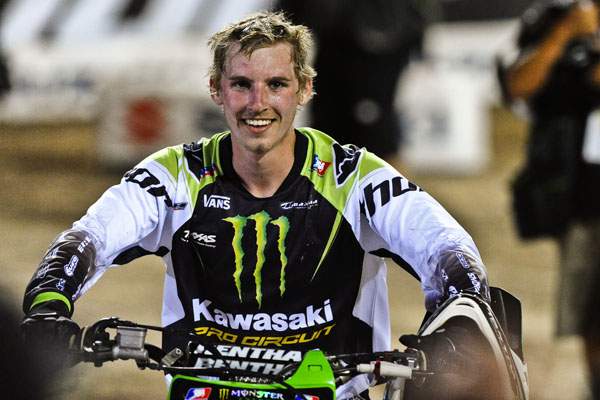 Steve Cox Photo
You missed out on a permanent number last year by just a smidge, but do you have a number in mind that you would like to be your permanent number?
I don't even know what's available right now... I wanted to get 5, because I grew up racing with 5...
So you've got to take Dungey out...
I don't know, we'll see. I don't even know what's available.
Well, congrats on your win last night, Jake.
Thanks a lot, man. It meant a lot to me.