5 Minutes with... Kyle Cunningham
At 20 years old, Kyle Cunningham was almost left out to dry for the 2010 season. He raced a YZ250F in Australia over the off-season, but had no deals to race back in the USA this year until the TISCO Honda team stepped up to help get him racing on the Lites East. Then, he got an opportunity to switch to the Valli Motorsports Yamaha team when fellow Kyle, Regal, refused to ride a 250F for the team anymore. And then, when Ivan Tedesco got hurt, the team decided to let him try his hand at racing the 450. This last weekend, Cunningham came through the pack at the prestigious Las Vegas Supercross finale to grab fourth place behind champion Ryan Dungey, former champ Chad Reed and immortal Kevin Windham. We talked to him on the phone last night as he got to dinner.
Racer X:
You started out the season on Honda CRF250Rs, then you switched to Yamaha YZ250Fs, and now you switched to the Yamaha 450... What has that been like?
Kyle Cunningham
: Yeah, I don't know how it happened. I just got stuck into a good situation as far as the team went, then got a chance to ride Ivan [Tedesco's] bike when he got hurt. The first two rounds weren't really what I expected. I was hoping for a dry track – a normal race – and I finally got one in Vegas. It's good to know the hard work paid off a little bit.
You had some crashes at the first two, so was it just the crazy track conditions that were causing those, as it turns out, not the 450?
Yeah, I had a few squirrelly moments, but you know, I was getting used to the bike. I didn't ride a 450 in amateurs, I only had two days on it before Seattle, and what better races to come to than two pretty crazy tracks like Seattle and Salt Lake... But 13-11 in those two, and I went down both weekends, it wasn't too bad to start off with. I wasn't too bummed on it. They didn't really have any expectations of me. It was good for me to go out and put up that fourth place and really show everyone that I can go that fast. I knew I could, and my start wasn't even that great Saturday night, but I just put together a solid 20 laps and rode the way I needed to, and I managed to make some quick passes and get myself up into fourth.
Did you even realize you had battled your way into the top five at the point that you made it up there?
Well, Burnsy had the pit board out in the mechanics' area, and we were just focusing on laptimes. I don't know, I was in 12th, and me and Shorty [Andrew Short], I caught up to him and wasn't really catching him too much most of the race – I think he came through the pack with me in front of me – and I hit lap 13, I think, and all of a sudden dropped down to like a 1:03 something. I don't know, everything just started to come together, I got into a really good flow, and I just kept pushing and managed to make some quick and clean passes and move myself up into that position. I knew I was in sixth, and I could see the board [the light-up top-five sign on the floor] and who was in front of me, so I kind of had an idea of where I was, but I tried not to focus on that and just keep the lightswitch on and not throw it away and ride a solid 20 laps.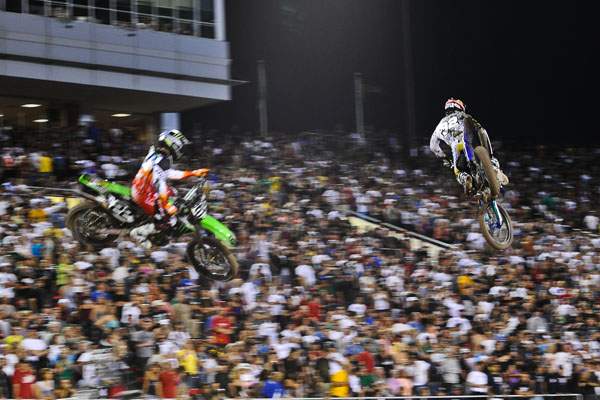 Kyle Cunningham leads Chad Reed over the triples in their heat race.
Steve Cox Photo
It really did look like you caught a flow, and that's what you said. You were hitting the same lines every lap and it looked like you just rode the wave to the finish line from about halfway. How often does that happen?
It was kind of the same thing in my Lites races at the last couple of rounds – even at St. Louis. I didn't have the greatest of starts, but I'd been burning laps with Johnny O' [Johnny O'Mara] and Ivan, and they've been helping me out a lot. My supercross riding, I think, has gotten to the next step, where I needed it to be, but my starts weren't coming to me. But I had that flow on the little bike, and I felt good at those rounds to come up to where I had finished, especially in St. Louis. I got sixth and I was taken out one time when I was passing for fifth. But I managed to still come up and get sixth place. The flow was there, and I think that the first two rounds on the 450 – I got 13th the first round, and 11th the second – I was learning the bike, but even at the second race in Salt Lake, I caught that flow, and I got by myself on lap five and started hitting the triples and hitting the big sections until I went down. I went back to the test track and did the same routine before Las Vegas, and did some outdoor riding, too, on the 450, and I went to the supercross track on Thursday and did some sprints, and after only a few, I said, "That's it, Burnsy, we're done. I feel good. I don't even want to ride anymore." I went into the weekend and had an awesome heat race, and I think that helped me out racing with Chad [Reed] and Ryan [Dungey], and I put in a third place in that heat. Me and K-Dub [Kevin Windham] locked bars going into the first corner of the main, and we didn't have the greatest start, but I kind of followed him for three laps, but he got by some guys a little quicker than I did. The laptimes are so long there, though, that it's almost like an outdoor, so I just kept my head down and kept pushing. I had 28 laps of supercross left coming into Vegas, so I tried to make sure that all 28 of them were good.
Yeah, I saw you out at Competitive Edge last week on the 450. Are you actually going to ride that outdoors? Or are you going back to the 250F?
I think I'm going to stay on the 450 for outdoors. I'm pretty excited about that. To be on the gate and know that I have the power under me to get out of the gate, just like everyone else, I think has been helping me a little bit. It's crazy, because a lot of people tell me I ride the 450 better than the little bike; Frankie [
Ivan Tedesco
's mechanic] and everyone call me "Bobbles" at the shop because they say I move around so much on the little bike when I'm riding it. They give me a hard time about it. But now they're like, "Bobbles, you don't bobble anymore! You ride smooth!" To have those guys complimenting me like that, and to have people like Johnny and Ivan behind me to tell me my speed is there and really help boost me up a little bit and get to where I need to be, I think that has helped a lot. And my mom and dad, they were nervous with me racing the big bike. It just feels good, too, because there are probably just as many people out there saying that I have no business being on the big bike as there are people who think it's a great opportunity for me, and it feels good to go out and know that training hard and putting in the laps on that thing has paid off and gotten me up there this weekend for 20 laps. It wasn't like I started out front and just sat there for 20 laps, so it was big for me.
So, I guess we'll see you at Hangtown on the 450, huh?
Yup, that's what it's looking like. We've got testing at Comp Edge tomorrow [Tuesday], Milestone Wednesday, and Glen Helen Thursday, so that's pretty much the routine. I'm going to try and get more comfortable on that thing and come out swinging at Hangtown and try to get a start. I know my fitness is there, so I think I can put up some pretty good results for the team and for myself. I'm feeling more comfortable on it every day, and I think this weekend helped me out a lot. Three months ago, I probably would've told you that there was no way I was going to be racing a 450...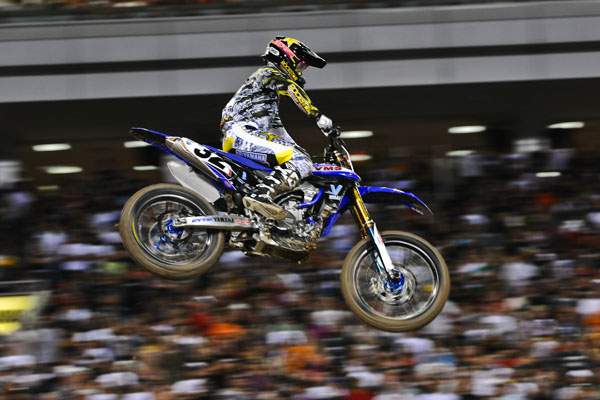 Steve Cox Photo
I was just going to ask you that, because before TISCO gave you a ride you had nothing going for this year at all, but like 12 weeks later, you finished in the top five in a 450cc main event at Las Vegas!
Yeah, I would've never thought that. To be able to say that I started out where nobody really wanted to help, and then TISCO helped out, and then I fell into this spot... To get an opportunity from someone – not just the team, but Yamaha, because it was something they had to decide on – it just means so much to me. To see Mike [Guerra] and Jimmy [Perry] and Keith [McCarty] as pumped as they were for me at Vegas that I got a fourth place, it was really awesome. It was good. They told me I had to go on the podium, but I didn't know they interviewed the top five at that race, so I kept saying, "No, I got fourth; I didn't get on the box!" To be able to do that, I just know how hard they've been working for me at the team, and to finally see it all pay off at the last round, it was something I would've never thought would have happened – until I started riding it. Four months ago, I would've told you no, but the last three weeks, the way I felt at the test track, I was like, "Dude, I love this thing. It's awesome." I guess that's how things happen sometimes, so I have kind of set a base for myself, and I've gotten faster every weekend, so with some good starts outdoors, I think I can put in some good motos and solid finishes. It will be a really good program for me, and I think it's a good opportunity for me to learn and really do something.
Thanks for your time, Kyle. Go eat.
Cool!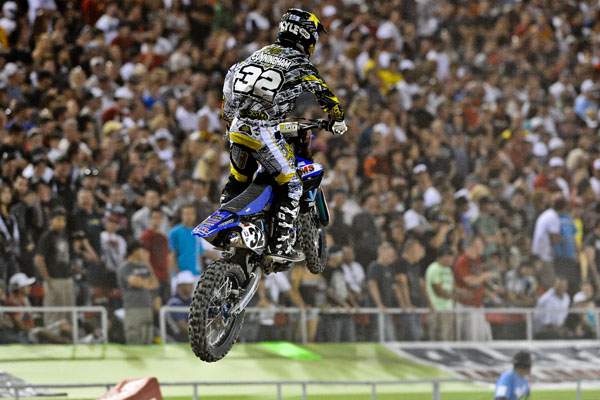 Steve Cox Photo