What a great weekend to be in Atlanta.
Ricky Carmichael
is coming back,
Davi Millsaps
is finally back on track—actually, snakebit Team Honda is showing up with actual racers for the first time in '07—
Kevin Windham
seems to have found his rhythm again, and
Chad Reed
got back in the mix after
James Stewart
's crash last weekend. And that's just the 450 class!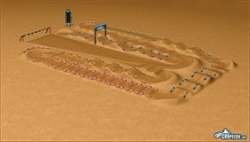 The Georgia Dome will be packed tomorrow night
We finally get to see what
Ben Townley
and
Ryan Dungey
can do in supercross, what the
Alessi boys
have been working on, where veterans like
Branden Jesseman
and
Kelly Smith
are compared to rookies like
Sean Hackley
and
Broc Tickle
, and just something different than the amazing run that
Ryan Villopoto
put together out West.
One guy who's already won this week is Nick Wey, who, like Josh Hill, got his points back after the AMA did some serious introspection on the fuel problems.
Nick's not racing this weekend because his thumb is still messed up, but check this out: Ping just called and said he just got off the phone with Nick, who was in a frenzy. No, not because he got his points back, but because his wife, Nicole, is having contractions right now! It looks like Wey might be a dad by tomorrow.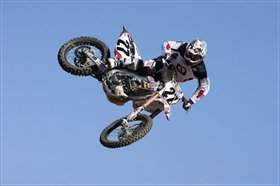 Good luck to Nick and Nicole on their new addition
photo: Simon Cudby
I spent last weekend at the Indy Trade Show, hanging out with friends like
Johnny McClean
from Lusty in Australia (I bet him Reed would not win another race in 2007 at 2 a.m. Friday night at Steak-N-Shake, which translates to about 24 hours before Chad did win in San Diego!),
Roland Sands
and
Jesse Rook
and their respective crews,
MC
,
Chris Carr
, the One Industries gang (thanks for the book,
Ludo
) and even
The Dogger
! Heck, I even had an hour-long conversation with
Jody Weisel
—the first of my life, actually—about Leatts and racetracks and class names and just the state of motocross in America. It was really interesting and productive. To read all about the show, just check out
"Bad" Billy's Blog
, which captured all of the fun and new products in Coltstown.
I don't have much to offer from the supercross world, as I missed San Diego, forgot to TiVo it, and spend most of the week on a magazine deadline and a new deal coming up soon that's really going to be cool for motocross fans. Fortunately, Weege and Ping and friends were all over the place this week, so let me start by handing the floor over to Bad Billy himself.…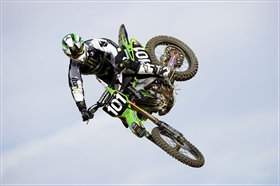 "BT101" is finally making his first American SX start tomorrow night
photo: Courtesy of Monster Energy/Pro Circuit Kawasaki
The East Region series is finally here! And it couldn't have come at a better time, unless you're
Broc Hepler
,
Ryan Sipes
and
Brett Metcalfe
—all title contenders who will be missing this weekend's opener. The first seven rounds of the Amp'd Mobile Supercross Series have been dominated by Kawasaki, of the Monster Energy flavor, and while it may happen in the East as well, we won't know till tomorrow night!
Tomorrow also marks the return of Ricky Carmichael, who lives pretty close to Atlanta and always refers to this venue as his hometown race. Atlanta always attracts a huge crowd, and with RC returning, this year may be a record. Man, why don't we drop one of the Anaheims and add an Atlanta 2? Sorry, just thinking out loud.
If you're headed to Atlanta, check out our "Things To Do In…Atlanta" feature, which we posted yesterday. If you can't make it, make sure you tune in to the SX Live! webcast over on www.supercrossonline.com and listen to the action being relayed by former world SX champion Jason Weigandt and New Jersey native Jim Holley. And tune in to SPEED on Sunday at 6:00 p.m. EST for the airing of the Supercross class. The Supercross Lites class will air March 3 at 6:00 p.m. EST on SPEED. While we're on the subject, now is a good time to email SPEED and tell them how much you enjoy their coverage of our sport! We sure do!
Also check out all of the laps and results on www.amasupercross.com.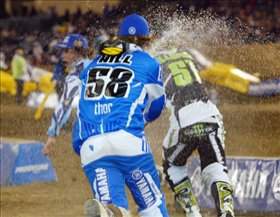 Josh Hill also got his points back from his only podium
photo: Steve Bruhn
Did you see that
Nick Wey
and
Josh Hill
got their points reinstated from the AMA? Check out the
press release
they issued earlier today. But there was no mention of Butler Brothers MX's
Jason Thomas
, who could really use some good fortune right now.
Before the race tomorrow night, take a minute and check out this East Coast preview of the SX Lites class that Ping, Bad Billy and Weege hammered out. This class is stacked!
The Atlanta SX is to the DMXS Radio crew what the High Point National is to the Racer X crew. It's the one time throughout the year where the sport comes to DMXS' home territory, and as usual, those guys are going huge. But more importantly, they're supporting a very special cause with their fourth annual Ride-4-AT benefit. Here's the information:
"It's time for the 4th annual DMXS Ride-4-AT and once again the industry has embraced our event with their continued support for this worthy charity. Last year we raised more than $36,000 on the Sunday following the Amp'd Mobile Supercross race in Atlanta at the legendary Bremen Race Park in Bremen, Georgia. We hope to eclipse that figure this year and raise even more money for A-T research in hopes of finding a cure for this debilitating childhood disease. The A-T Children's Project will receive 100% of the proceeds collected and will help those children suffering with A-T live with hope.
"Our event sponsors continue to raise the bar each year and American Suzuki has generously donated an Andrew McFarlane replica Rockstar RM-Z250 for our auction. Suzuki has also teamed up with Mountain Adventures to donate a Ricky Carmichael replica RM-Z450 to further show their support and guarantee a successful auction. RC will be on hand to sign the bike of our lucky winner. Simply click on the links below for silent bidding information. We will accept all credit cards and forms of payment. The auction will end on Sunday, February 25 at the charity ride, so place your bids early and often. Local pick-up only."
For more information on the charity ride, go to www.Ride4AT.com, and for more information on A-T, go to www.atcp.com. The A-T Children's Project is a public, tax-exempt, nonprofit organization.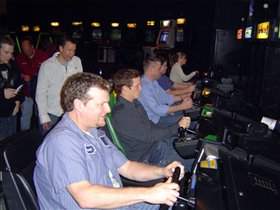 RC will be at the Ride 4 A/T as always

photo: Shawn Kennedy

TFS had a close call last weekend. Here's what he told us:
"What happened is PK and I were getting sick from RV generator fumes in the rider lot! Burner was parked right at my front door, and PK and I were nauseous and mumbling late Saturday. I didn't notice so much since they canned the press conferences and didn't talk to anyone, so the first I went to talk to anyone was out in the pits with a recorder. I screwed up everything I started! I couldn't talk at all. Then Sunday morning we had bad headaches, and I looked up the symptoms of CO fumes, and that was us! Scary stuff. I probably left RV thinking I'm a goofball!"
Norm Dewitt wrote: "They had a nice tribute to Marty Moates before the Supercross Saturday night here. Right before I was sitting with Marty's brother David, Dave Maas, and a guy who had won the Baja 500 as Marty's teammate in '98. When the lights went out, all the spotlights were shining on Marty's 1980 GP-winning Yamaha, sitting there on the supercross podium. The Diamondvision scoreboards were showing his holeshots at the USGP during the tribute and minute of silence. It was a classy thing to do."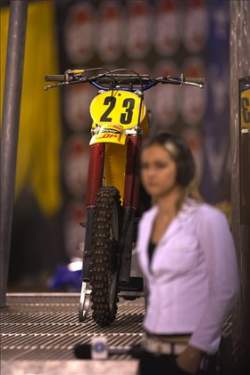 The Marty Moates LOP Yamaha was on display at San Diego
photo: Mario Marini
A few days back, TFS broke the news on his
Weekend Window
that
Broc Hepler
would not be racing Atlanta since he isn't fully recovered from the concussion he suffered at the end of January. Broc has been using the imPACT testing pioneered at UPMC, where they take reference tests for your reaction times and stuff on a normal day and save them. After a concussion, they test again to see how recovered you are. His test has been saying "don't ride" due to reaction times. In other words, he hit his head real hard, and his doctors have been going about it scientifically at least. Bad Billy talked to Hepler yesterday for
this online interview
.
Something cool: Former Yamaha of Troy manager Dave Osterman went on the Mototalk message board earlier this week and gave what would have been two of his riders Matt Georke and Ryan Morais a little pep talk:
"It's finally here, this weekend, the 'East Lites.' Homeworks been done. Time to roll, so bring it. Good luck to both of you. Maybe I'll see you at a few.
Dave O.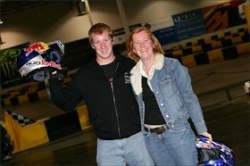 Broc Hepler decided to pass on Atlanta due to the lingering effects of his concussion
photo: Matt Ware
Believe it or not, it's already time to start thinking Loretta Lynn's. Area Qualifiers for the 2007 Air Nautiques/AMA Amateur National Motocross Championships at Loretta Lynn's begin this weekend with the Cooperland Area Qualifier in Stillwater, Oklahoma, part of the South Central Region. Races are coming to your neck of the woods soon too. For the full schedule of qualifying and racing for the 2007 Loretta Lynn's program, go to
www.mxsports.com
.
Speaking of LL's, I was digging through some old slide files looking for photos for Andy Bowyer's Number Cruncher and I found a photo of a guy wearing Fox gear, wearing #111 on a Honda at Gatorback, circa 1989.
Now, any motocross fan would think, JMB! But he's wearing Fox. So I sent it to Scott Taylor, and he immediately knew it was Kevin Foley, who won Loretta Lynn's maybe nine times over the years. Kevin now works at Yamaha Motor Corp., so I sent the pic to him to see if he remembered it.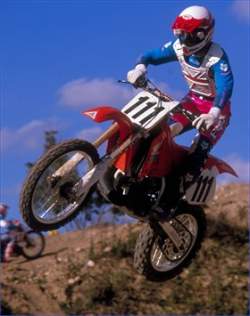 Jean-Michel Bayle or Kevin Ray Foley? Almost too close to call!
photo: Racer X Archives
Foley wrote back: "How embarrassing those old photos can be but what great memories! That is me on the Scott Taylor-sponsored/tuned/one-step-ahead-of-the-floor-checker CMC CR 250. We had a factory assisted Cagiva ride the year before (thanks to still good friend Mark Hosbach) and since Scott worked at the Cycle Marine Center we ran Hondas with some factory help in '89. We were roommates at the time with full-time jobs but nobody had more fun going racing.
Great memories that year as we sandbagged the Tampa SX LCQ after being in contention for a transfer so we could make Loretta's that summer. We went on to win a title in the +25 class! It must have been a rocky day as the borrowed chest pro is a nice touch. Good times!"
And speaking of JMB, check out this mesmerizing video of the '91 Washougal 500cc National that came via e-mail by none other than Jean-Michel Bayle himself!
While we're on videos, here is the Ken Block video from Stunt Junkies.
And did you catch Jason Hooper's video from the Indy Trade Show? Check it out at www.racerxfilms.com.
The 2007 MXdN at Budds Creek is 210 days away, so here's some gossip from Jeff Cernic, regarding his rider Travis Pastrana:

"Since Travis is 35 percent Puerto Rican, what do you think of him being on the PR MX of Nations team? I have done the homework, and the rules say where the passport comes from, and the PR passport is a U.S. passport. Think we can get away with this?"
I will bet Cernic a case of Stella Artois beer that MXdN promoter Jonathan Beasley is on his knees praying that you do get away with it!
So Team Puerto Rico could be Travis, Tarah Gieger and an actual resident of Puerto Rico! Just kidding.
Speaking of Cernic, Jeff gets the double thumbs-up for helping get Manu Rivas' motorcycle to the Houston SX. Cernic stepped in to help the Spaniard when he really needed a hand here in the States. Also, after we posted on Racer X about Manu's situation, Scott Shanklin and his family stepped in and hooked up with Manu and his dad and they became great friends, according to Mike Showen. "Scott and his family were a big help to Manu's effort in spite of the language barrier." Well done, folks!
By the way, I can't believe Rivas still hasn't cracked our Racer X Top 25 Power Rankings!
Now let's turn this over to Ping, who also found this Mark Martin interview with an RC reference last week. Apparently, Ricky's first car race is coming up soon, and Martin, who lost the Daytona 500 by the length of his name on this page, will be his crew chief.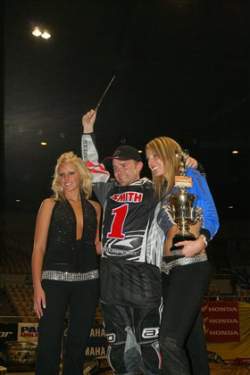 Danny Smith got himself a championship
photo: Matt Ware
There isn't a lot of hype around the AMA National Arenacross Series by the time the champions are crowned. In fact, if you weren't looking for it, you might have missed the fact that
Darcy Lange
wrapped up the BooKoo title a couple weeks ago and
Danny Smith
won his first title just last weekend in the AMA series. And for Danny, it didn't go down without some drama. After opening up a healthy points lead early in the season, Danny started losing points to
Robbie Reynard
late in the season. Reynard went on a winning streak and had closed the gap to single digits coming into the last round.
In the final main event of the year, Tyler Bowers showed up to race. He hadn't been racing the series but was just getting some experience. According to Smith's teammate, Brock Sellards, he and Bowers had a run-in during their heat race.

"He hit me so hard during the heat race that he knocked me off the track," said Sellards. "And that was after he came up to me and said that he would do whatever he could to help Danny win the title because he didn't like Reynard. Then he went over to Robbie and told him the same things he was telling us!"
The real drama was in the final main. Kevin Johnson was leading with Danny Smith in second and Brock in third. Apparently, Brock had an opportunity to repay the cheap shot that Bowers gave him on Friday night, and he took it. Bowers went off the track and went down. Then he waited for Sellards and tried to take him out as he came around to lap him. Then, after failing to take Brock out, he went after Danny Smith and almost caused him to crash in the closing laps of the final. Danny went on to win the championship, and Sellards and Bowers had words after the race. Bowers was fined by the officials when all the commotion had settled down. Hopefully, the AMA will keep a close eye on Tyler as he makes his move into professional racing, because he hasn't been all that professional so far.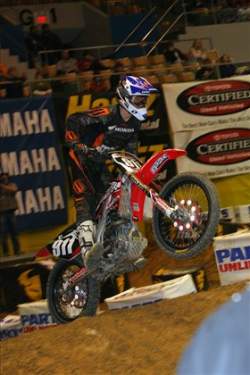 Tyler Bowers was "demolition man" last weekend

photo: Matt Ware

Ronnie Faisst tore his ACL during a freestyle demo last week. Kung Fu didn't even crash in the incident; he just stomped his foot on the ground when he landed a trick and it blew his knee out. He has decided not to have surgery to fix it. With the X Games qualifiers coming up in June, Ronnie would miss the entire FMX season if he had it fixed now. While the rest of the freestyle crew is down in Australia for the Crusty tour (those shrimp-fingers down there love freestyle motocross), Ronnie will be rehabbing his knee and getting ready for the X qualifiers and the Dew Tour.

Casey Johnson has found a new niche in the dirt bike racing world. The former supercross winner has been competing in the WORCS series on his practice bike and seems to be doing well. After struggling slightly at the opener, Casey finished fourth in the second round and has moved into fourth place in the series standings. He seems genuinely excited about the new racing opportunity.
"These have been some of the hardest races I've ever done in my life," he said. "I like that challenge, though. The next round is in Lake Havasu, and I will have my race bike by then, and I think it will be good. I keep learning each time what I should be doing differently and where I need to improve. There's a lot of strategy in a race that lasts two hours. I'm having fun with it."
And while we're on the subject of Johnson, earlier this week when we posted a report of the WORCS series, we mixed up Casey with Chris Johnson. This is Chris' first season racing the Pro class, and he pulled the holeshot on his White Brothers-backed Yamaha. Chris knows how to moto, too, as he finished second in the 250 B modified class at Loretta Lynn's last summer. Sorry for the mix-up Chris, and good luck this season!
In other off-road news, Baja winner Steve Hengeveld is healing up from a nasty injury. The Honda rider broke his humerus and has staples from his elbow to his shoulder. I almost threw up when he showed me the wound at the San Diego Supercross. Get well soon, Steve.
The WORCS race in Adelanto, CA, was won by Ryan Hughes. Unfortunately, defending series champion Ricky Dietrich suffered an injury. Get well soon, Ricky.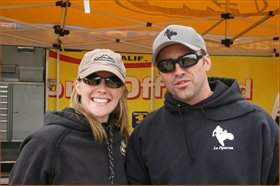 LeBlanc loves his moto
photo: Joe Colombero
There were also some celebrities on hand to take in the action. Television stars
Matt LeBlanc
(
Friends
,
Joey
) and
Andrea Anders
(
Joey
,
The Class
) came to the WORCS event this weekend in Adelanto to cheer on their favorite riders. LeBlanc is an avid off-road rider and owns more then 30 motorcycles. Anders enjoys riding as well. They're both friends with Team Suzuki Off-Road Manager
Mike Webb
as well as racers
Ryan Hughes
and
Mike Kiedrowski
and were happy to see Ryno take the win. When asked what he thought of the two-hour Pro race, LeBlanc said, "I respect what these guys do more then anybody. They're real iron men."
That's it from Ping.
Here's an email we got from Martin Plourde:
"Maybe it is worth noting that thanks to some enthusiast, Scott Metz #150 will try to qualify on what looks like an almost bone-stock RM250 two-stroke this weekend in Atlanta. And if he ever succeed, he might win more than $3000 due to a bet these guys placed on a well-known MX forum. As of yesterday, he was still supposed to race that bike. It will be interesting to check this out, and if he even tries to race the two-stroke, why not put some short interview or something on the website? Many people would appreciate this."
The person heading up the two-stroke bounty is none other than Rupert X. Pellett, Ohio's finest. Funny thing, last week in Indy, Danny Dobey and Andy Bell and a bunch of other guys were trying to talk Ronnie Lechien into showing up at Hangtown and collecting Rupert's two-smoke bounty. As a former champion, Dogger goes straight to the main-event gate!
If you get a chance this week, here are two sites to check out from companies that are doing a lot for motocross right now: Toyota's www.ridetmx.com and Progressive's www.holeshotheaven.com
Finally, EJ did a really cool interview with Kevin Windham while he was driving his motor home to Atlanta. Sounds like he's back on the fast track too. He's got guru-to-the-moto-stars Jeff Spencer working with him now too. If you missed it, check it out.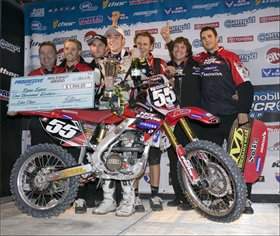 Sipes is in for ATL!
photo: Steve Bruhn
Unfortunately, that's all we have for this week. Check out TFS' Weekend Window all weekend long to see what else is happening here in the ATL. Thanks for reading Racerhead, and see you at the Ride-4-AT.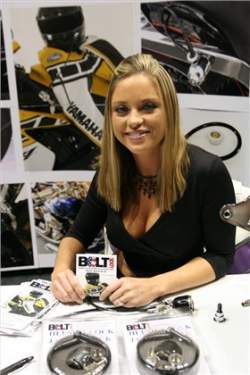 Now for a few pics from the Indy Trade Show...
photo: Jason Hooper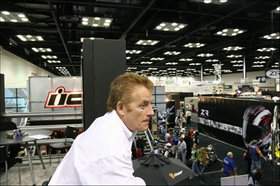 Scott Wallenberg in repose
photo: Jason Hooper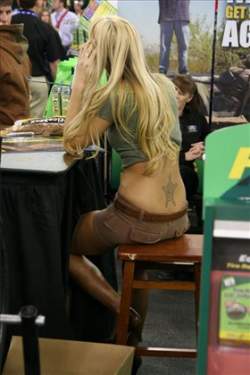 Nice tattoo
photo: Jason Hooper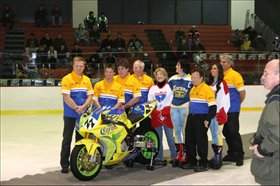 The Corona Light Honda team made the Racer X Hockey tournament a success!
photo: Jason Hooper