East Coast Preview
February 23, 2007 10:08am
This weekend the Amp'd Mobile Supercross Series rolls in to Atlanta, which is the opening round for the East Coast Lites racers. While it's been a Monster Energy Kawasaki parade out west, will we see the same in the east? We here at Racer X decided to break down some of the east coast's top riders and give you a preview of what you can expect come Saturday night.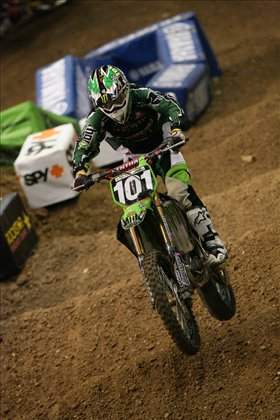 Ben Townley

Ben Townley (Monster Energy/Pro Circuit Kawasaki)
This kiwi is expected to contend for the outdoor national motocross championship this summer but his supercross skills are still in question. His first season in the stadiums was supposed to be last year, but he spent the entire series watching from the sidelines with injuries. Supercross has a tendency to do that to guys with limited experience on the tight courses. Ben is going into this weekend healthy and with the support of a successful team behind him. His fitness and world championship winning experience will be his strengths. His lack of supercross experience will be his weakness. On a side note, earlier this week we posted an online poll asking you who would win the Lites class this weekend in Atlanta. The favorite is Ben, as he tallied 28 percent of your votes.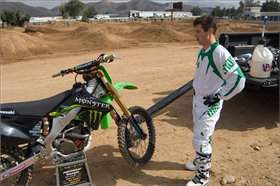 Darcy Lange

photo: James Lissimore

Darcy Lange (Monster Energy/Pro Circuit Kawasaki)
This Canadian got the golden ticket. When Brett Metcalfe pulled out with an injury, this BooKoo Arenacross champion was called to fill in. Darcy showed promise last year by pulling holeshot after holeshot but couldn't quite land on the podium. This is his chance. His arenacross skills will help but he'll have to take his game to the next level to be a championship player. Darcy can do it.
2006 final points standings: 10th (west)
Best finish: 5th
Matt Goerke (Yamaha of Troy)
Matt has a little supercross racing under his belt and now he has a great bike underneath him. He is another rider in a great position to have a breakout year. If Matt has been putting in the work and he can get some confidence going at the first few rounds he could be the biggest surprise of the series.
2006 final points standings: 18th (east)
Best finish: 5th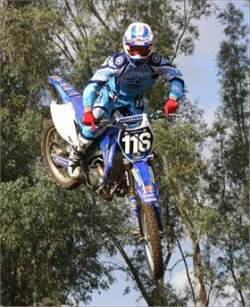 photo: Ping

Ryan Morais (Yamaha of Troy)
Ryan has shown flashes of brilliance over the course of his career. Unfortunately those flashes come in between long periods of injury rehabilitation for Ryan. Currently, Morais is healthy and riding incredibly well. I watched him ride this week and if he gets a start he is going to finish on the podium. He finished last year's east/west shootout in Vegas in fifth place and if he picks up where he left off he is going to be at the front.
2006 final points standings: 9th (west)
Best finish: 5th
Ryan Dungey (Makita Suzuki)
Ryan is a big question mark coming into this season. The likeable Minnesota native has never ridden an AMA supercross event before. But he does have an incredible work ethic and a great team behind him with an amazing motorcycle. He's also one of the nicest riders in the pits and a good guy to root for. Ryan won an arenacross final early in the preseason and finished second to Ryan Sipes in Vancouver, so he has shown that he has the speed to race with the top guys. Will that transfer over to the AMA supercross series? We'll know just after the last lap of the main event.
Tommy Hahn (Team Honda)
Tommy has a lot of weight on his shoulders. The guys at Honda didn't tell him that; they didn't have to. When you are a part of the Red Machine, that pressure is naturally assumed. Ask Andrew Short about it because it consumed him during the opening rounds of his first year with Honda. The upside is that Tommy has a great bike and enough experience to make a legitimate run at the east coast title.
2006 final points standings: 4th (east)
Best finish: 2nd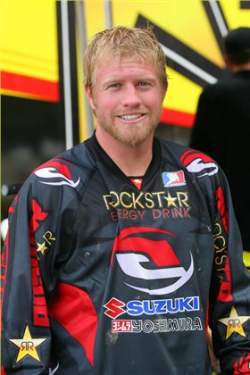 Kelly Smith

photo: Matt Ware

Kelly Smith (Rockstar Suzuki)
Ludington, Michigan's Kelly Smith is coming into this series as sort of a dark horse. Much of the attention is channeled towards the rookies and the full factory riders, and rightfully so, but Smith has something working in his favor—experience. Although Smith has never won a SX Lites main event, he has come very, very close. In fact, Smith led 14 of 15 laps in the 1999 St. Louis 125cc supercross, but DNFed after Ernesto Fonseca landed on him on the final lap. Smith is a former factory KTM rider, and for 2007 he has switched to the Rockstar Suzuki team in search of that first win indoors.
2006 final points standings: 6th (east)
Best finish: 4th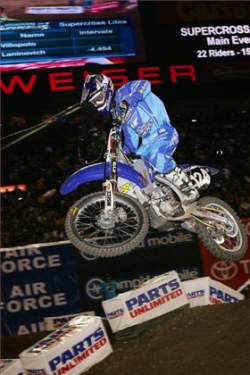 Andrew McFarlane

Andrew McFarlane (Rockstar Suzuki)
Last year was the first full season racing in the States for Australia's Andrew McFarlane. And not surprisingly, the supercross season didn't go as planned for the foreigner, as he only raced twice before getting injured. His two finishes were 11th and 22nd. We really haven't heard much from the test track regarding McFarlane, and our own David Pingree said that McFarlane might be a scratch for Atlanta. We'll find out tomorrow. 2006 final points standings: 28th (west)
Best finish: 11th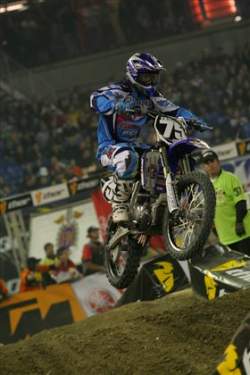 photo: Matt Ware

Broc Tickle (Star Racing/Lucas Oils Yamaha)
This weekend will be the AMA supercross debut of rookie North Carolina's Brock Tickle. Tickle came out of the amateur leagues last season and raced the last few AMA outdoor nationals in the 450 class, and put in some impressive finishes. He scored a ride with the Star Racing/Lucas Oils Yamaha squad and competed in his first race with the team in Toronto last December. The result? A second-place finish in the SX Lites main event. It was an impressive performance by Tickle, but nerves will surely be a factor this weekend as he'll probably have one of the biggest cheering sections in the Georgia dome.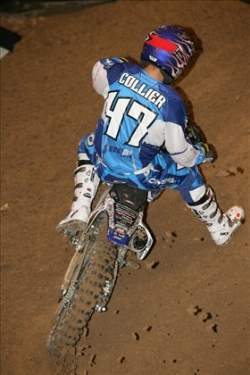 Sean Collier

Sean Collier (Star Racing/Lucas Oils Yamaha)
California's Sean Collier is going in to his second season riding for the Star racing squad, and he hopes this is his year for a win. In 2006 he shown that he can be a top-five finisher—he just needs a start. His teammate Matt Lemoine has run up front in the west, so that shows the bikes have the potential.
2006 final points standings: 14th (west)
Best finish: 5th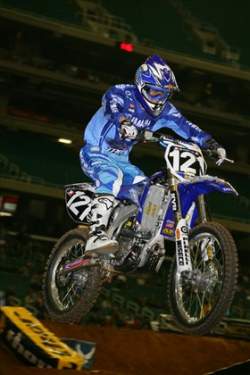 Branden Jesseman

Branden Jesseman (PPG/Motoworldracing.com Yamaha)
Pennsylvania-native Branden Jesseman is the only racer competing in the Lites class this weekend that has a SX championship on his resume. In 2003 Jesseman won the 125cc Eastern Regional championship, but injuries and personal issues have take their toll since. Last season Jesseman rode for the Yamaha of Troy team and hit the podium in the opening round of the series. He scored a total of four top-five finishes and finished fifth in the series. Word from the practice track is that Branden is looking like his old self, and he can be a surprise. Jesseman is still one of the hardest-training riders in the sport.
2006 final points standings: 5th (east)
Best finish: 3rd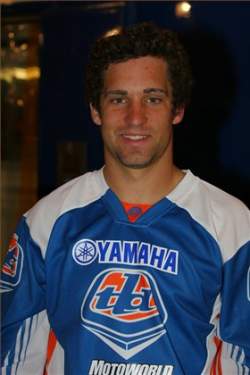 photo: Matt Ware

Justin Brayton (PPG/Motoworldracing.com Yamaha)
Justin Brayton knew two things growing up in Iowa: Hawkeye football and arenacross racing. Brayton grew up and crafted his arenacross skills for a several years before making the switch to supercross, and it has paid dividends. Brayton is very optimistic about the 2007 season. He had some solid rides at the U.S. Open back in the fall, and he has made some changes to his training program in hopes of being a podium finisher. Will the changes pay off? We'll see Saturday night.
2006 final points standings: 12th (west)
Best finish: 6th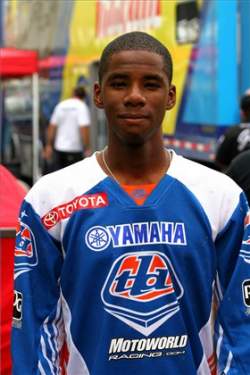 Sean Hackley

photo: Matt Ware

Sean Hackley (PPG/Motoworldracing.com Yamaha)
This is the AMA supercross debut for the young Sean Hackley, who received his ride with the PPG/Motoworldracing.com Yamaha team through the Toyota Athlete Program, which debuted last year. Hackley was a top amateur star and has had plenty of time for testing and tuning his YZ250F. And word is he's even stronger at supercross than he is outdoors. Hackley lacks experience, but he hopes to make up for that with speed.

Billy Laninovich (SoBe No Fear/Samsung Honda)
If you're looking for a dark-horse, look no further than the man
with two different ways to pronounce his last name, Billy L.
Laninovich packs a combination of experience and consistency that most of his East Lites competition lacks, including a supercross win a few years back in San Francisco, and a great run through the West last year, where he actually held the points lead early in the season. Plus, his team is always solid, and they're hungry to get their first championship. Laninovich's weakness is that he doesn't hang it out as far as others, which means he doesn't blaze through the pack if he gets a bad start. But being smooth often means being consistent, and in this group that's a big strong point.
2006 final points standings: 5th (west)
Best finish: 2nd

Bobby Kiniry (Motosport Kawasaki)
Bobby has put in some solid rides in his pro career, and
you never know when he's going to stay up front with the leaders
or make a strong charge from the back. Last year he was a podium contender, but threw it away a few times. Which one will show up over the next few weeks? We'll see.
2006 final points standings: 7th (east)
Best finish: 5th

Matt Boni (Motosport Kawasaki)
Another rookie, Boni's long amateur standing with Kawasaki Team Green has resulted in a spot with the Motosport team. The team has looked solid with Steve Boniface out West. Boni, a Floridian, is one of the tallest riders on the tour, and sometimes all that leverage is a plus in supercross, although it might harm his corner speed or his starts. But the biggest factor is his rookie status, as his lack of experience could be an issue.
Mike Alessi (Red Bull KTM)
Mike's 2006 wasn't a bad year by most standards, but it didn't deliver what Team Alessi was looking for or is used to: wins. Mikee never looked totally comfortable in supercross last year and struggled big-time in the whoops. Then, when things didn't go as well as planned outdoors, either, the family stepped back and took a long look at their race program. KTM has an all-new 250SX-F that's supposed to be better in the whoops. And his brother Jeff is back to provide some muscle. Will #800 now be able to find the speed to win races? If he does, look out, because all the other championship ingredients, like starts and consistency, are already there.
2006 final points standings: 4th (west)
Best finish: 3rd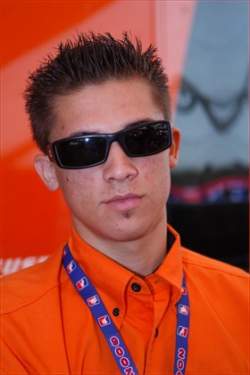 photo: Steve Bruhn

Jeff Alessi (Red Bull KTM)
This is Jeff's second shot at supercross, as he was hurt last year before the season started and never got to race. Rumor had it that he was absolutely flying on the supercross track before the injury, but a year off is a long time, and word is that he still has some pain in his feet and isn't quite up to last year's pace yet. For now, Jeff's just looking to finish races before he tries to finish them in first.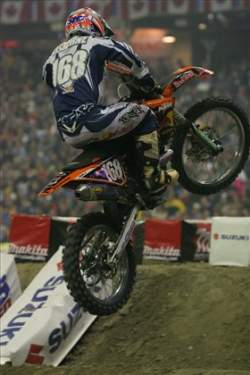 Zach Osborne

photo: Matt Ware

Zach Osborne (Red Bull KTM)
Also a rookie by most measures of the word, Osborne did race Daytona last year, a few AMA Toyota Nationals, and at the Canadian rounds of World SX. So far he's shown great speed and starts but below-average staying power. His last supercross though, in Vancouver, seemed to signal a big improvement. The comp will be stiff here, but don't be surprised if you see a few big flashes from the talented Osborne this year.
2006 final points standings: 28th (east)
Best finish: 14th