Things To Do In...Atlanta
February 22, 2007 10:38am
For this first time in 2007, the Amp'd Mobile Supercross Series is going east to Atlanta's Georgia Dome. This is the opening round of supercross for the East Region SX Lites, so the fans should be in for some great racing. There are a ton of great things going on this weekend that should peak the interest of any motorcycle enthusiast, so we put them together here.
Red Bull DMXS Atlanta SX Party
DMXS along with Red Bull will be hosting their 4th annual pre-Atlanta SX Party in downtown Atlanta Friday February 23rd at 7:00 p.m. If you haven't been there, you've missed bike burnouts in the bar and live tattooing, among other things. Everyone is invited!

Where: Moondogs in Buckhead: 3179 Peachtree Rd NE (Cross Street: Grandview Avenue NE) Phone: (404) 231-4201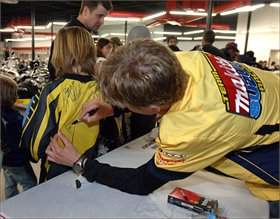 Get your Ryan Dungey autograph Friday!

photo: Carl Stone

Makita Suzuki Autograph Signing
This Friday, February 23, Team Makita Suzuki riders Ricky Carmichael, Ivan Tedesco and Ryan Dungey are scheduled to appear and sign autographs at Freewheeling Suzuki in Douglasville, GA. Scott USA's Bevo Forte will be the Master of Ceremonies, and they will be auctioning off supercross memorabilia in support of the RiderDown Foundation. All proceeds will be donated to the RiderDown Foundation, along with the money Bevo is raising for the "Supercross' Biggest Loser" contest, in which money is raised for every pound that Bevo loses this season. Freewheeling Suzuki is located at: 6408 Fairburn Road, Douglasville, GA. (770) 920-1033. www.freewheeln.com.
Cycle World International Motorcycle Show
Atlanta marks the final stop for the 26th Annual Cycle World International Motorcycle Shows Presented by Toyota. It's boasting a new location, discount parking and online ticket discounts. Click here to check out the press release.
Atlanta History Center
This Buckhead facility features 32 acres of gardens, wildlife trails and woodland areas, the 1840s Tullie Smith Farm, newly restored 1928 Swan House mansion and Swan Coach House restaurant. The museum features permanent exhibitions such as "Down the Fairway with Bobby Jones" and changing exhibitions on subjects such as the Civil War, African-American heritage and Southern folk art. In the summer of 2006, the 20,000 square foot wing dedicated to memorializing the 1996 Centennial Olympic Games held in Atlanta will open. Visit www.atlantahistorycenter.com.
City Segway Tour
Being a motorcycle enthusiast, we like anything with wheels. With that being said, you may want to check out the city of Atlanta on two wheels—not a motorcycle—a Segway!
Per the City Segway tour website: Imagine cruising effortlessly through the beautiful parks and sidewalks of the state capital while receiving a great orientation, informative historical and current-day information, heaps of unique and fascinating stories, fantastic photo ops and superb personal service from your guide. The Segway is the first of its kind—a self-balancing, personal transportation device that's designed to operate in any pedestrian environment. It's new, it's cool and a ton of fun!
The tours are three hours long and limited to eight people with one guide. For more information, click here.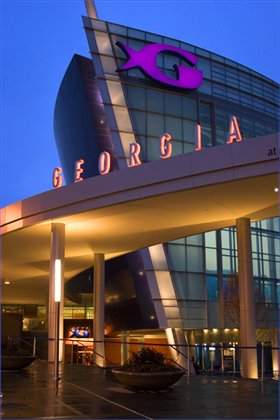 Check out the Georgia Aquarium

Georgia Aquarium
The recently opened Georgia Aquarium is just a few blocks from the Dome. It's the world's largest aquarium with 8 million gallons of fresh and marine water, and more than 100,000 animals representing 500 species from around the globe. Check out www.georgiaaquarium.org for more information and to purchase advanced tickets.
4th Annual DMXS Charity Ride-4-AT
Enjoy the Atlanta SX Saturday night, then head out to the Bremen Race Park on Sunday for a fun day with the family and support the A-T Children's Project. They have added the Roost MX Project 50 Mini-Mayhem, including freestyle, step-up and all classes of racing on a separate full-blown mini track. The Red Bull FMX team will be there back-flipping everything.
So don't bother standing in those long autograph lines at the Georgia Dome since Carmichael, Millsaps, Ferry, Lusk, Walker, Davalos, Izzi, Byrne and many more will be available the very next day. This will be RC's last race in Atlanta so make sure you stop by and send him off in style. The gear auction will feature some of the biggest names in the sport so plan on adding to your collection while helping the kids at the same time. Please help spread the word and we will see you there. www.ride4at.com
For directions, check out www.bremenmx.com.
Is Amp'd Mobile Supercross coming to your town and you have a suggestion for "Things To Do In..?" Send them over to letters@racerxill.com