Welcome to the Shift Number Cruncher. In the past I have tried to express my gratitude for the strong reader feedback we have received on this column. With each passing week it seems the response has grown exponentially and it's really hard to find the words to explain how cool it has been to captain this ship. But really, the Shift Number Cruncher has manifested itself into it's own unique and joyful journey that arrives on the web with input from a wide culmination of entities. Each week I hit up the boys here in the office, industry friends, industry associates overseas, the crew in Canada, and some really neat people I wouldn't even have met had DC not handed me the idea for this column. I have tried in vein to explain that we will never be able to post every single rider with homage to the week's number of choice; I just try to grab some heavy ones that personify the digit.
Moving forward, we have another great number for you guys to pawn over and contribute to. I did a little digging of my own for you to get your minds churning. Enjoy!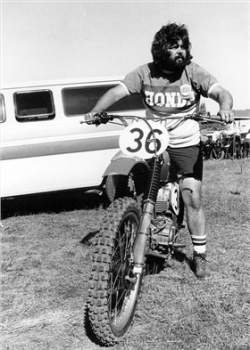 Steve Whitelock
photo: Dick Miller Archives
I wasn't even alive and breathing till 1977, so when
Steve Whitelock
became the commissioner of AMA Pro Racing I was kind of like, "Who is this guy?" After some education I learned that Steve has been around for a long, long time and we have a man that is up to his armpits in motocross history minding the tiller. Check him out standing tall on Rex Staten's '74 Honda four-stroke—at least we think it's '74!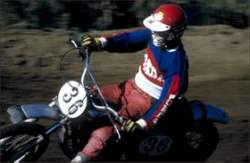 Rex Staten
photo: Steve French
"Rocket" Rex Staten
is widely regarded as one of the toughest and most aggressive motocross racers of all-time. He won Daytona in 1980 on a Yamaha, then pulled off a no-hander that was arguably one of the first freestyle moves… Okay, other guys have done those, but when Rex did it on the #16 yellow Yamaha, it just looked cool!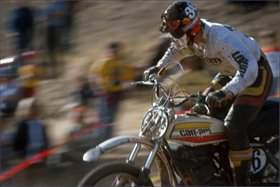 Mike Runyard
photo: Steve French
I found this
Mike Runyard
photo resting in the Steve French archives. Check him out running what appears to be the world's first set of "Pro Tapers" on that candy-corn designed Can-Am. Note the real motocross leathers and over the top motocross socks. Elbows up, head centered over the bars, pretty much sano flush for the 1975 Trans AMA Series!
This was back in the era when Can-Am had the juice and the bikes to sign guys Jimmy Ellis—the AMA Supercross Champion—and three-time AMA 250cc National Champion Gary Jones, and even the well-traveled Marty Tripes. Even now, those bikes look bitchin'!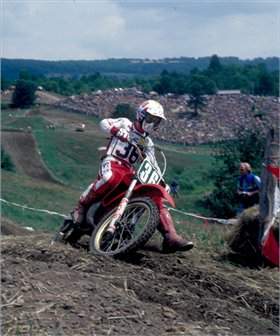 David Bailey
photo: Dick Miller Archives
Here we have a Team Honda rider at the 1982 USGP at
Unadilla
Valley Sports Center. Look at his body positioning, the way his weight is transferred to the outside peg and how he has his foot angled toward the dirt. It could only be the immaculate silhouette of
David Bailey
!
Bader Manneh
is a name that has always stood out in my head ever since I watched the American Sports Cavalcade broadcast of the CMC Golden State Nationals when the announcer absolutely butchered his name, calling him, "Rader Mana." Homeboy is 40 and still making the night program in the 2007 Amp'd Mobile AMA Supercross series.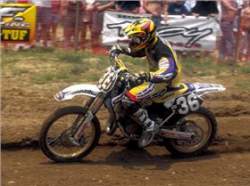 Larry Brooks
photo: Davey Coombs
Current Team Manager of the Sam Manuel Yamaha squadron,
Larry Brooks
ran the "36" while racing the outdoor nationals for Team Chaparral in 1996. The man had game on a dirt bike then, and he got himself another SX win (as a team manager) on Saturday night in San Diego.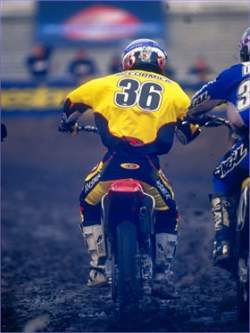 Jason McCormick
photo: Simon Cudby
I guarantee you this cat remembers the three-six very well.
Jason McCormick
shocked the world when he won the second moto of the 125 class at the 1999
Washougal
National while riding a Planet Honda. Second that moto?
Ricky Carmichael
. Oddly enough, he earned #36 again for the 2000 season.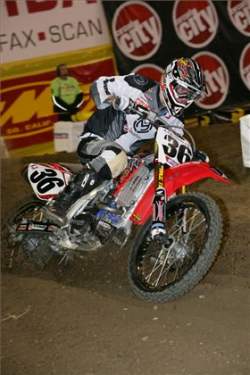 photo: Simon Cudby
Ten years ago,
Josh Summey
won the 85cc (12-13) class at the 1997 Loretta Lynn's Amateur National Motocross Championships. Since then he has earned a few tattoos and some top tens in the outdoor nationals. He also took a mean header at Anaheim 1 as seen through
Michael Byrne
's helmet cam. He's been hauling the mail lately, and looking at his
lap times
, he was the sixth fastest 450F last weekend in San Diego.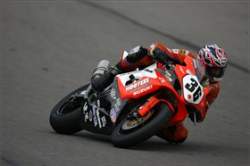 Eric Woods
photo: Andrew Northcott
Eric Woods
life doesn't suck. Not only does he compete in the AMA Superbike series on a factory Suzuki supported team, but his team's title sponsor, and more importantly umbrella girls, are provided for by Hooter Restaurants. You damn right.
Other notable 36s:
2003 - Sean Hamblin
1998 - Brock Sellards
1994 - Shaun Kalos
1993 - Lance Smail
1992 - Jeromy Buehl
1991 - Grayson Goodman
1990 - Jeff Emig
1989 - Mike Jones
1988 - Billy Frank
1983 - Mickey Kessler
1979 - Mike Guerra
OK, folks, now it's your turn. I have a special request for you moto historians out there. If you can find me some information or pictures on unknown #36 soldiers, Steven Burdette (1986) and Peter Snorteland (1984) I will hook you up with something sweet. Send them to me at andy@mxsports.com.