Welcome to the Shift Number Cruncher. With a brand-new year and a brand-new AMA supercross season in front of us, we wanted to give a nod to one of the biggest numbers in all of sports. It seems that no matter what sport you associate this week's number with, it's cloaked in greatness. When you take a look at the icons that share a connection to this great number, it is almost impossible to chose a clear-cut owner: Dale Earnhardt Jr., Yogi Berra, Troy Aikman, Steve Young, Kobe Bryant (before he changed to 24), and a young Jeff Emig, to name a few.
After a small inter-office debate, Bryan Stealey stepped up and made it abundantly clear who used to the number to pull off the biggest feat. No one could argue that "The Iron Man" Cal Ripken Jr. is the #8. Cal answered the call 2,632 straight games before taking a day off. That, my friends, is a bad-ass. But as we speed closer to Anaheim this weekend, there are some really cool motocross associations. Eight is a very special number to some of the great ones (especially those who ride Yamahas). Enjoy.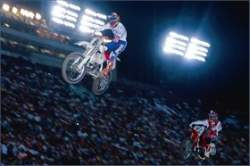 Damon Bradshaw 1990
photo: Courtesy of Moto Verte
Damon Bradshaw
came out and launched the #8 into the Anaheim night and nailed down his first career supercross victory in 1990. All the great ones have been quoted as saying that nothing compares to that first win. The sport was enjoying some of the best parity in years when Bradshaw began reeling off main-event wins. Even so, "The Beast from the East" would win the first two main events of the season before crashing huge at San Diego and injuring his ankle.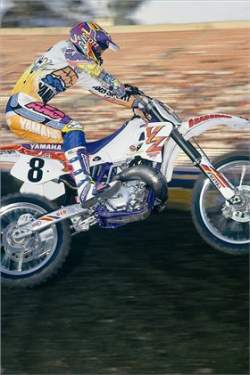 Damon Bradshaw 1993
photo: Courtesy of Moto Verte
After winning an unprecedented nine supercross main events in 1992 and still losing the title, Damon was expected to come back with a vengeance. He reunited with the #8 for the '93 season and hoped to finally nail down the supercross crown. Unfortunately, Jeremy McGrath rained on his parade and the beatdown he inflicted was hard on everyone – especially Bradshaw, as he would fade into retirement at the end of the season.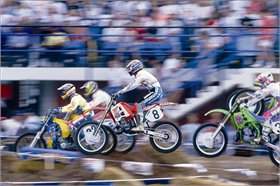 Jean-Michel Bayle
photo: Courtesy of Moto Verte
It is hard to argue that
JMB
does not own the #8 in regards to motocross. Nobody made it look as easy as the Frenchman, possibly the most naturally talented rider the world has ever seen. He dominated the 1991 season without breaking a sweat and, had he gotten a fair shake from the American fans (and Jeff Stanton), who knows how many races and titles he would have won? But by the time he was ready to tack the #1s on his factory Hondas, he was already mentally road racing motorcycles.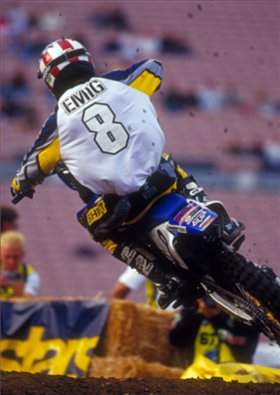 Jeff Emig
photo: Simon Cudby
When
Jeff Emig
raced with the #8 at the Pasadena World Supercross, it had to feel good. After all, the digit was pretty good to him in 1992 when he wore it for the first time and won the 125cc outdoor AMA National Championship. That was also the year of rookie 250 SX season, but Fro would enjoy more success with #3 and #1 than his great eight.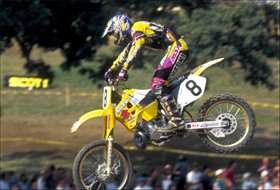 photo: Fran Kuhn
Team Suzuki expected big things from
Mike LaRocco
when he moved over from factory Kawasaki to the big yellow squad in 1996. Unfortunately, his penchant for god-awful starts moved over with him. He would only win one race (
Washougal
) wearing the eight. All the same, he is one of the all-time greats in our sport.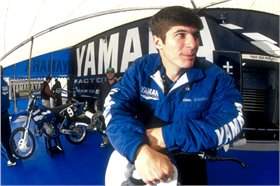 photo: Davey Coombs
Kevin Windham
had an interesting year in 1998, the year he wore Fox riding gear and an AXO helmet. He also punched out two supercross victories, first in his home state of Louisiana, and two weeks later at St. Louis, running the eight.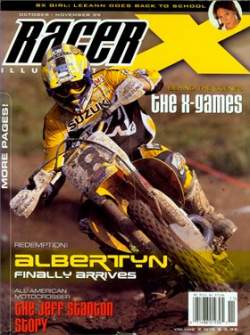 Greg Albertyn
Eight has to be
Greg Albertyn
's favorite number. After several bone-crushing years on the AMA supercross and outdoor tour, "Albee" finally got it done and won the last championship of the millennium. While some of his highlight-reel supercross crashes may have tarnished his reputation a little, his three world titles, his 1997 L.A. Supercross victory, and his aforementioned '99 outdoor title rank him among the best of the best.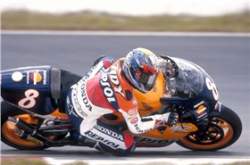 Tadayuki Okada
photo: Racer X Archives
I have been trying to throw in a road racer every week. That's
Tadayuki Okada
, one of Japan's most successful Grand Prix racers (he also did one year in World Superbike). His premier-class career lasted from '96 to 2000, during which time he scored four 500cc Grand Prix victories and made the podium twenty-one times. In 1997, he finished second in points to Mick Doohan. "Tady," who speaks good English, was the main test rider for Honda Repsol's championship-winning effort last season.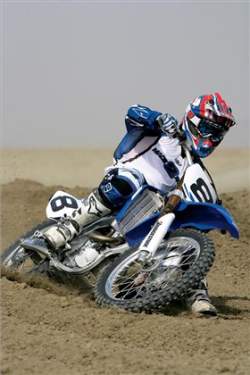 photo: Simon Cudby
This could very much be "
Zulu
's" year. I just finished taking a look at this week's Racer X Film of him working out on the Team Yamaha test track. With
Chad Reed
now banged up, Grant might have to carry the big blue flag into battle this Saturday night in his return to premier-class action. Grant gave it a shot a few years ago on that sketchy KTM 250 two-stroke, and he made it pretty clear what he can do with some linkage by winning a pair of Lites titles the last two years in SX. I think Grant is going to surprise some people.
I have been waiting for a long time to bust this number out. It has always been one of my personal favorites. In fact, I actually earned #8 in 1997 when I was racing in the AMA National Arenacross Series. My amateur number was always #77, and when I earned #8 in the arenacross series, I went with #787 for my pro debut. The story pretty much, ahem, ended there.

But I digress. The number eight is fascinating. As the atomic number for oxygen, and as the last ball to drop in a game of pool, the number is synonymous with winning. Martin Truex Jr. used the V8 in the #8 Bass Pro Shops car to win two consecutive Busch titles; Josh Demuth wore the eight to win the inaugural BooKoo arenacross title; Jeff Stanton and Rick Johnson both wore it on Yamahas ('88 for Stanton on a white Yamaha, '83 for RJ on yellow), and before that, Rick Burgett won a 500cc AMA National Championship riding #8. And finally, another Yamaha rider, Gary Jones, won the first AMA 250cc National Championship in 1972 riding a gray Yamaha. His number … well, it was 88, actually.

Finally, the marketing line for the Houston Astrodome was that it was the "Eighth Wonder of the World."

Whew, that's about all I have, folks, but obviously, there's more. Please e-mail me at andy@mxsports.com with your #8s for the Redux!