Monday Conversation: Danny Smith
Tuf Racing's Danny Smith never raced an arenacross until this weekend, yet now he is the series leader for the Toyota AMA Arenacross Series! Smith wasn't really sure what to expect at Des Moines, but he got great starts on his Cernic's Honda, stayed out of trouble, and adapted quickly to "supercross in a fishbowl." He won the main on the first night and rode hard to make the podium on Saturday—good enough for a narrow points lead over Greg Schnell.
Des Moines was a very busy weekend. This was the first race in the new era of using Toyota AMA Arenacross as a qualification for supercross, so the turnout was huge. In the end it was the guys with supercross experience, like Smith, Schnell and Robbie Reynard, that took over the podium. We stopped him for some comments at the podium on Saturday when he was still thinking about how cool it was to be leading the series already.
Racer X: Danny, congratulations on leaving the first Arenacross with the series lead. What can you tell us about your weekend?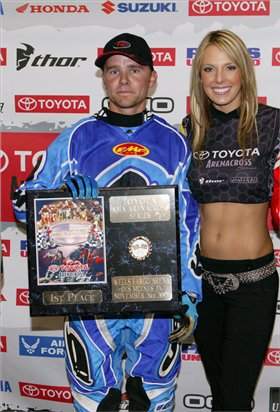 Danny Smith had an impressive Arenacross debut in Des Moines
Danny Smith: Well, if I knew this was how it was going to go, I would say great. A lot of weird and strange things happen. I learned a lot. Tonight I rode really well in my heat race. I made some mistakes and had bad lines, and that one little thing can mess up your whole race. I am used to being able to recover from it. I am going to go work on that.
You really haven't done an arenacross until this weekend right?
Friday night was my first time ever! Even as a kid, I never did any.
What was your first reaction when you got here and saw where you would be racing?
I was anticipating it being tighter. Everyone was like, "You can hardly turn in those." I did the U.S. Open this year for the first time too and I thought, I can't imagine it getting much tighter than this.' It really wasn't
The start straight looks long.
Yeah. I liked the track. I liked the racing and I am having fun with it. Overall I am really happy. I can't complain at all.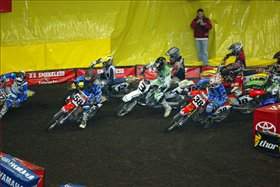 Smith (38) and his teammate Justin Buckelew (58)

Was the track too easy?
You know, it's hard in its own way. It gets chewed up and rutty and bumpy. As far as it being technical, the whoops were really easy. Hopefully they will make them a little more technical. That would make it better for the guys that are used to them being that way. It's not my call, so…
What kind of racing situations did you find here? Is it aggressive? Do people knock you down more compared to supercross?
The corners and whoops are where you set up passes. You don't set up a guy or a pass in the rhythm sections because they are so short. You get banged around a little bit but you have to hold your own; if you leave the door open a little bit and someone comes in and takes that spot you better learn from that. It's hard judging where guys are. You protect the inside so much you slow down, but you have to sometimes. That's what makes it tight.
Did you think you would come away with the series lead after this weekend?
I really didn't think about that. I try not to think about it because it is out of your control until you get there. I just want to go home and practice hard. I want to have fun with it. I am not going to put pressure on myself. I came here for a change and to ride hard and get used to this 450. So far, mission accomplished for some things. I am glad I got through this weekend and I know what to work on. I need to get better in areas for sure.
How would you score the arenacross regulars speed? Are they as fast as you?
Oh yeah. Chad Johnson has been around a long time. Schnell has done it before, and Reynard, you know. But it's hard to come from behind to win. Those guys definitely have the speed. They were not up there all the time this weekend but that doesn't mean much.
Are you going to make a lot of bike and setting changes now?
Just when I showed up I felt comfortable on the bike. But now that I have done it, I want to change a couple of things. I know what to expect from the track now. I want to change a couple of little things.
After one weekend doing this, and considering your supercross experience, would you say this does prepare you for supercross? If an up and coming guy gets good at this is he ready to race Anaheim?
I think in a way, yeah. But in a way there is nothing that is going to totally prepare you. When I first went into supercross, we didn't have a practice track like people have now. People are getting ready way earlier. If you don't have that and you are a good enough rider, you adapt. I think guys should be more about learning from guys who have done it before. Just coming to an arenacross is not going to get you ready. That goes for any sport. You really have to work at it. You have to work at it to race here because this isn't easy. I have raced a lot of races and I think you could ask anyone here and they would say it if were easy, everyone would do it.
The new talent wants it. They had like 100 bikes here or something—it was crazy. That shows you that guys want to race supercross and if this is the format they have to do, then that is what they are going to adapt to.
Let's close with that and thanks for your time.
Thanks Steve.