It's hard to put into words or type what a great event we saw last weekend in England. As everyone expected, AMA Team USA won, and it really wasn't that close. But what many (including myself) did not expect was for Stefan Everts to beat James Stewart in both of their MX1 motos. It has a lot of people in the motocross world shaking their heads, wondering how the unbelievably talented Stewart could get beaten by Stefan on a track with jumps almost as big as Glen Helen's.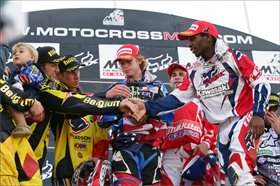 James shakes hands with Belgium's Ramon and Strijbos (and that's Liam Everts)
photo: Simon Cudby
So let me start by saying this: Stewart went to Europe for Team USA for the first time and brought back the championship. He has been a question mark for the Motocross des Nations since 2002, when he burst onto the AMA National circuit and won ten of twelve nationals. He felt the time was right to do the race this year, and we American motocross fans should thank our lucky stars and stripes that he did, because after
Ricky Carmichael
could not go, I don't think
Kevin Windham
or
Davi Millsaps
or
Mike Alessi
or anyone else would have come close to challenging Everts the way James did.
All year long—actually, the last two years—we have bench-raced, written, and argued about Stewart's penchant for big crashes, losing title shots because he was pushing too hard, and just generally being critical of the guy that we all know to be the future of American motocross.
So he steps up as RC steps off, looks around at the big picture—Ivan Tedesco was doing his best in a tough situation—and does exactly what he has to do to bring the Peter Chamberlain Trophy back to the States. He said ten times before he went "There's no I in team," and everyone was stoked to hear that.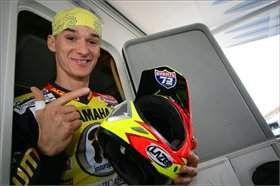 Stefan Everts wore his Racer X #72 sticker under his visor
photo: Simon Cudby
But then Everts—the last, best pure motocross racer on the planet—pulls off the greatest exit in the history of motocross and wins both motos, and now James is getting grief? That's ridiculous. But the good thing about it is this: With the race coming to
Budds Creek
next year, I expect a mad-as-hell Stewart, now comfortable with the race and all the madness that surrounds it, to put a beating on everyone.
I'm not taking anything away from #72. I was so glad for him as a person and an athlete to win like that that I was caught on camera clapping for the guy in the last corner of his career. He rode a superb race, and that victory could not have happened to a more dignified champion. (The only person who comes close is Roger DeCoster and his walk-off win at the 1980 Luxembourg 500cc Grand Prix.)
Still, would the race have been any different if Carmichael had been able to ride? My personal opinion is yes, it would have. RC would have (pardon the pun) shouldered more of the pressure that built around James and allowed both of them to go faster, just as they did all summer long in the nationals, more or less. Stewart was limping after Saturday because he caught a rut and dug his foot in. He also had a toothache, believe it or not, but they numbed that up, so it was really no big deal.
But then again, I think Stefan could have gone faster too.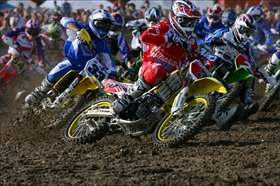 "Hot Sauce" came to Europe cold but did what he could to help
photo: Simon Cudby
There was some controversy over taking the Makita Suzuki teammate of Carmichael's, and Ivan's fade in each moto certainly gave everyone cause for concern. But he was fast, he was ready to stand back if RC could go, and he brought good chemistry to the team. There's no doubt in my mind that Alessi would have done just fine—especially after seeing how fast KTM 250 SXF rider
David Philipaerts
was on the 450 they stuck him on—but chemistry means something at a race like this, and there's been too much conflict with the Alessi camp and the Villopotos.
So now Tedesco is 2-0 on Team USA's all-time wins list. Check it out with this week's Bench Racing Ammo.
As for Ryan … wow. Nothing seems to faze that kid! For me, he was the second most impressive guy there. He rode his butt off, and the English fans seemed to fall right in love with his flashy style. Unfortunately, he made a mistake and bounced through a fence in the second moto—it was very close to what K-Dub did at Ernee last year when it started going wrong for Team USA.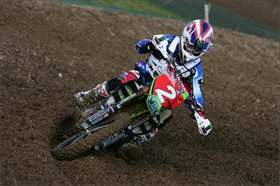 The rookie was solid as a rock
photo: Simon Cudby
But again, because everyone's so sensitive to this, that's not to say that
Tony Cairoli
wasn't going fast. The Sicilian was really fast and stylish, and I was more impressed with him than either of the
Pourcel brothers
(though they are both pretty damned good too). I just think Villopoto delivered, just like he has pretty much all summer long.
So that's my take: Team USA won the decision, but it was by no means a knockout punch—no runaway like Jerez, Spain, a decade ago. Those days are over, folks. Europe still produces some very good dirt bike riders, and so do South Africa, New Zealand, and Australia. Now China, on the other hand.…
Roger DeCoster and Scott Taylor, our team manager and assistant team manager, did a great job of handling egos and team personnel and the absolute crush of fans that just wanted to get to the Americans. It was also cool to see how revered Roger still is in the European theater of motocross.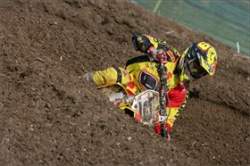 Belgium's Steve Ramon goes in deep
photo: Simon Cudby
The beautiful day over there made for some amazing photos, of course, and the huge crowd and close racing really added to the good vibes. I can't ever remember seeing more good pics from one race. Simon's stuff was out of this world, and so was the cool slideshow put together by
Racer X
contributor
Roddy McLeod
.
Check it out
.
There are films and videos just about everywhere on the web now, including the practice film we did on Saturday night and the Fox Racing Team USA films that Ian Schiller shot and I got to host over at www.foxracing.com.)
If you missed the live video coverage of the event on MediaZone, well, you might be out of luck, because once again there is not a set plan for when the race will show in the USA, which is a shame for not only the fans and of all the people who put the effort into going but for 2007 MXdN promoter Jonathan Beasley too. The race is a very big deal in Europe, and hopefully, it will be here too. But without it being on TV, a perfect opportunity to promote next year's race by educating fans on what the Motocross des Nations is was lost.
At a meeting on Friday night between Youthstream's Giuseppe Luongo and some members of the U.S. media, I asked him about the TV situation. Well, I kind of just told him how bad it was. At a time when ATV races, amateur motocross races, and even GNCC get can on TV quickly and easily, there is absolutely no excuse for not having this race on TV in America.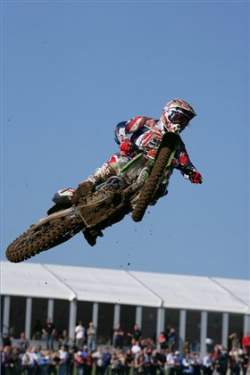 The #1 looked good on Stewart all weekend long
photo: Simon Cudby
A few of us bench racers were talking about how cool the Team USA guys looked with their gear and low digits—especially James with his #1. I am a proponent of the AMA's semi-permanent numbering system, and I think it's cool that RC has worn #4 to all of those championships, just as Stefan has long run #72. But if James wants to run #1 in Amp'd Mobile Supercross next year, I think that would be cool too. He earned it, and he has a choice—that's moto democracy.
It was good to see Ben Townley go fast over there. This was the first time in exactly one year I've seen BT101 race, because I missed Red Bud and Glen Helen this summer, the only two nationals he attended. Townley looked really good, but he wasn't quite as fast as Villopoto or Cairoli.
Pro Circuit is going to have one monster team this winter (no pun intended). With Villopoto leading the way, Townley healthy, Christophe Pourcel joining for supercross, and Brett Metcalfe coming over, and whoever else ends up there, that's one formidable group!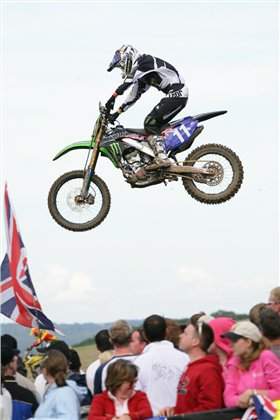 Ben was fast but not brilliant like last year's race at Ernee
photo: Simon Cudby
Another interesting aspect was seeing the Pro Circuit guys going back and forth across the pits as they tried to work with both Villopoto and Townley. Ben's mechanic,
Aaron
, must have felt like a foreigner over there under the Kiwi tent, but overall the vibe was good for everyone in the pits.
Metcalfe, I will say, did not look as fast or aggressive as he was in the nationals. The Australian team that so many were looking forward to did not pan out, as Chad Reed got hurt and Michael Byrne pulled out. Cheyne Boyd, who I first met back in that muddy supercross at Seville, Spain, is a great guy, but he's no Reed. Still, given a chance to come over here, I think he would do well.
And here's a quick note from Bad Billy:
My internal clock is still adjusting after an unbelievable experience in England. I signed up for the Motocross des Nations tour offered through the AMA, and going by myself, I really wasn't sure what to expect, but it turned out to be an unforgettable experience. We toured England for three days and had coach bus transfers to all of the major destinations and were treated like VIPs. From Westminster Abbey, Big Ben, Buckingham Palace, and the Tower of London to Stonehenge, we saw it all. We then had two amazing days at the racetrack cheering for Team USA before returning home on Tuesday morning. Hats off to Cyndi Freeze-Cain at the AMA for setting everything up and making sure it all went smoothly. I know she already mentioned planning out a tour for Budds Creek next year, as well as Ireland in 2008, so count me in! Look for more about the tour in an upcoming issue of Racer X Illustrated.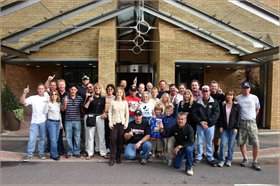 The AMA tour group was a proud group of Americans
photo: Billy Ursic
Bill also wanted to add this:
There were also a few small ironies I noticed at the MXdN. In MX1, Stewart's main opposition was Stefan Everts, who was wearing #7, which is Stewart's number in America. And in the Open class, Ivan Tedesco's main competition was Steve Ramon, who was wearing #9, and as you probably figured out, that's the number Ivan wears back in the States. Now if only Cairoli or Christophe Pourcel was wearing #51….
There were so many major motocross stars over there, it was unbelievable—and I'm not talking about the guys on the track! I got a chance to tour London with Jeff Emig, then at the race I ran into Joel Smets watching from the fence. (Last week's Between the Motos conversation was with the five-time world champ.) Harry Everts was there, of course, as was Eric Geboers, James Dobb, Georges Jobe, John Van den Berk, Jacky Martens, Heinz Kinigadner….
And speaking of that, how about the announcement of Everts as the new KTM advisor on Saturday? I think that's the one brand he has never raced for; now they get his infinite knowledge and wisdom and coaching. Nice move, Herr Kinigadner!

Now here's Weege with a GNCC update:
The Suzuki GNCC Series rolled into a mecca for motocross for the second-annual Moose Racing Unadilla GNCC. And the motocrossers came out, with Broc Hepler, John Dowd and Bobby Kiniry showing up for the run through the woods (with some motocross mixed in).

Hepler's appearance was especially big, since he's the first racer to ever win an AMA National Motocross and compete in a GNCC in the same year. Suzuki even furnished him with a works RM250 for the race, so he would be on equal footing to the rest of the 250 two-stroke mounted pros. Dowd also had an RM250, the same one he finished fourth on in his GNCC debut at the Wisp in June. And Kiniry? He showed up with his buddy "Windshields" as his wrench, and a CRF250 that he had already sold in the back of his Chevy mini pickup. Kiniry didn't have a drink system or a big gas tank, but he was ready to pin it.

But the motocrossers got a rude welcome from Mother Nature, who dumped a tremendous amount of rain on Saturday night and then again on Sunday morning. The track was soaked by the time the pros hit it in the afternoon, and that made a big difference. Hepler nailed a great start behind Ohio's Jimmy Jarrett, who collected the Racer X Holeshot Award. But heading toward turn two, Hepler grabbed a handful of two-stroke throttle and went down. Then Dowd got caught in a pile up and Kiniry suffered badly off the line since he was on a four-stroke.

Enter privateer Nathan Kanney. The New York native blitzed into the early lead and held it until he got stuck in a big mud hole. But the local boy was on fire, and he blazed right back to the front. He fought with Charlie Mullins and new (again) GNCC Champion Juha Salminen for most of the day. It was a fantastic battle, and the pace eventually cost Mullins (he fried his clutch) and Juha (who crashed in a huge mud puddle).

The checkers came out and Kanney had pulled off the miracle: he won a GNCC as a privateer. And since he's from New York, he had all of his friends and family there to cheer for him. It was a great moment. Check out this week's Sponsorhouse Privateer Profile for an interview with Nate.

As for Hepler, he rode solid from his bad start and finished sixth. "It was really difficult," said Hepler. "My legs are really tired. It was good mud practice, and you could always use that. I had pretty much four wheels the whole time, with my legs out. It worked me over pretty good. I just didn't want to take any unnecessary chances and get hurt or anything. At the end I was getting pretty comfortable, since the first time I had ridden my bike was heading down to the start. That's probably why I spun at the start, a little bit too much power!"

Hepler said that the race worked his muscles harder than a motocross since he was fighting the bike through the ruts all day, and he got stuck bad on the second lap and had to dig out. But at the same time he said the cardio wasn't as demanding, since you're never running at a full sprint pace. Anyway, it was a solid effort from Broc, and maybe someday we'll see him try another one (and maybe it won't rain).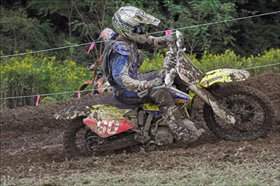 Hepler raced an RM250 at Unadilla
photo: Ray Gundy
Dowd's day wasn't as good, as he missed a turn after running in the top ten and ended up 22nd overall. Kiniry was 27th.

More guest stars are heading to the GNCCs. Next weekend's penultimate round in St. Clairsville, Ohio, will feature the showdown everyone has been waiting for. World Enduro Champion David Knight will compete on a KTM 450XC, while Juha will race on the new 250 XC-F. The off-road world has been waiting for the Juha vs. Knighter showdown, and next weekend, it's on. Rain or shine, it's going to be good!

The best or worst part of Kanney's GNCC win was the supposed bet that was actually never made between myself and Nate. Months ago at the Wisp, I told Nate I would shave my head if he won the race. He didn't win and I didn't shave. When he won this time, though, GNCC photog Ray Gundy started exclaiming "You get to cut Jason's hair! You get to cut Jason's hair!" Apparently Gundy was the referee for the bet and he says the bet "rolled over." Honestly, I don't know of any roll-over bets, and I definitely wasn't betting against Nate at 'Dilla, since he finished second there last year. But once the word was out, the highly-partisan NY fans wanted to see it happen, and they probably just thought I was lying to get out of it. Magically a set of clippers appeared in Nate's hand on the podium, and, as they say, it was on. And off.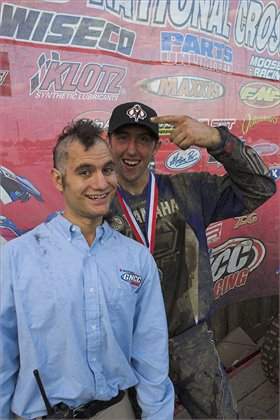 Can you tell who lost a bet?
photo: Ray Gundy
Next race I'm bringing a lawn mower to shave Gundy's fro. For more insight on this and other very important matters, hit up
www.blogandt.com
.
And finally a late note from
Ping
:
For you old-school motocross fans out there I have some difficult news. Bob Hannah turned 50 this week. That's right; your boyhood idol, "The Hurricane," is gliding into his golden years. Although, something tells me that Bob isn't aging like your average sedentary person. The guys at DMXS radio had Hannah on the show this week and he was a little bothered by the fact that Matt the gay intern sent him a bouquet of flowers for his "special day." Anyhoo, Happy Birthday to one of the biggest legends this sport has ever known.
The Rockstar Energy/Bills Pipes/Suzuki team is officially closing up shop. Between injuries, mechanical problems and bad luck the team didn't have the year they hoped for and all parties involved agreed to sever ties. Rockstar Energy is refocusing their efforts on the WBR/Suzuki team, which will be the sole Suzuki support squad this year. And that team is filling up fast.
Kelly Smith
is the latest rider to sign with the Rockstar Energy/WBR/Yoshimura/Suzuki team for next year.
Buddy Antunez
has been acting as the front man on the team's new project and its collaboration with Suzuki and Rockstar Energy.
Troy Adams
and
Andrew McFarlane
have both signed on the dotted line already and it is rumored that
Michael Byrne
could be in talks with the team as well.
Speaking of Suzuki, I got a chance to ride the new 2007 RM-Z250 this week. The bike is new from the ground up and it looks just like a smaller version of it's big brother, the RM-Z450. The newest Suzuki will be ultra-competitive in Lites competition in 2007. Check back on Monday for the complete introduction.

Want to get that special person an early Christmas present? Right now, Racer X Brand is holding a Ladies Fall Sale and everything is 35 to 40 percent off. Go to www.racerxbrand.com.

And this just in: Check out the new
ESPN The Mag
, which features a story from
Loretta Lynn
's!
Well, that about does it for this week's Racerhead. Thanks for reading.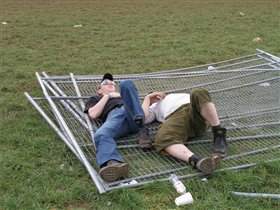 photo: Jay Perkins