Between the Motos: Joel Smets
September 27, 2006 1:23pm
Simon Cudby and I were talking along the whoops on Saturday at the Matterley-Basin circuit in England when I spotted a tall man with light hair and his son standing along the fence. Both were wearing the yellow, red and black of Belgium, and I thought, 'Wow, that guys looks just like Joel Smets…' Turns out it was the five-time FIM World MX Champion, there to cheer on his countrymen, as well as watch the sensational James Stewart. We chatted for a few minutes and then moved on.
Fast forward to Tuesday afternoon: Julie Kramer gets a call from "Joel Smith, I think he said," asking for Trampas Parker's phone number. "Something about his fan club having some big get-together and he wants Trampas to come." That made even less sense, so I picked up the phone, and then I recognized the voice.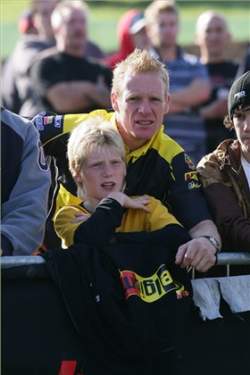 Joel and his son watch practice along the fence line at the 2006 MX des Nations

photo: Simon Cudby

Racer X: Joel Smets!
Joel Smets: Yes it is! How are you? Back in America okay?
Yes, and it's always a pleasure to get to see you. I bumped into you on Saturday, and you were just like any other fan, there with your son, just watching Bubba and Stefan.
Yes! The thing with me is, I have only started racing at 17, and I know what it is like to be on the other side of the fence. When I started racing I was on the lower amateur level, and when I started racing GPs when I was 21, I was still a spectator! I haven't had the chance the last 20 years to really watch the races because I had been racing myself, but I still really like to be among the spectators. They admire the riders, just like I did when I was a kid. And amongst these spectators, you see kids who are five, and kids who are 55. They are all like kids, living their dream a little bit watching these guys. Most of the spectators have ridden dirt bikes themselves, and they can identify so much with racing, and they have so much respect. And when you're there with the spectators you can feel that respect. That feeling is nice to get again. I have a hard time realizing that it was the same thing they were feeling for me when I was on the Motocross des Nations team for Belgium.
I was there in 1997 when you won in Nismes when they carried you off on their shoulders. How great is it to have your countryman Stefan have such a nice send off?
You can't expect anything better. To be honest, I'm a little jealous! Stefan had his bad injuries at the middle of his career; I had mine at the end. If I had the choice I always would have chosen to have my bad years in the middle, because it's always nicer to go out and win like Stefan. I have so much respect and jealousy in a positive way. Not with bad feelings. We have known each other for 25 years. I have been doing commentating for Belgian television this year for some of the GPs, and I have been telling the public that I enjoy watching him ride. Not everybody sees the poetry with how he is riding, with his technique and all—not everyone can see how good he is. But I have battled him bar-to-bar and I've seen that perfection. And sometimes when I was racing him it was frustrating to me that I couldn't do it like he does. But on the other hand, I was proud to know I have been the last one to beat him on a regular basis. It's hard to believe myself when I see his nearly perfect season this year that "How in the hell was it ever possible for me to win more GPs in a season that Stefan?!"
Everyone knew Ricky was out. Everyone in Europe got to see James Stewart ride for the first time, and he's an amazing rider to watch. But did you think Stefan would beat him in both motos like that?
I didn't really expect that. But we've seen really awesome racing, but the only little disadvantage of the des Nations is that often the third race is more a matter of calculating. I think this weekend that Bubba was on the same level as Stefan, but because of a small mistake in the first one he didn't have a chance to fight with him. And in the third race, Roger [DeCoster] is going to tell him not to take a risk. So that's the only pity—that we didn't get to see a real fight. I think if Ricky would have been in the race, even if Roger said "Hey, no risk," I don't think Ricky wouldn't have let Stefan go. They have a different relationship than Bubba, who is the new kid on the block. Ricky would have gone for the fight.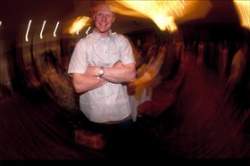 Smets was a fierce competitor on the race track, but off it he's a big fan just like the rest of us.

photo: Mario Marini

Well, Stefan had to back off of Ricky in 2003. And I remember back in 1995 in Slovakia …
With Jeff Emig!
Right, when you had to bang off of each other, but then you let him go to worry about the Belgian win.
Yes, and it was the same thing in Nismes in '97. They had over-watered the track so much, but in the first heat Jeff was in front of me, and I remember he was too slow. But really, he was fast and I was just on top of my game. But it was too risky to pass him because of the mud. But you just keep thinking, What do I do? What do I do? That's the only minus of the race, but it's minor because the race is fantastic, and it was fantastic all weekend.
I was actually with Jeff all week in England, and we talked about that race. At one point I said, Fro, remember when you said "We're Americans and we don't get beat by four-strokes?" He said, "Yeah I sure got that wrong!"
[Laughs] Yeah, that's for sure.
There were so many great riders there this weekend. Jobe, Geboers, Jacky Martens…
Jeff Emig!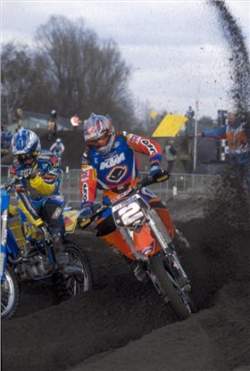 Smets rode for KTM in 2002

photo: Racer X Archives

Yeah! The des Nations is a race, but it's almost like a big party or a reunion.
Yes, we call it the Olympics of Motocross here. I saw Graham Noyce and Paul Malin, but I did not see Dave Thorpe.
I didn't either. And by the way, Mailer, I know you're probably reading this, and we really need that photo of you for Two Tribes. That was a public service announcement. So the reason you called us today is because you're looking for Trampas Parker? What is the occasion this weekend?
Well, this weekend celebrates the end of my career. I've been racing some internationals and the Belgian Championship. I didn't want to stop at once, but everyone has a different plan there. Stefan wants to stop all at once, but for me, because of the injury, I didn't want to end my career on a stretcher. So I had some fun, but not as much fun as I wanted because of the knee. It's going to be a fun event, and a lot of my old rivals like Eric and Georges and Stefan will be there, and we're going to do some riding.
What track will this be at?
It will be a one-off track in my hometown of Dessel, Belgium. We used to have a track where we hosted several national championships, and one GP back in 1984 or 1985, when Kees Van Der Ven was winning both motos on his KTM 125. But we had to stop because of the green people. Now we can build a track for one race. The week after there will be buildings built on the track.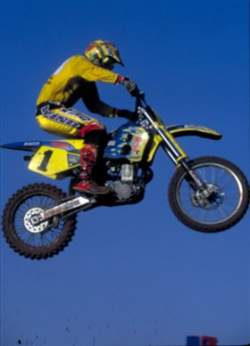 Smets wore #1 for Team Belgium in '96 at Jerez, Spain

photo: Racer X archives

Do you have a website?
Yes, of course, but unfortunately I have never managed to get it to English. That's a pity, and it's really difficult to find people to translate. I have considered doing it in my own English because as long as people know it's coming from me and they have the information they don't care. They will forgive my mistakes! It's at www.joelsmets.be. If you go there you will find pictures of the track and stuff.
Well it's always been a pleasure. I enjoyed seeing you at the race this weekend. And I thought motocross in general won on Sunday. I hope next year at Budd's Creek we will have an event that great.
It will, because the last two editions have been great.
And Jonathan Beasley, the promoter there, is the world's biggest motocross fan.
I know! He breathes motocross. I'll probably be there next year for the des Nations. I'm not racing anymore, and my son is now ten. He's crazy about football, what you call soccer. And also he's getting into motocross. And he knows all the guys. We might come in around Easter or something for a supercross.
Have a great celebration this weekend, Joel.
Thank you, and nice to see you.