Privateer Profile: Nathan Kanney
September 28, 2006 12:02pm
The Suzuki GNCC Series is often thought of as the series for the everyman, because all of the racers, from rank novices to top pros, race on the same track on the same day. But the very top of the sport is still reserved for the elite: factory pilots on works equipment, pitting out of semis with plenty of team help in the woods. But Nate Kanney won and won the old fashioned way at Unadilla. He's a privateer, and he had no other help than his family and friends. And he took down the best in the world. Here's Nate for this week's Sponsorhouse.com Privateer Profile. Be sure to show Nate and his sponsors some support by clicking on the links at the bottom of the page.
Racer X: Nate, what's happening?
Nathan Kanney: Man, I just wanted to apologize for cutting your hair.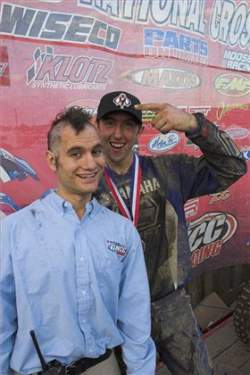 Jason bet that Nate Kanney would not win a GNCC this year. He lost.

Oh c'mon!
It was (photographer Ray) Gundy! He kept saying we have to get Jason, we have to get Jason. I told him the bet was only for the Wisp, but he said it was for the whole year.
Well, that's okay. It made it a memorable event. I mean, I would have loved to have gone to the Motocross des Nations for the weekend in England, but I wouldn't have wanted to miss this! Take us through this!
I was leading, and Charlie [Mullins] came by me going crazy fast. He was going like a maniac. I was like "dude, I don't think you can go that fast." Then Juha caught me and he was on me, because I guess he got the pit board that Charlie was trying to break away. He got by me and I followed him. And I saw Juha send it up this cliff and over a tree at the top of the cliff. It was about the coolest thing I've ever seen. He climbed the steepest part of the cliff, and then he climbed over a tree at the top! So I was like yeah I'm gonna follow this guy and see something sick! He was charging because he wasn't going to let Charlie get away. So in about a mile we caught Charlie and then we passed him. Then after that he got his pit board and we got onto the U2 motocross track. He was going outside to inside in this corner, and he caught a rut under the water he didn't see. He went straight in to two feet of mud water!
So you saw this.
Yeah, I was going by and he was face down. All I could see was his back sticking out of the water. I knew after that he wouldn't be able to catch me.
Yeah he stopped for gloves and goggles so he was pretty far back.
I heard he jumped into Gravity Cavity and landed at the bottom with his feet off the pegs. If it was a plastic throttle tube he would have broken it. People were telling me they've never seen him ride that hard before.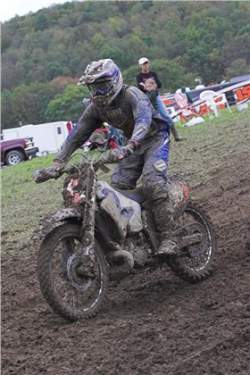 Kanney rode a solid race in front of a lot of family and friends

How? Why? You were able to keep up with Juha and then went around him when he fell. Why all of a sudden were you able to do that?
I have no idea [Laughs]. I don't know. I had so much pressure on myself this weekend. Every person from NETRA, everyone I knew, they wanted me to win this race so bad. And they kept asking me "Nate you're going to win, right?" But when I got to the starting line I just decided I had better just go and ride and have fun. I would have been happy with a top ten like normal. Last year I was just on the edge so far, and I took so many risks to get on the podium. I didn't want to do that again. But this year, I didn't take any risks. Imagine if you're out on a trail ride and you're going at a good pace, not fast and taking chances, but fast enough to be in a good rhythm. Normally, when I get to the fast stuff, that's where I make time, on the grass tracks and the motocross tracks. This time, I just tried to be smooth.
Was the track that much different than other rounds?
The woods were so much denser compared to other races. There were so many lines and it was hard to pick the right one. But by the second lap I had all of my lines down for all of the tough sections. But I don't know what it is. I would love to say I was going to St. Clairsville and do it again, but I don't know. I felt like I was going so slow, but Juha wasn't five minutes ahead of me.
How did you get up front early?
I don't know that, either! So many people crashed in the first couple of turns, and I didn't want to run over anyone because that's not very nice. Then it was just chaos in the first mile. There were too many people. But in the second mile I got into a good rhythm. I got behind Dowd and gave him a yell and he let me by. I got behind Rodney and gave him a yell, and he got right out of the way. Then I caught Juha, Charlie, Jimmy and Whibley, and I think I passed them all at the same time. There was a hill climb and they went too wide. I took a new line with fresh dirt, and I passed all of them and got into the lead. Without even sitting down or clutching it or gassing it, I had a 30 second lead.
How did you maintain composure in the lead?
I was riding so calm and everything was in slow motion. I only needed to worry about the leaders. I had to pass them all again when I got stuck on the second lap. I thought for sure my day was done then, but in just a few miles I was right back on them. I knew at that point I had the edge for the day. In the middle of the race when Charlie pulled away from me, I wasn't worried because I didn't think you could go that fast without crashing.
So even though you've never won a GNCC before, you were in complete control?
Yeah. Charlie and Juha went that fast because they wanted to go that fast. Maybe I could have gone that fast, but I didn't want to. Maybe if they maintained that for a whole lap I would have had to go faster, but Juha crashed once he was trying to put on a charge. It wasn't long enough to worry about it. When I won that National Hare Scramble in Pennsylvania, it wasn't as fun because Charlie and I passed each other 20 times that day. It was like we were hitting Southwick sand berms at full throttle, and Charlie was on my tire the whole last lap. This was a lot easier.
Is it almost frustrating to think of how strange this is? It's not like you're telling me you were on it super hard, or your bike had major changes. Instead, you don't even know why you figured it out, you just did. I remember when Chuck Woodford first started winning races years ago. He said all of a sudden he would just start catching guys and go right by them, and he wasn't even trying!
Exactly. There's no way of knowing what I did, but for sure something changed.
What was it like afterwards?
It was unreal. I don't want to not do this ever again. When I look back and think about it, at first it was bittersweet. It's not always the best way to win a race, by being more consistent. It's nice to run a guy down and you set him up and make an epic pass and win. But, the more I think about it, the fastest guy isn't always the guy that wins.
Is there a little vindication here? I know you've worked hard and tried to get support.
For sure. In this kind of job you can put in so much work for so long and not get results. I had worked so hard for so long, by the time I got to the world enduro races in the summer I was pretty burnt out. So I totally changed my program, and everything was aimed around not getting burnt out. By the time I got to Yadkinville, I was motivated.
What's it like to win as a privateer? We can't even remember the last time that has happened.
It feels good for me to do this, but it feels even better to share it with all of the other privateers back there and prove that it could be done. I always felt that it could be done. These guys have a lot of things that I don't have, but then maybe they have some negatives, like a manager putting pressure on them. Every one of these people I have here is here for support, not pressure. I have that advantage. The coolest thing about that is to be able to share that with all of these people who pay for their own bikes and buy their own stuff and drive to the races in a van.
So I have heard you have a new deal for next year. Can you talk about it?
Yes, the contract has been sent to my house. It's a ride with the CH racing team to race Husqvarnas in the World Enduro Championships.
You're moving to Europe.
Yes. If it all works out I'm moving to Italy in January.
That's ridiculous. Everyone is probably thinking this win will get you a ride, but you already had one.
Yeah. The week before Unadilla I went to Italy for a week to meet with the team. Even now, after winning this race, everyone was happy for me, but none of the teams said, "Hey, what's your phone number?" Unlike motocross, I think the European scene in off-road is maybe even bigger than the U.S. so I think I can learn a lot from this. And I'll be the first American to ever go over there and race.
Finally your parents. I know they worked very hard to get you to this point. Now you have a ride and a win.
They were thrilled. We couldn't get out of Unadilla for hours because we were just there taking it all in. It was huge. They can't stop smiling, and the phones have been ringing off the hook. I'm sure there where times when they doubted what they were doing. They're so proud of me and they have seen my grown as a person doing this. Winning is just icing on the cake.
Congratulations, Nate.
Thanks.

Nathan Kanney's sponsors:

www.rermotorcity.com
Autumn Sky Development
Jilcon Development
Woody's Construction