Two weeks ago, I began Racerhead by saying that I felt I "have been on an island for a week—a motocross-only island surrounded by green tropical trees, not water…." I was talking about spending the week the remote Tennessee ranch known as Loretta Lynn's. But last weekend, I really was on a tropical island.
I may have had the best seat in the house for the Millville mud fest, even though I wasn't actually in Minnesota, or even the United States, for the matter. I was hovered over my laptop in a small internet "café" on an island off the coast of Belize, which is below Mexico and right across from Honduras. I was at a wedding of a close friend who has nothing to do with motocross (yes, even magazine guys have such friends), enjoying a short vacation, but I couldn't miss the chance to listen to another chapter in the fledgling rivalry of Ryan Villopoto and Mike Alessi, let alone one of the last Ricky Carmichael vs. James Stewart full-on match-ups we'll get to see (or hear).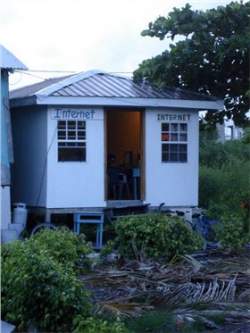 Best seat in the house?
photo: DC
The place looked Third World on the outside, which made sense: Belize is one of those underdeveloped countries where the have-nots outnumber the haves many, many times over. But they seem to love the internet—at least the ones who can afford the sessions, which costs $1 (U.S.) every six minutes. (I did, however, get a discount after I introduced the kid behind the desk to YouTube after he asked me if I knew someone named "Travees Pastranto.") And for every 20 minutes spent online, I got a free drink. I chose Belikin, the national beer of Belize, I guess.
So I sat there for the better part of Sunday afternoon, drinking Belikins in the tropical heat and listening on my computer 100 yards from the clear blue sea as the weather in Minnesota got ugly. (Don't worry, I wasn't driving—not even a golf cart, the preferred mode of transportation on that small island—but rather riding a bicycle I borrowed from the small hotel I was staying at.)
As you know by now, the weather wreaked havoc on the races, as well as the live webcast. After the streaming unit we use burned up right before the race started (it did the same thing at Washougal last year), announcer Jason Weigandt had to resort to leaving his cell phone sitting next to a speaker in the announcer's booth. The reception was rudimentary at best, and you could often hear the people in the background of the tower while Weigandt and Rob Buydos and Guy Olen did the best they could.
People listening online like me were furious, posting some insulting things here and there about the announcers (Weigandt, who does Amp'd Mobile Supercross) and the production (decidedly not supercross). I apologized for the problems on Mototalk, guessing that the weather and the remote locale had a lot to do with the quality of the webcast.
Things like that can and will happen when you're that far away from a city (which outdoor motocross in America requires more and more) and there's a storm. No, it doesn't happen in supercross, but supercross takes place in wired, state-of-the-art stadiums, and supercross is not just plugging into the PA system, but rather using a dedicated webcast team. We're just doing this for free, trying to give people all over the world a chance to listen in on what's being said and seen at the nationals. We don't sell commercials on it or charge people to listen to it (nor do we ever plan on charging). Regardless, I felt bad for the less-than-perfect sound, which was coming through Weege's cell phone after the "black box" internet adaptor. We have replaced the faulty unit and will continue working on the problem.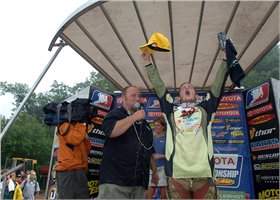 The weather messed up the webcast, but not the GOAT
photo: Carl Stone
So hopefully, Sunday's live Racer X Webcast of the Broome-Tioga National, presented by
Cycle News
, will be a million times better. It goes off at 1 p.m. EST from Binghamton, NY, and you can watch the lap times and race results all weekend long on
amamotocross.com
.
And don't forget about
Racer X Films
! Last weekend's pre-
Millville
film by
Simon Cudby
was epic, and this weekend in New York it's
Matt Ware
's turn to step it up another notch. That film should be up by maybe 9 p.m. EST Saturday night.
That said, I can't tell you how much I enjoyed listening to that race. Mud races have always fascinated me, and the crazy second motos at Millville—with Hepler's win, Alessi's solid second, and an inspiring third for Matt Goerke in the 250F race, followed by the historic, ridiculous second 450 moto of Ricky Carmichael—made it a truly memorable afternoon for me. By the time RC's coup de grace was complete with the lapping of second-place David Vuillemin, I had a small room full of island kids listening to American motocross with me. And because it's free, I'm guessing they might even be listening to Broome-Tioga next weekend without me. That's the power of the internet, poor quality and all.
No, I have never, ever heard of someone lapping the entire field at this level of American motocross, AMA or World Supercross (not even muddy Seville), nor even in any given class over 25 years at Loretta Lynn's. But Roger DeCoster told us all about him pulling the unlikely one-two (first and second) in a muddy moto at the '72 Austrian 500cc Grand Prixl
What Carmichael did may turn out to be his single most emphatic win in a decade of dominance, though it certainly had as much to do with luck as it did with his own mud-riding skills.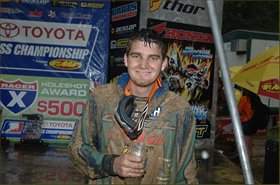 Matt Goerke put his Star Racing Yamaha on the 250F box in moto 2
photo: Carl Stone
Getting the holeshot was key, of course, and staying up throughout was even more of a key. While RC stayed out front and clean, even
James Stewart
—my pick as the best mud rider in America after his wins in San Francisco, Seattle, and
Hangtown
—fell over early.
RC also started lapping early, as the mud caused all kinds of problems for the rest of the field. The announcers were incredulous over the many falls of Chad Reed, but anyone who's ever raced in the mud knows that once you fall down, it's likely that you will keep falling down, as your hands are probably covered in mud, your rhythm is gone, and so is your confidence.
Also, after losing Washougal the way he did, Carmichael was motivated to beat Stewart at all costs. But even Ricky was amazed at the unlikely outcome of Millville, where he effectively finished first and second. The only thing close to this was San Francisco this year, where he and the winner, Stewart, lapped third-place Nick Wey in just 12 laps, albeit on a much shorter track.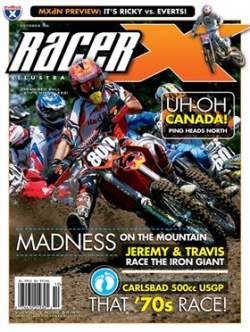 Mike Alessi found out he was on the cover of the new Racer X before retaking the points lead at "Mudville"
After the race, Carmichael pledged to the
Millville
fans that he would return next year. He also let it be known that he considered this race to be "practice" for his upcoming rendezvous at the Motocross des Nations with
Stefan Everts
, the man long considered to be the world's best mud rider. If dreary old England is just that in September—just like it was back in 1998 at the Foxhills MXdN—I suddenly like Team USA's chance a heck of a lot better than I did before Sunday afternoon. RC and Stewart can ride the mud (and Villopoto's no slouch himself). Rain or shine, it's on.
But I wasn't there at Millville, so I need to let Ping riff on this more.…
While RC continues to kick names and take butt in the 450 class, the drama continues to build in the Lites class. Villopoto and Alessi are separated by just a handful of points, and while the racing has been mostly clean between the two of them, the tension between the teams is reaching a boiling point. In a strange scuffle earlier last week, the Pro Circuit transport driver and KTM's engine technician traded punches, resulting in a broken nose for one of them. Then one of the Pro Circuit guys ended up beating on the Alessis' hotel-room door at 3:30 in the morning (it was a practical joke, apparently).
Come race day, there were accusations of performance-enhancing drugs that had Villopoto's trainer, Randy Lawrence, on the warpath, and then PC protested Alessi for going off the track—Mike swapped out coming down a hill and shot off the track, and though several riders passed him, he cut off a jump and two corners before re-entering the track ahead of the riders that would have gone by—so KTM turned around and protested Villopoto for getting outside-the-mechanics'-area assistance after mud jammed his front wheel and he pulled up to (but not in) the mechanics' area to have his brake line cut.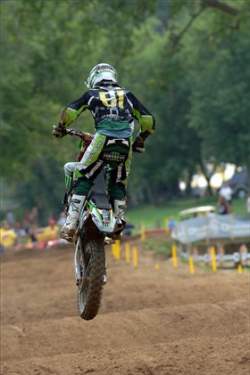 After a breakdown at Washougal and a muddy second moto at Millville, Ryan is trailing Alessi again
photo: Carl Stone
After the shouting and accusations stopped,
Steve Whitelock
had docked each rider a position in the moto. Neither side was happy. Kawasaki felt Mike gained an unfair advantage by re-entering the track further down than he needed to, and KTM thought Ryan should be disqualified for receiving assistance outside the mechanics' area. And you thought
Desperate Housewives
was good.
By the way, Alessi got the worst of this on paper: Going from third to fourth is a two-point swing; sixth to seventh is a one-point deduction. Said one KTM exec afterward, "If that had been a Grand Prix, [Villopoto] would have been disqualified."
The Alessis also feel like Villopoto's teammates are blocking for Ryan, while Mike doesn't have any teammates to help him—he's literally by himself under the tent, since all of the other Orangemen are either hurt (Ramsey, Marmont, Osborne, Jeff Alessi) or saving themselves for another rigorously short supercross season (Li'l Hanny).
The tension between the two camps was amplified when Ryan was chosen over Mike to represent the USA in the Motocross des Nations event in England this fall. Last year, the Alessis were told that they were not eligible because he was a rookie. So much for that rule.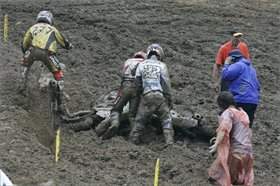 James may have been lapped, but his late-race comeback after being stuck for two laps was a huge effort.

photo: Pete Emme

James Stewart was also disqualified for receiving help in the second moto. Kaipo, the Kawasaki suspension technician, used his jacket to wipe mud from James' grips. Stewart had so much mud packed around his grips and gloves that he actually took his gloves off and was at a stop for several minutes. In fact, the spot where he crashed was a tight uphill corner that had Chad Reed stuck in a rut. James had to try a few times just to make it up and around the corner. It's pretty funny on tape.
DMXS radio gave Broc Hepler a new nickname this week. "Hamburger" and "Prime Cut" were both good, but after seeing his bedroom on a Racer X Films piece, he is now going to be called Broc "Hulk" Hepler. If you haven't seen the Hulk Hogan doll that he still has on his bed, go to Racer X Films and check out the archives. Broc's new teammate for 2007, Josh Hill, has been staying with Broc in Pennsylvania. The two have been riding together and will spend some more time together in the weeks leading up to Steel City.
That's it from Ping; he now has to get ready for the huge rush of orders that are coming as Racer X Brand holds the first annual David Pingree's Back to Homeschool Sale! Fubar's blowing out clothes and hats and lunchboxes for all the kids going back to school (home and away) Check it out.
Now back to "Hulk" Hepler: The Racing Paper's "Bad" Billy Ursic, who used to battle it out with Hepler at Steel City (in open practice, anyway, when he was on 80s and Hepler was on 60s) is hosting a Broc Hepler banner contest at Steel City.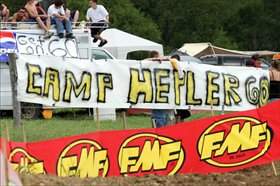 A banner like this could earn you two Pit Passes at Steel City
photo: Matt Ware
Here's how it works: Make up a cool
Broc Hepler
banner and hang it on the fence at
Steel City
in two weeks. After practice Sunday morning, the Makita Suzuki rider is going to take a quick lap around the racetrack and point out his five favorites. Whoever made those banners will get a pair of All-Day Pit Passes right on the spot! It won't cost you anything, and you can show one of
Steel City
's own that you appreciate what he's done as pro.
And speaking of Steel City, here's something I posted earlier on Mototalk concerning the cancellation of this weekend's local race:
"Steel City is a pretty popular track, and with the AMA Motocross National coming there in two weeks, we were expecting a lot of top regional kids this Sunday. However, we had such a mess at Loretta Lynn's ATV race last weekend with the rain and all that most of the Racer Productions equipment stayed in Tennessee too long to reclaim the whole ranch and racetrack. They sealed it up, and no one will ride on that track until the 2007 AMA Amateur Nationals there next August (and yes, expect some changes to the layout in general). So that's why my mom had to cancel Steel City -- no tractors to work the track!"

Steel City may not be racing, but Rod Yentzer has a big event this Sunday at Doublin Gap, and everything is a go-including Saturday practice. For more info, call 717-249-6036 or check out: www.doublingap.com.
Back to Millville's strange second 450F moto…
Dear Racer X:
I just read Andy Bowyer's Bench Racing Ammo, but he may not be quite correct. Yes, Roger said he lapped the field in that GP. But according to Keith McCarty, Bob Hannah did it, too. He didn't say whether it was SX, MX or even whether it was an AMA race, though. It's time for the resident MX historian to step in; it's your duty, like it or not. Please get the real scoop for us all. Thanks!
Amy Ritchie. RedBud MX
Dear Amy,
Thanks for the note. We have been working on that, and it appears that several people remember Hannah lapping the field at the sandy Keithsburg, IL, 125 National race in 1977, but it didn't happen there. If Hannah indeed lapped the field, it might have been at a Florida Winter-AMA race, but it does not appear it happened at a major race: an AMA National or Supercross. We will keep looking for you, I promise!
DC
So does anyone else remember someone lapping the entire field? As Mark Barnett told Andy Bowyer in the Bench Racing Ammo, he doesn't ever remember doing it, "But we can make something up if you want to!"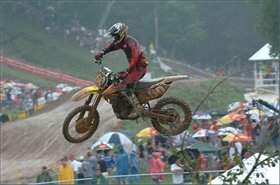 Hepler's win, followed by RC's, gave Makita Suzuki it's first sweep of the year

photo: Carl Stone

Bill Ursic started a new feature online this week with Sign of the (Lap) Times, where he lifts the lap times off the every-informative www.AMAMotocross.com site and does a little Andy Bowyer-like number crunching, only with the lap times. With last week's Millville mudder, the numbers were pretty crazy—even Broc Hepler was checking out the discrepancies, like how his best lap in the second moto was 31 seconds faster than his teammate Carmichael's! (Of course, it rained after a couple of 250F laps). Anyway, we asked our readers if they spotted anything else funny.
Stefan Liebert wrote, "What I noticed most is that besides RC and Stewart, who had the least fluctuation in their best lap times (RC was 36 sec., Stewart 37 sec. differences), the following riders stand out with a difference of around 50 seconds: DV, Brown and Ferry. All which are known to be great outdoor and mud riders. No real surprise here. Except for Brad Modjewski, also at 50 seconds and a little slower at 53 seconds was Chris Whitcraft. It seems that most of the other riders were about a full minute or more slower in the gooey stuff. Oh yeah, coming from New Mexico, where we almost never get to ride in mud, I am very impressed with New Mexico native Ryan Clark and his lap times!"
Lyle Schrock noticed this: "I see that Tim Ferry ran faster laps in both motos than David Vuillemin."
A reader named Travis wrote, "You should really find the lap times after it started raining for the 'lites' class. I want to see how much different the laps for Broc were cause when I first looked I about shit my pants because I saw he was only three-hundreths off his first moto, then I realized the first couple laps were dry. I was at that race and would really love to see how fast he was going because I think he is probably one of the most talented mud riders I have ever witnessed."

Travis, here are all 13 of Broc Hepler's lap times from the second moto, courtesy of the AMA:
| | |
| --- | --- |
| Lap # | Lap time |
| 2 | 2:32.838 |
| 3 | 2:33.972 |
| 4 | 2:39.170 |
| 5 | 2:45.679 |
| 6 | 2:50.797 |
| 7 | 2:56.520 |
| 8 | 3:00.816 |
| 9 | 3:03.871 |
| 10 | 3:09.637 |
| 11 | 3:14.335 |
| 12 | 3:27.381 |
| 13 | 3:31.442 |
Now, speaking of Broome, TFS is reporting that this looks like the last AMA Motocross National there, as he's heard the event may be moving to a new locale in Texas in 2007. I can't confirm that here, but over the weekend, there may be more developments on this topic.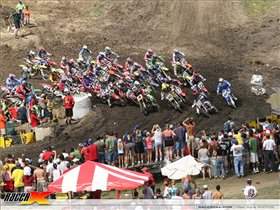 Is this it for Broome-Tioga? Stay tuned.
photo: Matt Ware
And it might be a mudder too, according to the local weather radar. When he spotted that on Mototalk, the ever-witty
David Vuillemin
wrote, "It sucks, we are all going to get lapped again... Lame!"
Vuillemin, by the way, got bad news just a few days after his solid runner-up ride in Millville. The MotoworldRacing.com Yamaha rider found out that he will not be on the French Motocross des Nations team in September. Instead, the Gauls are going with the Pourcel brothers and veteran MX3 rider Yves DeMaria.
Also, Team Australia is in flux: Chad Reed will not race again until the World Supercross rounds in Canada, and Michael Byrne pulled out with visa problems. With top riders like Sebastien Tortelli (France) and Ben Townley (New Zealand) hurt, it's shaping up again as Team USA vs. Belgium.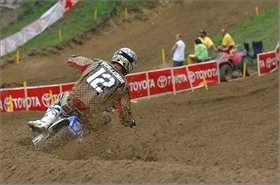 David Vuillemin had his best ride of 2006 at Millville
photo: Carl Stone
By the way, I just did a late interview with
Chad Reed
about the end of his season. He was in a great mood, though he's bummed he's missing the last three Toyota AMA Motocross Nationals.
Check it out
.
For a better indication of how good Josh Hill really is, keep an eye out for #375 this weekend at Broome. As for Ryan Dungey, hey, he was pretty impressive right out of the box!
Also, there was a rumor going around that Red Bull and KTM were parting ways…. Not happening. Kurt Nicoll told Ping that a new multi-year deal is in place.
This week saw some of the biggest moto companies in the industry converge in Boise, Idaho, for the annual Western Power Sports Convention. WPS CEO Craig Shoemaker and VP of Sales Terry Baisley put on a mini trade show, with a motocross track party and awards banquet as part of the festivities.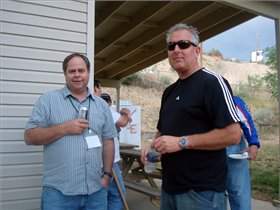 Former top California pro Eddie Cole of 661 and Minnesota's own Bob Rathkamp of Gaerne

photo: Scott Wallenberg

Racer X Publisher Scott Wallenberg was on hand to bring out the new October issue to everyone and to host his Old-School Moto Video Party, featuring Super 8 movies of the 1969-1980 American motocross era (and former Kawasaki and Bultaco factory rider Eddie Cole was actually in some of the footage!).

Some of the companies/people displaying new 2007 products were: FMF's Doug Muellner, Renthal's Dave Kaiser, Travis from N-Style, Eddie Cole from 661/Sunline, Ron Hinson at Hinson, Randy Richardson of Michelin, FLY, Trevor Kemp of Silkolene, Ronnie Lechien from Maxima, Doug Dubach from Dr. D/Dubach Racing, Vince Marazita of Pro-Grip, Brandon Baldwin of Motion Pro, Dave Wolman of Motul, Garry Gallagher of EBC Brakes, Cory Johnson of Braking, Tim Calhoun of Leo Vince Exhausts, Bob Lowery of Scott USA, and Smooth Industries' Mike Koger.
Finally, here's a note from Dal Smilie, chairman of the AMA Board of Directors, and a longtime friend of the late Jim Pomeroy…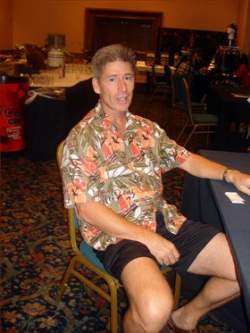 Craig Shoemaker is the CEO of WPS
photo: Scott Wallenberg
"I attended Jim's memorial service last Saturday. There were a bunch of his friends there, but who wasn't his friend? Brad Lackey was there and so many others who raced him, even when he was just a local rider from Yakima, Washington. There were tears and there were laughs, just like if Jimbo were there in person—which he was, really.
"Then a bunch of us went over the hill to race the AHRMA National at Chehalis, WA where Jim would have and should have been. The rider's meeting turned into a moving memorial for him. Several folks were raising funds for his daughters' college, including Brad Lackey. Even the "private" funeral service on Friday had a lot of folks—Jimbo just had so many friends.
"At the memorial one speaker handed out a stack of a photo-copied Racer X article about Jimbo by John Beasley. That went over well, please let Jonathan know.
"Another great story there was that Pomeroy's dad, Don, had a shop and long ago hired a guy named 'Bob.' They cops came looking for Bob because they thought he had broken into a jewelry store through the roof and a grocery store through a hole in the wall. Well, jewelry was found behind the Pomeroy's shops stove, and 'Bob' was really named Robert Craig Kneivel, better known as Evel.
"Finally, I guess the funeral home forgot to bring Jim to the funeral and at the last minute an SUV came up to the back door with a casket! Just like the great Jim Pomeroy to make one last grand entrance!"
Thanks, Dal, and farewell, Jim Pomeroy. Thanks for reading Racerhead. Enjoy your weekend, and don't forget to check out tomorrow night's Broome-Tioga preview on Racer X Films! See you at the races.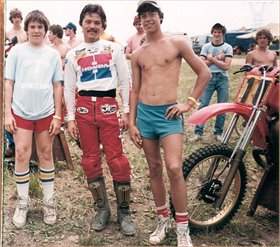 photo: Courtesy of Crytser