5 Minutes With ... Chad Reed
When word came out this week that Team Yamaha's Chad Reed's season was over, it marked the end of what's been an up and down campaign. As everyone knows, Chad will be running his own supercross-only team in 2007, with Nathan Ramsey as his teammate and Larry Brooks as manager. Many thought Reed might not be giving his all outdoors once the announcement was made, but his efforts the last few weeks have proven otherwise. He crashed while winning Washougal, and then he never gave up at Millville until he crashed in the whoops and dislocated his shoulder. He had some work done on it this week, and this afternoon, we tracked the 2004 AMA Supercross Champion down on his couch in California.
Racer X: First of all, sorry about the shoulder. What the heck happened?
Chad Reed: Well, in the second moto it was kind of muddy. I had had enough problems in the mud getting stuck and having small crashes. With two laps to go I was coming out of the Millville whoops and started getting sideways and just as it was getting ready to high-side me, I lost my grip on the bike and fell off the back. My gloves were kind of muddy and my pants and stuff. I caught my arm on the backside of the whoop and dislocated my shoulder. Then it popped back in. It kind of freaked me out because I wasn't expecting it!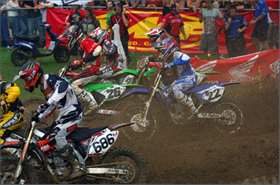 Chad had a bad day in Minnesota

photo: Steve Bruhn

At that point where you like "Oh, the hell with this"? Because that second moto—and I know you can ride the mud—was a bad moto for you.
[Laughs] It was gnarly. I knew I needed a good start to get up there. I didn't get a great start, but I was somewhere around the top five, maybe fifth to tenth. Just going into the second turn, somebody turned the lights out, and I had to pull a tear off, and then I could see where I was going again. There was so much water and mud on the track, I just got the lights turned out again. That's the best way to describe it, because I couldn't see anything—it was just a big old wave of brown, wet mud! I went from being kind of warm to being cold and covered in mud. So then I had my hand off the bars to get a tear-off off, and I crashed and went back to last.
After that I had to go into the pits and get the goggles off and stuff, and I came to a hill on the first lap, and there was a pile-up on one of the hills, and there were maybe 15 guys there! It's the mud, and anything can happen, so I just kind of soldiered on. I got stuck myself, and got stuck in one big old rut for two laps. It kind of sucked. It was pretty brutal! I was surprised with the track. It was probably the toughest mud race I had ever been in.
I got to see some of the photos, and there's a photo where James is stuck behind you, and you're just standing there looking at him. Did you guys say anything to each other?
It was funny because he couldn't really hear what I was saying, and I was like, "Hey, you want me to help you?" I was stuck—I had been there for like a lap! He was so mad, because he had a pretty good moto going with Ricky, and then he goes down. I said "Hey, James, you want to help me?" and he didn't answer, so I said, "Hey, I can help you!" It was kind of bad. I saw him flip the switch; he went from going down, and then he got mad and he ended up crashing three or four times in that one turn in a matter of minutes.
Isn't that the way it is in the mud though?
Oh yeah, once you crash, you get so much mud on your bike. You can be in a good flow and things can be kind of easy in the mud, and then when you crash, it gets really hard. I crashed in the second turn, and I was dripping wet with mud. It kind of sucked for me.
I watched Washougal again last night on TiVo. Did you go down on your same shoulder there, too?
It was my right.
That was a pretty hard crash. It looked like someone pulled the rug out from under you.
It was! I was riding well, apart from the crash. I was so bummed because I felt like I was in control, and I haven't had the feeling in outdoors ever. I felt comfortable with my riding, and I had the speed and I didn't feel like I was pushing it on the edge. I didn't feel like I was at the point where I could go down. And then I crashed, kind of the way you described it—like someone pulled the rug out from under me—and I kind of slapped my head down pretty good, and I actually hurt my thumb. I don't even know how I did that, I watched it on TiVo one thousand times and I don't know how I did that. It was kind of a bummer, because I don't really like that track that much but I felt like I was riding pretty good.
The second moto I felt I was riding pretty good, I went as far as I could until my hand kind of hurt, and I couldn't hold on. But at the beginning of the race, I felt like I had the pace and I was making good laps and good passes.
Chad, honestly, I expected you to phone it in this year—the outdoors—but full credit to you, because I've been watching the races and you have tried your ass off. And some of those crashes were not pedestrian crashes.
What are you going to do, you know? I don't have that part of me that gives up. You know, right after supercross I was kind of nervous about the injury I had after Daytona. But it turned out they advised against surgery. So I went into the outdoors without any testing. It helped that we have a new bike, and it's pretty solid. As the year went on we got the bugs worked out, and I was at the point where I maybe could have gotten a moto win, I get hurt.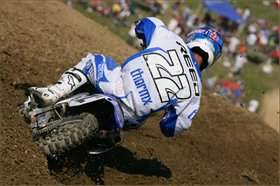 Reed has to sit out the 2006 MXdN

photo: Simon Cudby

So you're on the sidelines and out, and that means no MXdN for you, doesn't it?
It's pretty disappointing to miss the Motocross des Nations. The nationals are pretty cool, but I was really looking forward to that race, representing Australia and feeling like we had a strong team that could get on the podium. It would have been nice to race Stefan before he retires. So it's disappointing, but right now, I'll just heal up and get strong for December.
Well I wish you and Nathan and Larry good luck on getting ready for December.
I think it's going to be different, and a new motivation for me. Knowing you have to be strong from December to May, that's going to help quite a bit. I'm really looking forward to the new team.
Last question: You said you watched your crash and all; how is Ping doing on TV?
Yeah, I have been watching it every now and then, but I don't watch all of the races. I just think, Yeah, typical Ping! He has some funny things to say, things that are cool and funny, but then there are some things that I don't really agree with, but everybody has their opinion, and I think that's why he's Ping—he says what he thinks, and I respect that.
Well take care, Chad, say hi to Ellie and everyone for me, and we'll talk to you when you get back.
Thanks.