Bench Racing Ammo: Lapped Traffic
Do you remember the first time you got lapped during a race? I do. The first trip I took to Oklahoma City in search of more competition rewarded me with the humbling experience of being lapped by a kid with #67 on his Y-Zinger. At the time I thought I was a pretty fast dude, and I was actually riding my fastest ever at that particular race. Only problem was Robbie Reynard was riding in another zip code.

Being lapped is the most demoralizing thing that can happen to a racer. Or is it? Is the fact that you got lapped the result of you being slow, or is it that the guy that lapped you is from another planet? David Vuillemin and the rest of the 450F class at Millville would argue the latter.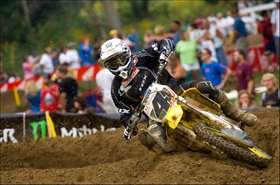 Just like his team manager did back in '72, Ricky Carmichael lapped the entire 450-class field at this past Sunday's Spring Creek National.
photo: John Hanson
As you probably know by now, on Sunday,
Ricky Carmichael
used the mud to his advantage and lapped every rider on the track during the second 30-minute-plus-two-lap moto at
Millville
. How in the hell did that happen? Simple, when you take a look at the numbers. Carmichael's fastest lap in moto 2 was an astonishing 3:03. David Vuillemin finished second in the muddy moto, and his fastest lap of the moto was a 3:26! If those numbers stayed the same, it would only take Ricky nine laps to put the entire field a lap down. Unfortunately for the field, Ricky made 12 laps. Should DV12 hang his head in shame? Heavens no. David has long been regarded as a mud specialist, and on that day he was better in the sloppy stuff than 99.9 percent of his competition. His efforts rewarded him and Team Motoworld Yamaha with the first podium finish of their 450cc-class existence. Job well done! It's been a rocky year for the charismatic Frenchman, and he is more than deserving of the trophy he won at
Millville
last Sunday. Although when he is old and retired and talking to his grandkids about that trophy, his podium finish, and how well he rode, he'll have to tell them, "As fast I was that day, Carmichael lapped me."
But was it the first time this has happened?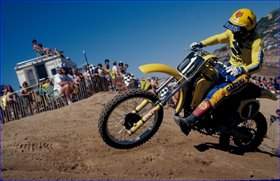 Mark Barnett doesn't remember ever lapping the entire field
photo: Dick Miller Archives
Back in the mid-1980s, Mark Barnett was rumored to have lapped second place when he stretched the throttle cable on his factory Suzuki RM125 on his way to three straight AMA 125 National MX Championships. We put in a call to The Bomber to get the scoop.
"Ricky actually told me on Monday that he thought me and him and [Roger] DeCoster were the only guys to do that, but I don't remember ever doing it," Barnett laughed. "I did come close a couple of times [in 125 Nationals in the early 1980s], but I don't think it ever happened.... But we could make something up if you want!"
As for The Man, Roger DeCoster did indeed use his mighty works Suzuki to lap second place way back when. "I did it in '72 at the Austrian 500cc Grand Prix at Sittendorf," he told Racer X today. "It was also a wet race—really wet. There was one huge uphill and I was the only one who could go up it consistently."
DeCoster almost did it again in 1975 at the super-muddy 500cc Grand Prix of Italy, which was held in Alessandria that year in the northwest part of the country. "I was way out front, leading all the way, and then at the very end my bike broke and [Heikki] Mikkola won. I was so bummed out. That was maybe the deepest mud I have ever seen."

RC has lapped into the top five at Daytona before, and James Stewart and he lapped third-place Nick Wey on their way to one of the most exciting supercross finishes of the year. But what The GOAT pulled off last weekend has apparently not been done in recorded AMA motocross history.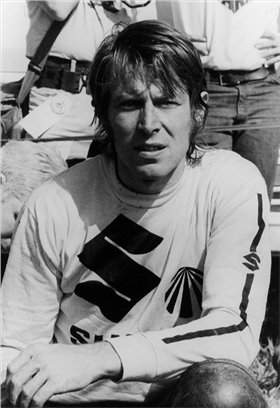 Roger Decoster lapped everyone at the 1972 Austrian Grand Prix at Sittendorf
photo: Dick Miller Archives
Carmichael continues to post incredible records as time winds down on his full-time career. He had this to say about the moto: "Yeah, I was chugging along and knew I had a good pace going, when I looked over at Goose and the pit board said, ' + ?' It usually says, + 3 or + 8 or something like that, but neither Goose nor I knew where we were. I knew I was a long way in the lead and thought I remembered passing all of the guys I could remember. Then I came up on ol' Millsaps and knew I had lapped into the top five or so, but I didn't know until after the race that I had lapped second. It was pretty bad out there. Not as bad as San Francisco, but pretty close."
So the next time you find yourself riding among the lapped traffic, don't get too down on yourself. If you're riding as fast as you can, that's about all you can ask of yourself. It's not your fault that the maniac who put you a lap down eats his breakfast on Mars.