Where Are They Now: Keith Bowen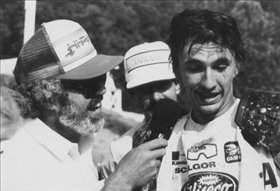 Larry Maiers interviews Keith Bowen after his win in the 250 A class at
photo: Davey Coombs
Michigan's Keith Bowen raced in the 1980s against the likes of Ron Lechien, Jeff Ward, and Rick Johnson, and his battles in supercross with elder statesman Bob "Hurricane" Hannah are the stuff of legend. Back in 1986, he pulled off two 125cc overalls at Southwick and the old Lakewood track—the only overalls he would score for the rest of his career. As the years went on, he moved up to the 250 class and had several podiums in SX and MX. After his deal with the factory Yamaha team expired, he went on to ride for Tuf Racing and then over to Europe for a couple of years. Today, Keith is happily married to his wife, Sara, and has three stepsons, Bo, Cole, and Hunter. We caught up with Keith this morning while he was packing for this weekend's race at Red Bud.
Racer X: How are things?
Keith Bowen: Things are good. I'm just getting ready for
Red Bud
.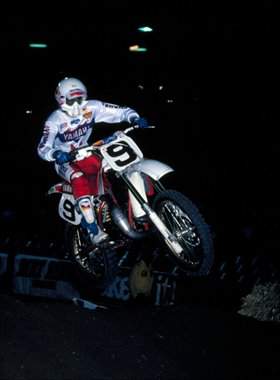 Bowen graduated from the amateur ranks to a Yamaha factory ride
photo: Kinney Jones

Let's take a moment and go back in time. What was the last year you rode for Team Yamaha?
In 1987. Then I rode for Tuf Racing for four years. After that I was really burned out and I decided to hang up my boots.
How many years did you take off before you decided to ride again?
I took four years off and pretty much did nothing. Then I came back and started riding for fun.
Didn't you race Loretta Lynn's in 1996?
Yeah, I won two titles that year for KTM in the Plus 25 and 30 classes.
What did you do after Loretta's?
I went to Europe in 1997 and 1998 and raced the GPs. I had a deal with KTM and finished 12th overall in the 500 class in '97. Then in '98, the team I was riding for fell through, and they put me on a 125 team. At the time, I was 31 years old, and that's no class to be riding in when you're that age! So I decided to come back to the States.

What was next in your life?
I was the director of arenacross. I really didn't like that because there was a lot of pressure and responsibilities, so I decided to wrench for a while for the Tuf Racing team. I wrenched for Rusty Holland, Pedro Gonzales, and Chad Johnson. Then in the summers I did my own schools.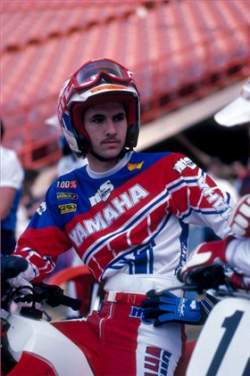 Check out the Magnum P.I. mustache on Bowen, shown here at Anaheim '86
photo: Kinney Jones

How did you end up working for Motoworld Racing?
Last year, they started an arenacross team and we had
Tommy Hofmaster
and
Justin Brayton
. At the first race we lost both of our riders to injury and they brought on Branden Jesseman. Then Branden worked out a deal with Paul Lindsey for SX and he wanted me to wrench for him.
I heard that Paul has one of your jerseys in his closet from when you won the Lakewood National in 1986.
He does! He told me that when I first started working for him.
Now you're wrenching for David Vuillemin. How's that going?
Things are going good. I heard a lot of things about David before he came to Motoworld, but I couldn't be happier. We're having a good time together.
I like watching DV in practice when he's "goon-riding."
It's funny because that's when I know the bike is working well and he's feeling good.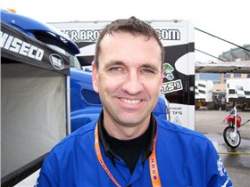 Today Keith works with MotoworldRacing.com Yamaha and David Vuillemin
photo: Mike Farber

Well, Keith, it was good talking to you this morning and I'll see you at Red Bud this weekend.
Thanks, Fubar.