If you've never been to a road racing MotoGP, you absolutely MUST try to go to Laguna Seca in July. I am a born-and-bred motocrosser who has always enjoyed going to AMA Superbike events like Daytona's Bike Week or the Barber races in Alabama, but it's never really knocked my my socks off.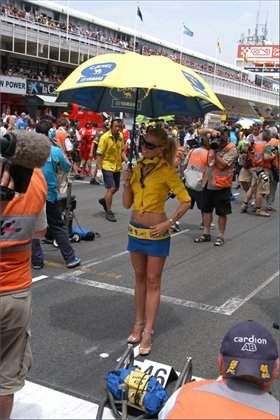 Welcome to Moto GP
photo: Don Emde
Well, after my trip last week to Barcelona, Spain, for the MotoGP of Catalunya, I am a full-on convert! While AMA motocross and Amp'd Mobile Supercross will always be the races I favor most, I consider myself a MotoGP fan as well. The sights and sounds and intrigue and pageantry of Grand Prix road racing is hard to even explain, so I won't even try here. But I highly recommend you get yourself to the Red Bull USGP on July 23. And if you already are into it, make sure you watch the Assen TT from Holland this weekend on Speed, as American
John Hopkins
won his first pole today and
Nicky Hayden
is the points leader—with
Valentino Rossi
falling off, he could become the first American to win the title since
Kenny Roberts Jr.
did in 2000…. Told you I was into this!
However, while I was over there, I kept my computer tuned to www.amamotocross.com to watch the laps reel off at Budds Creek, I watched Simon Cudby's practice preview at Racer X Films, and I listened to the Racer X Webcast, so I wasn't completely out of touch. But since I wasn't there, much of this week's Racerhead will come from NPG announcer Jason Weigandt, The Racing Paper's "Bad" Billy Ursic, and OLN's David Pingree. And I plan on watching tomorrow's OLN broadcast of the 450 class at Budds Creek, which begins at 5 p.m. EST. (The 250Fs will air Monday at 5 p.m. Monday.)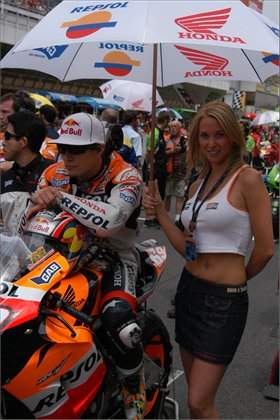 Nicky is aiming to become the first American to win the world title since 2000
photo: Don Emde
Okay, no more road racing. The best news of the week comes from Colorado, where
Ernesto Fonseca
has been making progress in his battle back from his crash in early March. His friend
Tony Gardea
posted an update on Ernesto's site.
Check it out
.
Also, full props to the SpeedFreaks, who will celebrate their sixth year this Sunday as the largest motorsports radio and TV show in the country by hosting a silent auction for Ernesto during a live broadcast on the Freak Radio Network (including Sirius channel 122 & live on the internet) from SpeedZone in the City of Industry, California, from 7 to 9 pm PST.
According to the press release, these are some of the people who sent along personal mementos and autographed items: Tony Stewart, Mario Andretti, Dale Earnhardt Jr., Nicky Hayden, Ricky Carmichael, Jeremy McGrath, Jimmie Johnson, Steve Kinser, Chad Reed, Thomas Scheckter, Kevin Harvick, Sebastian Bourdais, James Stewart, Kevin Windham…. There's too many to name.
But one guy also helping out is Clint Bowyer, driver of the Jack Daniel's #07 car. As we've mentioned here before, Clint started in motocross—he's the younger brother of MX Sports' Andy Bowyer. He's also out in California for a NASCAR race this weekend, and he ran into Eric Johnson at a press conference. Eric handed him the new Racer X, wished him luck, and headed for the top of the Golden Gate Bridge (more on that later).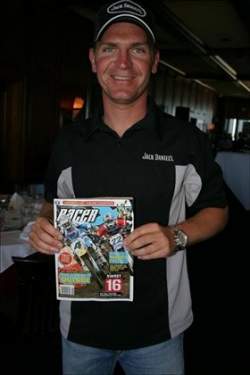 Clint Bowyer shows off his favorite moto magazine
photo: Eric Johnson

Simon Cudby has been hard at work with Racer X Films, and this week he posted two revealing interviews. The first is with sidelined Suzuki rider Ivan Tedesco; the second features the always-funny David Vuillemin of MotoworldRacing.com Yamaha. You don't want to miss either of them!
Now, let me turn this over to Weege.…
Well, we're out here at the Wisp resort in Deep Creek, Maryland, for the Parts Unlimited Wisp GNCC. We have a big golf tournament going on with 26 four-person teams battling for the coveted Golf Scramble trophy. We've even got a "Kings" team, with GNCC Champion Juha Salminen teamed with Honda road racing superstar Miguel DuHamel, with Jeff Russell and Ron Heben getting their backs. It's fun … but before I get back to the (horrible) performance of Team The Racing Paper on the links, here's some stuff I saw go down at Budds Creek last weekend.
Once again the 250F class featured most of the action, and this time the on-track battle was accompanied by an off-track jab from an unlikely source. Ryan Villopoto's dominant 1-1 win wasn't that shocking since the kid absolutely hauls. But it's the way he did it that really showed something.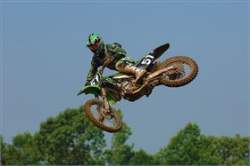 Ryan's first visit to Budds Creek was highly impressive
photo: Carl Stone
In the first moto,
Mike Alessi
and
Andrew Short
had the two best gate picks since they were the top two in points. They promptly tangled and crashed in the first turn. Most of the other contenders got jammed in there, too, so a group of riders who came out of the day qualifiers got out front:
Zach Osborne
,
Steve Boniface
and
Cole Siebler
, for example. Villopoto had to work his way up, and that's not easy on a track like Budd's Creek. And Hepler was in tow.
Broc couldn't match Villopoto's pace, but every time RV would get held up trying to pass someone, Broc would reel him back in. Finally, when Ryan got out front, he started to use all of his speed and pull away. The kid is good. But nice job by Hepler and Nathan Ramsey to take podium finishes.
It all broke loose in moto two. This time, Alessi had a bad gate pick by virtue of a 16th in moto one, but he pulled the holeshot anyway. He sprinted hard through the first few laps and pulled a solid lead while Villopoto battled Josh Grant and Short. But as soon as RV got to second, he started closing hard and fast on Alessi. Now everyone was watching. After years of playing second fiddle to #800 as an amateur, Villopoto had his chance to get the upper hand.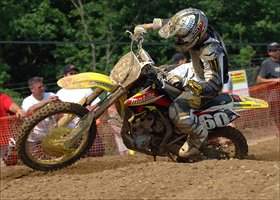 It was good to see Broc back in action
photo: Carl Stone
It didn't take long for him to close the gap. Alessi had a bad line in the turn after the mechanic's area. Interestingly, it was Grant's dad who noticed this and told
Tony Alessi
, who then relayed the message to
Paul DeLaurier
, Mike's mechanic. So Paul wrote on the pit board "Use middle in off-camber." Mike would never get the message.
Villopoto caught him two turns earlier. Mike slowed up a touch and looked back, just to make sure it was on. For Villopoto, such a move could easily be interpreted as "Now it's time to start riding a really wide bike." But Ryan wasn't about to deal with that—trying to pass Alessi on this track could take the whole moto. So he just went to the inside and put Mike on the ground!
Such a bold move wasn't expected of Villopoto, and neither were the bold words on the podium: "I saw Mike up there, and all of the troubles that he gave me and my dad during amateurs, you know, I just gave him a little love tap and he went down." Wow.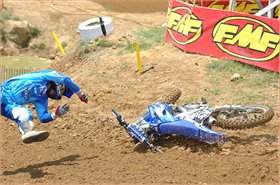 Matt Walker had a tough day in Maryland
photo: Carl Stone
Later, in the press conference, Villopoto toned it down a bit. "He went in through the middle of the turn, and he looked back to see where I was," Villopoto said. "I was on the outside, and I don't know if he saw me, but our lines came together. I think it really spooked him a lot. Then we came together and he fell."
Whatever happened in that corner, it certainly didn't sit well with the Alessi camp. I didn't see it, but supposedly, Paul struck Ryan in the head with his pit board! (DeLaurier was fined $500 for his actions.) Anyway, Villopoto made up 27 points on Alessi at Budds Creek, and now he has all kinds of confidence since he easily had everyone covered. Of course, in this class, it's not impossible to go 1-1 one weekend and throw out a 13-DNF the next. It's still anyone's race ...
… except Hepler's. There's no way Broc is catching up, but his second-place finish was pretty amazing. Broc told DMXS this week that his corners are still suffering since his foot still isn't 100 percent, but he didn't have very far to go at Budds to be winning the thing anyway! All of the fears of Broc's demise were wiped out in one afternoon.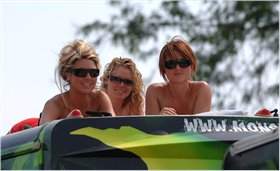 The Monster girls enjoy the Maryland sun
photo: Carl Stone
So get ready. This title chase may end up being Alessi vs. Villopoto just like the amateur days. Hey, at least it's the kids ruling the kids' class. Check out "Bad" Billy's
Bench Racing Ammo
for more on that.
A note from Racer X reader Ed Clark: "When Ryan Villopoto comes back to Washougal, all the local fans will be sporting new signs. 'Warning: This is area 51.' We all have been there and have watched him race from the time he was on little bikes."
Here's one note I want to pass along from the 450 class: It was really, really hot at Budd's Creek. Really hot. A lot of riders were really suffering out there, and the telltale sign of how badly a rider wants a moto to end is how quickly he takes his goggles off when it's all done. In this case, most riders were pulling their goggles off the instant they crossed the finish. But in the second 450 moto, both Carmichael and Reed were in no rush—they're both in that kind of shape. In fact, Reed crossed the finish, hung a left, rode to the podium, and started discussing his bike with his mechanic, Alan Olson, and team manager, Jim Perry. It was only then, in mid-conversation, that Chad actually pulled those Scott goggles off! It was 90-plus degrees out there!
Kevin Windham showed some strength, too. Kevin was down in turn one and had to work his way from way, way back, but he got to fifth. Earlier in the moto, Travis Preston was pressuring Nick Wey for fourth, but then Travis started looking kind of tired out there and Windham caught him. Well done by my announcing partner Rob Buydos, who noticed Windham was using a lot of different lines in his march to the front. Rob predicted Windham would pass Preston in the sweeper before the finish, and that's exactly what he did.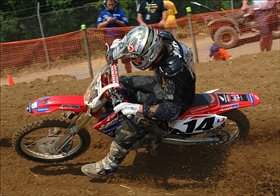 K-Dub earned his first podium of the series
photo: Carl Stone
("Rocket" Rob, by the way, was the only guy on earth that I heard predict
Ivan Tedesco
would win last year's 125 National Title. Yes, Rob predicted this at the Vegas Supercross last year. Who else was thinking of that? Was Ivan, even?)
In moto two, Kevin wasn't as far back off the start, and he might have been able to catch Davi Millsaps for third, but Davi crashed out before Kevin got there. The Duke should be okay.
Kevin says he's been struggling with his first shift off the start lately, so he's been back-of-the-pack in every race. He also says it's really, really hard to get on the pace of Ricky and Reed when you miss a few months of racing. But it looks like Kevin still has the desire, and that's the most important thing.
This weekend is the Parts Unlimited Wisp GNCC in Deep Creek, Maryland. It's a unique event with the ski resort opening up to the off-roaders, so if you're in the area it might be worth a look. John Dowd is going to race it, which is pretty cool. (Check out our 5 Minutes with him from earlier this week.) John has no idea what to expect!
Juha Salminen, Barry Hawk and Charlie Mullins will be there, too, and those three have really been putting on a show over the last month or so in this series. Wisp marked the rare "bad race" for Juha last year. Since he's going back to Europe for 2007, this is his only chance to make up for that. Anyway, read more about this in our Wisp GNCC preview from yesterday.
Okay, I gotta go—we're golfing right now at the fourth annual GNCC Golf Scramble here at the Wisp. They have 18 beautiful holes of golf out here. No word on who is winning—but I know my team, with Mike "Fubar" Farber, Tim Boryk and Matt Ware is not.
Let's hand this straight to Ping, who is on his way to Canada to race in the Calgary National north of the border. (And if you missed Ask Ping, this one's another good one!)
There are quite a few riders that are currently injured or recovering from injury. The two most recent additions to the injured reserve list are Grant Langston and Billy Laninovich. I realize that Langston has been injured since Las Vegas but the gritty South African decided that enough was enough after struggling through the first four rounds and aggravating it in a Budds Creek crash. The very same crash may have taken Factory Connection Honda rider Billy Laninovich out for the rest of the season. Billy has been staying at Langston's house in Florida, and while it was difficult to hear over the phone with the two of them bickering like an old married couple, here's what I think happened:
Billy had been running up front the entire moto and stalled his bike with just a few laps to go. Langston gated poorly and was working his way toward the front. As Billy got his bike going again, just before the mechanics' area, Langston was coming up behind him. As they went into the infamous Budds Creek off-camber corner, Langston dove to the inside and tried to make a pass. Billy, meanwhile, was powering through the main rut at the bottom of the turn and the two riders met at the exit of the turn and went down. Each rider's version of the incident is different.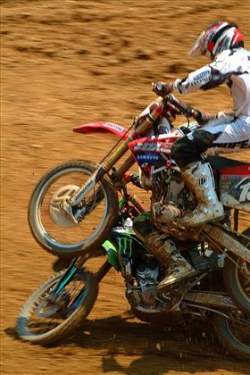 The controversial crash involving friends Langston and Laninovich
photo: Butch Lassiter
Says Langston of the crash (laughing the entire time, I might add), "Well, this guy thought it would be a good idea to jump on top of my shoulder coming out of the rut. I told him he owes me about a half a million dollars, because he just cost me the title! He's going to make payments to me over the next 56 years!"
Billy's version went like this: "Well, obviously, GL can't stand to see me ahead of him, and he closed his eyes and rode straight into me. He just ended both of our seasons, so I hope it was worth it for him!"
While they joked about the incident, the injuries they sustained are not funny. Grant will sit out until his wrist is 100 percent and he feels like he can win races again. Laninovich heard a pop in his knee (which is never good), and he is scheduled for an MRI on Friday. The results of that test will determine how long he sits out.
In Southern California, the tracks have been busy with riders trying to return to the races after being injured. Ben Townley has been testing with Pro Circuit all week. We got into a little spat over who started running the #101 first. Clearly, I have been running it longer than he has. First Carmichael borrowed it for the des Nations (which was totally fine with me), but this digit-poaching for an entire season just has to stop. Ben is planning on returning to action at Red Bud in two weeks, and he says he's ready.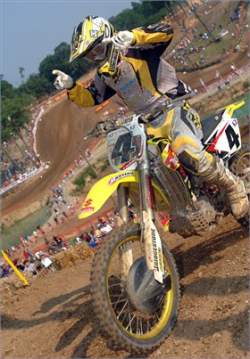 Ricky "borrowed" Ping's #101, but he's done pretty well since with #4
photo: Carl Stone
"I was a little tentative to stick my leg out when I first started riding," Townley says. "The doctors told me to start riding so that my leg would adapt to the strains and motions of racing, but they told me I had to go slow and never take my foot off the peg. That was at around the three-month mark. It's been five months exactly since the surgery, and since they released me to ride I haven't even thought about it. It's ready to go."
Ben is also enjoying life in Tallahassee, saying, "It's a lot like home for me down there. In New Zealand the pace of life is a lot slower and everyone is just mellow. Tallahassee is a lot like that. There are some wild places if you want to find them. There's a place not too far for us called Destin that is totally wild. People flock to this place and tie up together with their boats around a sand bar off the coast. It's wild down there. Lots of college girls."
Destin is the place where Ricky Carmichael owns a condo, and it sounds like an exact replica of Lake Havasu, though for some reason, I just can't picture RC shirtless on top of his boat with his wife and 20 of her closest friends doing beer bongs and dancing to the latest 50 Cent club hit. Maybe next summer.
Michael Byrne has also been tearing up the local tracks prepping for his comeback. Originally, Kawasaki said that he would return at Unadilla, but now the word is that he will come back at Red Bud.
Another rider scheduled to return to racing after an injury is Ryan Morais. The WBR Suzuki rider put in a solid fifth-place ride at the Las Vegas East-West Shootout and then promptly injured himself. Ryan will be at Red Bud.
Another rider who has been hanging around SoCal lately is Minnesota's Ryan Dungey. The young Suzuki support rider has been hand-picked by Roger DeCoster to join the factory squad in 2007. Dungey will ride at Loretta's this year and then head straight to Millville, where he will probably do very well, considering it is his home track. His lap times were fast at the local California tracks, and I think this kid will do great things.
The AMA Supermoto Series stopped in Salt Lake City last weekend in conjunction with the AMA Superbike series at the new Miller Motorsports Park. The facility is amazing and the owner has big plans for the place. Although he's already dumped close to $86 million into the place, Miller plans to continue to improve the courses and facilities. He plans on eventually having F1 races, MotoGP races, and just about every other discipline of car and bike racing there in the near future. The Supermoto race included a couple surprise entries in Travis Pastrana and Carey Hart. Travis looked good on and off the track, finishing well and wearing a custom argyle racing suit. It was … different. I'm sure you'll see plenty of pictures of it. Motocross heroes Doug Henry and Jeff Ward split wins as the two of them continue their battle for the 450 championship. I finished a season-best third place in the Lites class and felt pretty good about it, since I haven't practiced in over two months.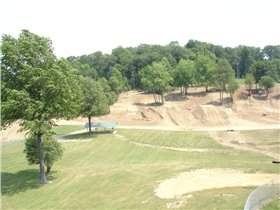 The Ritchie crew at Red Bud has been busy getting ready for another American motocross classic
photo courtesy of Tim Ritchie
Looking ahead to
Red Bud
next weekend, here is a small preview of the track changes that are taking place for the Monster Energy/Kawasaki Nationals, presented by Concept Haulers at –please read that part in your best announcer voice - RedddBuuddddd!
According to Tim Ritchie, the track has been changed from the bottom of the ski jump to the start of the Monza wall. The track itself has been moved up on the hillside a little more and condensed a little. There is no fence up yet and no track markers, so the pictures might be a little hard to follow. Regardless, it's apparent that Red Bud, like Hangtown, High Point, Southwick, and Budds Creek, is another national track stepping it up.
This from Bad Billy Ursic:
Let's give some props to Florida's Shaun Skinner, who only days prior to Budds Creek switched from a Suzuki RM-Z450 to a Honda CRF450R and scored the best moto finish of his career thus far in Toyota AMA Motocross when he finished 10th in the first moto at Budds Creek.
"I got a brand new Honda and hauled it up there in a crate, put a pipe on it and raced it," Shaun told us yesterday in the Privateer Profile. "Now we're just trying to get some other stuff dialed in within these two weeks and it should get better from here on out." If Shaun scored a 10th on only the fourth day he's been on the bike, he should really do well at Red Bud. And let's not forget to mention that it was only his fifth pro national!
And congratulations to SoCal Yamaha's Jacob Marsack, who earned the Southern Maryland Dirt Riders Privateer Award at Budds Creek for his 22nd-place finish. Marsack is rapidly improving and will be a rider to watch in the future.
Here's a note from none other than TFS, who happened to be in Pittsburgh as he lingers between buds … er, Budds Creek and Red Bud:
"Yesterday I go to UPMC Center for Sports Medicine to see a nutritionalist. To make a long story short, I am getting a quick look around the rehab center, and I mention Branden Jesseman and Broc Hepler. Turns out these two are heroes at UPMC! We chat about MX and I mention I crashed my KLX Tuesday, and before you know it, I am on a table in the rehab room getting tugged, twisted, and tortured by really smart people. I leave with an overhead shoulder pulley and good advice. Great place!"
Added TFS of his crash, which occurred over where the start used to be at Budds Creek, "I was RC for a moment, now I'm Deegan for two weeks!"
And speaking of crashes, we ran a spectacular photo of a crash involving an unknown #14 in this week's
Shift MX Number Cruncher
by
Andy Bowyer
. A few people wrote it to ask if it was maybe
Guy Cooper
, but then we got this note from none other than
Jimmy Button
:
"On the #14 Number Cruncher, the guy that is crashing huge at the Bercy SX on the Honda wearing Taichi is Takauki Miyauchi. I think that's how you spell it. He was a Honda guy that used to come over to the States sometimes. I met him while doing the Pan Pacific SX Championship (remember that?) the year before this was taken. That was an epic crash!"
Then Andy got this note:
I did a lot of freelancing in Europe in the early '80s. I really enjoy your Number Cruncher and the nostalgia that it inspires. Marty Tripes has been mentioned several times lately. You mentioned his having been associated with several motorcycle brands. Marty showed up in Italy (500cc MXGP) in 1981 riding a Husky with Showa forks. Marty was WAY overweight and very difficult to get along with (for the Husky folks). Marty totally wasted the rear wheel in the first moto. The mechanic was steaming. He kept saying (in English) 'Eight-six Kilos!' Just a bit more trivia on WHY Marty had so many different rides.
Warren Price. Texas Motocross Fan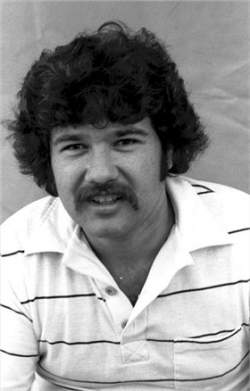 The well-traveled Marty Tripes
And since Ping's up north,
Racer X Canada
's
Brett Dailey
checked in with some info from above:
This weekend is round four of the Canadian National Motocross Championships in Calgary, Alberta. Five-time champion Jean-Sebastien Roy and his Honda Canada teammate Dusty Klatt have quite a battle going this year. JSR swept the first round in Quebec and Klatt fought back and swept the next two rounds. Klatt now has a 10-point lead, but JSR swept Calgary last year, so he will be tough to beat this weekend. Keep in mind that JSR pulled out of Southwick with a sore shoulder, so Klatt could have some trouble on his hands in the next round or two.
Last weekend was also the MX2 West opener and Jimmy Nelson holeshot and won both motos. It wasn't easy, however, as Richmond Kawasaki's Teddy Maier passed him in both motos and looked like he could take the win. Nelson held tough and hunted Maier down and made late-race passes for the lead. It was quite a show for the spectators. Unfortunately, Maier's bike quit on the last lap of the second moto, so he now has quite a points gap to make up. A relatively unknown privateer, Gray Davenport from Utah, came in and snuck into second overall thanks to Maier's DNF. KTM Canada's Eric Nye was third overall.
However, the big news this weekend is the celebrity appearance of Racer X Illustrated's David Pingree. He will race the MX1 class for Morgan Racing Yamaha. Pingree raced the Deschambault National and the Montreal SX in 2004, but he is looking forward to an event that is closer to California so he won't have to arrive in Quebec at 2:00 a.m. and try to find a hotel with broken French (or is that broken English, in Ping's case?).
Want to check out 5 Minutes with ... Jimmy Nelson?
How about a Nanaimo Race Report?
Or maybe 5 Minutes with ... David Pingree?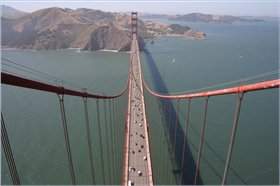 The view from Canada or Frisco?
photo: Eric Johnson
Earlier I mentioned
Eric Johnson
heading to the top of the Golden Gate Bridge. Well, check out the photo he snapped! He was up there with SoBe/No Fear NASCAR driver
Boris Said
. Man, that's high.
Finally, here is a pic of Davi Millsaps and K-Dub's mechanic Alex Ewing. You may or may not know, but they had a bet: Alex bet Davi he would not podium this year on the 450. If he did, he would have his head shaved; if he didn't, he owed Alex some cash.
Of course Alex lost, and they shaved his head right there in the pits Saturday at Budds Creek. Well done, Alex!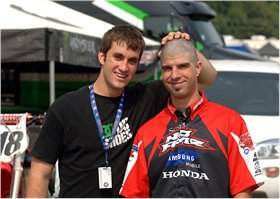 Alex paid up after Davi podiumed
photo: Carl Stone
Well, thanks for reading Racerhead-by-committee. Enjoy the off-weekend, and we'll see you at Red Bud.
And come on, England!