Hello, race fans! Welcome to the Number Cruncher, brought to you by Shift MX. Coming at you this week is a number that we believe you will find very interesting: #14. Now, what is the first name that pops into your head when you think of that? Kevin Windham, right? Now try to think of another. Not so easy, huh?

We dug deep into the archives this week and discovered that some great names have raced and won with the #14—it is actually one of the most diverse motocross numbers. By diverse, I mean a couple of things: On one hand, some of these cats were diverse in their riding abilities, while most of these guys wore #14 on several different brands. Oddly enough, while the number is packed with talent, it has been ridden to very few titles—none in AMA motocross or supercross that we can think of!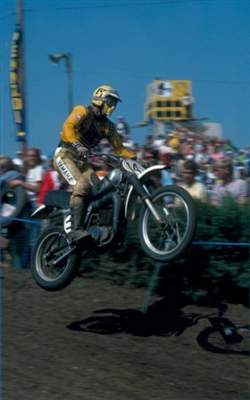 Jimmy Weinert
photo: Dick Miller Archives
Let's start with a rare picture of Jimmy Weinert wearing the #14 while racing his Yamaha at the 1976 Carlsbad 500cc USGP. "The Jammer" is more famous for his Kawasaki days and his kooky tendencies of trying to psyche the competition out. For instance, in one race at the sandy Oakland Coliseum, Weinert raced with a neck brace made of a Nerf ball and duct tape and put a paddle tire on his KX250! Nothing too weird about this picture here, but take note of those Scott goggles with the sawed-off face mask. Those things are definitely pre-Bevo!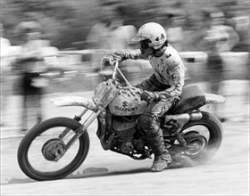 photo: Dick Miller Archives
Here's one from the year before, albeit an outdoor national. Team Suzuki's Billy Grossi took the 500cc National Championship down to the final race—along with three other cats in Weinert, Maico-mounted Steve Stackable, and the Flying Dutchman, Pierre Karsmakers. Grossi didn't win the title, but he and brother Bob remain the only brothers ever to each win an AMA Motocross National.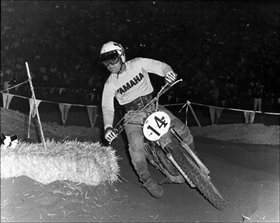 Marty Tripes
photo: Dick Miller Archives
Wow, this is the earliest #14 we could find: Marty Tripes on his way to the 1972 Superbowl of Motocross win. As we reported a few weeks back on Eric Johnson's Great Races, Tripes was barely 16 when he won the first U.S. supercross.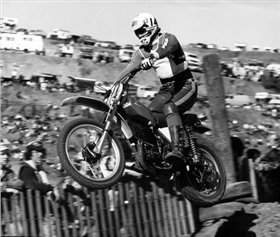 Marty Tripes in '73

photo: Dick Miller Archives
And then one year later, Tripes did it again, still wearing #14 but now on a Honda! This photo came from an outdoor race that '73 season—Scott Wallenberg is guessing it's Saddelback—but we do know that this was Tripes' first go-round with Honda. He would return to the brand in 1978 and '79, then switch to Yamaha.… This after also racing CZ, Bultaco, Husqvarna, Can-Am …Tripes got around!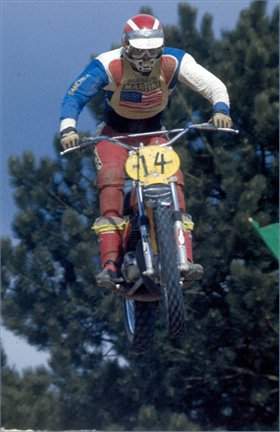 Jim Pomeroy
photo: Dick Miller Archives
Jim Pomeroy is wearing #14 in this photo, also from 1973, but it's not in America: '73 was the year that "Bimbo" decamped from America for the 250cc Grand Prix circuit, and in one of the all-time upsets in motocross history, he won the first round of the series—and became the first American to ever beat the Europeans at their own game—in Sabadel, Spain, on the outskirts of Barcelona (and DC was just there this weekend). On the GP circuit back then, riders changed numbers every week, so you might find pics of Pomeroy with lots of other digits numbers. That's just the way it was back then.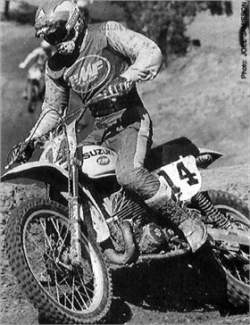 Steve Wise
photo: Dick Miller Archives
Steve Wise is one of the most diverse riders in the history of the sport. Not only was he a supercross and outdoor national winner, but he also excelled at the old Superbikers race on ABC (what is now called Supermoto) and dirt track and road racing, as well. After his professional career, Steve traveled the country doing motocross schools.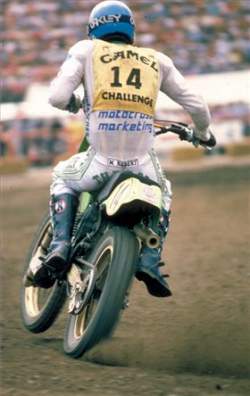 David Thorpe
photo: Dick Miller Archives
"King" David Thorpe was one of the greatest open-bike riders of all time. While he may be most famous (to American fans) for getting beaten by 125cc-mounted Johnny O'Mara at the 1986 Motocross des Nations, most Yanks forget that he waxed everyone (including David Bailey and Jeff Ward on a 500 and 250, respectively) at the previous year's MXdN. This photo, by the way, comes from Namur, Belgium, while Thorpey was still on Kawis. He did most of his damage aboard a Honda HRC works bikes.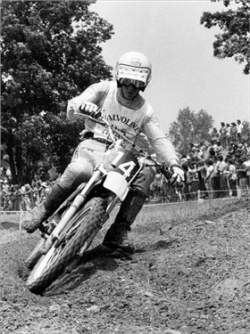 Broc Glover
photo: Dick Miller Archives
Broc Glover spent most of his days racing with a single digit, but in his early 125cc days he wore #14 at the '78 Mid-Ohio 125cc USGP, which he won on his works Yamaha. Broc was called the "Golden Boy" for good reason: His six AMA motocross titles are second to only one man, and that guy's still out there racing.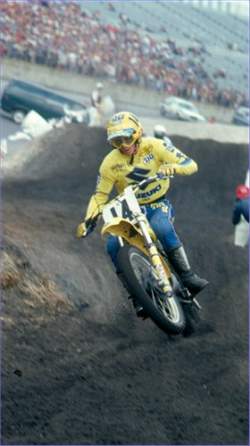 Darrel Shultz
photo: Dick Miller Archives
Check out Team Suzuki's Darrel Shultz on his way to the 1979 Daytona Supercross win. Shultz was one tough mother, and he seemed well on his way to the '81 title with three wins in the first five races, but his knee injuries became too much to even race, so he parked it for a while. He came back the next year, won Daytona again (on a Honda this time), and wrapped up the 1982 500cc National MX title. After that, his knees were shot.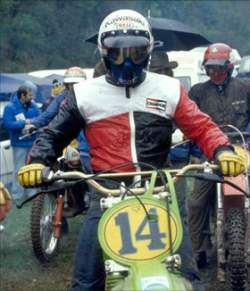 Brad Lackey
photo: Dick Miller Archives
If you've ever wondered where the "Bad" in "Bad" Brad Lackey came from, you need only glance at this picture. Check out that Champion Sparkplugs jacket! Brad's another guy who rode for lots of teams—CZ, Kawasaki, Husqvarna, Honda, Suzuki—and wore lots of GP numbers. He was also the first American to win a world motocross championship.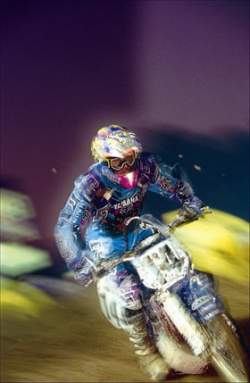 John Dowd
photo: Courtesy of

Moto Verte
John "Junkyard Dog" Dowd was 31 years young when he took the #14 to victory in the 250 National at
Southwick
in 1997. MX 338, as it is called, is a track that John began riding in the 500cc Novice class. I could still hear the echoes from that amazing day when I saw him race there two weeks ago, where he made the top 10 again at the tender age of 40.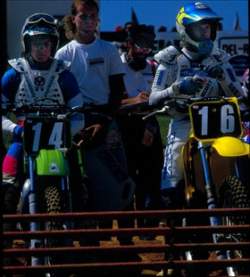 Larry Brooks
photo: Dick Miller Archives
Who would have ever thought that the madman who wielded the controls of some of the fastest (and wildest) 125 laps turned in during the mid- to late 1980s would end up being such an organized, witty, and influential team manager? Larry Brooks, shown here wearing the #14 in 1988 alongside the late Donny Schmit, was renowned for his big speed and even bigger crashes. Surely you folks remember that footage of him wearing the #14 on a Kawasaki where he endos at the Dallas SX? While Larry left an impressive mark in motocross with his racing, he left an even bigger one with the managerial skills he displayed during his tenure at Team Red Bull KTM. He's getting ready to do likewise with
Chad Reed
's new racing team.
By the way, Brooks isn't the only team manager to wear #14. Mike Fisher, now the Kawasaki boss, ran the number back in the early 1990s when he was a top-five supercrosser himself—on a white KTM!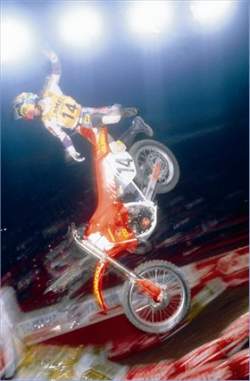 photo: Courtesy of Xavier Auduoard
We aren't sure who this poor guy is, but wow – this has to be one of the biggest crashes #14 has ever endured! Compliments of Xavier Auduoard and his
Grand History of Supercross
book.
Kevin Windham
has raced a pro event on each of the big four Japanese brands. At one point, he was a member of one of the most incredible teams factory Honda ever put together. The powerhouse team, which began in 1999, consisted of Sebastien Tortelli, Ezra Lusk, Michael Pichon, and Windham. Basically, these were the best guys money could buy, and Honda desperately wanted win back the titles they had not claimed since they lost Jeremy McGrath to his own Chaparral Yamaha team. Amazingly, no titles were produced, as Jeremy and
Ricky Carmichael
won the premier divisions in 2000. By 2001, Sebastien was the only one of those guys left at Team Honda, as had Windham moved on to Suzuki
This is when it all started going wrong for
Kevin Windham
. In a strange case not seen since the days of "What's Eating Jeff Emig?" or even Damon Bradshaw's walkaway in 1993, the "Ragin' Cajun" just couldn't get it done on his Suzuki. Time and again, Kevin might even pull a holeshot and open up a lead, but then just to fade deep into the pack. It all came to a head at the Atlanta SX when K-Dub was riding with confidence maybe for the first time all season. He was jumping a mammoth quadruple jump that only RC was also attempting, but near the end of practice he clipped the fourth jump and crashed hard enough to break his femur. It would be two full seasons until we would see the return of Windham.
But since his return, he's the old
Kevin Windham
again—fast, smiling, and full of grace on a motorcycle. He hasn't won a championship, but then again, not a lot of guys have in this era. It's just great to see #14 still out there.
Okay, that's it for #14. Surely we missed some folks, but like I said, it's a very diverse number.