5 minutes with ... John Dowd
After concluding his farewell tour from full-time racing last year, 40-something motocross hero John Dowd has been finding ways to keep having fun on a motorcycle. He finished an amazing sixth overall in the 450 class at the familiar terrain of Southwick two weeks ago. This weekend, it's on to something completely different. Dowd is going GNCC Racing, competing in this Sunday's Parts Unlimited Wisp GNCC in Deep Creek, Maryland. What's up with that? We called to find out!


Racer X: So John, you're racing a GNCC this weekend?
John Dowd: I guess so! I'm not even sure how I got myself into this. Seriously, though, I think I'll enjoy it. I've always enjoyed riding on trails and stuff, the little bit I've done with my buddies. I've never raced off-road though, not even a local one. No poker runs or NETRA races of anything. So I have no idea what to expect.

So where did the idea come from?
Well, it seems like I've been hearing it a lot lately. I don't know, maybe because I'm kind of retired, it's not uncommon to see guys try different things like this. I've heard it from a few people, like Cole at Suzuki, my old mechanic Brian Berry, and my new mechanic Ron. It seems like everyone is interested to see if this is something I would like.

Yeah you assume a guy like you, from the northeast, would have ridden something like this before. But you've always been a motocross guy.
I know. It's really kind of weird that I've been riding for this long but I've never done anything like this. So I don't know what to do. I guess you race around in the woods, and I've heard you have to do pit stops and stuff. I guess I better figure this stuff out!

Are you getting any advice?
Well, Rodney Smith is hurt right now, but he's going to be there to help. The Suzuki GNCC team is going to help me pit and stuff. And that will help a lot here, because I need all the advice I can get!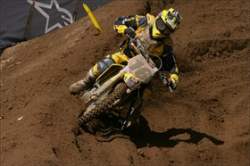 John finished a solid sixth-overall at Southwick two weeks ago.

Photo: Simon Cudby

Well, you did well at the Maxxis EnduroCross last year.
I know! I just tried to get over the stuff as quickly as I could, and it worked out. So, maybe it will work out here on the woods. Who knows?

You did well at Southwick, so you must be in pretty good shape. Where is your fitness and riding right now?
Well, I'm in pretty good shape, but I'm not in as good of shape as I was last year. I had my knee worked on over the winter, and I'm having trouble breaking through to that next level of fitness. The one knee that I had worked on is still coming around, and the other one is pretty shot anyway. My knees get sore when I ride for a long time, so I'm having trouble getting that last bit of fitness. But, I guess I'm just not 20 anymore. But it's all right. Southwick is an exception for me. I can come in there a little out of shape and get away with it there.

So do you have any goals at all? Just to have a fun weekend?
I'm trying not to have any expectations on where I'm going to finish. Hopefully I will at least finish! Three hours is a long time. That's just baffling me, riding that long. I'd like to maybe tag along with some of the faster guys and see how they do it. That would be great if I could manage to do that. If not, I'd like to learn a little bit about it and just finish. I'd like to do the one at Unadilla, too, later in the year, so to be honest, this is just a way to learn for that one.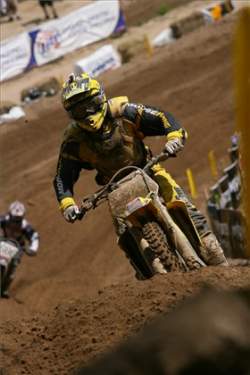 How quickly can a Junkyard Dog learn new tricks? We'll find out on Sunday!

Photo: Simon Cudby

Do you know you've picked one of the toughest races to learn this!
I wouldn't be surprised! I always manage to do stuff kind of backwards like that. Doug Henry went out and did that one in Florida, and he won the darned thing, so that puts a lot of undue pressure on me. I really don't expect to win or anything. If I raced the one in the sand, like Doug, that would have probably been the way for me to get started.

Do you have bark busters?
Yeah! I rode with them yesterday. I've ridden with them once before, at a Parts Unlimited ride for Moose. It's actually kind of cool, you can really bounce off of trees and stuff. Being a motocrosser, you're used to having to miss everything with your bars. Here, you can glance off of the trees.

Well, sounds like you have a lot to learn, but we'll give you three hours to do it.
Yeah, I have to learn a lot. Also, I'm riding a 250. I've been riding a 450. So I rode the 250 yesterday, and I'll ride it again today.

Sounds like you're ready!
Yeah! Two days. That should be good.

Hey so the people from the EnduroCross have sponsored you for the weekend?
Yeah, I was kind of excited about that part. They're good guys. So, hopefully I can get in a decent finish, learn something, and then go to Unadilla in September and do even better. I'm psyched about the Endurocross, as well, this year, so that's really cool.

Hey even if the race doesn't go well, this isn't a bad place to spend a weekend.
Yeah that's what I've heard. I guess it's a nice ski resort.

Exactly. Well John, we'll see you up there. Good luck this weekend.
Yeah thanks. I'm going to need it!

For full info on the Wisp GNCC, check out www.gnccracing.com