It's on. That's the best way to describe the Suzuki Grand National Cross Country Series heading into the Deep Creek resort area this weekend for the Parts Unlimited Wisp GNCC. A fierce battle brews between Finland's defending GNCC Champion Juha Salminen, two-time Wisp winner Barry Hawk, and rookie-of-the-year Charlie Mullins, and the rugged Wisp track will only make things tougher.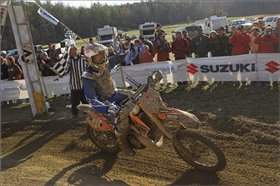 The Wisp is the only demerit on Juha Salminen's GNCC resume. Can he win it on Sunday?

After winning the first four rounds of the series with seeming ease, Salminen has faced big challenges from Hawk and Mullins in the last four events. Hawk handed him his first loss of the season in Ohio, but Salminen returned the favor two weeks ago in Kentucky in one of the best GNCC battles in years. Just three seconds separated Salminen, Mullins and Hawk at the finish after three hours of racing.
The Wisp complicates matters. The infamous "race on the ski slopes" packs bigger boulders than any other round of the series. Last year Salminen found himself on the ground so often that he put in the worst finish in his GNCC career: seventh. Meanwhile, Hawk romped to what he called, "the biggest win of my career."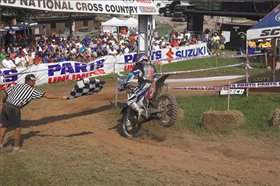 Hawk won at the Wisp last year.
"It feels so good, it's like I just won my first race," said eight-time GNCC Champion Hawk after his winning the last year. "On the last lap, I started thinking 'I really am going to win this race.' I started getting chills!"
A strong crowd of supporters will cheer for Hawk, who lives 45 minutes from the Wisp in Smithfield, PA. He is no doubt comfortable on the rocks. But the question is: does the rugged course pose a real challenge to Salminen? Or did he just have an off day last year?
"It was so tough, there were many big stones," said Juha last year. "I would crash, and then when I would get up and start riding it was like I was just waiting for the next crash!" But later, it was discovered that suspension problems had hindered his progress.
The pack will find out Sunday if the Wisp favors Salminen or not. Meanwhile, Mullins should be comfortable in the conditions. Last year he finished sixth overall while starting in the second row in his last race as an amateur. Now the 20-year-old races pro, and he came within a few feet of his first win in Kentucky. "The win will come," said Mullins, practicing patience.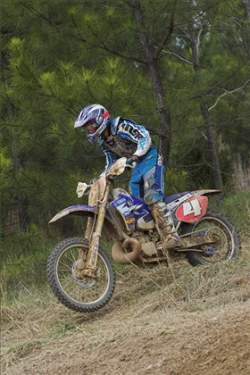 Charlie "Hot Rod" Mullins is getting close.

Throwing another wrench into the works is the GNCC debut of AMA Motocross and Supercross legend
John Dowd
. Fresh off of a sixth-place finish at the
Southwick
round of the AMA/Toyota Motocross Championship, and a runner-up finish at least year's Maxxis Endurocross, the semi-retired Dowd is looking forward to his GNCC debut.
"I have no idea what to expect!" says Dowd. "People have been telling me to try one, and I know this one is one of the toughest, but I always seem to do things backwards like that. Hopefully I can learn something. I know you have to race for three hours, and that's just baffling to me!"
There are other contenders. Dowd will pit with FMF Suzuki's Glenn Kearney. The Aussie ran second in the GNCC standings early in the season, but mud in the last few races has slowed him down. The well-conditioned rider should be better off at the Wisp. Monster Energy/Pro Circuit/Kawasaki veteran Fred Andrews is always tough on rocks, too. And New Zealand's Paul Whibley is coming off of a career-best fourth overall in Kentucky.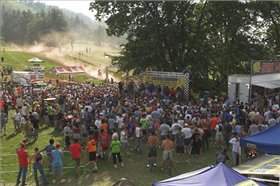 A big crowd gathered at the Wisp last year.

The Wisp GNCC also features a full schedule of ATV racing on Saturday. Yamaha's Bill Ballance wants to collect his record-tying seventh GNCC ATV title, but the Kentucky rider is locked in a battle with Sunbury, PA's Chris Borich. Borich has good and bad memories of the Wisp. He broke his arm there in a crash in 2002, returned to win the race in 2004, and then crashed and broke his collarbone there last year—an injury that knocked him out of the championship chase with Ballance. In addition, West Virginia's Chris Jenks and Kentucky's William Yokley could win Saturday's race, and streaking 18-year-old rookie Chris Bithell, of nearby Irwin, PA, wants his first win badly after finishing second in Kentucky.
The Parts Unlimited Wisp GNCC begins Saturday, June 24, with four-wheeled ATV racing. Pro racing begins at 1 p.m. Bikes race on Sunday, with the pro race beginning at 1 p.m. Weekend passes run $15 and children six and under are free. All passes include pro pit admission and access to the Wisp ski lift chairs.
From the West: I-68 East, take Exit 4 (42 South) at Friendsville, MD to U.S. 219 South to McHenry. Follow signs one mile to Wisp. From the East: I-68 West, take Exit 14A to U.S. 219 South to McHenry. Follow signs one mile to Wisp. For more information, log on to www.gnccracing.com.